« September 2015 | Main | November 2015 »
October 30, 2015
The New HP's Opening Day: What to Expect?
---
The last business day for Hewlett-Packard as we've come to know it has almost ended. By 5 PM Pacific, only the Hawaiian operations will still be able to count on a vast product and service portfolio offered by a $120 billion firm. Monday means new business for two Hewlett-Packards, HP Inc. and Hewlett Packard Enterprise. It's possible that splitting the company in half could improve things by half. Whether that's enough will take months to tell.
On the horizon is a battle with the bulked-up Dell, which will integrate EMC as well as massive share of VMware in the coming months. The Dell of the future will be a $67 billion entity, larger than HP Enterprise in sales. Dell is a private concern now, while HP is becoming two publicly traded entities. The directions could not be more different, but HP will argue that demand had better be high for a monolith selling everything.
Dell is extending its offerings to a new level of complexity, but the level of product strategy and technology to comprehend has become too great for this week's massive HP. Hewlett-Packard never controlled an operation this large until the last decade. The company that built instruments and business computers and printers added a PC empire from Compaq. But it had just spun off Agilent two years before that PC merger.
But then after loading up with billions of dollars of low-margin desktop and laptop lines, the HP of the early 21st Century blazed forward into services. Headcount rose by more than 140,000 when Carly Fiorina sold the concept of buying EDS for outsourcing and professional services. The printer business swelled into cameras and even an iPod knockoff, built by Apple. HP's TVs made their way into retail outlets. It seemed there was nothing HP could not try to sell. Some of the attempts, like the Palm OS-based tablets or smartphones, shouldn't have been attempted. Their technology advantages couldn't be lifted above entrenched competition.
HP's CEOs since lifer Lew Platt retired — Fiorina, Mark Hurd, Leo Apotheker, and now Meg Whitman — didn't have much chance understanding the nature of so many products. Three years ago, HP started in the public cloud business, yet another branch of IT commerce aimed to take market share from Amazon. Whitman said in the New York Times that outsiders like her who've tried to lead the company have had too broad a beam of corporate ship to steer.
"This is crazy — Carly, Mark, Léo, me — the learning curve is too steep, the technology is too complex for an outsider to have to learn it all," she said in a story about what's next. The most audacious of HP's enterprise efforts was The Machine, technology that was to employ the near-mythical memristor to "change the future of computing as we know it." This summer the company fell back and said it would build that product with more conventional components and assemblies. It doesn't have a target date for releasing The Machine.
The New HP, for the purposes of the 3000
customers who have migrated or will sometime soon, aims to do less and try to do it more effectively. Gone is the public cloud, while the EDS headcount is being trimmed. In-house technology like HP-UX and VMS is either going slack (no HP-UX 11.4 will be produced; VMS has been sold to an independent firm) or giving way to standards like Linux, Windows, and Intel servers like the ProLiants. The survival and ascent of ProLiant blade servers is likely to be the hardware backbone for a company that is keen to get customers to consider HP Enterprise as a software and service giant.
HP Enterprise, to be traded as HPE on the NYSE Monday, will sell private clouds that it will build, and staff if customers want HP administration, rather than the retail-level cloud services of AWS. HP Cloud could never host HP-UX customers. The fine-tuning of cloud hosts for Unix apps might be a part of the 2016 offerings. Just about anything to get more Integrity servers installed will have traction at HPE.
Although networking products and mass storage and software like Helion will be parts of the new HP facing the 3000 community, expect this business to be about how servers will drive its fortunes. In a Bloomberg report from this week, Whitman said she spent one full day on the three year plan for HPE's server business. She's been the CEO since 2011, and that was the first full day she concentrated on the business that put HP into business computing.
"There's a great deal to be said for focus," Whitman said in the article. "You've got to be on it. You've got to be working on the product road map."
Work on product roadmaps in October used to be commonplace at HP, although it's probably been since Lew Platt's time that the CEO was involved in any way. MPE/iX users who've stayed with the OS, rather than the company, could still benefit from a rise in HP's fortunes. Sales of those allied product lines, as well as research to improve them, have a chance of improving. Homesteading 3000 customers would have to let the HP badge back into their shops. Maybe adding the "Enterprise" to the HP hardware nameplates will help restore the trust.
As for the HP Inc. side of the split-up, it's got less technology to comprehend and more competition with similar products. Some analysts are saying HP Inc. could be a takeover target, given its slim profit margins. HP's combined stock was down 30 percent from the start of this year, as the final day of Hewlett-Packard ended. On Monday HPE will start trading at about $15 a share. What will make the difference will be a fresh share of mind for a company that once specialized in business IT. MPE is gone, HP-UX is fading, and VMS has been sold away. The future will be different, but customers who remember a better HP might hope for a strategy that feels older: focused on how innovation and relationships can deliver success to customers.
07:25 PM in Migration, News Outta HP, Newsmakers | Permalink | Comments (0)
October 29, 2015
Promises, and a Revolt, from 25 Years Ago
A quarter-century sounds like a long time. In the computer business it's an age, as in ages ago. In marriage it's a milestone, too. In 1990 I took my wife Abby's hand in marriage, a vow we just renewed in our backyard last month with balloons and acres of cake. In that same fall, HP was making promises for the 3000 about the way it wouldn't sell the server — as well as the equality it figured it could give it with Unix servers.
A front-page story in the HP Chronicle called the Boston Interex meeting of that year when we were married "four days that have and will shake our future." Guy Smith wrote for the paper that I edited
At the heart of most of these worries was the fate of Image, and whether HP might re-bundle it with all 3000s. The Image fervor peaked during the rebirth of the SIG-Image on the first evening of the conference. Image co-creator Fred White suggested that users could "sue HP for a couple of million bucks for possible breach of contract." De-bundling led many at the meeting to believe that the venerated network database may be heading for the software scrapyard.
It was an ugly fight that spilled onto the agenda of the HP Management Roundtable, a battle played out in front of the national tech press assembled for the year's biggest HP show. In an editorial, I promised that fights were going to be a vital part of any relationship — even the one I'd just begun with my bride. The reasons for fighting had to be more than proving you're right, though.
As you read this," I wrote, "I will be starting a new life
as a husband to a wonderful woman — someone I believe in and trust with a commitment as strong as any I've seen in the heat of battles between HP and its customers. My bride and I will fight. But we'll do so to solve problems, not to win. After all, we don't want to lose each other in the pursuit of a total victory. The HP-Customer couple should be aware of such a loss, too."
A programmer or development company could create an application or software for the 3000 community using IMAGE as the database, knowing that every 3000 out there would be able to make use of the creation. 3000=IMAGE was a formula being broken by 1990. SIG-IMAGE, a Special Interest Group of users gone dormant at the time, re-formed to organized the complaints and demand remedies.
Smith's report on the battle in the roundtable included White's questions to HP executives about the IMAGE unbundling -- prefaced with a compliment to put one of them off balance
Before bluntly asking the assembled panel whether they lied when saying Image was part of the Fundamental Operating System, or lied when they unbundled it, White offered one compliment. "I like your tie," he told one HP manager. "If I wore one, it would look just like that."

SIG-Image Chairman Steve Cooper said that "for five years SIG-Image has had a prioritized list of enhancements with 20 items, starting with updates of critical database items. To date only one request has been included in TurboImage." At the roundtable, better known as the HP Lynching, HP's David Sanders reacted to a proposal that users would create a a technical task force for Image. "We will move ahead and implement Critical Item Updates," he said.
IMAGE had languished for years before Boston, a seminal strand of the 3000's DNA that the vendor was disregarding. In HP's thinking of 25 years ago, getting MPE and Unix looking and working alike would to resolve flagging sales of a new PA-RISC line of servers. The databases were not distinctions. "Within the limits of the industry standards," said HP's Wim Roelandts, VP of the Computer Systems Group, "MPE and Unix should become identical by a year and a half from now." 
It was a proposal as silly as saying my bride and I would use our razors in the same spots. Her legs are smooth. My cheeks are clean. And MPE and Unix were never going to provide the same openness. That's what led to HP's mistake about separating IMAGE and MPE. No Oracle or Sybase was ever going to work as well on a 3000 as they would on an HP 9000.
We've outlasted HP's marriage to MPE, Abby and I, and one special afternoon this fall was full of laughter and tears about the devotion that's survived. In spite of the customers' obvious devotion, by that 1990 show HP felt heat aside from the indian summer swelter of New England. Vendors and customers rose up to lash HP in a public forum, complaining bitterly in front of a host of reporters from national IT weeklies like Computerworld and InformationWeek.
HP lost face at the meeting while its top enterprise management tried to defend the business re-arrangement. IMAGE remained an included part of the 3000. A bonus from this Tea Party was extra investment in the SQL interface for IMAGE. The database eventually went from being called TurboIMAGE to IMAGE/SQL over the next two years.
HP 3000 General Manager Harry Sterling said a new Customer First program flowed from that protest. Referring to the low point of HP-customer relations at the Interex conference in Boston, he said listening changed the future.
"The management team had to really change the way we think about what we were responsible for. There's a cartoon of a tightrope walker who sees a fire climbing up the pedestal, and he's hesitant to go out. That's what it was like for us. In Boston [in 1990], the customers set fire to our pedestal and we had to move."
"For the CSY engineering community in particular, it was very hard. In our culture, that [customer communication] was somebody else's job. We had compartmentalized the whole value chain, and tossed it over the fence to the next person who was responsible. When our customers said "The whole sales model has changed, we're not happy with what's going on, you're not hearing our needs," our immediate reaction was, "The field has screwed this up. They've got to fix it. Or marketing has the problem." We had to change philosophically, and realize we're responsible for all of it, whatever it takes. If there's something wrong in the value delivery system, it's our responsibility to fix it."
Fights can lead to fixing problems. The problem of having a fuzzy focus on the vendor's business seemed to get fixed with the ultimate fight in 2001, when HP trimmed its enterprise plans of 3000 future. Now there's a new day coming on Monday, when enterprise computing will be restored to its rightful focus at Hewlett-Packard. We'll have a look at the new days of the vendor tomorrow, its last business day before its split.
09:33 PM in History | Permalink | Comments (0)
October 28, 2015
Compliance rule pipes MPE app to emulator
Racine Water & Wastewater, a municipal utility in Wisconsin, ran an HP 3000 and associated billing applications for decades. The organization even made the shift to final-generation HP hardware with an A-Class server. After the utility shifted IT operations to another platform in 2008, the Hewlett-Packard hardware for MPE/iX chugged along in archival mode. But the risk in running on drives more than a decade old grew serious. The organization that serves 100,000 customers in the communities around Lake Michigan reached out to an emulation platform from Stromasys to keep its archives vital.
The utility needed to maintain a legacy system in order to access archived data. After they had migrated their primary billing system to a newer system, only four years of archived data could be migrated to the new environment. More than 25 years of records remained on the HP 3000. By 2014, they knew they needed a solution to continue to access billing records stored on the HP 3000.
The State of Wisconsin mandates access to billing history records. To meet those compliance needs, the utility engaged with an independent consultant to research archival solutions. Mike York of Assertive Systems in Wisconsin began his due diligence and demo testing. Charon HPA came in for review, and while retrieving that A-Class server's HPSUSAN number, the HP hardware suffered a disk failure. Stromasys was able to help recover the system, even before the utility had adopted the Charon emulator.
According to a case study on the Stromasys
website
, a DDS-1 backup tape failed to load. Recovery was stalled. Ken Scolaro, administrative manager for the utility, was working with York to try to bring HP's 3000 hardware back online.
Scolaro and York sent a backup tape to the Stromasys engineer providing support on the project. Stromasys purchased a DDS-1 tape drive for the data recovery, and utilizing Oracle Box, built a Virtual Machine and recovered the HP 3000 system. After recovering the tape data and configuring the virtual HP 3000 with MPE/iX 7.5, the virtual machine was exported and sent via thumb drive to the customer. The utility then imported that VM to its local server.

The Stromasys sales representative provided a proof of concept for us," York said. "He accomplished this from an old and very questionable backup tape. Amazing." 
The Racine utility replaced the Hewlett-Packard iron with Intel-based hardware. Twenty years of data is now available via Charon. "Utility staff did not even notice this change was made," Scolaro said. "The system installed easily without any unexpected problems," the case study on the Stromasys website reports. "It has run flawlessly ever since."
08:08 PM in Homesteading, Web Resources | Permalink | Comments (0)
October 27, 2015
Data migration taxes migration time budgets
It can take months to move data from one platform to another. Just ask Bradley Rish, who as part of the Potpourri Group managed a two-step process to migrate away from Ecometry software on an N-Class HP 3000. Potpourri first went to Ecometry on HP-UX, then a few years later moved away from HP's proprietary environment to Windows. Same application, with each move aimed at a more commodity platform.
But there was nothing commodity about the company's data. Data migration required eight months, more than the IT pros at the company estimated. Rish said that two full-time staffers, working the equivalent of one year each, were need to complete the ultimate migration to Windows.
Migrations of data don't automatically mean there's an exit from the HP 3000. At Potpourri, after a couple of years of research by IT, the exit from the 3000 was based on HP's plans for the computer, not any inability to serve more than 200-plus in-house users, plus process Web transactions. It's a holding company that serves 11 other web and catalog brands. Starting now through the end of 2015, more than half its transactions occur in the final 90 days of each year. Holiday gift season is the freeze-out time for retailer IT changes.
High-transaction installations create some of the largest collections of data. Two staffers working for one year is one approach to leaving an app. For the record, by the second migration, Ecometry still wasn't working as fast as it did on the 3000. But sometimes vendor plans for a server demand a migration. "Ecometry is IO unfriendly under Oracle," said Rish, "but Ecometry is less unfriendly under Windows than HP-UX. It's still not as fast as the 3000."
If the speed of processing takes a hit, at least there's a way to complete a migration quicker. Automation slims down the time required to move data. Some details on how this works, and reports of success in the field, will come from MB Foster on the Wednesday Webinar, starting at 2 PM Eastern Time.
Potpourri operates some familiar websites
, but CEO Birket Foster's company has even better known case studies to share. Exxon, for example, "had a very customized application running on an HP 3000," he said, "and we moved it to an HP Itanium Unix box. There are Endian issues in doing that," referring to the differences between Big Endian and Little Endian data types of HP 3000s and HP's Unix systems." The company had an operation of 300 well-heads.
"You can't buy a 300 well-head off the shelf application anywhere," he said in a Webinar earlier this year.  "It was a $32 billion a year operation, and we were able to complete it for them under budget, and on time." UDACentral was at the heart of that project.
MB Foster recently began to license that software for use by independent integrators and consultants. Rental licensing is new, based on project size in records, as well as duration of use. Two years elapsed between those Potpourri migrations from Itanium to the Ecometry that runs on Intel Dell servers. In the retail business, getting a project completed in nine months is crucial. That holiday quarter is off limits for changes.
06:53 AM in Migration, User Reports | Permalink | Comments (0)
October 26, 2015
Migrating licenses: an individual's mission
Hewlett-Packard's 3000 hardware is getting older, and although it's well-built, 13-year-old drives make for a good migration spark. The move to Stromasys emulators is another sort of migration, shifting MPE onto standard Intel hardware, but what of the application and software licenses? Getting them transferred is a mission for each company migrating away from HP-badged 3000s. So far, we've heard few reports of show-stopper licensing woes.
The first company that's discussed is the owners of the Powerhouse software. While that's not Cognos, or even IBM anymore, its owners are still a company that does not automatically see value in keeping a customer on support. Bob Ammerman didn't negotiate with Unicom when Conax Technologies did its test runs of Stromasys Charon HPA. Another IT group member did the bargaining, and in the end, Conax still runs its Powerhouse Quiz, QTP and even the 4GL. But its license load is lighter.
The arrangement with what people still think of as "Cognos" took a long while, so long that IBM was dragging its feet in correspondence. As a consulting contractor for the company, he said "We were bringing our software packages over one by one, and the dealing started all over when the software was bought by Unicom." In the final arrangement there was an approval issued to transfer licenses, but Conax elected to reduce its user count for its software based on these products.
"We now have a 1-user license at the developer level," Ammerman said. "We've moved away from use of the software, too," although Quiz is still important to Conax. A reduction in reporting is possible because Ammerman wrote a set of SQL stored procedures in VB Net to move data from MANMAN operational databases into SQL Server. That's where some reporting has moved, although some canned Quiz reports still operate at the company.
That mission covered the biggest software tool at the company. There was still the matter of MANMAN to transfer. The dealing with Infor, the current owners of the manufacturing app, was still to come.
Conax cut back on its Powerhouse use
by developing an in-house reporting system Ammerman calls SQLMan. "We built one application from [the Cognos products] as a sidecar app," he said. Cost codes drive the report queries at this manufacturer of temperature sensors. New reports are only developed as canned queries when they utilize Quiz. Much of the reporting comes out of a SQL Server database that runs off a snapshot of the MANMAN data.
"All the stuff that I've been building has reduced the need for the Cognos software," Ammerman said. The single-3000 shop has ported line-of-business important applications away from Powerhouse. 
It's significant to note at this point that arranging these license transfers is the responsibility of the individual company. Stromasys takes no role in making these transfers happen. Any existing deals in the marketplace between other 3000 users and their app vendors don't carry any weight — at least not officially. There's no posted pricing lists for these arrangements at the app vendors.
So Conax cut its own deal with Infor to keep MANMAN on MPE/iX under the emulator. "We moved it relatively cheaply," Ammerman said. "We're now paying an annual license to Infor. They were glad to be nice to us."
That's long-term thinking on the part of Infor. Vendors who are cooperating in these license migrations look toward a future when MPE won't be an option any more for their customers. Some vendors have solutions that run on other platforms. As an example, MB Foster "was happy to do a transfer," he said. This strategy preserves an investment while it maintains support revenue for vendors.
Users at Conax employ a front-end interface to SQLMan. If the company could "bring down MANMAN nightly for a snapshot, we would." Instead, they shut down the application completely once a month. It also means that company historical data is online at anytime. "One company manager asked me to look at 2010 data, and we could," Ammerman said. "We used to have to purge the old data, but we don't have to anymore" with the SQLMan transfer procedures.
Carrying licenses forward involves calls and contact vendor-by-vendor, but some have policies in place. Especially those who've done decades of business with 3000 users. From backup software right down to applications, everything's been migrated to the fresher Intel hardware running MPE/iX. "They'd be silly not to re-license products," Ammerman said, "if they want to keep their support revenue."
06:41 PM in Homesteading, User Reports | Permalink | Comments (0)
October 22, 2015
Back to the Future: The HP 3000, Then
---
Yesterday was "Back to the Future Day" in much of the world's culture, the day on the time-traveling Delorean's clock when Marty McFly landed in 2015. Steve Cooper of Allegro posted the tribute screen capture above on a Facebook news feed. Yes, it's been more than 30 years since the legendary film's story was unveiled. The weekend of July 4th marked the premeire. Here's a few things that we knew that summer about the HP 3000.
There was a bit of fuss over SQL coming out of the 3000 community. Alfredo Rego used his keynote spot at that spring's SCRUG user conference to call out the creators of the Structured Query Language. After all, IMAGE used structured queries, too. What were keys, anyway — chopped liver? Oracle couldn't see the profit in porting its database to the HP 3000, because as one VP asked me, "You want us to port to a computer that ships with its own database?"
The HP Spectrum Project — the HP Vision Project revamp of the 3000, restarted — was more than two years away from delivering an underpowered Series 930 to launch the 3000's PA-RISC computing. That fundamental tech for MPE/XL, and then MPE/iX, wouldn't start its life on any HP server until 1986, when it would debut on HP-UX. The HP 3000 could boast of two books in 1985: The IMAGE Handbook, and Thoughts and Discourses on HP 3000 Software. Everyone carried the MPE Pocket Guide.
A 404-MB disk drive, the 7933, was a big honking storage device. It was shipping with a flaw in its head manufacture that was going to push thousands of them into a service recall by the end of the year. (In 1992, a dozen of them were put into total recall in Terminator 2, when they were destroyed in the battle with Cyberdyne Systems security forces.)
HP 3000s connected to terminals and to PCs
, although neither of HP's PCs used MS-DOS. The HP 110 was "The Portable Plus" and the HP 150 was "The Touchscreen Computer," and both relied on CP/M. The Portable Plus displayed data on a screen 80 characters wide and a full 24 lines deep. Walker, Richer and Quinn connected 3000s to PCs using its PC2622 software. Later on, the product would be called Reflection.
HP DeskManager connected Hewlett-Packard offices around the world, using what was not yet called electronic mail. The Desk network was believed to be in excess of 30,000 addresses. Long-distance networking was offered only through X.25 protocol. Even in 1985, this was called "the cloud." TCP/IP was just approved for use on the ARPANET. DS/3000 ruled 3000-to-3000 networking. Symbolics had just registered the world's first commercial Internet domain name.
Plotters gave HP 3000s the ability to produce color business graphics. Like all other HP peripherals, they ran best and fastest using HP-IB connections, the bus created for HP's instruments. More than 1,000 copies of HP's TDP/3000 word processor were in use.
HP Support modems blazed along at 2400 baud. That was 2,400 symbols per second, or even fewer bits, with wires required at every step. The Portable PC included a built-in 300 baud modem and was considered a superior office tool. The average modem was 100,000 times slower than today's 802.11ac wireless routers.
The HP 3000 top of the line in 1985, the day that Back to the Future rolled out, was the Series 68. It was a $186,000 computer that could be upgraded to 8 MB of memory, supported up to 400 users, and topped out at just under 10GB of disk storage. Or disc storage, as the literature of the day preferred to call mass storage.
One year into the future, HP took note of the 20,000th HP 3000 shipped. PA-RISC and MPE/XL would soon be entering a run of more than 30 years of service. In 1985, those Series 68 users wanted that run to start even sooner, because their data processing needs were growing. It was called DP, not IT, way back before the future.
08:08 PM in History | Permalink | Comments (0)
October 21, 2015
CAMUS to host homestead-migrate meeting
CAMUS, the manufacturing software society that serves ERP users, will host a meeting on November 5 to shed light on a solution to migrate off MANMAN. Or homestead on the application. The 90 minutes covers both prospects for the HP 3000 customer who continues to rely on MANMAN.
Even almost 40 years after its introduction to MPE, MANMAN is still running company operations around the world. Conax has built its business model around it while it makes temperature sensors. What's more, the MANMAN user still has resources like CAMUS and its membership. Board member Terry Floyd of The Support Group says the software is still central to his business.
"We can still say that almost all of our revenue comes from MANMAN, and that's amazing," he said. It can be expected that a support company like his, which specializes in ERP software, could dig in to serve MANMAN sites that operate with the source code as an application resource. The range of releases is wide, and not all of it is running in Native Mode of MPE/iX.
"All MANMAN users have all of the source code," Floyd said. "Most people are on NM, but I have run across a few running ancient versions before Release 6. Release 12 is current, and 8 or 9 is where some of our best customers are. Most MANMAN sites are probably on Release 11."
The ERP site managers, and anyone else running an enterprise server, can call in to the CAMUS meeting at 11 AM Central Standard Time on Thursday, November 5. The conference connection and call-in number will be emailed to anyone who registers with CAMUS board member Terri Glendon Lanza with a call to her at 630.212.4314, or via her email.
The Stromasys emulator portion
of the program leads off the event, with a discussion from Birket Foster of MB Foster and Steve Cooper of Allegro. They'll discuss how the Charon-HPA emulator gets along with third party software and applications.
"We're having a round-table type discussion on implementing Stromasys for the HP 3000," Lanza said. "We're looking to hear experiences from folks who have implemented Charon. We'll be asking what the third parties have been like to deal with."
The other option available for MANMAN sites is to move on to something more modern in architecture. Cloud ERP from Kenandy will come up for discussion at 11:45, according to the meeting agenda, with a presentation led by Kenandy's Stewart Florsheim. Is Kenandy MANMAN, updated? The cloud software that's built around Salesforce1 was launched by ASK Software's founder Sandy Kurtzig, creating MANMAN back in the 1970s.
Around 12:30 Central time, callers will enjoy an opportunity for open discussion about ERP, the 3000, and probably migration. Callers don't have to be CAMUS members. But everyone needs to register to get that call-in number.
09:03 PM in Homesteading, Migration | Permalink | Comments (0)
October 20, 2015
Patching an HP 3000 with Patch/iX, Stage/iX
Editor's Note: Today a system manager asked for directions on using AUTOPAT on an HP 3000. That's very old school tech even for a classic system like the 3000 (TOH to Alan Yeo for digging out that link). More than 10 years ago, our contributor John Burke detailed the use of the more-modern MPE/iX patch tools.
By John Burke
Even after HP introduced Patch/iX and Stage/iX to MPE/iX, these HP tools were poorly understood and generally under-used. Both are tremendous productivity tools when compared with previous techniques for applying patches to MPE/iX. There's a good reason for using the newer tools. Prior to the introduction of Patch/iX and Stage/iX, system managers did their patching with AUTOPAT, and you had to allow for at least a half-day of downtime. Plus, in relying on tape, you were relying on a notoriously flaky medium where all sorts of things could go wrong and create "the weekend in Hell."
Patch/iX moves prep time out of downtime, cutting downtime in half because you create the CSLT (or staging area) during production time. Stage/iX reduces downtime to as little as 15-20 minutes by eliminating tape altogether and, furthermore, makes recovery from a bad patches as simple as a reboot.
This article is based upon the Patch Management sessions I presented at three Interex Solutions Symposiums. The complete set of 142 slides (over 100 screen shots) and 20 pages of handouts are downloadable from my website. The complete presentation takes you step-by-step through the application of a PowerPatch using Patch/iX with a CSLT and the application of a downloaded reactive patch using Patch/iX and Stage/iX. Included is an example of using Stage/iX to recover from a bad patch.
Why should you care about Patch Management? Keeping a system running smoothly includes knowing how to efficiently and successfully apply patches to the system. HP supplyed bug fix patches to MPE/iX and its subsystems through 2008, including two PowerPatches a year through 2006. Some patches add functionality to older 3000s. Patch/iX is a tool for managing these patches.
Patch/iX can be used to apply reactive patches
, a PowerPatch, or an add-on SUBSYS tape with a PowerPatch. Patch/iX is actually a bundle including the PATCHIX program and a number of auxiliary files that are OS release dependent.
Patch/iX allows you to:
• Qualify all patches in a set of patches;
• Install reactive patches at the same time as a PowerPatch;
• Selectively apply patches from a PowerPatch tape; and,
• Create the CSLT (or staging area for Stage/iX) while users are still on the system; i.e., when it is convenient for you without incurring downtime.
Stage/iX is an OS facility for applying and managing the application of patches. Stage/iX reduces system downtime for applying patches to the length of time required for a reboot and provides an easy and reliable method for backing out patches. Stage/iX includes an interface to Patch/iX that creates the "staging area" and two utilities:
• STAGEMAN, which allows you to manage all aspects of patch staging, including which version of the OS will be used for the next update; and,
• STAGEISL, an ISL utility available from the ISL prompt whenever the system is down. It contains a subset of STAGEMAN functionality that allows you to recover from most problems.
Steps in staging
The set of all operating system files, for example NL.PUB.SYS, etc., are considered the current Base OS. Stage/iX creates and manages staging areas, which are HFS directories that hold versions of files that are different from the Base. More than one staging area can exist at a time. Each staging area contains the difference, or delta, between the Base OS and a patched version of the OS.
When a staging area is activated on the next boot, the files in the staging area are moved into their natural locations while the Base versions of the files are saved in a Stage/iX archive HFS directory. To back out a patch, the reverse takes place and the system is restored to its original state.
Once you are satisfied with the new and patched OS, you can COMMIT the staging area to the Base, deleting the staging area directory and all archived Base files. Note that Stage/iX and Patch/iX allow new patches to be staged and applied in a cumulative fashion. In other words, if you create a new staging area while another staging area is active, the new staging area will contain all the changes between the Base and the active staging area plus all the new changes.
Whether or not you use Patch/iX and Stage/iX, the key to successful OS patching is preparation. Information is the key to preparation. The System Software Maintenance Manual (S2M2) for your particular release of MPE/iX is the bible for all patch management activities. It contains a checklist for each possible update and patch activity along with detailed sections corresponding to checklist items. A hardcopy version and a PDF version on CD usually ship with each major OS release.
The S2M2 for each OS release is also available and downloadable from docs.hp.com. Information about specific patches is available at the IT Resource Center (itrc.hp.com). A PowerPatch usually comes with some patch specific documentation – make sure you have it available before you start.
Finally, before you ever sit down at the keyboard, create a Patch Book for the specific patch activity you will be attempting. You can do it with the hardcopy manual and a copy machine, but I prefer to use the PDF version, printing out the two-page checklist and each section that makes up the checklist to create my Patch Book.
How to get, apply patches
Suppose you just got the latest Patch Digest and there is a patch you need to install or you've read a thread on the 3000-L mailing list that references a patch you think you should install. Let's look at how you can get and apply the patch using the ITRC, Patch/iX and Stage/iX. Note that the complete reference manual for both Patch/iX and Stage/iX can be found in the appendices of every S2M2 since, and including, the one for MPE/iX 5.5.
Before proceeding too far, check HPSWINFO.PUB.SYS to ensure the patch has not already been applied. [Note that Patch/iX will tell you if a patch, or even a superceding patch, has already been applied, but it only takes a moment to check HPSWINFO and it could save you some time.] Each patch has an eight character ID. For example, consider TIXMXC3B. The first three characters indicate the subsystem; in this case TIX stands for TurboIMAGE. The next four characters are internal to HP's patch management mechanism. The final character is the version identifier; in this case "B" indicates the second version of this patch.
First off, identify the proper checklist, in this case Checklist B, and create your Patch Book. Next, review the information about the patches at the ITRC; in particular, look for any patch dependencies.
You need to make sure you have the latest version of Patch/iX installed on your target system. This is critical to your success. All sorts of bad things can happen if you use an old or incomplete version of the Patch/iX bundle. To check the version of Patch/iX, sign on as "MANAGER.SYS,INSTALL" and type in PATCHIX VERSION, The program will respond with something like: Patch/iX Version B.01.09
[Ed. note: getting patches from HP is a free process, but you may have some work in front of you to find a place inside HP support that recognizes the 3000 as a server, and knows how to deliver its patches. If you have a maintenance contract with a good third party — Pivital Solutions, for example — they can help lead you to the right HP cubbyhole.]
Once you have the current Patch/iX and your patches, you are ready to run Patch/iX and create your staging area. There are four steps in any run of Patch/iX:
• "Select Activities," where you define what type of patching activity you want to perform. You have the choice of adding a PowerPatch, adding reactive patches from tape, adding reactive patches from download or adding SUBSYS products.
• "View Patches" (optional): You can actually view information about all the patches that have been applied previously to your system. Note that this can easily number in the hundreds for a system that is kept reasonably up to date.
• "Qualify Patches," where Patch/iX does a lot of work to determine which patches of the set you supply it with can and/or should be applied.
• Create the stage, the tape, or both that will be used to actually change the OS.
This is all done while normal production continues and places a minimal load on your system. Once you have created your stage with Patch/iX, you run STAGEMAN to activate your staging area with the SET command. The next time you boot your system (and this can be done remotely from your home at 3 AM Sunday morning if you like), your changes will take effect. Total downtime is the time it takes to do a SHUTDOWN followed by a START NORECOVERY.
What if something goes wrong? If you have problems after successfully rebooting your system and you want to back out your patches, simply run STAGEMAN and use the SET command to make the Base the active stage, reboot your system and you are right back where you started. Suppose you cannot even boot the system successfully after setting the stage? Simply boot to the ISL prompt and use STAGEISL to set the active stage to BASE, reboot and, again, you are back to where you started.
Once you are satisfied with your changes after reasonable testing you can again run STAGEMAN and this time use the COMMIT command to make the active stage the Base and free up the disk space occupied by the old Base.
Of course I have only touched on the key points in the Patch/iX and Stage/iX process. There are a number of details I have left out that are covered in your Patch Book. My goal has been to demonstrate the ease with which you can patch an HP 3000 OS using Patch/iX and Stage/iX. Try it once and you will never go back to applying patches via AUTOPAT — nor will you ever again use a CSLT tape to apply patches if you can possibly help it.
05:54 PM in Hidden Value, Homesteading | Permalink | Comments (0)
October 19, 2015
Emulator helps DTC-printer shop into 2015
A classic manufacturer of temperature and pressure equipment needed to bring its MPE/iX environment onto current-day hardware. Even though Conax Technologies was still using DTCs like the one at left to link 3000s to terminals, as well as to line-feed printers, the Charon-HPA software helped to lift the full MANMAN solution onto a virtualized HP 3000 environment. 
Like many of Charon's customers, Conax was working with aging Hewlett-Packard hardware. A Series 928 was linked to user terminals as well as printers over a DTC network. The Datacommunications and Terminal Controller was a hardware device, configured as a node on a LAN, to enable asynchronous devices to communicate to Series 900s. Terminals were directly connected to DTCs, and at Conex, printers as well.
"The printers were our biggest challenge," said Bob Ammerman, the IT consultant who oversees the MPE/iX operations at the company. "We had wires running to desks, we had DTCs. Some of the PCs were using QCTerm." About 40 users access MANMAN at peak times at the company's operations in New York State.
Those printers were a significant element in the multi-part form heritage of the company. After the implementation of Charon was completed, MANMAN "thinks it's still printing to the dot-matrix devices, but we've upgraded them to laser printers," Ammerman said. The emulator project included license transfers of Cognos PowerHouse products, the 60-user MANMAN license, as well as middleware from MB Foster and others. Conax took the responsibility for arranging each transfer.
Retiring aged hardware like old disks, dot matrix printers, and non-IP networks is a common need among Charon's user base. But the software is not as easily replaced. Applications like MANMAN become part of the fabric of manufacturing companies the size of Conax. Networking has made the leap from DTCs to TCP/IP. While the company could "take our remaining terminals and dumpster them," MANMAN and its decades of data has to keep working.
"Conax has built its business model around MANMAN," Ammerman said. Like many such companies, any move to another ERP solution would trigger changes to its business processes. Staying in the MPE environment, but moving the hosting hardware to a Intel-based server stack, preserved the firm's work of customizing software to meet company practices.
"Every piece of the 3000 software just ran" on the Charon emulator after testing and some revisions to accommodate needs at Conex. "As I like to say, the bits in there don't change," said Ammerman, who can count his IT experience back to the days of classic Data General minicomputers. While he admits to liking old tech, the new hardware-software stack is up to date on virtualization choices: the Dell servers (using 2.7 GHz processors) run VMware, with Ubuntu Linux configured to manage Charon, and MPE being managed by that Stromasys emulator.
The manufacturer has bought a perpetual license for Charon, which is software that's sometimes licensed for a fixed term. "I'd do it again," Ammerman said of the virtualization that brought a DTC-laden shop into the virtualization era. "We're very pleased with Stromasys."
07:32 PM in Homesteading, User Reports | Permalink | Comments (0)
October 16, 2015
VMS follows the journey of MPE onto Linux
Migration lies in the road that HP's enterprise platforms must follow, especially if they have no hardware future beyond Hewlett-Packard's systems. AlphaServers never were part of MPE's path. Alpha was built to power VMS, and then it was acquired along with Compaq's other enterprise products. HP cut down its AlphaSystem futures in 2008, then last year announced that the VMS operating system was going into a sunset at Hewlett-Packard.
Although an independent company has acquired the rights to sell and develop VMS, HP's announcement — like the one the vendor made about MPE — has had a chilling effect on the VMS community. The customers have started to take their systems and applications to another platform. Like MPE's migrations, the way forward leads to Linux.
A couple of MPE veteran consultant-developers have checked in to report on the VMS-to-Linux work they're doing. Moving to Linux makes good sense because it loosens the hold of operating system futures. When something like a VMS or an MPE loses the faith if its vendor, migration becomes more compelling. Linux is not tied to a single vendor, and the OS is not proprietary on the operational level like HP-UX or IBM's AIX. If a SUSE or a RedHat Linux distro has its futures dashed, other Linux providers can be swapped in. Unix promised this but rarely could deliver; its vendor implementations were just too proprietary.
MPE migrations have provided experience that the MPE consultants are using in a fresh community. Many things seem the same to consultant Denys Beauchemin.
The VMS group reminds me a lot of the MPE group," he said, "just bigger and even more vociferous, but now all old and grey. The OS is excellent, and in some respects better than MPE, but in others less so." The similarity of the OS objectives has made migrations a bit easier to execute, he added.
"It's been difficult converting to VMS,"
Beauchemin said, "but the concepts are the same, just different names and a whole slew of new acronyms. It's all moving to Linux, so that makes it easier."
Linux is a good destination because of its flexibility and the scope of its abilities. The OS appears to have the capability to replicate most of MPE's inherent designs and features, although nothing will rival the efficiency of the IMAGE-MPE integration. HP 3000 hardware didn't have to be as powerful while driving IMAGE as HP-UX systems still must be while tapping Oracle, according to many reports. VMS has a cousin to IMAGE, Rdb, that's at the heart of a lot of the community's applications.
Many of these VMS-to-Linux consultants are available to do MPE migrations. Some of them are like Beauchemin, who said that "I was doing migrations of MPE systems, but that's pretty much done now." Migrating those databases from IMAGE to Oracle is one line of work for him — and data migrations are at the heart of the work that MB Foster does with its UDALink and UDACentral solutions.
"We are still asked for HP 3000 consultancy, development, and training occasionally," said Clive Allen at Baillie Associates in the UK, "although lately we have been executing more VMS-based work."
"We called it a day after the announcement by HP of withdrawal of support for the VMS and MPE operating systems," Allen said, "but continue to execute small projects upon request."
11:33 PM in Migration | Permalink | Comments (0)
October 15, 2015
After 20 years, NewsWire recalls its first Fall
I was hunting for something new last week when I heard an old, familiar message. "I can't believe you guys are still in business," the 3000 systems manager said. We can't believe it either. But these 20 years have rolled along because of beliefs — ours, yours, and even HP's for a time.
The start of that time was 20 years ago today. Tomorrow we head into our 21st year, but in 1995 our Day One was the middle of October, the month that we printed on the cover of our first issue. This Fall will be the first one since the middle '90s with no printed 3000 NewsWire. We loved printing all of that paper, millions of pages of it. Ten years of it made this rich picture and story. But we said this spring we'd make a transformation to all-digital. We've kept our promise because sponsors have kept our little beacon lit. They've permitted us to continue to show the way forward, as well as look back to find lessons from our past.
Along the way we've found more than 150 companies who invested in our readers. This was always a very personal business; we operate out of a roomy ranch house in a Texas neighborhood. Although there's a very official database of every ad and sponsor payment during these two decades, this hand-written list of who joined us, along with their account number, tells the story of building a business of specialized news, instruction, and gossip. None of it would be possible without the sponsors' dollars: sometimes as advertising, sometimes as patronage. We sold subscriptions, but the sponsors kept us in business.
I'm grateful beyond words for the livelihood and career they've supported. I've even more grateful that my partner Abby Lentz, who started as publisher using her given first name Dottie, proposed this journey that enters its third decade tomorrow. There was a time when the HP 3000 changed its name to the e3000, and I wondered whether the change was like my partner's names. The old one was Dottie, the newer one was Abby. Her yoga name, she told me, and I liked the way she was looking to a new facet of her life. We're looking forward to what remains of lucky lives, teaching and writing, yoga and stories.
The 3000's creators were looking forward too, as we began the NewsWire's life. In fact, HP was a big reason that we're celebrating 20 years today.
One of the milestones of the NewsWire's 1995
was an HP analyst-press conference on the California coast. At the Seascape Resort in Aptos, we were invited to attend management briefings right alongside bona fide publications like
Fortune
and
Computerworld
. The
NewsWire
was not much more than a concept and a business plan, in comparison. But Hewlett-Packard, starting with Michelle Pritchard in the 3000 group's Marcom department, believed we had a good idea.
Abby and I got access, and then in cocktail receptions, got approving nods from computer execs Wim Roelandts, Bernard Guidon, and Olivier Helleboid when we explained what we were doing. We came to Aptos to say what we were doing, not to ask if we should. If we hadn't gotten those nods, we might've gone back to the ranch house and thought hard about going forward. But we had belief, a faith that the HP of 1995 seemed to echo about the prospects for HP 3000 growth and maturation.
About a month later we showed up in Toronto for the Interex '95 conference with a slim, 4-page pilot issue. It had no sponsors or advertising, just belief that page layout, writing, and printing would confirm we were real. We drove about 500 copies of that four-pager from Texas to Canada in a minivan and hoped we'd return with promises. The same kind of promises and support we count upon today.
It's a little fuzzy, my memories of those promises, because Abby was the brave person who smiled and sold our belief to 3000 vendors. She arranged for lists of customers to be loaned to us, so we'd have an audience. We arrived with Adager's promise for back-page sponsorship, and left the conference with HP's order for inside-cover ads. In between, WRQ said they'd back us with a center-spread ad series. There were others from Day One -- this ad list of that October 20 years ago shows that most of them are still in business, some kind of MPE business, two decades later. Abby imagined their beliefs, before they made them real.
Becoming real is an adventure. I like to talk about it using the words from The Velveteen Rabbit, in part because that prose was a part of my wedding vows to the woman that I called Dottie 25 years ago. 
Real isn't how you are made. Real is a thing that happens to you. Sometimes it hurts, but when you are Real you don't mind being hurt. It doesn't happen all at once. You become. Once you are Real, you can't be ugly, except to people who don't understand. Once you are Real, you can't become unreal again. It lasts for always.
That's lyrical, that belief in Real. The word "always" was part of our first website, too, which we launched before 1995 was over and called Always Online. We thought of always like the 3000s that were working at the time, and like the systems that are still working today. Like the system that's running in the IT shop at that manager's site where he said couldn't believe. Sometimes when people say "I can't believe," it's because they already do. They just want to remember why they believe.
You can read us today because of those sponsors. At first there were a few, while others waited to see how we'd do. Then they swelled up while Y2K took over our futures. We didn't see that big surf coming, just like most of us couldn't see that HP would lose its 3000 belief. That changed us all, but we've adapted and grown — older, of course, and somewhat wiser.
In the middle of these two decades we built this blog. Just like in the print issue's earliest days, there were key advertisers before we proved much except our proposal for digital. ScreenJet, Marxmeier, and Robelle just said they'd back our digital work, promises we earned from another summertime meeting of 3000 users, that one in the wake of the Interex '05 meltdown. Sometimes people just want to keep telling stories. That's what the 2011 Reunion made possible.
MB Foster was an early supporter of both print and blog, and today along with Stromasys, Pivital Solutions, and Applied Technologies, they keep the beacon lit. Across both print issues and blog we've enjoyed support from our Austin allies, The Support Group. Abby and I worked together to help them launch their company's newsletter in the year before the NewsWire printed those first four pages.
As I said to begin, we can't believe we're still in business this week, either. Abby likes to say that we didn't figure we'd do this beyond five years. I felt differently, but kept that unreasonable hope to myself, except when I wrote editorials and analysis and conjured stories from contributors. Seeing the glass half full got easier once the 3000 got better HP leadership. Everybody knows we love Harry Sterling for the GM stand he made during those Y2K years. Good times, as the new generation of Millennials likes to say.
Before this starts to sound too valedictory, or an exercise in bald sentiment and nostalgia, I'll wrap it up. This fall Abby and I celebrated 25 years of marriage, laughing and crying in a day of stories, wedding garb, champagne, and acres of cakes. Following through is something to believe in, especially when there is something fresh to remind you why you started. Fresh is still floating in this Fall's air. We're so grateful that you've made it possible for us to remain here, telling stories about where you go next.
07:09 PM in History | Permalink | Comments (0)
October 14, 2015
Data links make hardware migration possible
A one-system HP 3000 shop in Buffalo, NY brought its MPE-hosting hardware into the new era using the Stromasys emulator. The migration from HP's 3000 hardware to Dell servers was made possible by the use of an ODBC connection favorite, UDALink.
Bob Ammerman works at Conax Technologies, supplying his consultant system management and development for the maker of temperature sensors and compression seal fittings. The company has replaced its Series 928 with the Charon virtualized server, but a more modern interface to the historical data was an essential piece of the new solution, too. 
"It wouldn't have been possible without the MB Foster software," Ammerman said of UDALink. The newest version of what began as ODBCLink in the 1990s has been keeping the company's data available for pivot tables in spreadsheets and much more. The software vendor of UDALink is hosting an MB Foster Cares class to launch a new webinar series tomorrow at 2 PM EDT. Cloud use of the software is on the agenda, as is distributed processing.
The manufacturing data at Conax goes back to the period when UDALink was ODBCLink. Keeping it all available meant reducing the need for the classic Cognos tools, according to the manager there. But some crucial programming by Ammerman kept those ODBC hooks vital. The idea was to bring history into the present day.
Ammerman's home-grown software
is SQLMAN, an interface that lets users tap into the MANMAN data with the touch of button to make those pivot tables for spreadsheets. While the Quiz software that was once sold by Cognos is still important, users at the company don't create their own Quiz reports anymore. The users choose from pre-developed reports, a move that slims down the need for so many licenses.
In the webinar, Birket Foster says he'll "be highlighting product features that may already be included in your license, as well as some special uses for your product that you may have not thought of already." Manufacturing managers using 3000s have probably thought about how they'll keep years of historic data available.
In a classic migration, the ERP alternatives often can't make room for historical data. But shifting an MPE application to new hardware is a relatively new option. Given the right tools, it's a strategy that even smaller shops can embrace while using legacy software. At another manufacturing site, the MANMAN use is ending, but the data must be extracted and moved. UDALink is working there, too.
Foster says its design goals have been to make UDALink at least 10 times faster than scripting for data migrations. That describes the efforts to create the links. At that homesteading Conax site, Ammerman said the performance of the tool is "pretty snappy on the emulator." Time efficiency is crucial to maintaining and extending value, whether a site is migrating or sustaining its 3000.
07:10 PM in Homesteading, Migration | Permalink | Comments (0)
October 13, 2015
Don't let your data become a Forgotten Man
"It's the most forgotten piece of the migration puzzle," said Birket Foster while he led a webinar on best experiences with 3000 transitions. "People are not always remembering that at the end of the day they want to shut off the old 3000."
What Foster meant is that even after removing data -- the most essential 3000 and company resource -- project managers need to track what data they must keep to satisfy an auditor. Many companies will still need long-term access to historic data. That's either a 3000 and its services that can be outsourced from a third party, or maybe an emulator virtualization of a 3000. Some audits demand that the original 3000 hardware be available, however -- not an Intel-based PC doing a letter-perfect hardware emulation using Charon.
After the Great War ended, the returning soldiers were not welcomed as productive citizens ready to return to work. This kind of veteran was called The Forgotten Man, from Golddiggers of 1933. Some information in aging 3000s is marching in the same kind of veteran's step.
Managers have to consider if they want to move their forgotten 3000 data after a migration, or leave it in a searchable format -- several questions to consider for an auditor's satisfaction. Many 3000 sites we've interviewed have a 3000 running for historical lookups. This is the sort of resource that would meet the needs of an audit.
"We often remind people who are migrating
 that even through the classic steps are assess, plan and execute, there's also decommissioning," Foster said. "So you can shut off the box."
Organizations which must meet extra-stringent requirements -- such as healthcare service providers facing HIPAA, or corporations bound by the Sarbanes-Oxley laws, or even credit card-processing merchants -- bear the greatest burden of auditing. For example, those PCI credit card audits are performed by PCI Qualified Security Assessors. One of the only companies, among the 302 listed as QSAs, which is likely to hold tribal knowledge of HP 3000s is Forsythe Solutions -- which once was a Systems Integrator for the 3000.
Archival 3000s have been an important part of the air travel business, due to the use of credit cards to process transactions. A few years ago, one consultant working in the business reported that more than a dozen MPE/iX systems at his site demanded archives for old data. There are fewer today, of course. Ranft said there's just one 3000 working today, but that's down from one of the largest 3000 sites running in the migration era.
"We have 21 HP 3000s," said Mark Ranft, "and 18 of them are the largest, fully loaded N4000 4-CPU 750 systems you can get. We have migrations to Windows in various stages, but there is also a very real need for legacy data access after the migration. The alternative is to migrate all the data and all the archival history, and that can be costly."
And perhaps less costly with a good plan for decommissioning data, drawn up by experienced providers of daa migration services. Shadow 3000s run in the community with little to do but wait for an audit from one of those 302 QSAs. There's enough shadow resources needed to demand power, lightweight adminstration, and support contracts for these servers -- the budget that might help to defray the costs to decommission.
On the other hand, shutting off these systems hasn't become urgent in some homesteading sites which are transitioning. That shutdown matters more while remembering what a responsible 3000 IT manager will leave behind for the next pro who takes the job.
06:11 PM in Migration | Permalink | Comments (0)
October 12, 2015
Making Room for a 3000's Historic Data
One promise from migration projects is the brightening of skies through better user experiences. The futures get bright when they're reflected in new features, better interfaces and user experiences, faster performance and more complete connectivity.
However, some 3000 sites have discovered that while their futures look brighter on the way to a migration, their pasts fall in a dim light. In one example, a manufacturer in New York was on the way to replacing MANMAN with newer ERP software.
There was a problem, and it lay in the reams of history the company had amassed after two-plus decades of creating temperature sensors and sealed fittings. The new ERP target application couldn't reach into the history of MANMAN transactions. This kind of need can spring up so innocently you don't see it coming. A C-level exec, or just a VP, wants a report to include history back to 2010. The new ERP package will track everything that's current, but history is another matter.
It's the kind of requirement that's keeping HP 3000s running the world over. Rigorous analysis demands looking back, in order to project the future.
This afternoon we checked in with
Wes Setree, a long-time HP 3000 expert who's moving out of the MPE world for good. He'd told the 3000-L mailing list group he's moving on, and his story includes a successful transition. Setree will be doing applications and Linux system management in a new job.
At his former employer, the HP 3000s are being pulled out of production use. But they're not going offline completely for another 14 months.
My previous employer was waiting to get one last line of business off their 3000, then look for a sunset on the platform. That occurred around Oct. 1, so their last few 3000s will be going offline most likely by end of next year -- since all the database info has been ported and they don't need to keep it plugged in.
Migration of data become the defining element of a 3000's life. Historical data needs to be migrated with care, and the right software can make the process an effective and efficient task. Setree lavished his praise on the system, as well as those on the mailing list who still work with MPE.
I, like many others on this list, am heartbroken for the demise of this incredible and stable platform, and I thought it would carry me through the end of my career. Sadly it didn't. For those of you who still run this platform I applaud you and wish you all the best. It could have and should have been the market choice for future generations.
08:12 PM in Homesteading, Migration | Permalink | Comments (0)
October 09, 2015
Why Good News Can Stay Under Wraps
Life is full of bad news, the kind of events we seem to capture and yet are eager to pass along. There's drama in conflict, of course. The world of MPE and 3000 users has been rife with conflicts, pitting stability and legacy against the promises of modernization: mobile abilities, redundancy, commodity pricing, efficient scalability, and ease of use.
In contrast, making a go of staying with a legacy solution like MPE and the 3000 might be a development that's not often shared. There's the judgement to endure about not responding to change with new strategy. There might also be some clever moves, all upstanding, that make keeping MPE hardware a reality. Sometimes spreading good news starts with letting the light fall on reality.
We've heard a story from an IT manager about his ERP solution, one that is living in an emulated environment. "I want to keep a low profile about this," he said in a conference call. "The less detail they hear about me, the better I like it."
What's at stake there is keeping an operating budget in good order. Move to an emulator and you'll have to talk about licenses and what they're worth in 2015. But if you emulate a Series 900 with software that's got the same horsepower, what's really the difference? Application suppliers have their ideals about what an upgrade adds up to, while utility and middleware companies are sharper dealers. By sharp we mean smart. They want to keep a customer, regardless of their MPE platform.
Managing the transfer of MPE licenses to the emulator is of great interest to the legacy application community. In the first week of November, the CAMUS user group will have a meeting designed to learn about licensing, if anybody can share their experiences. Terri Lanza wants to hear from ERP sites who've moved licenses onto Charon. The conference call takes place on Thursday, November 5.
Up to now, the best user profiles
we could share about moving MPE software to Charon came from
Warren Dawson in Australia
, and
Jeff Elmer at Dairylea Cooperative
. Both of these IT managers relied upon third party software running on their 3000s. Almost everything made the move, legally and above board. What didn't move got dropped by these sites. A big-vendor application wasn't part of either of those stories, though.
We'd like to hear more from this community about the challenges of making a license transition, in part because this is a help-yourself task. Arranging these transitions is the responsibility of the 3000 manager, not an emulation company. You make your own deal, but hearing good news about it helps muster the effort.
There are vendors who are happy to transfer a license from HP's 3000 hardware to a Charon installation. That's the Good News, a report that might provide enough hope that a site would push forward with the HP-to-Intel transition. Vendors who didn't cooperate might be induced to do so in other circumstances. Everybody makes their own deal in the MPE world of 2015.  Price lists for moving from tier to tier have been retired. It's worth a call -- and a call back, if there's no response -- to a vendor to get some good news.
This subject is good news for a migrating company as well as anybody holding the position of homesteading. One common element among the Charon users is the reality that everything's got an expiration date. Stromasys helps companies buy time for transitions. How much time varies, just like the terms of any license deal in 2015.
07:41 PM in Homesteading, Migration | Permalink | Comments (0)
October 08, 2015
TBT: When Spectrum's Debut Missed Its Cue
Few Interex conferences ever convened in October. When the Detroit meeting of 1986 marked its high point, September was already in the year's rear-view mirror. It was a late meeting in the 3000's calendar. Late turned out to be a theme for the meeting's tech papers, because the Spectrum project for MPE was more than a year behind schedule.
By October 1986, the HP Series 930 was supposed to be churning bits using the new PA-RISC architecture and running MPE/XL. The latter was the successor to MPE V, while the former was the first 3000 to leap past Complex Instruction Set Computing. RISC had already succeeded CISC on the HP 9000 side of the server line. But moving MPE while maintaining application compatibility, as well as acceptable performance, was providing unscheduled downtime for the newest HP 3000s. "Where's our Spectrum?" was the cry of dismay from performance-bound big shops.
Detroit's conference proceedings were dotted with accepted HP papers that couldn't be written or submitted. Guidelines on Migration Solutions for MPE/XL, Organization and Direction for MPE/XL, Migrating to the Series 900s as Variables Affect System Performance, an overall Commercial Spectrum Progress Report — all were listed in the two-volume proceedings' index, but each bore a cover page that said "We regret that this paper was not received for inclusion in these proceedings."
The customers had been looking at tomorrows for much of 1985, since Spectrum was the engineering project which replaced HP's Vision effort in 1984. CISC and its memory constraints were holding back large-scale DP, as computing was called then. But like the first version of MPE and the initial 3000s, the stability and performance of the new generation 3000s was not ready for release. Some of the challenges came from testing's optimistic reports.
3000 pioneers already knew about the scant uptime for the earliest 3000s. The computer which made HP a computer company, instead of just one of the world's greatest instrument and calculator vendors, couldn't remain up for more than 24 days. That flaw was in the design, which overflowed a clock register. At the core of the problem was a gaggle of engineers telling HP that everything would be just fine with the 3000, instead of reporting what was well off schedule of being fixed.
Something very similar happened at the 3000's next debacle when the server tried to embrace RISC and head toward 32-bit computing. HP responded in both instances with an enforcer. In the 1970s it was Paul Ely, feared by many, according to Michael S. Malone's Bill & Dave: How Hewlett and Packard Built the World's Greatest Company. Bad press prompted a fierce HP response once again with RISC, as the industry's journalists called out the woes of a long-awaited HP product. In 1986 when PA-RISC was a 3000 bust, the muscle was HP's labs chief Joel Birnbaum. The man who left IBM to lead HP toward RISC said to reporters in Detroit, "we expect that these problems will yield to engineering discipline."
HP's lab management must have made little room for the prospect of a late Spectrum HP 3000. Some clue of the problems with testing might have been inside one of the few HP-authored RISC papers published in Detroit. Meeting the Challenge: An Inside Look at the Spectrum Testing Program included a flow chart for tests. The graphic flowed down to a decision diamond labelled Pass. Not Pass/Fail, or even a yes-no marker on the corners of the diamond. The software was caught up in a loop that headed back to testing. The testing paper acknowledged the challenge of making something faster and different that ran old software was a stout task.
The MPE/XL operating system is a new product. It has the unenviable task of behaving precisely like its predecessor, MPE, while running code which has not been recompiled, and supporting a whole new set of capabilities as well. If the code is recompiled, it must deliver vastly increased performance, using techniques radically different than those of its predecessor.
HP-UX didn't labor under those tasks because the Unix marketplace was not a commercial market. Software at Unix sites was built for technical tasks and used in lab settings. These users had not established business revenue requirements based on software stability and performance. HP 3000s had to stay online, extend their power to meet company growth, and run mature applications to protect business investments.
The irony of having a testing report appear at a conference while the migration, commerce, and performance papers — as well as the computer itself — were missing was rich, as well as disappointing. Outside MPE experts, contracted into the MPE labs, eventually gained the ear of top HP lab management. A Destructive Testing unit probed MPE/XL alpha releases for failures and found many. 
It would be another year until MPE/XL 1.0 hit the Manufacturing Release milestone, and even then, the 1.0 version was called a career crossroads for the managers who had to put it into production. 1986 had its computing demands that sound a lot like those of today: lower power, higher speed, higher yields to manufacture chips. A R.I.S.C Tutorial in the proceedings summed up the dilemma HP worked more than a year to overcome. People were bringing old software onto new hardware, not rewriting for a new system.
In Hewlett-Packard's case, simply implementing a new RISC-based computer system would have alienated a large potential customer base. Not only must the new generation of HP RISC-based systems have more power than the current HP 1000, 3000 and 9000 systems, but they must be compatible with these systems as well. The simplest compatibility approach is to require each application to be re-compiled on the new system. This method is common practice in the Unix community.
HP chose to approach compatibility by emulating the HP 3000's instructions in software. The Tutorial explained that "A program will examine each instruction and branch to the appropriate subroutine (dubbed milli-code) for execution." HP and the 3000 users came to call this magic Compatibility Mode. CM gave the new 3000 an instant field of software and apps, even though it made the 3000 late for its cue to take the stage.
07:48 PM in History | Permalink | Comments (0)
October 07, 2015
Reloading, Redux: How To
It used to be the worst thing that could happen to an HP 3000 was a reload of its data. Adager gained its central place in the 3000 manager's toolbox because it would prevent the need for a reload after database restructuring. Although the worst thing to happen to today's 3000 is the loss of an expert to keep it healthy and sustained, reloads are still a significant event.
Not very long ago, a 3000 manager was looking for a refresher on how to do a system reload. Ernie Newton explained why he needed one and shared what he knew. Advice about adding the DIRECTORY parameter, and using BULDJOB1 to set up the accounting structure, followed when Ernie said
We suffered a double drive failure on our Raid 5 disk array yesterday and I'm thinking that I may have to do a reload. It's been almost 15 years since I've done one. If I recall, I do a load when bringing the system up, then do a restore @[email protected]@.
Our resident management expert Gilles Schipper provided detailed instruction on doing a reload. We hope it's another 15 years for Ernie until he's got to do this again.
Here are the instructions, assuming your backup includes the ;directory option, as well as the SLT:

1. Boot from alternate path and choose INSTALL (assuming alternate path is your tape drive) 
2. After INSTALL completes, boot from primary path and perform START NORECOVERY. 
3. Use VOLUTIL to add ldev 2 to MPEXL_SYSTEM_VOLUME_SET. 
4. Restore directory from backup (:restore *t;;directory) 
5. openq lp
6. Perform a full restore with the following commands
:file t;dev=7(?)
:restore *t;/;keep;show=offline;olddate;create;partdb;progress=5
7.Perform START NORECOVERY
Gilles adds, "I would suggest setting permanent
 and transient space each equal to 100 percent on LDEV 2. The 75 percent default on LDEV 1 is fine as long as you don't need the space. And if you did, your solution shouldn't really be trying to squeeze the little extra you'd get by increasing the default maximum limits."
The reason for limiting LDEV to 75 percent is to minimize the otherwise already heavy traffic on LDEV 1, since the system directory must reside there, as well as many other high traffic "system" files.

You won't want to omit the ;CREATE and ;PARTDB options from the restore command. Doing so will certainly get the job done -- but perhaps not to your satisfaction. If any file that exists on your backup was created by a user that no longer exists, that file (or files) will NOT be restored.

Similarly, if you omit the ;PARTDB option, any file that comprises a TurboIMAGE database whose corresponding root file does not exist, will also not be restored.

I suppose it may be a matter of personal preference, but I would rather have all files that existed on my disks prior to disk crash also exist after the post disk-crash RELOAD. I could then easily choose to re-delete the users that created those files -- as well as the files themselves.

Another reason why the ;SHOW=OFFLINE option is used is so that one can quickly see the users that were re-created as the result of the ;CREATE option. Purging the "orphan" datasets would be slightly more difficult, since they don't so easily stand out on the stdlist.

Finally, it's critical that a second START NORECOVERY be performed. Otherwise, you cannot successfully start up your network.
04:10 PM in Hidden Value, Homesteading | Permalink | Comments (0)
October 06, 2015
Essential Skills: Securing Wireless Printing
Editor's Note: HP 3000 managers do many jobs, work that often extends outside the MPE realm. In Essential Skills, we cover the non-3000 skillset for such multi-talented MPE experts.
By Steve Hardwick, CISSP 
When you do a security scan of your site, do you consider your printers? It was enough, several years ago, to limit an audit to personal computing devices, servers and routers. But then the era of wireless printing arrived. Printers have become Internet appliances. These now need your security attention, considering some of the risks with printers. But you can protect your appliances just like you're securing your PCs and servers. 
Wireless printers can be very easy to set up. They come preconfigured to connect easily, and even a novice user can have something up and running in a matter of minutes. To be able to make this connection simple, however, vendors keep the amount of wireless network configuration to a minimum. Taking the default settings, as always, significantly reduces the amount of security that is applied to the device. 
Modern printers are actually computer platforms that have been designed to run printing functions. Inside are a CPU, hard drive, RAM and operating system components. Unfortunately, a system breach can permit these components to be re-purposed to do other things. And those are things you don't want to happen at your site.
For example, a BBC article from last year
outlined how a programmer was able to hack into a printer and convert it to run the popular game Doom. The interesting part of this article is that the programmer could have had the printer run lots of other programs. Once the printer has been compromised, it is not difficult for a hacker to turn it into a tool to be used for nefarious reasons. Plus, once the machine is hacked, it can make connections from inside of your firewall. This will normally bypass the firewall rules and can transmit network information. Wireless printers can even be a vector for sending spam.
The brute force way to deal with a network penetration is turning off the wireless network. By connecting the printer using a cable, you can run the wireless connections through the router. Unfortunately this is not an ideal solution -- you've probably installed these printers for the express capability of eliminating cables. If that's not your case, and you have deployed a printer with wireless networking capabilities but you're not using them, don't forget to turn off the wireless function.
If you choose to run the printer wirelessly, make sure you set up WPA2 encryption. This will require setting up a printer password. Make sure that your wireless printer password is different from your wireless router password. Having the same password for multiple wireless devices is just asking for trouble. This may involve more work in setting up the printer to run. Its password will have to be loaded into each device that connects. But that's just the cost of security.
Hard Drives
A new aspect of printers is that many contain hard drives. It takes a lot more time to print a large document than it does to send it over the network. Instead of requesting blocks of data at a time, the printer will request that the source computer send all the data at once. The printer must then keep a copy of the data locally to do its printing. And what better cheap source of local memory than a hard drive? In many cases the hard drive will keep storing the data as it gets requests, but not remove the data once the printing is complete. This results in a large volumes of data being stored on the drive. 
Why does this pose a security risk? An intruder could externally hack the printer. Getting to the locally stored data is a fairly simple step once the machine has been compromised in this way. Then a copy of the information that has been printed can be stolen remotely from the machine. 
Moving out older printers might mean you're inadvertantly giving your data away. Donating a working printer to a charity organization or a school can be a common practice. Even if the printer is not working, the data on the drive may be accessible. It is difficult to physically remove a drive from the printer to wipe the data. In many cases it may be impossible, as the drive is not meant to be a removable component. It is very difficult to get software to do the job. 
In a lot of cases the printer manufacturer will give you the option to set up encryption on the internal hard drive. Lexmark, for example, outlines this kind of process. Search for "hard disk encryption" with your model number at your vendor's website. Make sure to use a strong encryption method such as AES 256 bit encryption. If the machine is compromised, it may still be possible to get at the data, but is will be difficult to remove it. At a minimum it will make it a harder target and may force the thief to discard it. 
If encryption is not an option, some manufacturers will allow you to bypass the drive. This may case usability issues, especially if large documents are being printed. Not only will this cause printer slowdowns, but it also leads to network congestion. Do some research on what is being printed before choosing this strategy
MitM attack
A Man in the Middle attack uses a computer to get in between two machines on your network. If a computer is connecting to the printer, then the rogue machine does the following. First it convinces everyone on the network it is the printer. Then it convinces the printer it is the router. From that point onward, all data going to the printer is now accessible by the rogue machine. From that point is it easy to convert the printer data back to its electronic source, or the data can be forward and printed elsewhere. For more information see our article on Man in the Middle.
To avoid this vulnerability, configure your wireless printers to use a secure protocol over the network. This will employ encryption to accomplish two things. First, it will provide end to end encryption so that the data is encrypted on the source machine before it is transmitted. This will help prevent easy decryption of any intercepted traffic. 
Second, by using a secure protocol, the source machine can verify the printer destination using a digital certificate. In fact, some printers do support SSL connectivity across the network. Another technology that was specifically designed for this application is IPSEC. This provides endpoint authentication and end to end encryption. IPSEC is very useful in support of wireless connections. Consult the printer vendor's documentation on how to configure this option. There are also lots of how-to videos on the web.
Physical theft
Installing printers in locations that are physically limited to the printer user community is a must for sensitive information. This may drive managers to keep printers next to a user's machine. Make sure to use a connection that is also secure. On a security audit, I saw a CEO's printer set up wirelessly across the office, because he did not want any wires connecting to his laptop. Needless to say, there was no security protection on the connection. He's still the CEO, but he's learned a bit about wireless printer security.
04:46 PM in Newsmakers | Permalink | Comments (0)
October 05, 2015
Pursuing Crowd-funding for an MPE Port
Open source software once provided a turbo-boost to the renaissance of the HP 3000 and MPE/iX. For one manager, the concept still holds some promise to improve his 3000's offering.
"Does anyone have a newer port of Apache and SSL for the HP 3000?" Frank Gribbin asked last month. "If not, I know a reliable vendor who can do the port. Anyone interested in crowd-funding the effort?"
Gribbin has long been on the trailblazing path with the 3000. His company was among the first to put Java/iX to work in its production software. At the law firm Potter Anderson LLP, he's done development as a part of testing the Charon emulator, too. 
"Our 3000s are still useful and humming along," he said. "I haven't done anything in Java for awhile. But I've been having a lot of success using the Apache CGI capability to communicate with BASIC programs that access IMAGE databases."
BASIC. Still working in a 3000 installation.
"My interest in Java was to build a better user interface for 3000 apps," he said. "I thought that was one reason the 3000 was losing market share. Once I figured out CGI scripting and a web interface, I put my effort into that. On our 3000, most of the time, BASIC got the job done. I've written supplemental code in FORTRAN, SPL, Java and Visual Basic, too."
Java does suffer from performance issues
on the HP 3000, in part because of HP's strategy of throttling down the speeds of PA-RISC processors in A-Class and N-Class 3000s. Crowd-funding open source work is only one element in improving such software. While an outside organization might be able to get the language's latest version ready for MPE/iX, any such group might also have to pay to transfer the Java for MPE license that HP originally got.
The last MPE/iX version of Java was getting the job done, language expert Gavin Scott said during one of the final SIG-Java meetings at HP World.
"Today's Java version for MPE should be good enough for most needs going forward," Scott said at the 2004 meeting. "It's already Nth generation technology both from the point of view of Java from Sun and from the MPE porting effort. If you're developing your own code, having an older Java version should really be no problem. The only issue that arises is if you want to run some commercial package that's not certified for the older version, or can't be made to run due to it missing some later feature."

"But once HP stops producing Java for MPE, there will be no future releases," he added. "I believe you need to be a big company prepared to shell out a lot of money for a Java license and meet many very complex and expensive requirements."

Scott noted at that time he knows of third-party Java execution systems, compilers, and class-library implementations — some of which are free. "But none are really a replacement for the full Sun Java implementations," he said.

Gribbin spoke with a Java licensing representative about extending the life of the language on the HP 3000.

"While the source code is free, implementing it on our platform is our challenge, and certification for redistribution of a J2SE implementation is in the $75,000 to $100,000 range," he said back in 2004. "J2SE provides an option for headless configurations, and we'd be okay in the test harness without GUI features."
By now, the abilities of the Apache web server software are standing in for the language that HP once ported. Ports were a promising way to win new 3000 sites. Now they're a way to keep the system connected to the servers that HP allowed to rise up in the 3000's place.
"Vendors maximize profits with 'out with the old, in with the new,' " Gribbin said. "Customers minimize expenses with 'keep what is best of the old and enhance with the new.' Just a different priority."
09:12 PM in Homesteading | Permalink | Comments (0)
October 02, 2015
3000 Masters make the most of ERP access
The MPE/iX servers which service manufacturing users still have feature-growth opportunity. That's the chance to improve usability, an opportunity often presented by third-party add-on software. A few of the 3000 masters met last month to integrate that sort of software. They were widely-known, recognized for advocating MPE computing, or sharing deep ERP background to make a 3000 work smarter and more securely.
Eugene Volokh, Terry Simpkins, and Ali Sadat came together for an afternoon in LA, hunched over laptops and connecting three MPE-savvy software programs. (Of course, Eugene's dad Vladimir couldn't help but look over his son's work.) At the heart of the equation was MANMAN, still in use at Measurement Specialties' 10 HP 3000 sites, running manufacturing and ERP in China and elsewhere. That remains Simpkins' mission. He's also stood up for homesteading, or choosing HP 3000s, ever since the middle '90s. His company was acquired last year by TE Connectivity, a process that sometimes shakes out legacy software and systems. Not this time.
Helping Simpkins was Vesoft's Eugene Volokh, co-creator of Security/3000. The servers Simpkins' company uses also use the Vesoft product first launched in the 1980s. Eugene was just a teenager when he helped his dad Vladimir build Security/3000. As you can see from the picture above, one of the most famous members of the 3000 community has gotten older — as have we all.
The summit of these masters was topped up by Ali Sadat (foreground, above), whose Visual Basic user interface runs in front of MANMAN at Simpkins' sites. The product which started in 1997 as AdvanceMan does more than just pretty up users' OMAR and MFG screens with buttons and pull-down menus. By now it's an interface to the Web and XML, and it also lets users work in more than one MANMAN module at a time, plus eliminates the typing of commands to execute MANMAN actions. It doesn't require any changes to existing MANMAN environments. For continuity the screens began as ones that were similar in form to the original MANMAN screens. The flexibility and usability is now an opportunity to use an interface for improvements. That's an improvement to an app that was first released in the late '70s. Sadat's Quantum Software calls the product XactMan by now.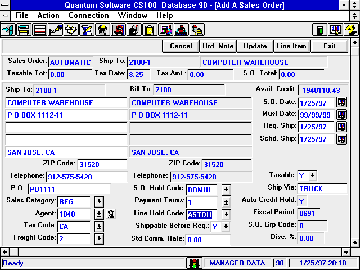 But XactMan needs to pass through the Security/3000 gates to get access at the sessions in MANMAN -- at least it does at a sensible site like Measurement Specialties that's deployed passwords right down the session level. Sadat, Simpkins, and Volokh were hard at work for an afternoon engineering the integration. Vladimir updated us on the connection, adding that Security/3000's sessonname logon parameter -- a full execution of the MPE stub -- needs to know XactMan wants session access. XactMan takes up no user sessions on the HP 3000, regardless of the number of PCs that are interfacing to MANMAN.
Saving sessions used to be important, but the improved interface is the point today. Catching three masters of the 3000 at work was a nice candid moment, captured in the photos by Eugene's mom Anne. During that week in LA, there was a masters gathering of minds all older than 45. The 3000 community is beyond mid-life, but these four people were working to make sure it goes gracefully into its senior years.
03:32 PM in Homesteading | Permalink | Comments (0)
October 01, 2015
Throwback: The 3000 World's Forever Era
In the final October that HP was building HP 3000s, the community was still mounting a rally point about the system's future. The Fall of 2003 was presenting the fall of HP's manufacture of MPE/iX servers, although plenty of them would be sold and re-sold in the decade to come. In the waning weeks of that October people wore pins that promised MPE Forever and IMAGE Forever, rebellious chants to shout down HP's 3000 forecast.
The pins were prized at that year's HP World conference in Atlanta. The MPE Forever pin had been re-struck the previous year. The IMAGE Forever pin was harder to locate on caps and polo shirts. Early this week, a 3000 developer and consultant offered one on the 3000-L mailing list. Joe Dolliver reported that it went to the highest bidder, Frank Kelly. "Priceless" was how Dolliver valued the metal stamped as a protest.
As 2003's conference swelled up around the community, the people who supported IMAGE as well as the customers who used MPE's keystone reached out to touch each other's faith during uncertain times. The database, after all, was gaining a consolidated code base so advances like LargeFile datasets would work on some of the oldest PA-RISC systems. It was a more stable and efficient way to handle datasets bigger than 4GB. LargeFile datasets could be dynamically expanded. They were locked up, however, in an MPE release the majority of the customers could not use.
HP was still finding its way to the proper pace for migrations. Some of HP's missing steps were trying the skip the last stands its customers were making on hardware already a decade old.
Adager's Alfredo Rego chaired the SIG-IMAGE
 meeting in Atlanta. When Rego proposed LargeFile datasets be delivered for the widely-installed 6.5 and 7.0 MPE/iX releases, HP had a rapid delivery date in reply. "They will be," said HP's Jeff Vance. A PowerPatch for 6.5 and 7.0 was ready by the end of the year. It brought LargeFile capability to the majority of 3000 customers.
"This will help a tremendous number of people who are still running on Series 9x7s," Rego said at the meeting. "There are still many people running on those HP 3000s."
But the Forever sentiment was not uniform that year, even from the most staunch supporters of MPE. Paul Edwards, a former Interex board director and a director for the then-emerging OpenMPE, believed that year's HP World would represent the last major gathering of the MPE community at a conference.
"Homesteaders feel like they don't need to spend money to go to a conference to learn anything more," Edwards said. "I think we're going to lose a lot of the core group of volunteers. The 3000 vendors are either not going, or cutting way back." About 170 companies were booked for the expo floor. Two dozen firms had some HP 3000 product or service to offer other than migration expertise — although a few of those were authorized resellers, whose 3000 business expired on Oct. 31.
Consolidating that IMAGE code was an important concession to a classic use of 3000s. Decade-old systems were receiving data from the newest A-Class and N-Class servers. But the datasets created in new releases of MPE/iX wouldn't work when restored on systems with older versions of MPE/iX and IMAGE. HP had to deliver TurboIMAGE C.10.05 to three in-production releases. It was an era when HP was supporting the 6.5, 7.0 and 7.5 versions of MPE/iX. Migrations were more of a concept than being active projects. 2003 was the first budget year for migration spending, since the HP pullout was announced so late in 2001 few had earmarked 2002 expenditures.
The pins were shining after HP explained about why its 3000 assembly lines would be cut down by October of 2003. The vendor talked about an ecosystem going dead, and then how customers didn't want to get caught when their computers couldn't serve business needs anymore. The Forever pins were the last of the user revolt's iron as surely as that October's HP-badged 3000s in Roseville, Calif. were the final builds of a 30-year-old line. It would take another nine years to get a fresh piece of MPE/iX metal into the world: The Stromasys-Charon virtualized 3000, riding Intel iron, got ready to carry MPE further into the promise of Forever.
08:12 PM in History | Permalink | Comments (0)