Editor's Note: We're taking Friday off this week to make time to celebrate the US Independence Day.
Fifteen years ago this month, the prospects for HP 3000 growth were touted at an all-Java conference. HP engineers took the 3000 and the new version of Java/iX to Java One, which at the time in 2000 was billed as the world's largest show devoted to the "write once, run everywhere" programming tool.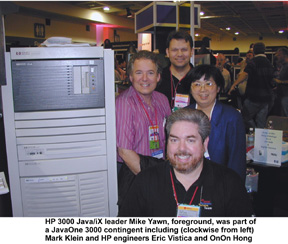 The 3000 division exhibited an entry-level HP 3000 on the show floor at the conference. HP's Java expert for the e3000 Mike Yawn was at the show, along with division engineers Eric Vistica and OnOn Hong. Marketing representative Peggy Ruse was also in attendance from the division.
"In previous years, we've had literature available and 3000 ISVs in attendance at other booths," Yawn said at the time. "This year you could actually go to an HP booth and find Java applications running on e3000 servers."
Yawn reported Java's Reflection Technology (not related to the WRQ product of the same name) "is a way to discover information about an object at runtime. It's very analogous to using DBINFO calls to get structural info about a database. Reflection was introduced in JDK 1.1 to support JavaBeans. The APIs were improved in 1.2, with minor refinements coming in the 1.3 release."
After the conference, Yawn said Java
Reflection could be used to dynamically determine everything you might need to know about objects. On an evolving product front, HP gave demo space in its booth to third-party solutions that rely on Java for e3000 users. A precursor to Javelin, Minisoft's Web Dimension, was also demonstrated.
HP also showed off LegacyJ software in its booth. The software converted VPlus screens to Java. It automatically generated menus and maps function keys to menu items.
For all of the forward progress on bringing a new development platform inside of MPE/iX, Java/iX was having its biggest heyday in that July of 15 years ago. JavaOne is still the central event in the Java calendar. The conference will be held in October.