« May 2011 | Main | July 2011 »
June 30, 2011
MBF Scheduler adds MPE-like features
A good sign that a transition software tool keeps improving? When customer requests generate new features, and soon. That's what's happening with MBF Scheduler from MB Foster. A pair of HP 3000 schedule lynchpins, HIPRI and RUN NOW, have been added in the 3.1 version of the software.
MB Foster built Scheduler from scratch last year when its customers needed to replicate the advanced scheduling in MPE/iX. It's been a field-proven tool and the newest version adds more of what made the 3000's OS an enterprise standout.
"Over the past 3 months," said CEO Birket Foster, "we have seen IT projects within manufacturing, e-tailers and other industry segments that needed these types of capabilities. We wanted to be sure that we were meeting our customers' evolving needs to deliver a solution that fits their batch job scheduling requirements."
Batch scheduling is important
to companies that use an HP 3000 in a multi-shift environment; the more hours in the day your 3000 serves users, the more likely you're using batch. Making a migration to Windows means replicating one of the most mature capabilities of the 3000.
The company says that the "Scheduler delivers the robust job scheduling features required to automate daily, weekly and monthly processes for the Microsoft Windows Server platform. MBF Scheduler provides users with complete visibility and control over their data processing jobs, making it easy for system administrators and operators to manage running jobs, view job output, schedule jobs, view the queue of scheduled jobs and maintain complex dependencies and relationships between jobs."
There's additional information on Scheduler on the MB Foster website. Some of the other improvements to a tool only released last year include the commands MBFPAUSE, PAUSEQ, RESUMEQ, LIMIT, JOBFENCE, ABORTJOB and ALTJOB. There's nothing sexy about a scheduler, but just try to put a 3000's application onto a Windows server without one. The company appears to be taking the job of mirroring 3000 batch seriously.
09:03 AM in Migration | Permalink | Comments (0)
June 29, 2011
Unix vendors have some explaining to do
The HP partner just mentioned, off-hand, the mess for HP's reps. The ones selling Unix-based Integrity servers have a lot more explaining to do, now that HP is suing Oracle over non-support of the Itanium chips in the Integrity boxes.
"Every sales call now starts with why Itanium is still a viable option," the partner said. "Both Oracle and IBM have made HP-UX a target market." But the latest numbers from Oracle show that not even throwing mud at HP's Unix in March made a difference in hardware sales for that quarter.
HP's old CEO Mark Hurd had some explaining to do in the call to analysts covering Oracle's stock. He said that Oracle could sell lots of systems at no profit, just to get the hardware in the door. While that's pretty much the game-plan for every vendor of Unix iron today -- new customers are once-in-a-year events for many Integrity resellers -- Oracle wants to sell much bigger iron. Well, iron with bigger profits, anyway. Try to tease apart Hurd's answer in the last analyst call.
We are now selling fewer systems, at a higher price, that are of more value to the customer, that stay installed longer. And also we're doing that at higher margins. So these are the fundamentals of a solid hardware business, and then of course to the point we have to eventually grow that business on a top line, and you have a very, very attractive business model.
But growing the gross top-line business is the sketchy part today. It's had an impact on share price; Oracle and HP both have stock trading in the low-to-mid 30s, and nobody is happy about that turn of events. So when a pair of Unix vendors can't scratch up new customers to grow that top line, it's not a vote of value for the environment. HP 3000 sites are not just leaning hard toward Windows when replacing systems. They're even looking close at Linux by now. Linux, which runs on just about every chip, isn't tied to a single-vendor business model, and costs less to operate than ever. Choosing HP-UX is turning out to be a matter of following apps, and little else.
IBM is also making inroads
during the Unix decline, but it's doing it with the vendor-created products it sells like the DB2 database, and maybe even the POWER7 chips across its enterprise servers. Make no mistake, IBM still sells a ton of Intel's Xeon-based chips in its servers. But IBM has maintained its outposts in AS/400, Unix, Z Series mainframes, proprietary databases -- it's a list that has no explaining attached to it.
HP has set a timetable of at least 2018 for HP-UX, so there's no short-term anxiety about the OS going off the price lists. Of course, we all thought the same about MPE/iX at one point. Itanium might not have a future left without explanations. Which would mean that 3000 migrators would have some explaining to do if they become the rare new customer for HP-UX or Itanium, two Hewlett-Packard products yoked to each other's fortunes.
Roger Kay of Endpoint Analysis says that the Oracle-HP Unix fight has been good for IBM. Writing in Forbes, Kay says
Meanwhile, this beef has been a windfall for IBM, which, amid the uncertainty surrounding Itanium's future, is picking off HP and Oracle (former Sun) customers right and left.  IBM has institutionalized this process, creating what it calls the STG Power Migration Factory to bring its competitors' customers over to Power-based systems.

IBM has been extending its lead in Unix servers steadily in the past several years, taking out hundreds of its competitors systems per year.  Even if Oracle caves and restarts support, customers will remain uncomfortable about the depth of that support.  If the suit goes to trial, even if HP wins, support will come too late.  Enterprise customers don't like uncertainty.
01:15 PM in Migration | Permalink | Comments (0)
June 28, 2011
Will telephones deliver patches on time?
This year HP has opened a door for its HP 3000 users to get patches without a support contract. This month's changes in the HP support operations may require that door to be pushed open wider.
Late in 2010, HP announced that the 3000 community was getting an exception to the current pay-for-patch edict. Hewlett-Packard remembered that it told you those MPE/iX patches were going to be free once HP left the support marketplace. So any 3000 shop can order a patch, including some fixes that didn't even get through HP's test process, with a phone call. Yes, a phone call, in an era when a lot of support contact doesn't get anywhere near the phone.
Some users are wondering if the telephone conduit is wide enough to serve in times of collective need. HP's got extensive hoops to jump through for all non-3000 patches online: "Patch access through the ITRC support portal requires a valid ITRC user ID and password. Additionally, an active HP support agreement including Software Updates service must be linked to the customer's ITRC profile to access patch content and services."
Donna Hoffmeister, who served as an OpenMPE director for years and is now part of the Allegro Consultants support team, said OpenMPE negotiated for the open access to these patches. But "you have to call (that ancient 20th Century communication method). They shut down the [ITRC] FTP site when they cut off [free] access to all patches."
Craig Lalley of EchoTech wondered if a telephone is the most effective way of distributing patches. "Maybe, if we all called the response center at the same time, or on the same day and requested a patch, HP might see a flaw in this system. Granted at best, I think we could only get 40-60 people to call. How about July 5th?"
There's a good reason to ask
for a specific patch for almost any HP 3000. HP allows 3000 customers to access online diagnostics (CSTM) without requiring passwords, now that the "Worldwide End of Support on December 31, 2010" has arrived.
The "General Released" patch "ODINX25" ("GR Patch") provides this functionality. This GR Patch has a built-in mechanism to disable the requirement for the online diagnostics password effective January 1, 2011. The GR Patch is available for customers running MPE/iX versions 6.5 (ODINX25A), 7.0 (ODINX25B) and 7.5 (ODINX25C). If you have already installed the previous ODINX19 patch, you must also install the ODINX25 patch to ensure that the Diagmond process will run successfully.

MPE users should contact their HP Call Center to make their patch requests. (For North America, please call 800-633-3600. For other countries, please visit http://www.hp.com/go/assistance.)
There's a way to bypass this telephone queue. But only customers with an HP support contract can get direct download access to this patch (and others) from the ITRC. About 10 days ago, HP renovated the access and password process needed to get to its online support resource. The telephone path, while 20th Century, remains in place as a stable alternative.
10:12 PM in Homesteading, News Outta HP | Permalink | Comments (0)
June 27, 2011
Must-have firmware, patches for 7.5 install?
We have just started up a new A-class 2-way running 7.5 PP5. This system is configured with 4GB RAM, a VA7410 running off two PCI FC Host Bus Adapters, one DTC 16, and two SureStore DDS-2 tape drives running off the LVD SCSI interface. SUBSYS products consist of NS, COBOL, and FORTRAN. We do use FTP, incoming and outgoing. We will probably start using Sendmail for a few things (as an old Unix admin, I respect Sendmail, but do not fear it!) Our primary use for this system is MANMAN with around 170 users.

Our third party portfolio is the usual: Suprtool, MPEX, Minisoft ODBC, and Adager, plus some other odds and ends. So, for this kind of system, what are the "must have" patches that we should install on top of PP5?
After Gilles Schipper assured the manager that "PowerPatch 5 should be all you need," Jack Connor replied:
You may want to check the PDC firmware level. I believe the Fiber Channel patches found in 43.43 for the N class are in 43.50 for the A. You can see the PDC level at the boot menu.
Do you have an HP-UX or Windows box with Command View set up to monitor the VA? It's very advisable, as you can do a lot of drill down if you have problems and all can be remote to the system. Did you configure High Availability Fail Over (HAFO)? You may want to offload the CIO network interface card with a standalone 100Bt card and leave your DTC on the CIO.
Craig Lalley added:
Yes, MPE can do HAFO. What I do is configure all the odd LUNs down one path and all the even LUNs down the second path. Then SYSGEN IO HA , and then create the secondary path. It works on the VAs because all the LUNs are seen down both paths.
Lalley added that firmware will be an important part of configuring such a system.
Don't forget to put the correct firmware on the VA7410 controllers and disk. To update the firmware, CommandView is required.

The latest firmware bundle (that I know of) can be found at HP's Biz Support website http://h20000.www2.hp.com/bizsupport/TechSupport/SoftwareIndex.jsp?lang=en&cc=us&prodNameId=316166&prodTypeId=12169&prodSeriesId=89018&swLang=13&taskId=135&swEnvOID=54
HP's Jim Hawkins says that HAFO was built for the any SCSI disk device where a manager can see LUNs on more than one port. But HAFO really wasn't useable until Fiber Channel took off on the 3000s.
Original HAFO was with XP256 F/W SCSI, but that was a pretty clunky device even when it was "state of the art". HAFO really didn't become useable until FC. I lead the FC-based effort and we did all of our work on XP and then VA devices, because they were what worked at the time; those are the configurations that were officially supported, blessed, and used successfully by many customers.

We did evaluate EVA [storage] products and they did "work" as disks, but they didn't have this "LUNs visible on more than one path" feature until way too late for lab development and certification. HAFO probably would work on EMC, though our co-development/marketing agreement with them had terminated by the time HAFO was developed. They did continue to advertise support for MPE/iX systems long after we stopped working with them.
08:00 AM in Hidden Value, Homesteading, User Reports | Permalink | Comments (0)
June 24, 2011
Microsoft grapples with .NET's lifespan
Users like the San Bernadino County Schools are already hearing rumors that the .NET environment might be losing Microsoft's support. The district is moving its apps to .NET from MPE/iX, a project that's scheduled to be complete by 2015. But that deadline might be long after Microsoft's plans to keep .NET a strategic choice for IT.
For the HP 3000 customer, this is familiar territory. In the 1980s and 1990s, HP dev environments such as Allbase 4GL and Transact fell from grace at Hewlett-Packard. The same fate fell to the 3000 and MPE as well. By the end of the '90s, HP statements that a product was "strategic" were processed like a kiss of death; a product would get that label a few years before dropping off the price list.
A similar conflict over the fate of .NET is taking place at Microsoft, by some accounts. The vendor gave a technology preview this week and failed to mention either Silverlight, its Flash-like tool, or .NET. Reports from the IT blog The Register suggest that the Windows development team considers both Silverlight and .NET to be legacy technology.
Windows 8 is the first product
that will segregate .NET into a special place, not a location you want your architecture to live. Win 8's tiled mode "has a new development platform based on HTML and Javascript, exploiting the rich features of HTML5, and the fast Javascript engine and hardware acceleration in the latest Internet Explorer." HTML and Javascript don't play a part in the .NET success story, the
Register
notes.
The fear of .NET developers is that Microsoft's Windows team now regards not only Silverlight but also .NET as a legacy technology. Everything will still run, but to take full advantage of Tiled mode you will need to use the new HTML and Javascript model.

Underlying the discussion is that developers have clients, and clients want applications that run on a platform with a future. Currently, Microsoft is promoting HTML and Javascript as the future for Windows applications, putting every client-side .NET developer at a disadvantage in those pitches.

From the outside, it still looks as if Microsoft's Server and Tools division is pulling one way, and the Windows team the other. Group president Steven Sinofsky, the man who steered Windows 7 to launch so successfully, is a hard person to oppose even for CEO Steve Balmer.
The Register also reports, by way of ZDNet's Mary Jo Foley, that .NET champion Scott Guthrie is moving to Windows Azure. The co-inventor of ASP.NET, Guthrie will still be responsible for that product, and it seems likely that Visual Studio 2010 will gain tools to develop into Javascript and HTML environments.
The COBOL code at the San Bernadino schools is becoming Microsoft's C#, and the dev environment is Visual Studio. At least the former looks like it's now in play at Microsoft. .NET has been a Microsoft success, despite some bumps over the last 10 years. But for a company finding a new way into the second decade of this century -- a period defined by mobile computing and the cloud -- Azure may be rising beyond this popular Microsoft architecture.
There is some hope and help from the third party community to handle the murky future picture. Micro Focus has released Visual COBOL R3 to bring COBOL to a range deployment platforms including .NET, the Java Virtual Machine and the Microsoft Windows Azure cloud platform for the first time.
12:17 PM in Migration, Newsmakers | Permalink | Comments (0)
June 23, 2011
3000 is 4 years from graduation at district
The HP 3000 has four more years of service to give to the San Bernadino County Schools, but the server's apps are being migrated to make room for fresher hardware. Dave Evans, manager of the 3000s at the school district, said that availability of more current hardware started pushing the apps onto Dell's Windows-based servers.
The Human Resources app has been turned over to virtual servers running on a Dell system, Evans said. When HP stepped away from delivering service and products to the district -- Evans said the schools couldn't get a call returned from the vendor -- it started the shift to Dell for new systems. The HP 3000s, however, continued to enter the IT shop. The district bought latest-model N-Class servers in 2002 and 2007, both off the reseller market from Ideal Computer.
Evans said that Ideal assured the district that it could get whatever hardware was need to keep the production running through 2015.
Of the nine major systems at the district, four have been migrated, including the all-important human resources apps that are crucial to any school employing thousands of teachers and staff. Still to complete are the big general ledger, payroll and retirement systems. San Bernadino, which is doing the migration itself, expects to be completely migrated in 2015. That's 31 years since the 3000s started working at the school district, right along with Evans in May, 1984.
Evans adds that he's on target
to retire a bit before the 3000s are switched off, scheduled to leave the district in a couple of years. This is a situation that's commonplace in the 3000 community, as veterans with decades of experience end their careers around the time 3000s leave the shop.
By the end of 2015, the school's apps will be migrated to the .NET architecture under Windows, Evans said. Initially the migration called for a "clean sheet" approach, rethinking and designing the apps from scratch. "As the amount of time left to get this done is decreasing," he said, "we're starting to switch to making a pretty screen for the user from the Windows world. Pretty much, the back end of this stuff we'll take as written on the HP 3000, and rewrite it over to .NET."
Evans has been monitoring the future of that Microsoft architecture, however. When we spoke this week he was checking on a rumor that .NET may not be supported in the Windows 9 or IE 9 environments. Considering how many 3000 sites are moving to .NET, this kind of vendor departure has serious implications, if it turns out to be true. More on that tomorrow.
12:16 PM in Migration, User Reports | Permalink | Comments (0)
June 22, 2011
UDA Central adds top source open database
MB Foster has announced a new version of its database transfer and migration tool UDACentral, one which works with the most popular open source database, PostgreSQL.
Open source databases are among the hottest choices in re-architecting from HP 3000 installations. Customers don't want to get pinned down with a single-vendor choice if they see their database is controlled by a systems vendor. Products like IMAGE get abandoned by vendors like HP. Several 3000 app developers who've gone to open source versions for their products swear they'll never use anything but open source database choices.
UDACentral, which just added a raft of databases to its exchange and migration services last year, is bringing the most widely used database to the roster in PostgreSQL. Ingres, one of the original enterprise database providers, spawned PostgreSQL, which evolved from the Ingres project at the University of California. PostgreSQL is the most popular alternative to the MySQL database.
It's an important addition considering where control of MySQL has reverted: to Oracle, which bought Sun's rights to MySQL along with the company last year. Support fees have now been tied to licensing since the purchase. The MySQL users are weathering a hard time in using software which was supposed to play outside of a system vendor's control.
MB Foster, which also added the Progress database to the UDACentral roster with the new version, is reaching the widest array of database support with the additions. The two new databases join MySQL, Ingres, Sybase and Cache, as well as Eloquence, Oracle, Microsoft SQL Server, DB2, and TurboIMAGE. The software can move any of these databases' data between one another, using a Java-based facility.
"UDA Central's newly added PostgreSQL
and Progress database support expands upon an already robust solution for customers," said CEO Birket Foster. "We wanted to be sure that we were prepared to meet our customers' evolving needs to fully automate the hunt, capture and delivery process for their data."
Version 7.07 of UDACentral adds the two new databases. UDACentral Workbench and Server works as a data migration solution for multi-platform, multi-database environments. Information on adding UDACentral to an HP 3000's data migration capabilities -- the software runs on Windows, HP-UX, Linux and any other operating system that supports the Sun Java Developer Kit -- or making UDACentral part of a migration solution is available by email from MB Foster. A webpage overview of the product's capabilities is at www.mbfoster.com/products/UDACentral.cfm
06:08 PM in Migration, Newsmakers | Permalink | Comments (0)
June 21, 2011
Customers debate definition of licensed 3000
As soon as an independent vendor offers a 3000 for sale today, some buyers in the market judge the server's license pedigree. An offer of an HP 3000 N-Class server, hawked as "rolling and running," came up this spring. The server was offered no-license -- a status which can mean the prior owner never bothered to register the sale of the server to the independent reseller.
But can such a rolling and running system, this one sold by Brett Forsyth, require an MPE/iX license? Mark Ranft of Pro3K says a license doesn't define a 3000's status as a running server.
Who says it doesn't have an OS? By "no license," Brett surely means that the previous owner didn't pay to have the license transferred.  

There are many valid reasons for this.  For instance, imagine the server wasn't under HP support contract up until the minute they decommissioned it. As a result, trying to get HP to transfer the license would be so much work that you may as well pull your own teeth with a dull set of needle-nosed pliers by entering your mouth through your ear canal.
Forsyth reminded customers that HP always sold a 3000 with the MPE/iX OS included. People who are buying servers with no license paperwork. he says, are still running systems which can roll and run with the last version of MPE/iX HP licensed to the servers.
"Long ago we got into this argument
," says Forsyth, who's been selling servers for several decades.
Since HP does not sell an e3000 without MPE/iX (check the price lists -- it ain't there) then by default a 3000 is a rolling running machine valid to run whatever version of MPE/iX it was last licensed with. [Using] IMAGE, software, and the like may be another argument.
Forsyth said that the HP Software License Transfer group has verified that opinion. His rolling, running system -- for DR, parts, ("hardware backup, since HP support is now spotty at best"), or app testing  -- was on offer last month.
HP tightened its licenses when it curtailed some support at the end of 2010. It eliminated a Return to Use license on Jan. 1; this was a product designed to put a 3000 back into licensed status. But place this up against HP's continuing work to retain 3000 sites for support and you get a puzzling picture. If HP's support is still adequate, why does a customer not get to Return a 3000 to Use any longer?
Jack Connor of the support company Abtech had an answer. "I'd say that eliminating the Return to Use encourages attrition/discourages growth in the HP 3000 world and -- my thinking only -- opens the door for HP-UX or other HP hardware solutions."
"On the other hand, the Support Division offers contracts on Sun, IBM, or other popular platforms and, considering the reliability of the 3000, doesn't want to lose an existing cash cow.  In short, it would seem that different HP divisions have different views and approaches regarding the 3000's longevity."
11:22 PM in Homesteading | Permalink | Comments (0)
June 20, 2011
3000 Reunion snares MANMAN support
Members of the MANMAN ERP community will be adding their numbers to this September's HP3000 Reunion. Terry Floyd, founder of the MANMAN and ERP support company the Support Group, said that the CAMUS user group will be meeting alongside the Sept. 22-24 reunion. Floyd, one of the CAMUS officers, said he's been in touch with the ASK Computer founders and the group will be helping to sponsor the event.
I hope we attract some real users, but I think there could be a large contingency of former ASK employees for Friday night Sept. 23. Founder Sandy Kurtzig can't come, but Marty Browne is interested.
Some real users have signed up to be subscribers to the Reunion's blog, where they get a notice when news is posted about the fall event at the Computer History Museum. Supported by Speedware, Marxmeier Software, ScreenJet and the Support Group (so far), the event will be almost free -- the organizers plan to charge only a minimal fee to cover the cost of food and beverages at the Saturday night party.
Floyd said he's started some work
on snagging entertainment for the weekend, too. He said that Kurtzig, one of the earliest female founders in the computer industry, "used a guy named Malcolm Kushner as a 'humor consultant.'  He loved ASK and MANMAN there for awhile and he attended our 'last' ASK Employees and MANMAN get-together in San Francisco, a few years back." 
There's plenty of room and opportunity for other sponsors and groups to join the Reunion movement. CAMUS, unlike Interex, re-tooled itself for longevity years ago and so has approved cash to spend on the event. "We have saved some cash and intend to be viable for as long as anyone is interested in MANMAN on HP,: Floyd said.
But that fiscal responsibility will extend to the entertainment, too. Floyd, who's a mandolin player and picker at the annual Kerrville Folk Festival, said, "I contacted a band from Philadelphia called MAN MAN about playing a concert, but their number of $40,000 plus expenses brought that thought to a halt very quickly."
Browne is a part of the 3000's earliest success, being among the first executive leaders at ASK when MANMAN drove the 3000 into a leading ERP position. "A whole generation of VC-backed manufacturing companies that said you need manufacturing software, buy ASK," he said at a 3000 software seminar held at the History Museum three summers ago.
For the Reunion attendees who want to share memories of the early 3000 days, Browne is a great resource. At that seminar, he told stories of the days when a system -- HP called the computer the System 3000 at first -- was an innovation
I worked with Sandy for several years at a manufacturing company putting their systems together, understanding what bills were, understanding work orders, understanding purchase orders, understanding inventory control. These were not systems. It was a bill of material that was handwritten and maybe it got put on punch cards and updated every six months, but it was all manual. This was 1972. You know in the 1970s, most of the systems that we sold were to people who were using manual systems. They weren't using computers.
10:58 AM in Homesteading, Newsmakers | Permalink | Comments (0)
June 17, 2011
HP's other OS gets lawsuit defense v. Oracle
This time around, HP is not taking any chances with the market in its business operating systems. Hewlett-Packard filed a suit this week asking the courts to make Oracle continue to support the Integrity/Itanium servers -- the only home for HP-UX. Oracle is laughing off the lawsuit, but the move is a serious extra step to keep a proprietary OS viable for HP's customers. The battle isn't being reported as a vote on HP-UX, because a few other OS's run on Itanium. However, Itanium is the only platform that runs HP's Unix. If you manage with an eye on the OS, Oracle wants fewer HP-UX servers to compete with its Sun systems.
The fortunes of HP-UX have taken a slide among customers since Windows gained enterprise status. Compared to the likes of MPE/iX, Windows Server still can't match included features such as batch job services. But Windows has become the popular choice among migration-bound 3000 companies. The reports of the past -- from an Open Systems Today article (left, click for detail) that I wrote in 1994 -- described "brisk sales providing market momentum, so HP can count on getting its technology approved in a way it couldn't five years ago, when it introduced NewWave architecture."
My, how 17 years can change things for a rising star like Unix. This spring's Oracle promise of no further HP-UX support for the flagship database or Oracle apps will chill the OS futures, something HP is addressing with its lawsuit.
HP said that it believes "Oracle's March 22 statement to discontinue all future software development on the Itanium platform violates legally binding commitments Oracle has made to HP and the more than 140,000 shared HP-Oracle customers. Further, we believe that this is an unlawful attempt to force customers from HP Itanium platforms to Oracle's own platforms."
HP 3000 users could point to legally binding commitments at the end of 2001, too. But any lawsuit would have met a tough defense from HP, and the customers really didn't want to force a relationship to continue. As a last resort, HP has abandoned the idea of working out something with the partner selling the majority of HP-UX databases. The problem is those robust HP-UX sales are a thing of the past -- and Oracle wants its own Sun servers selling instead of the Integrity boxes. Like NewWave, Itanium is an architecture that Oracle says never caught on.
When I wrote that Open Systems Today
article, Itanium was just being announced as a joint venture between Intel and HP. HP's Unix was on a roll, cannibalizing HP 3000 systems at such a pace that HP's 3000 division executives were asking Smith-Gardner to drop its MPE/iX support in the same way that Oracle is dumping its development for HP-UX.
Smith-Gardner resisted the HP request and sold hundreds of companies its Ecometry e-commerce package in the five years that followed. But Smith-Gardner was simply reselling HP's enterprise 3000 servers, so moving to another platform wouldn't boost their business, they reckoned. At least not enough to justify the extra development to create a Unix version of the app they would soon call Ecometry.
So HP asked a vendor to drop MPE/iX development, and it has also dropped development for that same OS in the 16 years that preceded Oracle exit announcement from HP's Unix. Partners who want to leave do so, even though legal action might hold them a little longer. Oracle is no more motivated to do HP's bidding in the suit than Smith-Gardner was to exit MPE -- or HP was to reinstate its MPE/iX futures in 2001.
Oracle said in a statement that responded to this week's HP lawsuit:
It just takes a few minutes to read the early drafts of the agreement to prove that HP's claim is not true. What is true is that HP explicitly asked Oracle to guarantee continued support for Itanium; but Oracle refused, and HP's Itanium support guarantee wording was deleted from the final signed agreement.

It is interesting, however, that way back in September of 2010, HP asked Oracle for a long-term commitment to support Itanium. At that time Oracle did not know that there was a plan already in place to end Itanium's life. Oracle did not learn about that plan until six months later, in March 2011. We believe that HP specifically asked Oracle to guarantee long-term support for Itanium in the September of 2010 agreement because HP already knew all about Intel's plans to discontinue Itanium, and HP was concerned about what would happen when Oracle found out about that plan.

What we know for certain is that Ray Lane and HP's current board members and Leo Apotheker and HP's current management team now know full well that Intel has plans in place to end-of-life of the Itanium microprocessor.
That language has an uncanny echo in its tone. HP was just as certain in 2001 about the imminent end-of-life for the HP 3000 ecosystem. The lawsuit shows that an alternative OS -- even one with a roadmap extending to 2017 -- is vulnerable to market share analysis. No matter how HP sees it, many of its customers consider their operating environment to be Oracle first, and the OS second. Like the Other White Meat of pork, the Other Enterprise OS of HP-UX may remain tasty to some partners. But a lawsuit won't keep the partners' fryers hot for more HP-UX development, even if HP wins its suit. There was a time, in 2001, when slow-growth meant an HP product line was going away.
The outcome of the lawsuit could ring a nasty warning bell for HP's future of HP-UX. If the OS loses the ability to host Oracle's databases, it will be relegated to an application-only niche for enterprises which rely on Oracle. They'll move their Oracle databases to Windows Server or Linux boxes. HP sells the ProLiant line for this sort of thing, so HP will continue to be in the running for hardware sales to Oracle customers.
But when an enterprise is considering a move away from the HP 3000, it looks at the lifespan of its target OS. Losing its largest partner can't be good for the health of HP-UX. While companies are moving their databases to separate servers, they might just lose their passion for HP's Unix while facing a migration. That's what happened to HP in more than half of the migrations from MPE so far, according to community vendors.
06:24 PM in Migration, News Outta HP, Newsmakers | Permalink | Comments (0)
June 16, 2011
Six Years of 3000 News by Blog
Six years ago this week the 3000 NewsWire's blog opened up on the Web. We've posted almost 1,600 stories since that day in June, when we started to report on the upcoming 2006 end of HP support for the server. Just like our ongoing 3000 NewsWire print edition, we worked to report what homesteaders and migrators were doing to accept or prepare for the changes.
It's hard to describe how much the world of the Internet has also changed since 2005, except to note that we don't even see the word Internet used much these days. There's also the accepted fact that everyone has a blog these days, if they're interested in sharing their news, or their lives, via computer. Some call Facebook their blog, and others use Twitter. But regular updates on what's changed are part of the fabric of our social network.
What were we talking about in that summer of 2005? Some in the community were hopeful that the new CEO Mark Hurd might revitalize the HP 3000 business. The same kind of enthusiasm had mounted when Carly Fiorina took that job in 1999, a year when the vitality of HP's 3000 operations was slowing but not curtailed. Hurd did no revitalization, of course. And by today, six years later, the community has stopped hoping for any change in HP's heart. Its new CEO Leo Apotheker has his heart in software (a good thing for a platform like MPE). But the only HP-driven software platform turning heads on Leo's team is WebOS -- facing the same kind of stiff competition that MPE/iX faced in 1999 against Windows and Linux.
A lot has changed for the HP 3000 -- HP has stopped selling everything but support, a hardware emulator has been booted, migration's pace slowed and homesteaders stabilized. But much has not changed, too. During this week in 2005, Quest Software was using Taurus Software's Bridgeware for migrations. More than 100 of them, Quest boasted. The same link we used to Bridgeware-cum-Quest in '05 is operating today. (Taurus is planning some fresh 3000 products, we've heard.)
Just as in 2005, HP still isn't out of the 3000 support business altogether. Its appetite continues for collecting support money when a 3000 site is willing, a sort of on-paper insurance that gets tested once in awhile. That 2006 end of support that we anticipated became 2008, then 2010. HP's 3000 activities aren't part of our coverage today, but we always reached beyond the vendor for the 3000's stories.
Another thing that hasn't changed: Sun is still poking HP about software. Today Sun's owner Oracle is cutting support for its databases that use HP's Unix. In '05 Sun started to offer Solaris source code through OpenSolaris. HP didn't green-light any limited sharing of MPE/iX source for three more years, but we were eager to hear if OpenMPE might get HP's approval at the just-announced HP Technology Forum.
The Tech Forum would become most notable for helping put Interex in its grave, but source code discussion was not on the agenda of that HP-sparked conference. More pertinent news came in June: The Sarbanes-Oxley compliance rules were stalling migrations. But Measurement Specialites -- still a big 3000 site today -- had just learned that "staff would not expect testing of general IT controls that do not pertain to financial reporting."
In 2005, our survey of migrating HP 3000 sites didn't turn up a single one making the jump from Ecometry on the 3000 to the HP-UX version of the e-commerce software. HP-UX Ecometry is pretty much expired as a product choice for migrators today; Windows reigned over HP's enterprise software platform.
We reported that Jumbo datasets in IMAGE were finally going to get eclipsed by LargeFile datasets. HP's engineers said alpha testing to fix a critical bug in LFDS was going well. The critical bug was discovered and reported by Adager -- six years later, still the community's best resource on IMAGE/SQL. Adager's CEO Rene Woc recently noted that the LFDS bug was one of the last that was identified while there was an IMAGE lab still working. Those engineers have long since moved on to other companies or other HP work.
In 2005's June we were tracking patches to MPE/iX, hoping that dozens of them could escape HP's testing jail that locked them away from users. By now, some of those patches are available through the HP ITRC for free -- but that's a resource that's also in migration phase this week. We reported just last week that you'd better do your downloading from the ITRC by this weekend -- because the new HP support forum is likely to have some migration bumps after Saturday. Changes have often sparked our news over the last six years. Starting this blog has been the biggest expansion of 3000 news in our business life. We've been delighted to make every workday reports a part of the community's life.
07:23 PM in History, Homesteading, Migration | Permalink | Comments (0)
June 15, 2011
N-Class price, storage advice points at value
While we were trolling our files for news about the HP 3000, we found a note about this year's cost of the N-Class HP 3000 servers. The ultimate HP 3000 ever built by the vendor, used as a spare parts unit or a hot backup for a production machine, sells for $3,000-$8,000 from one supplier. That's the price for a server that's got a pre-loaded version of MPE/iX, but the license is up to you to arrange. The $8,000 N-Class was listed as the most powerful (750 MhZ), sporting three processors.
On the other end of the useful 3000 power scale, the Series 927LX -- almost the smallest PA-RISC HP 3000 ever built by HP -- is still in use in the field. Chuck Trites asked this week if a DLT tape drive could be installed in this server that was designed in the early 1990s.
"This is not a problem as long as you have a free slot, or an open 28696A fast-wide card," says Jack Connor of Abtech. "I believe you need to be on MPE/iX 6.0 or 6.5 to go with a DLT8000. I'm sure a DLT4000 and probably a DLT7000 are okay." Larry Kaufman of legal firm Weltman, Weinberg and Reis reports that the 28696A IO card is easily obtained, a double-high interface device that permits the 927 to use HVD SCSI DLTs of 4000, 7000 or 8000 models.
HP 3000 managers trade this kind of configuration experience often, usually bolstered by independent support companies like Gilles Schipper's GSA. Schipper adds that some DLT4000s have a Single-Ended SCSI interface if that 927 doesn't have a spare full-height slot.
You might miss one point of this set of exchanges. At one end there's a 20-year-old server still working in a production setting. At the other end, the most powerful 3000s sold by HP are now less than $10,000, at least in a spare-parts or hot DR offering with your own licenses. There's value available for a server HP hasn't built in more than seven years, if you know where to ask for help.
Trites, who runs a consultancy
that serves 3000 managers and sites, created a tape with a DLT4000. "What I need to do is restore the databases on the tape to my system for a project.  I only have a DDS drive, and don't know if it's worth trying to install a DLT drive or not." Mostly, that would depend on the price of the DLT SE-SCSI w
Other 3000 IO advice is being offered on balancing file allocations by duplicating a DISC class in SYSGEN. "I want to put an 18GB drive on LDEV 1 and a 9GB on LDEV 2: DISC twice on LDEV 1 would seem to be good to do this," says John Pitman. "I tried to do this in SYSGEN, but it said it was already there."
Schipper explains:
That used to be a good technique in the pre-MPE/iX and MPE/XL days. But it's not necessary any longer. MPE will naturally choose whichever disc has the most free space for its file disc space allocation.

And there is also a special allowance for LDEV 1 to ensure it does not prematurely fill up. You can control some aspects of disc utilization via the permanent and transient percentages that can be manipulated via VOLUTIL.
Craig Lalley of EchoTech notes that the VOLUTIL commands are
ALTERVOL MPEXL_SYSTEM_VOLUME_SET:MEMBER  Perm#  Trans#
HP's own Jim Hawkins, a longtime engineer in the IO labs for the 3000, offered his insights on how MPE/iX uses its algorithm to balance the allocations.
I poked around in this code as part of the "Large Disk" patch set. The algorithm is based upon percentage full -- that is, we pick the disk in the set with lowest percent full. Note though this does have a disadvantage that if your volumes are very different sizes as you may bottleneck or serialize lots of IO to the larger disks.

 MPE does do better when disks are matched in size. Also, the original algorithms were designed when 4 GB was a really big disk, so were granular to 1/100. With one of the Large Disk patches, I think I made that 1/10000 -- otherwise you'd have to add 3GB of files to a 300GB disk before you'd move to the next volume.
09:13 AM in Hidden Value, Homesteading | Permalink | Comments (0)
June 14, 2011
CEO Leo ends earnest Livermore's duties
Ann Livermore, who has been leading close to half of HP's business, has been sent to the board of directors after 29 years of day-to-day duties. The executive vice president of HP's enterprise and services operations, Livermore was an earnest team player for a franchise that changed captains four times during her tenure. The executive rollover will matter to companies making a migration to HP's other enterprise products. Livermore was at the top of the org chart for that part of HP's business.
Livermore, 52, began her work just out of graduate school in 1982 while John Young was CEO at HP, and three times over the last 12 years she made the short list for becoming CEO. She was closest to the job in 1999 when HP decided to choose Carly Fiorina, the first outsider, as its CEO and board chair. Although Livermore was favored among the 3000 customers and partners who valued the HP Way -- and still could count the 3000 among HP's best products -- the board decided to start an era of high revenue growth, sparked by technology bought or borrowed from outside instead of built from the inside.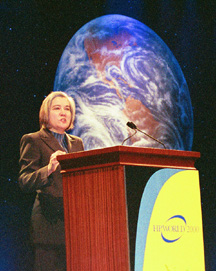 It's fun to imagine what might have become of the HP 3000 if Livermore's first shot at CEO would have been a success. She came from the Classic HP management team that featured Marc Hoff, her boss at HP Support, where I first interviewed her rolling out a fresh version of HP LaserROM -- the industry's first product-support on a CD, built for a company with computers ranging from desktops to enterprise servers. Before there was a Web, there was LaserROM. I left that interview suite in 1989 feeling Livermore had leadership spark. She was 30 years old at that Interex conference in San Francisco.
But Livermore was everything that Fiorina was not. Livermore was not steeped in sales and climbing over backs at a corporation like Lucent. Not flashy and outspoken, not an executive unwedded to the HP Way. Livermore is remembered today by your community as an HP executive who represented the old style of management, the one where even a VP would write a home phone number on the back of a business card for a customer. But she should also be regarded as HP's ultimate team player, a survivor who promoted the HP 3000 as a conference keynoter just three months before HP's exit announcement. Like so much of what she did at HP, that duty was what top management called for, or the customers demanded.
Livermore was on-message,
as always, at the HP World conference in 2001 where she delivered the keynote address. At the time she was leading HP's Services group, the support arm that HP's board took away from her earlier this year. Dave Donnatelli, the EMC high flyer hired by Mark Hurd to run HP's Enterprise, Servers, Storage & Networking group, is taking over the rest of her day-to-day duties.
In that summer a decade ago, Livermore delivered the most earnest defense of the HP 3000 and MPE/iX in her speech. The only round of applause which interrupted Livermore's speech came when she listed all of HP's strategic operating systems, ending with MPE/iX. "We offer a choice of operating environments, and we think that's really important, ranging from Linux, to HP-UX, to Windows, to MPE." She paused, then said, "See? I didn't forget MPE."
The president went on to add that HP "designed the HP e3000, the A- and N-Class servers we introduced earlier this year, specifically to power the compute-intensive applications today's corporations need. With new solutions and also greater performance compared to the previous 3000 systems, we think these systems are ideal for many of today's complex data management and Web-enabled applications. For those of you who want to continue operating with your 3000 MPE environment, we think this is very important."
Livermore's talk was just one of several 3000 mentions during that show, one that included a comic book summarizing the message: "Remember that word, flexibility? Well, HP offers all four platforms: MPE/iX, Windows, HP-UX and Linux. Fully compatible, of course.
One year earlier she was defending HP's decisions to use the 3000 as one of five operating environments for enterprise computing, including Unix, Windows NT, Novell's Netware and Linux At the time she was reporting directly to Fiorina, chosen over her for the top job one year earlier. Livermore admitted the platform was not going to regain its multipurpose role of the past.

The HP 3000 for us continues to be an important operating environment. But the sales seem to be focused in particular vertical industries, areas where people want complete, end-to-end applications. It's not as big, and we don't anticipate the revenue stream will be as big for us, as what we see with our HP-UX business, and what we see with our NT business. But it's going to be continue to be important for us. The revenue generation is not as large, and the new customers are not as large.

It is, on the one hand, very much an installed base market for us. We're continuing to help our installed base customers expand and add more to their environments: bring additional systems in as they need them and continue to do the performance improvements, scalability and architecture work. But we don't see the same number of new customers moving onto MPE/iX as we see for HP-UX and with Linux.


We think a lot of this has to do with the fact that there's more applications available on NT and on Unix today than are available on MPE/iX. We love this operating environment, the reliability. We love the stability. Our limitation has mostly been how many software companies are committed to porting their applications, tuning them and having them run on MPE/iX. That's the thing that's driving how broad our business can be.
That was Livermore's style -- to bridge the gap between corporate-speak with a knowledge of the HP business from a platform perspective. No other CEO candidate of the last decade could bring that tribal knowledge of the HP Way to the job. Now with a raft of HP's Enterprise business executives being demoted, the newest CEO is clearing the way for better results from HP's enterprise businesses.

10:14 AM in Migration, News Outta HP, Newsmakers | Permalink | Comments (0)
June 13, 2011
No Waiting for Replacing HP3000 CPUs
Jack Connor, a volunteer for OpenMPE and a support expert at Abtech, has written software which can throw a lifeline to a stranded 3000. The software, which is offered through Conner's independent company InfoWorks, provides access to the HPSUSAN naming for fresh CPU boards on 3000s.
Connor is not selling a permanent alternative to calling the HP support team to get a fresh CPU up and running with your existing HPSUSAN number. (Your existing third party apps and tools will insist on the old HPSUSAN, unless you get a fresh code from the software vendor. In some cases that's not possible, because the vendor's gone out of business.)
The software is called NoWait/iX. Connor says the name describes the tool's intention -- eliminating the wait for the HP technician to arrive, on a rush-charge time and materials call, to transfer your old HPSUSAN to the new CPU board.
NoWait/iX
is intended for use "until HP can be scheduled on site at both HP and the customer's convenience -- and not paying the emergency uplift charge," Connor reports. "However, if a customer has a third-party tool which is no longer supported, or licensing is no longer available for an upgrade, NoWait/iX can operate indefinitely, returning the old information to that single product."
Connor expected the product to be wrapped up and ready by the start of this month.
InfoWorks' NoWait/iX (no wait for HPCE to come on site to update a system board replacement), is ready to go. It is recommended that it be installed prior to a system board failure, so that when the system is rebooted the CPUNAME, SUSAN, and USERLIMIT for the old system board are already pre-loaded into NoWait/iX.  However, it can also be installed after the fact -- but downloading, installation, and configuration will add additional downtime.
 
HP will neither embrace nor condemn it other similar tools. NoWait/iX offers an advantage in that it is not tied to any one support organization and is available to the entire HP 3000 installed base.
Since he's a volunteer and the new chairman for OpenMPE, Connor will donate 10 percent of the sales of NoWait/iX to the group, if a referral comes through OpenMPE. You can contact Connor about purchasing the software at [email protected].
10:41 AM in Homesteading, Newsmakers | Permalink | Comments (0)
June 10, 2011
HP airs its cloud-speak at higher levels
Over and over during HP's Web-delivered messages this week, buzzwords ruled the airwaves. Apple's Steve Jobs, talking to people with deep technical chops, still knew how to direct messages to the mass consumer, plus the smaller IT manager. HP spent more than 90 minutes in one set of speeches about clouds. We figure that's worth about 11 minutes of our podcast (11MB, MP3 file).
"We're talking about being PC-free," said Steve Jobs at the Apple developer conference, held at the same time as HP Discover. In contrast, HP talked about the best technology to serve the companies who operate clouds for corporate customers. And those companies will then sell cloud service to the masses.
It sounded like the masses got two messages this week, one aimed at a higher level of executive, the other at a higher level of computing. Jobs may not be the rock star that Sir Paul McCartney is -- but at least he sang the lead to people who want to lift their data needs into a cloud.
06:17 PM in News Outta HP, Newsmakers, Podcasts | Permalink | Comments (0)
June 09, 2011
HP demands developer justice from Oracle
HP has sent Oracle a "formal legal demand" that Oracle reverse its decision about abandoning Itanium development. It's the kind of protest that some HP 3000 customers dreamed about during the prior decade.
The Hewlett-Packard letter said that the Oracle decision, announced in March, "violates legally binding commitments Oracle has made to HP and the more than 140,000 shared HP-Oracle customers. Further, we believe that this is an unlawful attempt to force customers from HP Itanium platforms to Oracle's own platforms."
Support for Oracle didn't materialize for the HP 3000 while Hewlett-Packard was selling the servers. A strong IMAGE database platform, included with every 3000, made selling Oracle a proposition which had to compete with a bundled, well-tuned alternative. Oracle focused on the dozens of Unix platforms instead, including the one it's about to drop, Hewlett-Packard's HP-UX.
When the 3000 announcement came down from HP, customers talked about mounting a legal challenge to the business decision. The court of last resort never saw such a suit, even though 3000 advocate and developer Wirt Atmar hired a Chicago legal firm to research grounds for a class-action suit to reverse HP's plans. Angry customers who'd been told the 3000 was healthy, only months before the pullout, believed such a suit would be justified.
In a 2002 article for the 3000 NewsWire
, Atmar wrote that a free license for MPE/iX -- along with the ability to run the OS on low-cost hardware -- was the vendor's best recourse to being called out in court. "This model is also in HP's interest," he wrote. "The level of user anger that exists over this decision is deeper than [the 3000 division] believes it to be. I do not consider class-action lawsuits to be out of the question."
Keeping costs significantly above the norm, as MPE has been over the last decade, has caused an ever-increasing downward spiral in use and users. Keeping costs below the norm and maintaining a quality much better than expected should very pronouncedly promote quite the opposite response.

Will HP cooperate? This is the final question, and the most important. In this model, the source is not being given out to everyone, willy-nilly. It isn't being able to see the source code that is important in this model. It's simply critical that the user community knows soon that someone competent is diligently working on their behalf.

Will HP cooperate? I believe so. I spoke with one of the senior management people at CSY at some length. In regard to OpenMPE, he said, "Why do people automatically assume that we won't cooperate? Why would we want to do any harm to MPE?" Based on that statement, I think everything else is eminently feasible.
It took another six years to agree to license the source code to the community, which turned out to be companies like Pivital Solutions, Adager, and others. Atmar was indentifying the essential issues of supporting a marginalized environment, long before the community could do so. Running MPE on Intel hardware would be key to a New CSY, an independent company spun off from HP with a focus on the 3000's critical mission.
Nine years later, Stromasys has tested a creation which Atmar wrote about just three months after HP's pullout notice. "If the virtualization of the MPE emulation is done well enough," he wrote, "the rules could become nothing more than, 'If Linux runs on it, so will MPE.' " Linux will host the Zelus emulator for MPE-PA-RISC. The technical solution will arrive 10 years after Atmar dreamed of it. HP doesn't want to wait around on tech workarounds to maintain its customers' choices of Oracle environments, so the legal ploys will now begin.
Atmar, who passed away in 2009, simply wanted an honest effort from Hewlett-Packard to repair the rift it created between itself and HP 3000 customers. Those customers didn't want to end a decades-long relationship with HP. Nearly a decade later, Hewlett-Packard doesn't want to end its decades-long relationship with Oracle. But the 3000 customers who were left behind in 2001 now get to see how well a legal dispute can pull a partner closer who wants to leave.
08:46 AM in History, Homesteading, News Outta HP | Permalink | Comments (0)
June 08, 2011
Another migration looms for HP's users
Hewlett-Packard has put its enterprise users on the migration road in several ways over the past decade. HP 3000 customers saw the platform lose its place in HP's lineup. HP-UX users have weathered a change from PA-RISC servers to the Itanium-based Integrity line. Now the HP support team is migrating the company's entire computing customer base by the end of next week.
Bill Hassell, the HP-UX guru who tracks support for Source Direct now, reports that HP's June 18 migration from the ITRC is so profound that customers better get their critical patches and analysis done before next weekend. On the HP-UX Users forum of Linked In, Hassell -- who once worked support for Unix at HP -- said next weekend will be a watershed, but maybe not all gloom and doom.
The migration of the ITRC -- not just Forums, but patches, firmware, patch analysis, call tracking -- is still scheduled for June 18. I would not recommend doing and patch analysis or other critical tasks for a couple of weeks after June 18 -- this is a big move. The good news is that a separate company (Lithium) which specializes in social media will be maintaining the UI, search engine and other major components for the Forums.
Veteran managers on the forum say that HP's search engine keeps losing steam with the changes up to now. "Every time a new version of the ITRC search engines was released, it provided less and less," said Simon Elias Brito. HP 3000 support companies in the independent market are usually serving HP-UX system users as well -- and probably better than the vendor's Web resources.
Hassell, who's seen the new ITRC replacement
, said he's heard from the HP liaison to the Connect user group, "the current user interfaces should not be significantly changed once you navigate to call submission or patch analysis sections. The forums will definitely look different, but will be adding a much better search engine and a much better UI for text entry. Problems with word processor copy/paste should be resolved -- but I have not tested any of this yet."
Lithium has a significant footprint in large corporate social media. The company's software powers the Home Depot How-To Community, for example, to allow 25 in-store associates to create content for use across the company. They're a hybrid of sales associate and help desk operator; they maintain regular contact with customers. Good social media tools are a essential element in community help. But there's no expectation or history with Home Depot's How-To. The ITRC has a track record, and it is a crucial element in HP system ownership.
Steven E. Protter, a systems administrator who's so prolific on the ITRC he's got "2-Star Olympian" status after 10 years, said the current ITRC needed an overhaul. Now that it's at hand, the user of HP support must accept and embrace it, Protter said in a discussion you can find (for now) at the ITRC Forums.
We the community have been demanding change. From what I found out in a conference call, the current applications and infrastructure were orphaned. Nobody who knew them well enough to make changes still worked at HP. It might be fun to finger-point, but it was a reality and it happened.

The current system is great, but it is hard to search, and legacy content is not always in great shape. We demanded change. Well, we got it. The thing to do now is to participate and provide constructive input.
09:04 PM in Migration, News Outta HP, Web Resources | Permalink | Comments (0)
June 07, 2011
Big Data drives HP Storage at Discover
At this week's HP Discover conference, Hewlett-Packard is saying that your storage architecture is probably rigid and outdated. (If you're unsure what a storage architecture is, then HP's probably correct.) The vendor is talking about a plan to keep up with "explosive data growth." The briefings this week have often referred to Big Data, nothing at all like Large Files on MPE/iX or Jumbo datasets in IMAGE.
Big Data is defined, according to our friend Wikipedia as:
Datasets whose size is beyond the ability of commonly used software tools to capture, manage, and process the data within a tolerable elapsed time. Big data sizes are a constantly moving target currently ranging from a few dozen terabytes to many petabytes of data in a single dataset.
A few other terms might be new to the HP 3000 manager who's migrating, and so stepping up to larger enterprise issues in a new environment. Multi-tenancy, an element that enables data consolidation from many different users. Scalability is a storage term as well, an HP keeps unveiling "scale-out" storage, devices that can add nodes to increase capacity.
How different are things in modern, Network Attached Storage? HP never talks about which platform controls its latest NAS storage devices that were announced here. The controlling computer is a "storage appliance," but mentioned only when you ask. (It's usually driven by Linux, sometimes Windows, occassionally by HP-UX.) What's more important is how fast storage capacity can grow, in HP's view. There's a gap in storage that the vendor says it is bridging with Converged Storage.
HP's Converged Storage portfolio
includes virtualized and utility solutions, delivered as physical or virtual systems with the multitenancy required by the cloud. Cloud computing, or as HP says, CloudSystems -- is the biggest talking point for the vendor here. HP announced "a completely rearchitected ecosystem of services, financing and certification programs to help enterprises modernize their storage infrastructure."
If you're following this rollout by tracking a device, the new HP X9000 IBRIX Storage System for massive utility-based file storage scales to more than 16 petabytes and more than 1,000 nodes, all managed through a single interface. HP bought IBRIX two summers ago to get the company's scale-out file serving software. The software speeds up IO between servers and storage devices. IBRIX software solved Disney's problems while creating Monsters v. Aliens.
IBRIX systems address needs of social networking providers, companies with massive real time analytics tasks, medical imaging -- the kind of Big Data a migrated 3000 shop may never see. The X9000 IBRIX starts at 14 terabytes and scales up to 16 petabytes. The entry-level IBRIX will sell for $89,000, available immediately. A massive email network is more likely to be a driver toward HP's new storage solutions for the 3000 manager.
But HP also introduced the HP X5000 G2 Network Storage System for mid-size companies, which was developed in concert with Microsoft. The HP X5000 is specially tuned by HP and Microsoft for Microsoft-based networks and clients. HP made comparisons to proprietary storage systems -- it talked a lot about vendor lock-in, as in "no lock-in, no limits." Solutions from HP's competitors like NetApp or EMC, it says, are built on more complex operating systems, and so are often difficult to manage by companies heavily invested in Microsoft environments.
While the IBRIX solutions are aimed at the biggest of customers, the X5000 is offered for midsized companies with Windows-centric environments. It uses a dual-server, clustered architecture for increased data availability. HP says that quick-start deployment tools enable this system to be up and running in minutes. Time to deploy is another advantage HP is quick to quote over its competitors.
HP also says the X5000 reduces power requirements by up to 58 percent and cooling requirements by up to 63 percent. It's smaller, too, decreasing data center footprint by 50 percent over previous-generation platforms. The X5000, which HP expects to ship in the fall at prices starting at $32,000 for 8 terabytes, uses fast, native support for the Micrtosoft Server Message Block 2.1 protocol and seamless integration with Windows Active Directory.
Modern storage is software at its heart, according to HP. As an example, the X5000 can improved file storage management and reduce risk by automatically categorizing, storing and retaining files based on business value. You'll want to tune those values, but that's a task HP and Microsoft help you do, tuned for your applications.
At the same time HP's selling these systems designed to handle big data, its StoreOnce technology is reducing the need to buy as much. The X5000 can accomodate up to 32 terabytes in a 3U chassis, while the StoreOnce file deduplication may reduce capacity requirements by up to 40 percent.
04:28 PM in Migration, News Outta HP | Permalink | Comments (0)
June 06, 2011
HP rolls out agile IT solutions at Discover
At the HP Discover conference today, HP announced Converged Infrastructure solutions that the vendor says are industry firsts, designed to "improve enterprise agility by simplifying deployment and speeding IT delivery." These Converged Infrastructure solutions are key to the company's Instant-On Enterprise journey for customers. HP says the offerings "break through IT sprawl and turn technology assets into interoperable, shared pools of resources with a common management platform." HP calls the announcement package Agility IT.

Dave Donatelli, executive vice president and general manager of HP's Enterprise Servers, Storage and Networking group, said the new solutions "extend the benefits of convergence to deliver new levels of speed, simplicity and efficiency that enable clients to capitalize and anticipate change. In a world where enterprises must instantly react to changing markets, clients are turning to HP Converged Infrastructure to dramatically improve their agility."
HP's Discover announcements from Las Vegas today include:
A Converged Storage architecture and portfolio, which integrates HP Store360 scale-out software with HP BladeSystem and HP ProLiant hardware. HP says the solution can reduce storage administration, speed time to service delivery, increase energy efficiency, and improve access for any data type or application workload. The offerings are complemented by new Storage Consulting services.
The Converged Data Center, a new class of HP Performance Optimized Data Centers (PODs), can be deployed faster than any competitive offering – 12 weeks – at what HP says is a quarter of the cost of a traditional brick-and-mortar data center. For example, the HP POD 240a, which the company calls the "HP EcoPOD," uses 95 percent less facilities energy.
Converged Systems, a new portfolio of turnkey, optimized and converged hardware, software, tailored consulting and HP Solution Support services that enable clients to be up and running with new applications in hours instead of months.
HP Server Automation 9.1, software which provisions physical and virtual application instances across the entire life cycle.
Research conducted on behalf of HP
found that 95 percent of private and public sector executives consider agility important to the success of their organizations. Plus, more than two-thirds of C-suite executives believe that enterprise agility is driven by technology solutions.
HP says that Converged Systems speed solution deployment by providing a common architecture, management and security model across virtualization, cloud and dedicated application environments. They include:
—  HP VirtualSystem, to increase performance and reduce complexity with an architecture optimized for virtual server and virtual desktop environments. HP says that VirtualSystem "provides advanced security and single-pane-of-glass management across hybrid environments, and supports Microsoft Hyper-V, Citrix Xen and VMware. It provides a simple path to cloud computing with a rapid upgrade to HP CloudSystem."
—  HP CloudSystem, originally announced in January, provides a platform for building and managing cloud services across private, public and hybrid environments. Universal security, governance and multi-tenant management enable clients to ensure quality of service and reduce risk.
—  HP AppSystem, which the vendor says maximizes performance while simplifying deployment and application management. These systems offer best practice operations with a standard architecture that lowers total cost of ownership. Among the new systems are HP Vertica Analytics System, as well as HP Database Consolidation Solution and HP Business Data Warehouse Appliance, which are both optimized for Microsoft SQL Server 2008 R2.
HP is making a live video of the HP Discover press conference is available at 10 AM PDT today at
www.hp.com/go/agileIT
. On-demand replays will be available.
12:01 PM in Migration, News Outta HP | Permalink | Comments (0)
June 03, 2011
What OpenMPE might be left doing, for now
More than two weeks have passed since the latest lawsuit against OpenMPE was dismissed in a Texas courtroom. The legal hijinks might continue. Matthew Perdue, the ousted treasurer from the group of volunteers, warned us last week that his failed suit didn't clear the group of future challenges.
Using his own reading of our headline "Dismissal clears OpenMPE lawsuit's hurdles," Perdue believes we were announcing the era of lawsuits against OpenMPE has ended. Although we were only stating that existing lawsuit's hurdle was cleared, well, not so fast, he warned us. "You should check your facts before publishing such drivel." On May 25 he wrote us.
Dismissal does not clear OpenMPE's path. You forget, or do not know, I have time to file various motions (which I will be doing) plus additional claims that were filed [that] have not been dismissed. I will also be taking action in Federal District Court against OpenMPE.
It's now been one year since Perdue's dispute with his co-location vendor first arose. It was an event that triggered a fight he's taken to court employing himself as legal counsel -- four times -- and since spilled over to Perdue's relations with the OpenMPE board, which had paid him for rackspace on one server at the co-lo site. On the anniversary of Perdue's dispute, it might be a fair time to look at what the remaining five people and some 3000 users have at hand to call OpenMPE, and whether any call from last year to disband makes any difference.
Despite earning a source code license
for MPE/iX from HP -- one that OpenMPE worked hard to pay for -- these volunteers have no firm plans to use that resource. At one point the source went back to HP after it was in the hands of Perdue. It is not in the volunteers' hands today.
But even while the legal combustibles were being ignited, secretary Tracy Johnson, chairman Jack Connor and other supporters were building a durable resource for the community. It's safe to say that these volunteers will focus on Invent3K (a cloud-based development resource), the Contributed Software Library, and any Jazz utilities hosted on a pair of 3000 servers. These are a community contribution the volunteers can support fiscally. What's more, these cloud and server resources seem to offer the most value to the community at this point. There's no advocacy to pursue with an HP that has ended its 3000 operations.
The volunteers who last arrived on the group's board haven't heard much praise or encouragement for those efforts. For much of that time since the last election in 2010 of 45 ballots or so, the volunteers' efforts have been spent on Perdue.
There's one more resource that remains to be tapped from OpenMPE -- a point of purchase for HP's classic MPE/iX subsystem software. An arrangement between OpenMPE and Client Systems has been in place since April, a means for anyone who wants to buy licensed HP software for their systems.
Connor can be contacted about subsystem software sales at [email protected], or Dan Cossey at Client Systems directly. "Make sure to let Client Systems know this is a purchase via OpenMPE to receive the discounted price," Connor said.
As to licensing, HP's Jennie Hou says all HP licensing (SLT) is still in effect with the exception of HP's Return To Use (not to be confused with Right To Use) product. That product allowed a customer to relicense an HP 3000 for which all paperwork (support contracts, previous SLT, etc) were lost. That option was discontinued as of 1/1/2011. I hope this is of some value in mapping the HP licensing issues; in some aspects, it's as confusing as US tax law.
05:07 PM in Homesteading, News Outta HP | Permalink | Comments (0)
June 02, 2011
World of Web links blasts beyond pranks
They say you can get anything you want off the Web, but there are some experiences you find by accident as ugly as those who create them. Instead of prowling around for opinions and schoolyard humor about decommissioning HP 3000s with cannon-fire, many genuine resources are well within reach of a click or tap on your browser.
HP's storage choices can be confounding these days, with parts of three product lines all being merged and offered for managers of enterprise systems tracking SureStore, XP, 3PAR and more. A lunchtime talk from HP, via the Connect user group, sets the complex choices in order. You can track down the link by looking at our blog article from March 29.
OpenMPE may be scrambling to stay relevant, but the group of volunteers has mounted a server that offers classic technical papers, a collection of HP subsystem software for use in developing and maintaining code, plus links to the Contributed Software Library. The Invent3K server is the most tangible item from a group that's been hunting for a mission. OpenMPE.com delivers these goods.
Webinars are worthwhile
when they are well-led and focused on your own needs. MB Foster has made a habit of running them every other Wednesday this year, tracking subjects like data migration and management, as well as wisdom gained from years of helping migration of 3000 apps. Just yesterday the company detailed and demonstrated
Version 7.06 of UDA Central
, a tool for data migration. You can get notice of these upcoming presentations, each including a Q&A, at
mbfoster.com
. Healthcare datamarts are the next subject up in the schedule.
Networking is sometimes best done in person, so the classic user group meeting remains an important tool. The Connect user group mounts its annual conference with HP next week, and copious details are available online. I also spotted a pair of letters for download, written to help justify the expense. Details are online at the user group's website, connect-community.org.
If 3000-focused meetings are the only ones to trigger your justification, this fall will include another one whose details will unfold in a blog. HP3000reunion.com is going to include what's scheduled, who plans to attend and details about how you can organize your very own part of a three-day reunion in the Bay Area in September. Instead of wading through paper submission committees and an approval process, your community is opening opportunity for the meeting. All is explained at the website, they say.
If your tastes run to video that doesn't debase the 3000 and its legacy, a simple search of YouTube turns up some inspiring and informative minutes. Offline diagnostic utility instructions for the 3000. A tour of the technical details of the N-Class servers, the most advanced models HP will ever build. And history, if you want, about 3000 software growing up, a Hewlett-Packard that preserves its icons, and how your community looked just two years ago in its previous meeting. And if you spy a gun-fest on YouTuve launched against an old 3000, brush past it. A lot more links are shots on target.
09:10 AM in Homesteading, Migration, Web Resources | Permalink | Comments (0)
June 01, 2011
3000 Reunion to be a meeting made by users
Reunion on September 24 at Computer History Museum seeks party-goers, volunteer organizers; also open to allied events; details at hp3000reunion.com

By Alan Yeo
Second of two parts; read Part 1

In these times of fiscal realities, the HP3000 Reunion needs seed corn (money) as well as a good set of ideas to get things off the ground. Up to now, a few companies have chipped in on the basics for a meeting space, but there are others who have enough commercial reasons to be at the Bay Area around the same time as the Sept. 24 meeting -- so that in turn these companies might have their arms twisted to prime the pump.
However, the rest of you: don't think you have got off Scott-free. If you have been earning a living from supplying the HP 3000 user base over the years, it's time to put something back!
We of course are hoping that some of you will help sponsor the event, but we'd also appreciate your promoting the event, plus organizing prospective meetings. So beware, before long you may well get that call or email from an old colleague or friend, suggesting that if you haven't already, wouldn't you like to help? Of course you could save embarrassment all-round and just volunteer.

Passers-by were amazed by the unusually large amounts of blood
With all due credit to The Onion, hopefully we may have dragged a few casual readers in for the meat and potatoes bit. Our plan is that we will organize a late afternoon and evening reunion event at the Computer History Museum on Saturday, Sept. 24. Other training sessions begin Sept. 22.
The idea is that we will organize food and beverages and hopefully an interesting talking head/living legend or two. And that hopefully you provide your attendance to make it a great event.
However, the bigger idea is that we use the reunion event as a focal point around which other companies or individuals can organize additional activities. This means that whilst everyone is welcome to just attend the Reunion, there are other activities occurring that will make it worthwhile for people get on Trains and Boats and Planes to come for a few days.
We already have news that Marxmeier Software will organize an Eloquence User Conference on a day leading up to the event. Another vendor is planning to hold a Migration Training Day before the event. We have also had suggestions that it might be great for someone to organize a trip to the HP Garage, and possibly reincarnate the HP 3000-L luncheon on Sunday or Friday evening for those attending or in the area. (Some wilder suggestions have been a drive-by shooting at the old Cupertino site now occupied by Apple.)
In short, the idea is that if you think that "something" ought to be organized, or you want to get together a group of friends or customers (or potential customers) and think the Reunion would be a great opportunity to do so, Then Do It! We aren't going to organize it for you, but we will help promote it via the event website hp3000reunion.com, and other means at our disposal.
If possible we will also provide a mechanism via the website so that people can register their intention to attend any additional activities. (WordPress experts, contact us.)
It has been suggested that it would be good to have a Homesteading event earlier in the day on Saturday for those planning on staying on the HP 3000 longer term. So if you think it's a good idea, and want to organize it, then do so. We can assist in terms of promoting it and help in finding a location.
We can also put like-minded people in touch with each other so that they can cooperate in organizing it. What we can't do is the heavy lifting for you in organizing it.

Hotels
We are currently talking to a few hotels in the Mountain View and Cupertino area to see if we can negotiate special rates without having to block-book. We managed it for the last Community Meet, so hopefully we can do it again – it will allow us to extend the contact potential and transport organization if we are located at the same hotels. Who knows, maybe someone will organize an ultimate meeting of SIG BAR!

What do you have to do?
Well, either (sigh) browse to the next page and forget it. But what we need are your ideas on the concept of the event, any feedback on the plans above, plus the likelihood that we can drag you away from what you're normally doing on a Saturday evening to reunite with old friends.
So hop over to hp3000reunion.com to get the latest news and provide feedback. If you're feeling a little shy, then please email or call Ron Seybold (512-331-0075) or email me direct (44-168-429-1710 to call) — especially if you want to help by sponsoring the event or to volunteer your help in any other way.
Also, call and email friends and former users you believe may be interested. For this event we need to rely on community's viral marketing to spread the word. Many people have now moved on, and some email and contact lists are well out of date. But you are not — even if the younger Tablet set wants to think of you as a museum piece.

Alan Yeo is the organizer of the 2003 World Wide Wake for the HP 3000, plus three subsequent Community Meets, as well as the founder of ScreenJet.
03:54 PM in Homesteading, Newsmakers | Permalink | Comments (0)