« July 2009 | Main | September 2009 »
August 31, 2009
Emulator history assists in HP licensing
Members of the HP 3000 community have doubted any hardware emulator would ever surface, often pointing to HP's reluctance to make a license possible. More than five years elapsed between HP's initial promise of a virtual MPE/iX license for PC-based servers and the mechanism of right-to-use licensing. Even when HP issued an FAQ on the emulator, users didn't believe the concept could pass HP's legal muster.
"HP has demonstrated an intractable institutional resistance to admitting that the HP 3000 was a viable platform," said James Byrne, IT manager at 3000 shop Harte-Lyne. "This cannot but continue to have a baleful influence on efforts at cooperation with HP by those producing and intending to use said (non-extant) emulators."
Harte-Lyne was using a pair of Series 918 3000s when Byrne cast doubt on an emulator's future. Other long-time advocates of the 3000 described the concept as "an emulator that will never happen," according to Joe Dolliver, owner of consultancy e3k Solutions.
But early this year Dolliver also said he had "two part-time 3000 clients that have no Plan B, and I will be supporting them for several years to come." lf licensing can be arranged to allow third-party tools to run in emulation, such clients could find a Plan B in an emulator.
"If an emulator existed and cost less than the hardware support contract for our 3000," said Edward Berner of Yosemite Community College, "then I could save money and reclaim some floor space at the same time."
What's been key to keeping the dream alive is vendors' history with HP working on emulation. In addition to the HP 1000 experience from Strobe Data's emulator product, there's been others. Robert Boers, the CEO of Stromasys who recently said the company has worked out its licensing plans regarding MPE/iX, reports that doubt and skepticism have followed emulator sales ever since his firm started selling them for the Digital VMS market.
"That's one of the problems that we have struggled with for years," Boers said. "When you talk to people they say, 'It can't be done. It's too good to be true.' We've had to pull out our Intel laptop and show them that VMS is running on it."
Technical hurdles are a serious consideration, but few in the 3000 community doubted that an emulator was an engineering impossibility. "It's basically a mathematical model of the hardware," Boers said of his product. "The Gartner Group now has a name for it, cross-platform virtualization." His company has made its bones with a VAX-Alpha emulator that he says is so accurate "you can run [VAX] hardware diagnostics on it."
That kind of technical exactitude will be needed to ensure elements such as TurboIMAGE continue to operate as applications expect. Boers said of his product, "Since we re-create an abstraction layer of the hardware, I wouldn't expect anything not to run. There is no fundamental difference except that some of the components -- normally the IO -- will run a lot faster."
The performance of the emulator will be determined by the host hardware, which Boers says is typically driven by Intel or AMD 64-bit processors. HP has not mandated that the hosting hardware carry an HP label to be eligible for a license. Several technical experts in the community say there's no way to test for the presence of an HP PC on startup. That kind of test took place in 3000 hardware to ensure MPE/iX wouldn't boot on another HP PA-RISC server.
There's many a potential slip between lip and cup remaining for any 3000 hardware emulator. Performance might be an issue, but the accelerating power curve of Intel and AMD systems could well resolve that issue over the next year. HP's licensing intentions will be tested, too, once Stromasys attempts to sell the product -- since the third party is a player in the MPE/iX licensing process. The HP Right to Use (RTU) license controls the operation of MPE/iX on non-3000 hardware. From the FAQ of early this spring:
An MPE/iX license can be transferred from an existing HP e3000 system to an emulator, using the  current Software License Transfer (SLT) process. A customer needing additional MPE/iX licenses will be able to purchase an MPE/iX RTU license through the AD377A product in conjunction with an emulator product through the end of 2010.
HP's got a mechanism to sell additional licenses for HP 3000 implementations -- virtual 3000s -- to a customer who's already got a 3000 running. That AD377A product has seen its price drop since it was first introduced in 2008. For some customers, the cost of adding 3000 licenses could make for a better Plan B than no plan at all.
"So this emulator would act as a virtual HP 3000, and the OS and apps would actually live on a 21st century piece of hardware?," asked John Stevens of Take Care of IT. "I have to think that this would have a market. If the price (and quality of implementation) is less that than of a true migration, there's your answer."
Customers who would rather be migrated could even comprise some of the emulator user base. "Sorrowfully, I might have to use an emulator," said Paula Brinson, the Datacenter Operations Manager for Hampton Roads Sanitation District. "The legacy system is getting expensive due to floor space costs. Maintenance is with third parties now, but is still a fairly significant expense, and I have cancelled as many software contracts as I can and still operate. So emulation may be the way to go."
08:44 PM in Homesteading, Migration, Newsmakers, User Reports | Permalink | Comments (0)
August 28, 2009
Marking up 25 years of 3000 stories
Editor's Note: This month marks 25 years of my career covering the HP 3000. From a company that posted just $6 billion in sales in 1984 to the juggernaut that now sells that much in less than a month, HP and its customers have been a delight, passion and challenge to chronicle. I'm happy to still call this task a big part of my life's work.
Over the next few Fridays (and a Monday or two) I'll be chronicling the history of 1984 in the 3000 world. I began to report and edit on the HP 3000 in a busy year, when the first office-sized 3000 was unleashed (I got scooped on that Mighty Mouse release), the HP LaserJets first appeared, and HP had to re-start its project to create a 3000 system that could catch up with DEC VAXes.

Now HP owns DEC, the PA-RISC goal of that mission is aged technology, and LaserJets run far behind  InkJet business that generate HP profits in consumables. What has not changed is the dedication to business IT skills that your community holds dear. By seeing what HP 3000 life of 1984 looked like -- as told in forthcoming stories by 3000 veterans -- you can set a bar at a reliable level for future IT environments you choose.

  1984's summer started this young journalist on 3000 road. After a quarter-century covering your community, my 25-year gold watch is getting to keep my job. Since 1984, HP 3000 users have taught me they're not a retiring bunch.
  They've also schooled me on how the computer industry works, starting in a summer when HP's printer and PC business was just growing up while HP 3000 computers were growing smaller than ever. I brought three years of newspaper reporting into the offices of the monthly HP newspaper The Chronicle on Aug. 21 of that year, but I knew nothing about HP computers. A handful of college courses in Pascal, BASIC, Fortran and RPG let earn a computer science minor. IT work was called data processing back then; one course titled "Introduction to DP" filled out my University of Texas degree. To replace the slide rule that I retired along with my designs on an engineering degree, I bought a flowchart template.
   I came to your community at age 27, so my 25 years of reporting and editing in the 3000 world has spanned nearly half my life. The year 1984 was a milestone for me, but it was a watershed for your community as well. No commemoration of my quarter century would be complete without your contributed memories. You've already been generous, but I invite you to reply with even more.
    The year was important for your communication as well your cradles of community. The user group nurtured by customers as well as Hewlett-Packard was changing its name from the International Users Group for HP3000 to Interex. The annual conference was held in Anaheim, Calif. to take advantage of two resources: Hundreds of manufacturing and distribution customers using 3000s in Southern California. And there was Disneyland, too.
    HP sent its first CEO not named Hewlett or Packard to the conference in 1984, and John Young had to tell customers a familiar story about the 3000's future. Improvements were going to be delayed. The plan to boost the 3000's architecture from 16 to 32 bits was being cancelled. The dreams of Vision would be replaced with the Spectrum Project, but HP would paint few technical details in 1984 about the engineering that would launch HP Precision Architecture Reduced Instruction Set Computing (PA-RISC).
   I arrived in the Chronicle offices with those echoes of Anaheim written into the nine back issues on the shelves. Anaheim's show was the debut for Wilson Publications, the company that created the Chronicle. John and Mary Wilson told us stories of their struggle to exhibit at the Anaheim vendor show that spring. It was a modest affair of 1,600 programmers, vendors and HP engineers. But it gathered a community with enough potential to spawn three publications by that year, as Interact Magazine and SuperGroup Magazine competed with us at The Chronicle.
   Coming from community newspapers I was used to competition, but I started my part of that competition by getting scooped. The 3000's biggest product rollout of the year was the Series 37, HP's first minicomputer built to operate outside a specialized computer room. HP called it the HP Office Computer and the users called it the Mighty Mouse. I called out something else when I learned about it. Arriving without any contacts, I didn't know it existed when we sent the latest Chronicle to the printers without an inkling of the 37. Interact arrived in the mail two weeks later to break the news.
    Once I began to find my sources, HP news flowed faster. There was plenty to learn in a year when HP rolled out the InkJet, the LaserJet, its first portable PC, and a Touchscreen PC along with the Mighty Mouse. The 3000 was growing small enough to get into offices without raised flooring and computer room cooling. The hum of secrecy and hope of invention filled that first year. Getting people to talk meant earning their trust around a time of Non-Disclosure Agreements.
   "The mid-80s were a time of transition, endless NDAs and uncertainty in the HP 3000 world," recalls Denys Beauchemin, a chairman of the Interex board who already had seven years of 3000 experience by 1984. "You got in at a very good time."
    It was an era where attending a national Interex conference cost less than $100 a day. All eyes were looking toward HP's updates promised for 18 months after Anaheim. HP needed Spectrum desperately to keep pace with DEC, which was already selling a 32-bit minicomputer system.
   HP kept expanding the 3000's mission to help it get traction as a general purpose computer. Jim Sartain, who'd become IMAGE lab manager in the '90s, started at HP that year working on HP 3000 graphics products including EasyChart. "At the time, there was no easier way to create a chart that displayed business data represented as a bar, line, or pie chart," Sartain recalls. "This was before there were any easy-to-use PC programs for this purpose."
    There would be no 25th anniversary for me to celebrate with you without my 14 years at the NewsWire - and no NewsWire without my partner in life and creativity Abby. Together we're thankful for all the fun and learning that began in the storied year of 1984, a year full of 3000 milestones.
    "There were so many things going on that it's hard to pinpoint individual events," recalls Adager's Rene Woc. "You certainly started covering the 3000 world at an exciting time."
01:38 PM in History | Permalink | Comments (0)
August 27, 2009
3000 community to meet again in SF(O)
HP 3000 community members, both those migrating and those who are not, are invited to the second bi-annual HP 3000 Community Meet. On Wednesday, Sept. 23 there will be a single day of free lunch, networking, and 10-minute updates about the state of the computer still playing a significant role in companies and careers. Imagine, an in-person meeting of 3000 users and vendors in 2009. In 2007 it seemed unlikely that a 3000 meeting could take place, after all of HP's warnings about 2006 being the 3000's end of life. Save the date and meet at a rare event.
The virtually-free meeting is scheduled to take place at the San Francisco Airport Hyatt, a swell hotel on Bayshore Highway just a few minutes south of the SFO Airport. The hotel operates a free shuttle to the BART station at the airport, according to organizer Alan Yeo of ScreenJet. Along with Marxmeier Software's Mike Marxmeier, Yeo is "standing a lunch" for up to 50 attendees, plus organizing a "cash bar" dinner that evening in the Hyatt's sports bar/restaurant. $109 rooms are being arranged for out of town attendees. We'll be there, and hope to see you too.
The event is wrapped around re-connecting with community members, the kind of networking that can be tough to accomplish at a Very Large User Group Event. The e3000, as HP and partners still like to call it, can hold on until migrations are completed or homesteading sustaining plans are in place. Yeo reminded attendees at the previous Community Meet by the Bay in '07 that the "e" in 3000 represents the essence of the computer's value.
Yeo, Marxmeier, and QSS founder Duane Percox mounted the '07 meet with all due speed, announcing in September and gathering in mid-November. This year's event, with a late-morning start, then lunch followed by updates, followed by an optional dinner, will come together even faster. The community is counting on that essential element to make that Wednesday coalesce.
"I've been thinking about the naming of the e3000," Yeo said when the '07 event wrapped up. "I believe that 'e' stands for enduring, because the 3000 has lasted a darn sight longer than HP expected." Between 40 and 50 community members were on hand back then. Speedware will be hosting a registration site, Yeo said. Attendance at the '07 event cost a grand $20, which earned a commemorative polo shirt in return. Stand by for program details, and book your flights if you're more than a car drive away.
So there is such a thing as a free lunch, perhaps a testament to that enduring value of the HP 3000.
03:28 PM in Homesteading, Newsmakers | Permalink | Comments (0)
August 26, 2009
Lawson leads Aussie ERP firm to iSeries
A longtime HP 3000 customer headquartered in Australia is heading away from their HP 3000 ERP suite, taking a trip down the midrange lane to IBM's iSeries. The 3000 customer that's been in business since 1946 says they're looking for better technology to handle business growth.
RYCO Hydraulics, with operations in North and South America, Europe and Asia as well as Australia, will be moving to a Lawson Software ERP solution to replace its HP 3000 applications. The company will be serviced by Lawson along with IBM Partner Synergy Plus. The Lawson suite which will be installed during 2009 is QuickStep, software billed as easier to deploy than traditional ERP replacements used by manufacturing firms.
ERP has long been a core sector for the 3000 community, but the iSeries-AS/400 world counts tens of thousands of customers in manufacturing, too. Infor, which now owns the customer base and software rights to the MANMAN app for ERP, built its core business on the AS/400 marketplace. Even though the future of the iSeries looks sketchy to some veterans in that community, Lawson's suite operates in other environments as well. Cross-platform migrations -- where the initial deployment can be moved to another platform later with minimal fees and retooling -- are becoming a common strategy for 3000 sites looking for a change.
Australia has lost other HP 3000 customers over the past year or so. ING Software migrated its in-house apps to HP-UX servers using Speedware's migration services, citing a lack of HP lab support for patching its MPE/iX apps. Other companies Down Under point to a dearth of used systems and parts for their 3000s.

The QuickStep solution that's replacing 3000 software at RYCO is a recent addition to the Lawson product line, as well as an application that runs on platforms other that what IBM now calls the Series i. Lawson promotes QuickStep as an implementation of M3, formerly Intentia's Movex ERP suite, that starts to deliver in weeks instead of the usual ERP transition timeline of months. QuickStep is a "pre-configured" version of M3. Lawson calls the suite a low-risk solution.
"These are prototypes that can speed software implementation by pre-configuring 70-90 percent of specific processes within the applications," Lawson's QuickStep summary says. Lawson reported in a press release that it won RYCO's business by having a deeper understanding of the hydraulics firm's business sector than competing ERP suppliers.
But both Lawson and Synergy Plus also deploy their solutions on IBM systems other than the i -- notably the Series x for Linux, and Series p for IBM's Unix. According to the AS/400 news site IT Jungle, Lawson is retrenching this year, in part by acquiring the M3 suite that's more popular with Series i customers and those outside of the US.

Lawson is a major player in this IBM midrange market for integrated systems, whether those computers are called AS/400s, iSeries or Series i. It hosted an annual conference this year whose musical headliner was Don Felder, one of the founding members of The Eagles. While it's hard to imagine Lawson staying competitive with ERP vendors like SAP and Oracle without Series i growth, the vendor is positioned to transition its customers from any platform with slowing sales -- in the same way that it's moving RYCO off the HP 3000 in the months to come.

03:48 PM in Migration, Newsmakers, User Reports | Permalink | Comments (0)
August 25, 2009
Connect changes user group operations
HP user group Connect has altered its business organization following the latest HP Technology Forum & Expo by transferring the group's services to its own operations. Connect had contracted with services company Smith-Bucklin for operational support until late June, giving that company the duties of managing a user expo and delivering products to members of the group. Smith-Bucklin manages the services of hundreds of user groups and associations.
But president Nina Buik said the Connect board of directors saw the trends in the user association business and made changes that created two full-time employees while ending the Smith-Bucklin services contract. "Managed services is now our previous business model," she said, "but we will not be a brick-and-mortar operation in the forseeable future. We changed our model at just the right time."
Computer user groups in the  industry are retrenching, adding alliances with other groups as Connect did last year, or expanding user bases such as the IBM COMMON group, which now serves Unix users along with its core AS/400 and iSeries customers. "We looked at a lot of lessons of the past, and what we need to guide us into the future," Buik said. "In our previous model we were getting pieces and parts of different people throughout a given day. In this new model we're getting 100 percent dedication." The group is now relying on its 14-member board of directors for management and tactical operations, in addition to the new employees.
The two full-time staffers are former board president Kristi Browder, who was IT director for Silicon Labs, and member services manager Erin Anderson. Both are based in Austin, Texas, where Browder worked at Silicon Labs. She's a 30-year IT customer of Digital, Compaq and now HP, in addition to years of work on the board of Encompass (one group of the Connect alliance).

But Connect's operations go beyond geographical locations such as local user groups, the national conference in Las Vegas, or 2008's international meeting in Germany. Buik bragged about 30,000 page views a month on its membership Web site, which serves HP users of Windows, HP-UX, Linux, OpenVMS and NonStop systems, along with other HP customers such as services and network management. About the only constituency not served directly are HP 3000 homesteaders, since many migrating 3000 sites are headed for the other HP platforms.
They are heading more slowly, like most of the world's businesses. "This economy has affected us just like any other business," Buik said. Attendance was down this year at the HPTF show -- Buik estimated 4,500 to 5,000 were on hand in Las Vegas, a decline of about 2,500 in part because of reduced HP attendance -- but she said the group plans to expand its product line. It even is considering expanding its printed publication in the future.
The tough news for Connect and other user groups is the decline in travel budgets and IT spending overall during 2009. Booth sales were down by 28 percent for the latest conference. But Connect doesn't rely on the revenue from the Tech Forum as heavily as the Interex user group counted upon its HP World show. By the end of Interex's run, HP World had become the tent pole of revenue for a brick-and-mortar operation with dozens of employees in a Silicon Valley office.
Connect wants no part of brick and mortar for now. Aside from Browder and Anderson, the rest of the work is fulfilled by outsourced CFO and IT services, some third-party publicity from Burson-Marsteller, as well as volunteers from a 13-member board of directors. Buik said Connect has reduced its expenses by 30 percent in dropping the Smith-Bucklin contracts and going to limited direct payroll.
Connect's board searched for an executive director among its membership, even while it reviewed a resume from a former executive director of another user association. Browder "not only was a member, but she understands the issues that an HP customer would face. She was also a leader of the organization, so it was a unique mix of skills she brought to us."
The user group is going to rely on that board for work, but Buik says the tactical knowledge of running a user group is part of Browder's experience. "Trust me, there's dirt under those fingernails," she said of Browder, such as work on event committees. Connect has hired a contractor to do its CFO work, not expecting its executive director to deliver those skills.
Buik asserts that the Connect board members differ from the directors at Interex, an organization that had a good array of technical and customer experience but had to rely on professional staff to service members with products such as conference, publications and Web resources. Each Connect director has "a deep knowledge of what goes on in a particular area of operations." The assignments aren't listed among the director biographies on the Connect site, but the group provided this breakdown of who's in charge of what duty.
Alan Dick – Director of Advocacy and SIGs
Steve Davidek – Director of Chapter Relations
Joe Ramos – Director Member Relations
Chris Koppe – Director of Vendor Relations,
     Chair of the Social Media Committee, VP/President Elect
Jay McLaughlin – Director of Marketing and Events
Brad Harwell –HP Executive Liaison
Scott Healy – Director of Business Development
Bill Johnson – Director of Technical Resource Committee
Johnny IP – Business Development Committee
Heinz-Hermann Adam – Chairman, Connect Germany
Leo Van Schie – Chairman, Connect Netherlands
Kristi Browder – Executive Director and COO
Nina Buik – Director of Media Relations, President
Glen Kuykendall – Director of Finance, Secretary Treasurer
Connect expects that directors will have a network of resources they can bring in to help service the needs in each expertise.The committees are comprised of "people who have done this kind of thing before, and can bring their acumen and expertise."
Management strategies aside, a user group is evaluated on its content and networking opportunities. Connect upgraded to the social networking developer Pluck earlier this year for the group's myCommunity Web site. It's offered Webcasts in 2009, will produce more of those next year with sponsors, and plans targeted events in 2010. "And maybe a targeted publication or two," Buik added, raising the interest of an old reporter who's always included paper in his career. "We have a publication targeted for NonStop users called The Connection. We're looking to expand that to the OpenVMS contingent."
Connect members and directors like Browder have deep roots in that Digital VMS community, and Buik says the group has a good relationship "with the new [VMS] team in India, and we have monthly calls. We'll be working in tandem with them towards our goals."
06:29 PM in Migration, Newsmakers | Permalink | Comments (0)
August 24, 2009
IBM iSeries follows in 3000 footsteps?
Once HP announced its exit from 3000 business, IBM turned up its efforts to woo abandoned customers. By some accounts, half of those who are leaving the 3000 have turned to non-HP solutions. It's easier to understand the migrations to Linux or Windows, a pair of industry standard environments. The former is rich with tools to generate custom apps. The latter has a vast array of packaged solutions.
Tougher to figure are the rare migrations to the IBM iSeries. Not because that platform is lacking in any technical prowess, or even that its ecosystem is evaporating quickly. Those customers who've found a refuge from HP's business pullout in the iSeries have to look at a large vendor supporting a niche platform -- then see a different strategy from HP's for sustaining non-industry-standard computing.
The 3000 customers who've moved to iSeries sometimes already used the integrated server elsewhere in their organizations. Others have settled on a packaged solution like Commercialware's e-commerce package, one that led straight to the iSeries. But every one of them might observe the same vendor behavior this year from IBM that HP demonstrated in the four years up to the 3000's exit from HP's futures.
The iSeries community sounds and feels much like the 3000 user group volunteers and partners of the late 1990s. They complain that their platform no longer seems strategic to IBM, hunger for mentions of it during Big Blue's roadmap talks, count up the resources no longer devoted to iSeries heartlands such as the RPG language or the OS400 operating system. IBM's put Unix executives in charge of the iSeries business, according to one long-time iSeries IBM executive.
At the IT Jungle blog, writer Dan Burger interviewed an iSeries skeptic who holds an experienced view of the community. Bob Cancilla, just retired as CTO for IBM's Rational Software subsidiary. (IBM bought Rational in 2003, spending $2 billion for a development environment.) Until this month Cancilla worked for IBM, but now as the CTO of IBM software business partner Oxford International, he's speaking his mind about the future of iSeries as he sees it, using the podium of his blog, i-nsider.
If you look objectively at the IBM organization today and how it has positioned the IBM i Operating System, you will see a critical reality that should be driving you to modern platform-neutral solutions, today!

IBM hasn't commented on last week's blog post from Cancilla, who was CTO for IBM's Rational Business Developer IDE. He's pointed out that while the iSeries (or Series i, or i5, or IBM i) is still technically advanced and integrated, IBM's not selling much of it.
The bottom line is we all need to face the facts of what is happening. IBM i, the OS, is gradually fading away based on IBM not selling it. Since there is no longer an organization to sell IBM i there can be no turn around or return to prominence.

In 2007 IBM merged the business lines of its pSeries (Unix) and iSeries operations, calling the new group the IBM Power Systems Organization. "This new organization is now devoid of IBM i executives," Cancilla laments. The Power series (which also runs RedHat Linux) is comprised of computers that are identical in a way that HP could never offer its HP 3000 and HP 9000 servers built from common PA-RISC chips. IBM didn't wire up a special MFIO board chip, like HP did, so a 3000 box could never boot Unix. Even with this Power flexibility, though, the demise of the OS400 community -- and so the iSeries computer line and its vendors -- seems inevitable to Cancilla.
"It will simply continue to decline in users and will most definitely be dropped by IBM when the revenue reaches a point where it is no longer feasible to continue supporting it," he wrote in a blog entry last week. Cancilla is getting a strong reaction from iSeries advocates, according to the IT Jungle's Dan Burger. But that probably won't change the sales effort at IBM. This is an aspect of a vendor's disaffection with a platform that was never played out in public for the HP 3000. Right up to the announcement of HP's exit, the vendor and its partners never broached the prospect of HP giving up on the 3000.
But the AS400 (or iSeries or System i) saw a 40 percent decline in sales from '07 to '08, according to the IT Jungle. IBM has reduced the profile of the most i-like parts of the system when it moved System Licensed Internal Code and a Technology Independent Machine Interface into a new Virtualization Engine.
HP 3000 homesteaders and those still stung by Hewlett-Packard's misstep of 2001 often point to IBM as a vendor who got it right about non-industry-standard platforms. Cancilla, whose new company offers a legacy modernization solution, believes that the iSeries is going to drift into irrelevance due to IBM sales and the homogenization of its unique technology.
The RPG language is unique technology for the iSeries, and Cancilla asked IBM to port it to the more popular IBM Unix and Power Linux environments. Request denied. HP 3000 customers once hoped that IMAGE would gain a new home on PCs, but that project was left to third parties without support from HP. There's also a corollary in HP's refusal to port HP-UX to any processor except its niche Itanium chips.
Vendors such as HP and IBM have a laser focus on services these days and look to have turned away from devotion to the design and sale of computer environments. HP executives had a glib answer for those who said that IBM wasn't dropping its AS/400-iSeries business in 2002. "They will," said executives like Winston Prather and Christine Martino. POWER 7 generation chips and reorganized businesses notwithstanding, those HP execs may turn out to be correct given enough time. You migrate now, or migrate later, they say.
But HP still has a card to play to maintain enough goodwill that you may replace that 3000 with a ProLiant server, running Windows or Linux, or even something newer like an emulator. The vendor can cooperate with emulator licensing for MPE/iX, a stop-gap until completing a migration -- exacting work in the most complex IT project that most 3000 owners have ever conducted.
As to that iSeries heartland of RPG, HP was one of the few system vendors who ever created a port of the language, which ran on the 3000 for the IBM customer lured to the 3000 in the 1980s. Today a German firm, Richter Software, converts RPG into COBOL because "the new generation of programmers have no knowledge of RPG." Even though COBOL is not considered cutting-edge, it is a de-facto industry standard for business. COBOL continues to drive thousands of HP 3000 apps, until they are migrated, and perhaps even on new platforms.
Migration away from platform-bound languages such as RPG is a step in that detail-laden transition. In 2007 ScreenJet developed T2C, with a bit of initial help from Richter, that transforms the HP 3000's unique Transact language into COBOL code. A subsequent product, Transact Migration Software, was built by ScreenJet and Imacs founder David Dummer, who created Transact. What's more, the COBOL that's created by Transaction Migration Software is compatible with the 3000's COBOL II -- thereby inserting another stepping stone on the path away from the HP 3000. T2C is sold both by ScreenJet and Speedware, a couple of partners with a clear-eyed vision about the long term of the HP 3000.
08:19 PM in Migration, Newsmakers | Permalink | Comments (0)
August 21, 2009
3000 emulator marches onward
After the project lay dormant for years, work on an HP 3000 emulator is preparing for its first-level alpha testing by October, according to the CEO of Stromasys. The Swiss-based company was named SRI when 3000 emulators were a hot topic among 3000 homesteaders and the OpenMPE group. This fall, the company says, an all-software product to enable Intel PCs to become HP 3000s goes into serious testing.
Stromasys CEO Robert Boers reported that the company that's been selling VAX, Alpha and PDP-11 emulators for more 15 years has gained HP's cooperation with 3000 MPE licensing. An earlier version of the emulator was designed to mimic the MFIO board of the PA-RISC 3000s. HP wanted that work suspended, and so the project was shelved. But a new design bypasses the MFIO work and creates the equivalent of an rp2470 server, a PA-RISC system rated at more horsepower than current 3000 hardware.
Of course that rating is subject to the testing of the emulator, since the product uses Intel hardware to drive what Boers calls a low-end, single-CPU HP 3000 clone. The product won't create new HP 3000s because it complies with HP's MPE/iX licensing for emulators: no new systems, only transfers of existing 3000 licenses.
Stromasys, which operates offices in North America, Asia, Europe and elsewhere, restarted its emulator project after a change of strategy by HP. As the vendor's end of lab operations drew closer, the need to resolve the emulation issues rose up on engineering and licensing to-do lists. Late in 2008 the vendor announced a license plan that would go into effect if an emulator was released before HP's end-of-support date in December, 2010.
Boers said his company, which has been successful in working with HP on Digital computer emulators, plans to begin selling the tested product in 2010. Protection for HPSUSAN numbers and recognition of licenses for third-party tools is covered in the emulator's architecture, he said. The hardware license key is coded in (although who's managing that is unclear), and a separate space that third parties can use for license keys is also part of the software.
It's early in the coming-out party for this product, so far back on the curve that Boers said the company hasn't examined possible pricing or approached software suppliers. Strobe Data has also had a emulation project underway over the same time period, roughly from 2002 onward. But the issue of whether the 3000 market is big enough to support two emulator vendors doesn't seem to concern Boers.
"At the moment we don't know that much about the 3000's market," he said. "This is a nice thing to do. I know the market isn't very big." What works in Stromasys favor to set expectations low at first: the 3000 emulator shares 70 percent of the code with the CHARON virtualization products the company sells to VAX and Alpha users of OpenVMS. HP technical manager Ling Chang said of the CHARON product, "our VAX and Alpha customers are now able to successfully move their existing applications to the HP's latest server technologies."
Perhaps there's been a realization inside HP that emulation for HP 3000s could keep more users from migrating to non-HP solutions. A thicker abstraction layer -- deep enough, Boers said, to run the TurboIMAGE database -- would offer a 64-bit implemention of PA-RISC on Intel's Xeon family of hardware. ProLiants running Xeon chips could drive HP 3000 programs, if third-party licensing participation appears and testing succeeds. HP's subsystems such as COBOL would be licensed. Plus there's cross-platform products such as the Eloquence database, which might run in a Linux or Windows blade partition to supply data.
As for who might use a 3000 emulator, obvious candidates would be homesteading customers who need access to the latest peripherals, as well as companies who want a clear path to performance boosts as Intel releases faster processors. There's also the customers who see the abstraction of PA-RISC and the 3000 as a smoother way to revive and retain key MPE/iX applications.
Brian Edminster of Applied Technologies, who's been consulting on open source tools as well as migrations in the 3000 community, said an emulator which could mimic an HP 3000 might be just the solution for a customer of his who's been working on a lengthy migration to SAP. Several key Point of Sale modules can't be duplicated in SAP, and a lift and shift migration could be costly and make the finished solution complex.
"Business is tight now, and projects are slowing," Edminster said. "Without having an emulator, the closest I could come would be to use Speedware's [AMXW] product to do the job," he said. "But given a choice, I'd prefer a hardware emulator if it will work properly."
06:18 PM in Homesteading, Migration, Newsmakers | Permalink | Comments (0)
August 20, 2009
TV news streams from the Tech Forum
The Connect conference that drew 2,700 attendees is long over, but some of the user group and HP messages from the HP Technology Forum & Expo live on, streamed from the Web. SDR News, a video interview service, gathered more than a dozen one-to-one interviews at the event. SDR was "invited media," according to Connect president Nina Buik.
The coverage includes a talk about the future of the Connect user group from its incoming president, Chris Koppe of Speedware. In 11 minutes of Q&A, Koppe talks about the efforts to raise the user group's visibility inside HP. There are also fundamentals about what Connect's mission is during a year when all user groups are working to remain relevant and vital resources.
The SDR coverage is interesting because it was recorded and streamed live at the conference -- so it's not as dressed up and controlled as the HP-created videos all over the Web. Koppe was one of only three people interviewed by SDR at the HPTF who were not HP employees. (There's also five minutes with the winner of a $10,000 drawing, but that probably qualifies as "human interest" instead of news.) Koppe takes his office in January for the user group and has been a board member or volunteer since 2005. He has brought the tribal knowledge of the HP 3000 user community to the group from his work on the Interex board of directors.
The 20 SDR videos also include a word from a company that began an HP 3000 emulator project, although that platform and the ongoing project aren't mentioned.
Koppe, who was a member of the Interex board when that user group folded four summers ago, talks a bit about the Connect business model. "We're non-profit and we run on a shoestring budget," he said. "Every dollar of what we collect goes to member services."
He also noted that vendors will get airtime to add to Connect's voice to HP user community. A Special Interest Group for vendors is in Connect's plans. The user group has great motivation for giving vendors a voice like the one Interex offered for two decades via SIG-Softvend. Speaking from a conference floor filled with vendor booths, Koppe said the Connect vendors "also end up being a funding source for our organization."
Other SDR interviews and video from the conference include keynotes from Intel and Brocade, a Microsoft roadmap talk, and a fascinating interview with Robert Boers, CEO of Stromasys. That company was once named SRI and started work on an HP 3000 emulator in 2004. We'll have more tomorrow about that subject, an issue that once dominated the advocacy of OpenMPE.
11:16 AM in Homesteading, Migration, Newsmakers, Web Resources | Permalink | Comments (0)
August 19, 2009
Fiorina flips hat toward Senate rack
Align these three compass plot points, if you can, all announced within one week:
1. HP announces its toughest quarter in five years
2. Former CEO Carly Fiorina announces an exploration of a run for US Senate
3. Sentencing is delayed on the '06 HP phone spying case
The HP 3000 can provide a path across all three. Migrations are afoot or finished by 3000 owners because of Fiorina's business strategy. Not any specific swipe she took to cleave the 3000 from HP, but the natural evolution of shedding legacy business. Growth across all HP businesses was the 2001 mantra, increases that the 3000 community would not provide for the HP bottom line. "If it's not growing, it's going" was the mandate handed to intermediate managers.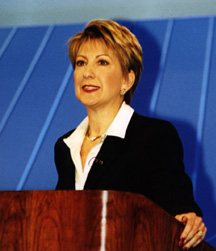 Growth at HP in 2001 led to pruning the enterprise computer line by one notable system. Eight years later, enterprise servers and storage run a weak fourth to Services, PCs, and Imaging/Printer businesses. Three of the four legs of HP's chair are wobbling this year. It's the first genuine challenge CEO Mark Hurd has faced since he was brought in to replace the fired Fiorina. Enterprise solutions that are rich in profitability offered a profound sticky loyalty like the 3000, but they won't lift enterprise fortunes now. HP's moving away from hardware and proprietary environments in favor of services through The Cloud.
Fiorina told 3000 customers at a summertime HP World conference that HP "had never stranded a customer on legacy technology," the only reference that even came close to a mention of the HP 3000 customers' transition. Seven years later, HP World is gone forever, but Fiorina is mounting a comeback despite her legacy.
Despite what some community members believe, Carly Fiorina didn't arrive in the HP boardroom to take marching orders. She was hired to be a star CEO whose highest glam moment was sharing the stage with Gwen Stefani. Facing down the HP board's expectations, and marshaling support across a company rich in HP Way heritage -- these were not her strengths. A seat in the US Senate will require campaigning to win the votes of the little people, as well as casting off old millionaire's habits.
Being rich in 2009 -- HP gave her $21 million cash to leave in '05 -- can distance a candidate from people suffering through layoffs and pay cuts. That's one tough quarter that HP just reported, if you think of the company like 3000 users used to: a systems supplier. If not for the ink and services profits, HP might be looking tanked in the middle of this recession. Legacy systems supply long-term support profits, but the vendor is out of that business. No love for 3000s, little for OpenVMS -- it all adds up to making a business relationship out of serving instead of supplying.
Fiorina had to win boardroom fights to edge HP out of the last vestiges of its HP Way. People forget that she championed a merger with a massive PC maker that eked past a shareholder donnybrook. The next plan was to buy Price WaterhouseCooper, a step into the services business. The HP board didn't want to pay that much for a services entry. That same boardroom asked few questions about eliminating a 27-year-old business server line.
Within a year after the PWC failure, storm clouds were mounting around Fiorina. PCs hadn't delivered profitability, even while HP was selling more ProLiants than RISC servers. When the board fired her over an inability to take direction, the messy details were reported out of the boardroom and into the business press. This kind of insight on HP strategy would have been useful to 3000 owners in the year after Y2K. In trying to determine what HP might do about its declining server business today, insights to the past might help.
HP vowed to unmask the source of leaks from its boardroom after exchanges appeared in The Wall Street Journal and elsewhere, the kind of communications control craved by corporations of a certain size. HP ran roughshod over privacy rules in a phone scam afterward, paid $14 million in penalties, and gave new CEO Mark Hurd something to campaign on in his first year: The Return of HP Integrity.
No, he wasn't referring to the HP servers of the same name, but instead being able to believe HP could respect privacy. The final defendant in that spying case just had his sentencing delayed again this week, more than two years after Mark Wagner testified against HP.
Weak strategy from HP's CEO, focusing on commodity hardware and services, leads to a boardroom fight that gets Fiorina fired. The HP 3000 never has a chance in that kind of future. Illegal phone spying gives HP a black eye that still isn't fully healed two years later. And while the services business that Fiorina couldn't sell to the board now keeps HP sales afloat, the former CEO wants to represent California in the US Senate. Nothing ever seems impossible to the only HP chief who was ever forced to resign, until her designs hit the wall. While HP 3000 customers explore options to migrate in an era with frozen budgets, Fiorina will be looking for funding to capture her next job. Like HP customers, she'll need support that doesn't hold her legacy against her.
11:06 PM in History, News Outta HP, Newsmakers | Permalink | Comments (0)
August 18, 2009
HP Q3 shows G6 rise, Integrity fall
HP released its third quarter '09 results this afternoon, numbers that showed ProLiant G6 server revenues on the rise while Integrity-based system sales dropped for the third straight quarter. The Intel Xeon-based G6 units like the blade at left operate with Windows and Linux environments, while the HP-UX alternative to the HP 3000 can call upon only Integrity servers.
The quarterly report shows HP managed to beat earnings estimates for the period. However, it took soaring revenues and profits out of the EDS operations to offset steep drops in most other HP sectors, including the Business Critical Servers group that sells Integrity and HP-UX. BCS revenue declined 30 percent from Q3 of 2008, results from a much stronger fiscal year. But not even blade revenues could lift BCS. Blade sales were down 14 percent from last year's quarter. Integrity sales were off by 34 percent versus last year's Q3.
HP CFO Cathie Lesjak said that the G6 ProLiants, just rolled out in April, have performed well in the server sector. These Industry Standard Servers which run Windows and Linux were the only bright spot on a tough enterprise storage and server picture.
"While each of the businesses within ESS was down compared with the prior year sequentially, ISS grew 14 percent as a result of strong customer demand for our newly launched G6 platform," Lesjak said.
In contrast, BCS sales slipped to $578 million for the period, compared to $2.2 billion of the Intel Xeon server revenues. While HP is now selling $4 of ProLiants for every dollar of Integrity, the profitability from the more advanced Integrity revenues is what's keeping Integrity in HP's futures. But the next month or so could tell the tale of how HP enterprise server business will fare in 2010, according to HP CEO Mark Hurd's prior report.

In Q2 of '09, Hurd told analysts that the August-September 2009 timeframe is where HP hopes enterprise computing customers come around and reverse the '09 trends. Hurd explained this enterprise sales stall as companies' mandates to slow down new projects.
I think the more important question is what are those planning sessions looking like in August and September of 2009 about 2010. I think CIOs have been giving marching orders that say "Take that  infrastructure; keep the infrastructure running. If you have to replace things to keep things running, replace it. New projects -- be very particular about new projects you start. And if you can avoid starting that project, avoid starting it." We have customers that tell me, "We're just delaying as long as we can until we have to buy."

Hurd and HP are hoping that an uptick in the economy during this current quarter will pull some FY2010 sales into HP's Q4. Hurd said in a statement that "Business is stabilizing, and we are confident that HP will be an early beneficiary of an economic turnaround and will continue to outperform when conditions improve." Hurd predicted that 2010 will be a better year than 2009, but he doesn't see evidence yet of a turnaround. "We're encouraged I think by the stability that we're beginning to see in the market, but not yet at a point that we're ready to call it a turn," he said.
With the economy not yet rebounding, HP might be cautious about removing any business segment that's been sliding as consistently as the Business Critical Servers. But the HP 3000 was eliminated from HP's plans in 2001 because of its declining growth, albeit in a much different time in Hewlett-Packard history.
While HP's hardware businesses struggled -- even printer sales were down -- services including the EDS unit have become the new engine of the Hewlett-Packard economy. Lesjak summarized the services windfall.
"Drilling into the services business," she said in an analyst conference call, "Q3 revenue was $3.9 billion in IT outsourcing, $2.4 billion in technology services, $1.4 billion in application services, and $711 million in Business Process Outsourcing." Services made up 31 percent of quarterly sales, the largest segment.
But even some service operations are being scrutinized. In the hours before the Q3 call, rumors were afoot that had HP considering a sale of its BPO business. Reuters reported that unidentified sources say BPO, "which provides back-office support to clients, [is] a low-margin business that is not central to [HP] growth plans." Much of BPO is operated out of India.
Overall, the HP Q3 numbers showed only a 2 percent revenue drop over last year's Q3, a report that demonstrates just how much lift the EDS business has provided in a year with steep server declines. PCs also experienced a sales fall-off. The company posted $1.6 billion in total Q3 earnings, $1.3 billion of which came out of its Services group. HP paid $13 billion for EDS last fall, and it reported that 16,000 layoffs out of the 24,600 forecast have already taken place. HP said these "removals" improved its cost structure, one contributor to the HP earnings.
07:19 PM in Migration, News Outta HP, Newsmakers | Permalink | Comments (0)
August 17, 2009
E-mail PDFs using the HP 3000
Although computer vendors have been promising the paperless office for more than 20 years, modern business is not even close to eliminating paper in offices. Paper is such a rich business that HP's profits include sales of Hewlett-Packard-branded reams of the white stuff. But the shortfall between dream and reality can be closed with some software built for the HP 3000, as well as other enterprise computing systems.
Hillary Software created a paperless solution for reports that moves PDF versions of HP 3000 output. Connie Sellitto of the Cat Fancier's Association asked about Hillary's byRequest, requesting references. "We'd like to have the ability to generate PDF documents from our HP 3000 and e-mail them to various customers," she asked in a message to the 3000 newsgroup. "I'd like to hear from anyone who has used this product, and what your experience was regarding ease of setup."
While other products such as Sanface's txt2pdf have been bent to serve the HP 3000, byRequest is built to extract and distribute reporting from any HP 3000 application. Kim Borgman of National Wine & Spirits said, "We [use it to] e-mail all our reports now. Hardly any printing happens on the line printer anymore."
byRequest has been tuned up to support secure FTP as well, according to another 3000 manager. Chuck Nickerson, president of Hillary, said the company's 3000 plans are set for the future. "If your 3000 is plugged in, we'll support it," he said. "If it's unplugged, we'll help you plug it in." Hillary will also help move byRequest to a migration platform after HP 3000 use.
Wesley Setree reports the software "does work very well. In fact, we just purchased the portion that enables us to SFTP files automatically, rather than have an operator move them."
Nary a complaint flowed across the newsgroup about byRequest. "We have almost all our reports going to the network or being emailed via byRequest as Word or Excel documents," said programmer analyst Barb Zanotelli of Miller Compressing. "It works wonderfully. Tech support is outstanding and our users love it."
txt2pdf requires that perl be installed on an HP 3000 for a $39 version, but it's difficult to beat on price. (You can try txt2pdf free for 30 days, but it's not freeware.) Five years ago a Montana school district integrated txt2pdf into its workflow, and Bob McGregor reported on how the software was implemented. However, McGregor needed a $990 Pro version of txt2pdf, one that doesn't require Perl installation -- but also doesn't have an MPE/iX version sold as an executable (only Windows, Linux, HP-UX, and Sun's and IBM's Unix are offered). Sanface will take a request to build such an executable for some environments, however.
HP 3000 reports have some quirks. Former HP lab engineer Mark Bixby once posted a paper explaining why the original spoolfile linespacing in an MPE/iX report is not preserved in most conversions to PDF. The HP 3000 business doesn't represent a serious share of the operations at Sanface, which distributes txt2pdf to many PCs. A tool built for the HP 3000 and respects linespacing is what users reported about to the newsgroup. The Hillary Softrware product supports Microsoft Sharepoint with one of its latest features, and an enterprise license gives a company the right to move the software to another platform in the event of a migration. Linux, several versions of Unix, Windows and even the AS/400 are among the environments supported in addition to MPE/iX.
Donna Hofmeister, Allegro Consultants support engineer and an OpenMPE member, summed up the differences neatly. "If all that you're interested in is making PDFs and mailing them out, that can all be done for free," she said. "However, if you're also needing multi-host, centralized-viewing, viewing-privileges -- then you're into software like byRequest."
And if your goal is to move toward the paperless office -- and turn off that line printer like Borgman has -- there's nothing like a solution engineered for the special skills of the 3000. Don't worry about HP's profits. There's still plenty of paper to be sold to other businesses.
06:32 PM in Homesteading, Migration | Permalink | Comments (0)
August 14, 2009
OpenMPE assists HP with end of life process
At this summer's HP Technology Forum & Expo, only two meetings covered the life cycle of the HP 3000. Hewlett-Packard showed up in a room with three customers to confirm its migration campaign was unchanged. Meanwhile, the other side of the 3000's lifespan was discussed at an OpenMPE meeting in the conference in Las Vegas.
While HP continues to call its 2010 support exit "the HP e3000 end of life," OpenMPE's homesteading advocacy sees a very different future for the system in 2011. OpenMPE chair Birket Foster said that some customers are still hoping for an HP reversal of its "quit the 3000 business" edit of 2001.
"We're in a funny phase where people are still hoping for a miracle that HP would do something different" than exit the market, he said. "And HP's not going to." Since neither the migration or homestead camps came to Las Vegas with new wagers, what would constitute news from the show? Foster said the Connect user group directors attended the OpenMPE meeting to learn how HP was treating an "end-of-life" mission with HP customers. Foster said there are lessons to be learned for customers who might move from other HP-proprietary environments.
Part of the reason the user group directors attended the meeting, Foster says, "is because they recognize that we're pioneering a process. This process assists HP so it can define a framework for managing the end of life of an operating system/product line."
OpenMPE has given HP suggestions about preservation of 3000 documentation and other resources the community is accustomed to using. The directors came to learn about how to do such things, in part because the OpenVMS community is vigilant about any HP retreat from OpenVMS development. The OpenVMS environment runs on Itanium blade servers, for example.
Foster said that Connect director Alan Dick (at left), Director of Advocacy and SIGs, "got it" when the discussions examined HP's response to an end of life strategy. "He wants to be sure they do advocacy to HP on behalf of OpenMPE, to remind HP there's an issue if the vendor doesn't manage it properly. Done properly at the next end of life, "HP might just keep people in the fold."
04:19 PM in Homesteading, Newsmakers | Permalink | Comments (0)
August 13, 2009
IT pros prefer serving own software
In a spot poll we launched yesterday, a majority of IT pros who manage HP 3000s want to keep software close to their own infrastructure. Although Software as a Service (SaaS) is at the top of HP's new offerings, these computing clouds don't appear to be forming yet for many 3000 customers.
Some of the resistance might rise from a mismatch between the size of companies using the 3000 and the target for HP's cloud computing, says migration provider Birket Foster of MB Foster. Since IT staff is the most costly element of keeping software out of the services category, eventually companies will purchase software for use from the cloud.
"If you won't be able to afford to run an IT datacenter, you'll buy those services from a large provider," Foster said, a firm such as Bellsouth or an ISP. HP's messaging on clouds is aimed at these large companies, he added. 3000 customers who are processing cloud messages at events such as the HP Technology Forum "go because they want to understand how the framework operates."
For the moment, a small share of our poll respondents are considering clouds in their migration plan. But many still see outsourcing as the most compatible strategy to move computing infrastructure offsite. In the Ecometry e-commerce community, Cliff Hart of Shar Music said his firm evaluated "an ERP system that was basically SaaS. They have the servers offsite and you lease seats for your users."
Sharmusic.com sells string instruments through a Web site and catalog to schools, teachers and musicians around the world. The company, which was founded in 1962, was hopeful that the PCS (Profit Center) from Systemax could offer a migration solution to move servers out of Shar's IT operations.
"The concept seemed good," Hart said, "but they seemed to have some trouble getting their package off the ground. I know one Ecometry site migrated to it and had difficulty." Ultimately Shar migrated to the Ecometry Open Systems Windows/SQL application suite and retained software services onsite.
Distinguishing SaaS from outsourcing habits and strategies has been a slow embrace for 3000 customers. The community remembers similar old-school practices such as timesharing, as well as the offerings of the 1990s like Application Service Providers. Companies such as DST Health Solutions and the Support Group host servers for clients who don't need a 3000 onsite, or any other server, so long as able administrators can manage their computers on their behalf.
Migration service provider Speedware sees a trend for custom-app users to keep software inside a small company's infrastructure when they move off the 3000. Product marketing manager Nick Fortin said that some companies aim to replace custom-built apps with packaged apps are more open to consider cloud computing to serve their needs, but Speedware's migration solution customers aim at local resources.
"The tend to aim for low-risk, lift-and-shift migrations of their existing custom-built applications and related supporting environment," he said. "They usually purchase their own servers, software and own the infrastructure that powers them, so they don't really opt for a cloud computing or software-as-a-service model since they host the apps locally."
Years of practices that keep data and services under company control are not rolling back quickly into clouds for career 3000 managers. "No such plans here, said Jeffrey Elmer, director of IS for Dairylea Cooperative. "We like to know where our data is and who has access to it."
But computing abilities handled by the HP 3000 continue to march out of localized datacenters. Many of these transitions move computer operations to another location, for another team of IT pros to manage via remote access. "They leave the servers in the datacenter -- these days they are normally talking to a lot of other boxes in there -- and push the operations and applications support out to be managed remotely by a third party," said ScreenJet's Alan Yeo. "We see this happening more and more."
The only downside, Yeo quipped, "is that after about a year -- when for some obscure reason someone actually tries to do something at the real console rather than the remote one -- you find that the keyboard has gone sticky through non-use, and you end up having to bang some of the keys to get them to work."
03:38 PM in Migration, News Outta HP, User Reports | Permalink | Comments (0)
August 12, 2009
Migrations net lower cost, even performance
HP 3000 migration supplier UNICON Conversion Technologies compared the HP 3000 to a few target platforms recently. These performance comparisons show the server holds its own against newer and more popular technology on transaction processing. But UNICON, while praising the 3000's speed, takes a sharper look at cost of acquisition.
"Here are two interesting observations from our conversion work regarding the HP 3000," said Mike Howard of UNICON, which is migrating the Medford, Ore. school district off a 3000. "First, when we migrate applications from a late-model HP 3000 to a Windows SQL Server platform, we are happy to achieve equivalent performance statistics. When we migrate applications from an IBM Z Mainframe to a Windows SQL Server platform, we are unhappy if we don't see a gain of at least times times performance statistics.
"The migrated systems in both cases use only pure native Windows components, with no emulation layers to affect performance, so it is a true comparison. That HP 3000 sure was some kind of machine."
But Howard also reports that migrating to the industry-standard servers promoted by HP and Dell delivers a massive savings over the cost of purchasing those late-model HP 3000s from Hewlett-Packard.
"One of our migration clients purchased a HP 3000 N4000 2-CPU system just two weeks before HP announced the end of life for the HP 3000," Howard said. "The client is migrating to a Windows .NET SQL Server platform using two Dell servers, one application server and one database server -- each 4 quad (16 CPUs) with 32 GB of main memory.
"That N4000 cost the customer $200,000. At today's price, the two Dell servers cost $25,000 total. That's almost one-tenth the cost." The cost of this refreshed hardware might only be as much as re-licensing some sets of 3000 software in an upgrade.
UNICON performs what it calls "a true conversion, not an emulation." During the project the 3000's complete environment, including JCL and third-party utilities, are replaced with software written for platforms including Unix, Windows and Linux. Job Control Language is handled with Windows batch jobs, or scripting in Unix or Perl.
05:42 PM in Migration | Permalink | Comments (0)
August 11, 2009
Locating the eldest running 3000
[Editor's Note: A few weeks back I started a search for the oldest HP 3000 still running in production mode in your community. We're still on the lookout for the winner of this contest. Don't be shy; share your story. As for Gilles' report below, HP built its last computer capable of running MPE/VE in 1989.]
By Gilles Schipper
Homesteading Editor
I got a call a few months ago from an HP 3000 user somewhere in the Los Angeles area, who had gotten my name from our good friends at Allegro, who were no longer supporting MPE/VE machines.
This customer had a major problem with their main application - some distribution software running on a Micro3000XE, with MPE OS version Platform 3P (I believe).
After first ascertaining a serious disk space shortage issue, I finally was able to circumvent that problem by performing a "recover lost disc space" exercise which I had almost completely forgotten about. (The real trick was how to get to that option with the "streamlined" menu choices that were available only on the Micro3000 hardware family. It could not be approached via the too-obvious "COOLSTART" choice, which offered no further human intervention to choose "recover lost disc space." Rather, one had to choose the "boot from disc" option and then proceed from there.)
After then determining the problem was unrelated to lack of disc space, it was like peeling an onion, and each layer removed exposed another layer.
Spending over five hours (via VPN into customer's PC, from which I ran Reflection over a serial ATP connection), I was finally able to fix the problem.
During that five-plus hours, I revisited many older versions of software (think pre-TurboImage IMAGE, KSAM, etc.) which seemed to resurrect brain cells I thought had long died -- not to mention going back to pre MPE/iX and pre MPE/XL days of the venerable MPE OS.
I was actually quite surprised and amazed that there still existed actual production HP 3000s that utilized "classic" HP3000 "mini-computers," as they were then called.
I thought that my home/office with a 918, a 928 and various HP-UX boxes ranging from an F20 and G30 to an Itanium-based RX2602 could be mistaken for an  HP "mini-computer" museum -- until I experienced that adventure into the past with this California user.
06:53 PM in Homesteading, User Reports | Permalink | Comments (0)
August 10, 2009
Use a Web console on a 959
Our Series 959 has a DB25 remote console socket, rather than the 9-pin of the N-Class servers. Can I still connect and use a Web console on this system?
Mark Ranft replies:
With the correct cable the Web console should definitely work on the 959. I had it working on a 989. I am not sure why you would compare the 959 to the N-Class. Anyone using Web console on the N-Class should switch to using their GSP console. For a better, more reliable, faster, more fully featured console on pre-GSP systems, I have set up remote console via DTC, using back-to-back DTC switching. It is very nice.
Craig Lalley adds:
Just use the 25-pin connector that is currently connected to the system console.
Jack Connor adds with a wink:
If you need both, you can use an A/B switch, if moving the cable is too strenuous.
10:52 PM in Hidden Value | Permalink | Comments (0)
August 07, 2009
3000 tools still en route to release
In the middle of a summer where security patches seem to fly at the top of IT consciousness, tools and programs for the HP 3000 are still winging their way to a Web site near your browser.
Speedware licensed all of HP's available content for 3000s off the Jazz utility server earlier this year, as well as training programs for migration platform HP-UX. Those free training tools made a debut online this spring, but after a detour of a few months the Jazz utility programs will also be hosted on a Speedware Web site.
"I am probably halfway through what needs to be done for the Jazz [software]," reported Speedware's Webmaster Andre Dubreuil. "I figure by the end of this month everything should be up and available for download."
Some of the rescheduling came as a result of Speedware's new initiative to get more migration projects started before 2010. The vendor points to the end of HP's 3000 support as a good reason to launch a transition to a platform such as Windows or HP-UX.
Security is a more serious issue for those target platforms, judging by the release in recent weeks of patches and warnings. While the Twitter distributed denial of service (DDoS) issue is still hampering that microblogging service -- driven by Linux systems and used on hundreds of millions of Windows clients -- HP continues to roll out HP-UX security patches, including a new denial of service fix for Internet services.
The latest Unix environment patch for HP's business servers closes a security vulnerability with HP-UX running BIND. The vulnerability can be exploited remotely to create a denial of service. HP issued a security bulletin yesterday for patch HPSBUX02451. HP-UX versions B.11.11, B.11.23, B.11.31 running BIND v9.3.2 or BIND v9.2.0 are at risk.
The Twitter DDoS exploits have been traced to an attack on a blogger's site, according to chief security officer Max Kelly at Facebook, which has also been affected. Blogger and LiveJournal also experienced slowdowns, according a Facebook status update. "The attack that caused issues with accessing Facebook and other sites appears to have been directed at an individual, rather than at the sites themselves," the status report stated today.
Security hacks for the DDoS were directed through Facebook and Twitter users. A report in the UK's Guardian newspaper said that attack that disrupted the Twitter site and caused problems for Facebook and LiveJournal was aimed at a a 34-year-old economics lecturer who is an active critic of Moscow's politics in the Caucasus region. "It was a simultaneous attack across a number of properties targeting him to keep his voice from being heard," Kelly said. A similar attack on the blogger last year crashed LiveJournal.
02:02 PM in Homesteading, Migration, News Outta HP, Web Resources | Permalink | Comments (0)
August 06, 2009
Can Google Go Where 3000s Went?
This week Google unveiled a campaign to bring small businesses under its cloud service. The effort is called Going Google, a subscription to a range of office applications run through the Google network and servers. Google wants $1,335 to set up 10 users with a package of apps which enable collaboration, video and hosting, as well as messaging. Yearly administration is another $3,300
Analysts say this push will crowd Microsoft, whose Office and Exchange apps now rule on workstations around the world. But the effort also recalls the HP 3000 enterprises of the 1980s: a full range of software such as HP Deskmanager for mail, HP Word, graphics and more, all driven by HP 3000 centralized servers. In time HP tried to push New Wave to bring PCs into the host application loop, a plan with feet of clay from its very first day. Where Going Google differs is in the administration. 3000 users had a local DP manager to call when problems cropped up. The solutions didn't always come immediately from their computer department. But the responsibility rested inside the organization.
In contrast, a Google customer will have to endure service outages as if they were an Act of God. No matter how big the service group, everyone can get hacked. This morning Twitter went offline completely for about two hours, victimized by a Distributed Denial of Service attack. The IT group at Twitter's HQ has had a very long day already, one that's not over since Twitter services are still spotty as of this afternoon.
This is the reality of the 2009 cloud: A broad reach that HP could only fantasize about in the 1980s, even while 50,000 of its employees connected via an HP Desk network. Jump forward a couple of decades and collaborate with anyone without building network infrastructure. Just remember to tell your management that working in the clouds means you risk running afoul of Internet demons.
No IT solution is without risk. Both homesteading and migrating customers hear about risks of making a transition -- either a move to dependence on new non-HP partners, or pushing IT apps to a new environment. You can prepare yourself for your own disaster recovery, or defense from DDoS. Or you can rely on Service Level Agreements that will be tested when problems arise.
A one-stop solution still isn't a part of Going Google. You won't find a Bill of Materials app in the lineup, just like MANMAN wasn't part of a HP-supplied Desk suite. In a best case MANMAN could be programmed to accept Deskmanager mail, using APIs for MANMAN, or FORTRAN inside MANMAN's code. The same kind of integration must be available from cloud apps like Google Docs, or whatever HP puts inside its cloud computing solution.
Maybe popular apps like Oracle's finance suite or SAP will find a place in the cloud. Or in a more probable solution, your in-house apps run someplace else, where an IT staff defends against DDoS and other surprises. But the more you have to customize your computing -- a good practice to enhance its value -- the more your staff remains tethered to the cloud.
A very small percentage of 3000 sites went all-HP with software, in part because customization was harder in 1989 than it is in 2009. Open source, full-disclosure APIs, source forges and public class libraries are all improvements over those old 3000 choices. IT experience and insight have not become antique skills, though. It's easy to see that a choice of an enterprise-replacement cloud solution will still require programmer savvy, as well as system analyst experience to communicate a company's business rules and requirements. You can outsource for most of that savvy and experience with any number of 3000-facile third parties.
03:17 PM in Migration, Newsmakers, Web Resources | Permalink | Comments (0)
August 05, 2009
What's Missing This August
Late summertime once signaled face-time in your community, the opportunity to network at an Interex user group conference. The user group has long since folded, in part because it became a pulpit for the people who purchased HP 3000s when HP still sold the system: small and mid-size companies and partners, for the most part. Some voiced displeasure in conference sessions that HP grew to deplore.
Conference sessions today are without contention at HP's meetings. The candor has been replaced with civility, but summertime used to be prized for its hot exchange with the vendor. It's unlikely we'll ever see a civil demonstration like the football-field-sized poster above, unfurled in August, 1996. This month used to be hot in more than climate. HP customers could reclaim this heritage to get action from their vendor.
This part of August has a lot of memory attached to it, something like a 3000 internal drive with most of its sectors filled. With the summertime's quiet now well upon your community, it's easier to hear those echoes of input from customers. During one week of August in 1990, and another 12 years later, 3000 customers spoke their truth to HP's power. The 1990 week marked the turning point for Interex, a shift from communication to advocacy. The 2002 August included a rising tide of protest over HP's decision to exit the 3000 business -- a strategy then nine months old that had to endure its first customer response at Interex's HP World conference in LA.
August of 1990 brought a Interex meeting of the IMAGE Special Interest Group, a session with HP that came to be known as your community's Boston Tea Party. HP had announced its plan to sell 3000s with no IMAGE included to try to capture new customers -- but that plan would orphan 3000 vendors and customers dedicated to 14 years of bundled IMAGE. The Party has been celebrated by some of the system's homesteaders as a victory over unbundling. HP changed its mind about the strategy for 11 years, but ultimately tilted its game table toward Transition. A leading -- and now late -- advocate for the 3000 wanted the system and MPE/iX to roll off HP's plate and into independence in 2002.
Wirt Atmar of AICS Research stood at the center of both August incidents. 1990's Tea Party flowed from two years of despair about enhancing IMAGE, in constant use on more than 50,000 systems at the time. Unbundling IMAGE would have kicked the database into a ghetto, an act that would damage both the third party community as well as customers who relied upon it. Atmar wrote "An Open Letter to HP" and "The World's Oldest Enhancement Request" for The Chronicle and Interact magazine respectively, articles timed to coincide with the Interex Boston conference. He recalled the revolution in a 2002 Internet posting:
These two articles ...  played some significant part in creating the ambience of the Boston Tea Party, an event
celebrated in song by Sasha Volokh
, the younger brother [of Vesoft's] Eugene Volokh. HP's reaction to the users' demands, from quotes overheard at Boston, was, "We'll rebundle IMAGE over my dead body," and "This is just a bunch of noisy vendors trying to save their own asses." Again, I was surprised by the vitriol and vehemence of HP's reaction.
But the revolt succeeded in getting new management at the HP labs as Jim Sartain took over IMAGE. A renaissance of features followed for IMAGE that protected the installed base, even while HP groped for new 3000 customers. The lack of new sites and slow growth of 3000 customers led to the 2001 HP exit plan. Just in time for the following year's Interex 2002 conference (by now renamed HP World), Atmar was cooking up another evolution for HP's oldest business computing product.
HP ought to part with the 3000 business that it was leaving, he offered. A spin-off division from HP could provide the least amount of operating room. (Atmar even mocked up a logo for the spin-off entity, above). Even more independence for 3000 customers was available if the 3000's operating system could be ruled "abandon-ware," he said, and move into open source status. After citing an article from Wired about game software slipping into abandon-ware, Atmar wrote in an August post called "The Future of MPE"
As a vendor, a creator and manufacturer of software, I am extremely concerned about intellectual property rights. But I don't see MPE as the exclusive province of HP. Because HP has always considered MPE a bastard stepchild, the evolution of MPE has been at least as much a community-based effort as it has been one designed and built from internal directives from within HP itself. In the case of the "abandon-ware" games mentioned in the Wired article, no outside user contributed materially to the creation or manufacture of any of the now-abandoned games, thus the legal rights of the creators seems more clear. But things aren't nearly as clear in the case of MPE.

Atmar pointed to a half-dozen contributions of his own to IMAGE. They were examples of a 3000 community that partnered with HP to create the 3000's success with such contributions of time and technique. August's conferences (the Interex shows were usually held that month, including one torrid meet in Orlando) offered advocacy in their angst. This sometimes was not the exchange that HP desired to air in public. But it was good for the future of the system. As to what was said to incite the Tea Party, Adager's Alfredo Rego recalled the moment of highest revolt.
Fred White (co-author of IMAGE and at the time Senior Scientist at Adager Labs) addressed Bill Murphy (HP's Director of Marketing) from the floor and complimented Bill on his tie. Fred then explained how stupid it was for HP to unbundle IMAGE. Fred continued by describing the negative effects in products that depended on having IMAGE on the HP 3000. Fred also provided some historic background by relating how Ed McCracken (a previous 3000 General Manager) had made a success of the HP 3000 by bundling IMAGE in the mid '70s. Fred was firm but courteous. No tomatoes (err, tea bags) were thrown. Perhaps the whole "Boston tea Party" legend started because Fred used the word "stupid" in public, applying it to HP's management, with no apologies.

This summer includes no August conference with controversy, no more Wirt Atmar, no SIG-IMAGE. Nobody would bother to call HP management stupid in public, in part because the vendor's management might struggle to understand what they might do to rectify it. But Atmar noted that Harry Sterling, who went on as HP's 3000 GM to champion the system through the advent of Y2K, was grateful for the another August showdown, The World's Largest Poster Project. HP could behave like a company without monolithic practices, he wrote in August of 2002.
HP has never been a monolithic organization. It's always been populated by people who have cared about their customers as well. In the end, Harry Sterling vigorously shook my hand, grinning ear-to-ear, and said "Thanks, Wirt."

August used to be about advocacy in the 3000 community. The concept still remains ripe and ready for those HP customers who migrate to and use environments controlled by HP, the HP-UX and OpenVMS operating systems. In an era when system vendors rarely mention hardware or operating environments,  and train their eyes on the clouds, customers who need to see product enhancements might study what a community of savvy rebels did in Augusts gone by.
05:12 PM in History, Homesteading, Migration | Permalink | Comments (1)
August 04, 2009
HP keeps rolling Unix security patches
The 3000 community doesn't patch its systems often, but moving your operations to the HP-UX platform will trigger more updates. HP-UX is based on Unix System V, one of the most widely installed environments in the world after Windows and Linux. No environment is breach-proof, but a shift to HP-UX requires a closer watch on patches than in MPE/iX.
While many of these HP-UX patches are only recommended, some critical security holes have to be closed by a patch. HP's rolled out two of these over the last three weeks. One patch only applies to HP ServiceGuard, a product not included on every HP-UX system, but in wide use on mission-critical servers.
But a patch from July 21 identified an "arbitrary code execution" hole for XNTP, the standard time service for Unix systems. Secunia.com called the exploit and the patch highly critical in its advisory. Kerberos also got a critical security patch, HPSBUX02421, last week.
HP has a free program that administrators install on HP-UX servers that "simplifies patch and security bulletin management." Did the HP 3000 ever need such a utility? 3000s eventually received PatchMan to monitor patches of all kinds, though few of the patches were created to respond to security holes. But the server's environment isn't built from an industry standard such as Unix.
HP Software Assistant (SWA) "analyzes a system (and some types of depots) for patch warnings, critical defects, security bulletins, missing Quality Pack patch bundles, and user-specified patches and patch chains" for HP-UX. Many Unix systems include this kind of auto-scan for patches; the Mac OS looks for patches as often as daily, and downloads them (without installing).

Automated HP 3000 environment checking was at its zenith with HP Predictive Support. Like SWA, users needed to enable Predictive manually. It was created in an era when 3000s were only networked on private nets, so HP had to install Predictive modems to enable the checks. But Predictive didn't check for security breaches. A HP Support customer could have the high-failure parts of 3000s -- disks, tapes and memory -- scanned regularly for potential faults. It could also monitor available disk space.

As with HP's 3000 support, Predictive became a casualty of the vendor's exit from the 3000 market. The community got an October, 2006 notice that HP's labs were dropping sustaining engineering and connectivity support for Predictive. HP 9000s, OpenVMS, Linux and Windows systems replaced the functionality of Predictive with the Instant Support Enterprise Edition, starting in 2003. ISEE lasted until this June, when HP replaced it with HP Remote Support Pack and HP Insight Remote Support.
Security patches are free from HP, a vendor that's always watching for liability issues with its customers. HP Insight and Remote Support Pack are employed along with an HP support contract.

05:42 PM in Migration, News Outta HP, Web Resources | Permalink | Comments (0)
August 03, 2009
Use and understand byte stream 3000 files
Although HP's labs for the 3000 closed at the end of last year, some HP engineers continue to help the community. The HP help was offered most recently on the community's newsgroup, where system architect and former community liaison Craig Fairchild explained byte stream files on the 3000.
These fundamental files are a lot like those used in Windows and Linux and Unix, Fairchild explained. HP engineered "emulation type managers" into MPE/iX, an addition that became important once the 3000 gained an understanding of Posix. In 1994, MPE XL became MPE/iX when HP added this Unix-like namespace.
It's a rare gift to see a primer on 3000 file types emerge from HP today. Understanding the 3000 at this level is important to the customer who wants 3000 third party companies to take on the tasks HP is dropping next year. Fairchild explained the basics of this basic file type:
Byte stream files are the most basic of all file types. They are simply a collection of bytes of data without any structure placed on them by the file system. This is the standard file model that is used in every Unix, Linux and even Windows systems. MPE's file system has always been a structured file system, which means that the file system maintains a certain organization to the data stored in a file. The MPE file system understands things like logical records, and depending on the file type, performs interesting actions on the data (for example, Circular files, Message files, KSAM files and so on).
Fairchild detailed how HP has given bytestream files the knowledge of "organization of data" for applications.
To bridge the gap between standard byte stream file behavior (only the application knows the organization of data) and traditional MPE file type behavior (the file system knows what data belongs to what records), emulation type managers were created. To an MPE application, a byte stream file looks and behaves like a variable record file, even though the data is stored in a way that would allow any Posix application to also read the same data. (POSIX applications also have emulator type managers that allow them to read fixed, variable and spool files in addition to plain byte stream files.) The way that the byte stream emulator detects record boundaries is through the use of the newline (\n) character, which is used, by convention, to separate data in Ascii text files on Unix based systems.

The underlying properties of a byte stream file is that each byte is considered its own record. In MPE file system terms, a record is the smallest unit of IO that can be performed on a file. (You can write a partial record fixed length record, but the file system will pad it to a full record.) Since the smallest unit of I/O that can be performed on a byte stream file is a single byte, that becomes its MPE record size. In the MPE file system, the EOF tracks the number of records that are in a file. Since the record size of a byte stream file is one byte, the EOF of a byte stream file is also equal to the number of bytes in the file. This is why one 4-byte variable sized record is equal to 5 byte stream records (4 bytes of data + 1 \n character).

It's also worth noting that any file can be in any directory location and will behave the same way. (Well, almost. CM KSAM files are restricted to the MPE namespace. And of course the special files (that you don't normally see) that make up the file system root, accounts and groups are also restricted... one root, accounts as children of the root, groups as children of accounts. And lockwords aren't allowed outside the MPE namespace. But other than that the first sentence is true.)

The general model that we had in architecting the whole Posix addition was that behavior of a file does change regardless of where it is located. This was summed up in the saying, "A file is a file." So there are no such things as "MPE files" and "POSIX files". There's just files.

What does change is the way you name that file. Files in the MPE namespace can be named either through the MPE syntax (FILE.GROUP.ACCOUNT), or through the HFS syntax (/ACCOUNT/GROUP/FILE). You can also use symbolic links to create alternate names to the same file. This was summed up as a corrallary to the first saying, "But a name is not a name."

06:59 PM in Hidden Value, Homesteading, News Outta HP | Permalink | Comments (0)