October 05, 2015
Pursuing Crowd-funding for an MPE Port
Open source software once provided a turbo-boost to the renaissance of the HP 3000 and MPE/iX. For one manager, the concept still holds some promise to improve his 3000's offering.
"Does anyone have a newer port of Apache and SSL for the HP 3000?" Frank Gribbin asked last month. "If not, I know a reliable vendor who can do the port. Anyone interested in crowd-funding the effort?"
Gribbin has long been on the trailblazing path with the 3000. His company was among the first to put Java/iX to work in its production software. At the law firm Potter Anderson LLP, he's done development as a part of testing the Charon emulator, too. 
"Our 3000s are still useful and humming along," he said. "I haven't done anything in Java for awhile. But I've been having a lot of success using the Apache CGI capability to communicate with BASIC programs that access IMAGE databases."
BASIC. Still working in a 3000 installation.
"My interest in Java was to build a better user interface for 3000 apps," he said. "I thought that was one reason the 3000 was losing market share. Once I figured out CGI scripting and a web interface, I put my effort into that. On our 3000, most of the time, BASIC got the job done. I've written supplemental code in FORTRAN, SPL, Java and Visual Basic, too."
Java does suffer from performance issues
on the HP 3000, in part because of HP's strategy of throttling down the speeds of PA-RISC processors in A-Class and N-Class 3000s. Crowd-funding open source work is only one element in improving such software. While an outside organization might be able to get the language's latest version ready for MPE/iX, any such group might also have to pay to transfer the Java for MPE license that HP originally got.
The last MPE/iX version of Java was getting the job done, language expert Gavin Scott said during one of the final SIG-Java meetings at HP World.
"Today's Java version for MPE should be good enough for most needs going forward," Scott said at the 2004 meeting. "It's already Nth generation technology both from the point of view of Java from Sun and from the MPE porting effort. If you're developing your own code, having an older Java version should really be no problem. The only issue that arises is if you want to run some commercial package that's not certified for the older version, or can't be made to run due to it missing some later feature."

"But once HP stops producing Java for MPE, there will be no future releases," he added. "I believe you need to be a big company prepared to shell out a lot of money for a Java license and meet many very complex and expensive requirements."

Scott noted at that time he knows of third-party Java execution systems, compilers, and class-library implementations — some of which are free. "But none are really a replacement for the full Sun Java implementations," he said.

Gribbin spoke with a Java licensing representative about extending the life of the language on the HP 3000.

"While the source code is free, implementing it on our platform is our challenge, and certification for redistribution of a J2SE implementation is in the $75,000 to $100,000 range," he said back in 2004. "J2SE provides an option for headless configurations, and we'd be okay in the test harness without GUI features."
By now, the abilities of the Apache web server software are standing in for the language that HP once ported. Ports were a promising way to win new 3000 sites. Now they're a way to keep the system connected to the servers that HP allowed to rise up in the 3000's place.
"Vendors maximize profits with 'out with the old, in with the new,' " Gribbin said. "Customers minimize expenses with 'keep what is best of the old and enhance with the new.' Just a different priority."
Posted by Ron Seybold at 09:12 PM in Homesteading | Permalink | Comments (0)
October 02, 2015
3000 Masters make the most of ERP access
The MPE/iX servers which service manufacturing users still have feature-growth opportunity. That's the chance to improve usability, an opportunity often presented by third-party add-on software. A few of the 3000 masters met last month to integrate that sort of software. They were widely-known, recognized for advocating MPE computing, or sharing deep ERP background to make a 3000 work smarter and more securely.
Eugene Volokh, Terry Simpkins, and Ali Sadat came together for an afternoon in LA, hunched over laptops and connecting three MPE-savvy software programs. (Of course, Eugene's dad Vladimir couldn't help but look over his son's work.) At the heart of the equation was MANMAN, still in use at Measurement Specialties' 10 HP 3000 sites, running manufacturing and ERP in China and elsewhere. That remains Simpkins' mission. He's also stood up for homesteading, or choosing HP 3000s, ever since the middle '90s. His company was acquired last year by TE Connectivity, a process that sometimes shakes out legacy software and systems. Not this time.
Helping Simpkins was Vesoft's Eugene Volokh, co-creator of Security/3000. The servers Simpkins' company uses also use the Vesoft product first launched in the 1980s. Eugene was just a teenager when he helped his dad Vladimir build Security/3000. As you can see from the picture above, one of the most famous members of the 3000 community has gotten older — as have we all.
The summit of these masters was topped up by Ali Sadat (foreground, above), whose Visual Basic user interface runs in front of MANMAN at Simpkins' sites. The product which started in 1997 as AdvanceMan does more than just pretty up users' OMAR and MFG screens with buttons and pull-down menus. By now it's an interface to the Web and XML, and it also lets users work in more than one MANMAN module at a time, plus eliminates the typing of commands to execute MANMAN actions. It doesn't require any changes to existing MANMAN environments. For continuity the screens began as ones that were similar in form to the original MANMAN screens. The flexibility and usability is now an opportunity to use an interface for improvements. That's an improvement to an app that was first released in the late '70s. Sadat's Quantum Software calls the product XactMan by now.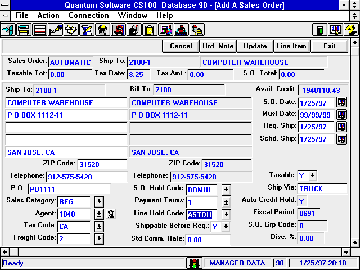 But XactMan needs to pass through the Security/3000 gates to get access at the sessions in MANMAN -- at least it does at a sensible site like Measurement Specialties that's deployed passwords right down the session level. Sadat, Simpkins, and Volokh were hard at work for an afternoon engineering the integration. Vladimir updated us on the connection, adding that Security/3000's sessonname logon parameter -- a full execution of the MPE stub -- needs to know XactMan wants session access. XactMan takes up no user sessions on the HP 3000, regardless of the number of PCs that are interfacing to MANMAN.
Saving sessions used to be important, but the improved interface is the point today. Catching three masters of the 3000 at work was a nice candid moment, captured in the photos by Eugene's mom Anne. During that week in LA, there was a masters gathering of minds all older than 45. The 3000 community is beyond mid-life, but these four people were working to make sure it goes gracefully into its senior years.
Posted by Ron Seybold at 03:32 PM in Homesteading | Permalink | Comments (0)
September 30, 2015
The Re-baking of an Abandoned Classic
About five years after Hewlett-Packard stopped building the 3000, another legend ended its sales. Hydrox, the original sandwich cookie and the snack that Oreo copied and knocked off in 1908, fell off the world's grocery orders in 2008. Sometime tomorrow morning, Hydrox Cookies will arrive at ardent fans' doors and mailboxes. 
This resurrection of a beloved cookie has several things in common with MPE systems of the past. At the heart of each revival is a belief that a better-known product is not necessarily better. That, plus a devotion to research that any return to sales demands. Some 3000 owners believed, from 2004 up to the year Hydrox left the market, that HP would return to 3000 sales. By 2010 there were few who retained such hopes — but by that year a better 3000 was already in development.
Like MPE users, Hydrox consumers know their cookie is superior to something better-known: the Oreo. Leaf Brands made tomorrow's return possible by rescuing the Hydrox trademark from disuse by Kellog's. The cereal company was the last firm to make a Hydrox, but by the end the cookies were being baked using high fructose corn syrup instead of genuine sugar. Unlike Oreos, though, the first ingredient in a Hydrox is flour, not sugar.
Hewlett-Packard never tinkered with the composition of MPE/iX or the 3000 hardware at the end of its HP lifespan. But the company has transferred its "HP3000" trademark to a VPN server appliance series. A set of HP inkjet printers called the 3000 has also been on the product list since the last HP 3000 rolled off the line in 2003. HP has not abandoned that trademark, but the server's owners haven't dropped their devotion to the product, either. Like the Hydrox fanatics, some 3000 users look forward to a return of MPE-capable systems.
It's like making a new cookie from an original recipe: new MPE boxes have growth options. And like Hydrox, you purchase them in different ways today.
Oreo chased Hyrdox from grocery shelves
 by out-marketing Hydrox's creators Sunshine Bakeries. But Oreo was not better to many households, and to some in ways more than taste. Hydrox never used animal lard and so was a kosher cookie. The HP 3000 was cut off Hewlett-Packard's shelves by superior marketing of Windows, starting with NT and onward through Windows 2003. The valuation of these Windows systems outstripped HP's proposition for 3000 ownership.
Today you purchase a new 3000 through any high-end Intel server supplier. As of this week, you buy boxes of Hydrox from Amazon, but the distribution chain will widen, say the new makers of the cookie.
What the sandwich cookie world had been left with, after the Hydrox exit, were a dozen brands of Oreos, from Double and Ultra Stuff, to Thins, to mint and peanut butter stuffings. Key lime Oreos were an improvement to the sandwich cookie world, yes. Likewise, the 3000 replacement markets have a wider array of tastes because of much-improved Linux options, and the scope of Windows and Unix choices alone outnumbers even the Oreos products.
Over the last 12 years we'd sometimes receive a message or query about the prospect of taking back the 3000 brand and legacy from the hands of HP. By this year, there were only a few companies doing business with Hewlett-Packard regarding their MPE systems, after all. Most of them were paying to transfer existing licenses, a $432 transaction. Why not cut "3000" loose from HP's intellectual property?
Unlike Kellog's, Hewlett-Packard hasn't moved on. It has little to gain by cutting the trademark loose. For eight years, the OpenMPE advocates worked and wished for independent ownership of source code, but nobody was driven to carry forward manufacture of that PA-RISC chip line that powers 3000s. The OS — that stuffing that makes the computer cookie so special — was another matter. Without the value of MPE, the Charon line from Stromasys has no reason to exist today. Virtualizing that chipset made a 3000 with a better future.
Hydrox cookies have two essential elements that make them superior, their fans say. The trade-secret vanilla of the stuffing is unique, and the cookie is baked with cocoa flour in addition to regular flour. Cocoa flour is the equivalent of the Intel x86 line that powers Charon. Everybody knows where to get it. But the classic vanilla for the stuffing, manufactured in Texas for the new owners Leaf Brands, is the equivalent of MPE/iX: a trade secret. But this one was carried forward.
Leaf's owners first confirmed Kellog's was finished with the Hyrdox brand, rescued the unused trademark, and then set about re-crafting the cookie. They needed to match the taste that Boomers remember from their childhoods, research that reminds me of the Stromasys development that matched the HP 3000 boot process. Leaf's Ellia Kassoff found archived Hyrdox cookies on Craigslist, worked to match the ingredients on the package, then tested his cookies on the most ardent of fans.
The most fun version of this cookie revival comes from NPR's Planet Money. The report says that on the subject of trademarks, Kassoff sought evidence of a Doctrine of Abandonment.
The trademark is this relationship between a company and its customers. And so if that relationship is broken, if the company stops using the trademark, there isn't really anything to protect anymore. The trademark is deemed abandoned.
The good fortune for the devoted fan of MPE is that HP didn't have to abandon the 3000 trademark for the server to regain a growth path. These days when you type "HP3000" in the HP website search window, the first two results point at Stromasys and its distributors. The trademark lives on, along with its delightful stuffing.
Posted by Ron Seybold at 09:06 PM in Homesteading | Permalink | Comments (0)
September 22, 2015
Meetings serve futures. Most rely on pasts.
Last week I got a note from Terri Lanza, consultant to MANMAN and ERP users, asking about any forthcoming meetings for 3000 customers. Terri was a big part of the last HP 3000 meeting, the 3000 Reunion meeting that kicked off four years ago today. Lanza also queried ScreenJet's Alan Yeo, since Alan drove the engine of that Reunion while I helped organize and publicize.
Lanza is on the board of CAMUS, the user group devoted to ERP and manufacturing tech. "CAMUS was offered a place in California to gather," she said, "so our board wondered about choosing between San Diego and LA." Alan replied in short order that nothing is being planned for a 3000 meeting, and if anybody would know, it would be him. He kickstarted the meetings in 2005, 2007 and 2011. He even tried to turn the crank on a 2013 meeting. These things need financial support.
There's a great deal less purchasing among 3000 users four years after the Reunion. Purchases drive these tech meetings, but not just the sales pursued on an expo floor. Purchases of the past prop up meetings, as people try to better use the tech they already own.
That's why it's interesting to look at the content for many meetings among seniors like those who were at the Reunion. Tech meetings serve the drive toward futures, with talks about the Internet of Things or the Etch-A-Sketch wisdom on rules for social media. Learn, erase, learn again.
Legacy technology, though, tends to pay the bills for the bright-future meetings we used to attend. CAMUS is the exception, since its futures cover the survival of datacenters and legacy servers. Those are the servers that don't seem to get airtime, because their days of futures are supposedly over. Even HP seems to think so, if you look at what it's talking about at user meetings.
 HP's not counting on its legacy servers
-- and an Integrity box is legacy like the 3000, just further up the road -- to float much of the company boat. Continued support of legacy systems can finance a visit to a sunny-futures meeting, though. The older generation does this support, and it pays for the dreams and foresight around newer technology. Or you hold a reunion, and remember what made you close friends, while you fought the fires of yesterday together.
But these days everybody is looking forward at expected change. Not much is changing about 3000s except for the age of their components. Humans always overestimate the amount of change coming into their lives, though. There's talk about manual driving becoming outlawed as self-driving cabs abound, or signboard ads at Macy's that will work better than an Onion gag about them. Someday we may be living in a world like those of the movies Total Recall or Minority Report. Walk slowly past that signboard. It could be sharing data that might live in an archived IMAGE database, which will be more reliable than split-second smartphone recognition.
Meetings serve a social need, and you never want to slag anything people are still investing time and money in. You can talk about the future with its uncertain changes, or gather survival advice to extend investments past. Maybe Google Hangouts or YouTube will give 3000 users a no-travel meeting option by next year. Since there's nothing under non-disclosure, the cybersecurity won't need to be advanced.
I remember attending a BARUG conference back in the 1980s in Santa Cruz. We enjoyed an expo space that overlooked the beaches and the suntanned pulchritude all a-frolic on the sands. Good times, but there was also talk on how to improve and extend what was still in use. We're betting that's become a mission for today's Web. If there's no travel budget, that'll work — and you won't have keep those bright-future shades trained on the changes that may never wash up on the sands of your datacenter.
Posted by Ron Seybold at 04:24 PM in Homesteading, Migration, Newsmakers | Permalink | Comments (0)
September 18, 2015
Passing audits: MPE privileges can be keys
Migrated HP 3000 data can become forgotten while making provisions for an audit. Since some HP 3000s work as mission-critical servers, these active, homesteading systems must weather IT and regulatory audits. The 3000 is capable of passing these audits, even in our era of PCI, HIPAA and Sarbanes-Oxley challenges — all more strenuous than audits of the past.
However, establishing and enforcing a database update procedure is a step onto filling the gap in the security of an MPE/iX system. HP 3000 managers should take a hard look at how their users employ System Manager (SM) privileges. (Privileged Mode, PM, and System Supervisor OP should also be watched. Overall, there can be 21 capabilities to each user.) In their most strict definition, those privileges can expose a database. Hundreds of users can be created at Ecometry sites; even seasonal help gets SM users, according to one consultant's report, users which are seldom deleted after the holiday has passed. One site had a script to create new users, and each had PM capability, automatically.
Privileges are often a neglected aspect of 3000 operations, especially when the system's admin experts have moved on to non-3000 duties, or even to other companies. (Then there's the prospect that nobody knew how to use privileges in the first place.) Some SM users have disturbed the integrity of 3000 databases. It's easy to do accidentally. A creator of a database can also update a 3000 database — a capability that can foul up a manager's ability to pass some audits.
VEAudit from VEsoft, using its LISTUSER @.@ (CAP("SM")) filter, can give you a report of all of the SM users on your HP 3000. You can even ask for the SM users where password="". (Now there's a good list to find: SM users who have no passwords.) There is no MPE command that will do such things, we are reminded by VEsoft co-founder Vladimir Volokh. Even after more than three decades of his business as a 3000 software vendor, he also offers consulting on MPE operations and management, and still travels the US to deliver this. 
If you are worried about arbitrary access via QUERY, you can "disable subsystem access" via DBUTIL. This will, of course, only disable the access on QUERY.
Some less-adept auditors can also demand that a database's password be changed every 90 days. It's quite impossible to do, considering the database password is built into every application program.
So a database's security might be compromised through SM privileges, but it depends on the meaning of "update." This term can be construed to be as restrictive as using DBUPDATE to change an entry. It can also refer to UPDATE access DBOPEN MODE 2. 
To get very specific, an update can mean that the modify date has been changed in the file label of one or more IMAGE-related files. In a very general definition, an SM user can update the database simply by way of a restore from tape. (OP privileges permit this, too.)
Auditors sometimes ask broad questions, the sort of inquiry that fits better with the everyday use of HP 3000s in an enterprise. But for MPE/iX experts, "update" means any kind of modification capability.
So you can answer your auditor's question and say "no, SM privileges don't permit any of our users to update a database in another 3000 account." This answer is true, to the extent that the auditor's concern is about changing data — not just making a minor date change or using DBOPEN MODE 2. For auditors without MPE/iX and IMAGE expertise, well, they might not go so far in their examinations.
As for the SM user's ability to muck up an IMAGE database, it's a mistake that is not difficult to make. An SM user who obtains a database password can corrupt an IMAGE database just by using the restore command. We've heard a story that such a user might explain, "Oops, I thought I was signed onto the test  account."
It's important to make a system fool-proof, because as Vladimir says, "fools are us." 
Posted by Ron Seybold at 04:31 PM in Hidden Value, Homesteading | Permalink | Comments (0)
September 15, 2015
COBOL Tools for Comma Separated Values
It's been a long time since I wrote in COBOL, and I have an elementary question about creating a comma-delimited file. If I want...
"item one", "item two","","","item three"
How do I create the "," between item one and item two?
And the ","",""," would it be the same?  Just put that inside double quotes?
Something tells me that there is an escape sequence, but the mind is not cooperating. 
Walter Murray, who worked in HP's Language Labs before moving on to other 3000 work, replies
The STRING statement is helpful. I don't advocate using an apostrophe to delimit nonnumeric literals, preferring to stick with standard COBOL. And yes, QUOTE is a figurative constant guaranteed to give you a quotation mark.
Murray offers a COBOL sample
program to illustrate.
000100  IDENTIFICATION DIVISION.                            
000200  PROGRAM-ID. COBTEST.                                
000610  DATA DIVISION.                                      
000620  WORKING-STORAGE SECTION.                            
000630  77  ONE-COMMA    PIC X       VALUE ",".             
000640  01  1ST-ITEM     PIC X(6)    VALUE "ITEM 1".        
000650  01  2ND-ITEM     PIC X(6)    VALUE "ITEM 2".        
000660  01  3RD-ITEM     PIC X(6)    VALUE "ITEM 3".        
000670  01  MY-RECORD    PIC X(72).                         
000700  PROCEDURE DIVISION.                                 
000800  1000-START.                                         
000900      INITIALIZE MY-RECORD                            
001000      STRING  QUOTE 1ST-ITEM QUOTE ONE-COMMA          
001010              QUOTE 2ND-ITEM QUOTE ONE-COMMA          
001011              QUOTE          QUOTE ONE-COMMA          
001012              QUOTE          QUOTE ONE-COMMA          
001013              QUOTE 3RD-ITEM QUOTE                    
001014              DELIMITED SIZE                          
001015              INTO MY-RECORD                          
001016      DISPLAY MY-RECORD                               
001020      STOP RUN.       
001100  END PROGRAM COBTEST.

And the output...
"ITEM 1","ITEM 2","","","ITEM 3"
Tony Summers adds
It's worth putting a final comma at the end of the line, otherwise some versions of Excel can make the last column very wide.
Ken Roberston notes
One item worth noting, is that right before the STRING statement, you should move spaces to your output buffer.  STRING will not clear the buffer, so if your current string expression turns out to be shorter than your last, whatever was there before will remain - and you will get bad values in your output.
MOVE SPACES TO OSTRING
STRING XYZ etc. 
  INTO OSTRING
WRITE BIGREC FROM OSTRING
Finally Robert Mills has a macro for COBOL that creates a CSV record (copy and paste to retrieve all the characters in every line of the macro).
*> *************************************************************************
*> %AppendCsv(Field#,CsvRecord#)
*> -------------------------------------------------------------------------
*> Append Field to CsvRecord. If Field contains a comma (,) then Field is
*> quoted (") before being added. Quotes (") within Field will be replaced
*> with single-quotes (').
*> *************************************************************************

01 AppendCsv-macro.
05 AppendCsv-comma-count pic s9(04) comp value zero.
05 AppendCsv-field pic x(512) value spaces.
05 AppendCsv-field-length pic s9(04) comp value zero.
05 AppendCsv-index pic s9(04) comp value zero.
05 AppendCsv-pointer pic s9(04) comp value zero.

$define %AppendCsv=
initialize AppendCsv-macro
move function trim(!1) to AppendCsv-field
move length(function trim(AppendCsv-field)) to AppendCsv-field-length
move length(function trim(!2, trailing)) to AppendCsv-pointer
if AppendCsv-pointer > 1 then
move "," to !2(!3:1)
add 1 to AppendCsv-pointer end-add
end-if
perform
varying AppendCsv-index from 1 by 1
until AppendCsv-index > AppendCsv-field-length
if AppendCsv-field(AppendCsv-index:1) = "," then
add 1 to AppendCsv-comma-count end-add
end-if
if AppendCsv-field(AppendCsv-index:1) = quote then
move "'" to AppendCsv-field(AppendCsv-index:1)
end-if
end-perform
if AppendCsv-field-length > zero then
if AppendCsv-comma-count > zero then
string
quote, function trim(AppendCsv-field), quote delimited by size
into !2 with pointer AppendCsv-pointer
end-string
else
string
function trim(AppendCsv-field) delimited by size
into !2 with pointer AppendCsv-pointer
end-string
end-if
end-if#

Posted by Ron Seybold at 03:58 PM in Hidden Value, Homesteading | Permalink | Comments (0)
September 11, 2015
Fiber and SSD discs boost 3000 speed
While getting an update an IT manager at the welded carbon steel tubing manufacturer Jackson Tube, we discovered a field report on the combination of Linux, Fiber Channel networks and large disk that's being installed by Beechglen. Early this year, Mike Hornsby briefed us on the basics of the setup, one designed to bring fast storage options using Storage Area Networks to 3000s. Dennis Walker at Jackson Tube supplied some specifics.
We are currently using Beechglen's Linux Fiber Optic SAN on solid state drives with Distributed Replicated Block Device (DRBD) replication, which gave us a giant increase in speed. It's very cool; they use a Linux server with SCST Target SCSI for Linux to act as a Fiber Channel SCSI device. It uses Qlogic Fiber Channel boards to connect to the HP 3000.

Our setup is in-house, using their hardware on a hosting contract with Beechglen. We have two of their SAN devices and two of their HP 3000s, one production and one development system. The SANs are connected over an Ethernet fiber converter in two different buildings 1,000 feet apart. They have set up Linux's DRBD, and so can cross-mirror the HP 3000 logical block devices.

Before they told me about their setup, I had already been investigating  a similar solution with the same software but with a SCSI-iSCSI adapter. They offered what I wanted all set up and tested, and using Fiber Channel. Plus they said they had to patch MPE to work correctly, which I could have never have done.
The Linux Fiber Optic SAN doesn't have a fancy user interface, Walker added, "but having used Linux since 1992, the text configuration files and shell commands are just fine for me. Most people have them do everything and just know they have a Beechglen SAN, so it's all transparent to them."
The HP 3000 LUNs are just flat files pointed to by the SCST configuration and can be copied for one kind of backup when the 3000 is shut down, which is a super-fast backup and recovery. Although we don't back up that way, we have a base system backup of the LUN files for a quick recovery, and we do disk to disk backup using TurboStore True Online to a private volume LUN setup on a regular disk drive. Those backup files are FTP'd to our company backup servers.

The performance is radically faster. We've seen 4,000 to 5,000 logical IO's per second, compared to a couple hundred at the peak on our old Model 20 Arrays. We've been on the system for 15 months with no problems. I consult with a company in town that uses much fancier EMC arrays with Windows servers and they cannot say the same. Plus, they have lost data because of EMC problems. This solution is not nearly as fancy, but it's very simple and reliable using just regular Linux subsystems.
The vendor recommends an upgrade to an A-Class or N-Class to take advantage of native Fiber Channel. The solution uses CentOS Linux. 
Posted by Ron Seybold at 08:31 PM in Homesteading, User Reports | Permalink | Comments (0)
September 09, 2015
Still Emulating, After All of These Years
The Dairylea Cooperative was among the first of the North American 3000 emulator users to testify about making the choice to dump its HP hardware and keep MPE/iX. We ran a detailed story about Jeff Elmer and the organization that covers seven US states with sales, distribution and marketing for dairy farmers. There's a long history of Dairylea success, as well as success with the 3000.
We decided to check in after a couple of years and see what everyday life with Linux, MPE and the Charon emulator looks like today. The IT director Jeff Elmer answered our queries straight away, as if he was ready for the questions. He's making good use of VMware, so in that he's right in step with the virtualization strategy that was celebrated at the recent VMworld.
By Jeff Elmer
We started with the emulator in December 2013 and never looked back.  We always loved the HP 3000 hardware, but with the emulator we no longer have any significant concerns about hardware failure since we aren't dependent on a RAID array consisting of disk drives built when some of our web developers were small children.  
Even if we did encounter a hardware issue with the Proliant server that hosts the emulator, we could just fail over to an instance of the emulator we have standing by to run under our VMware environment in our business continuity site. We can "power up" that emulator in another city without getting out of our chairs.  We would then restore from our most recent full backup (we do a full every day of the week which is written to disk and copied to the business continuity site) and then tell people to use the Reflection shortcut that points them to the emulator in the business continuity site.
Our users never saw a difference between
the "real" HP3000 and the emulator. Performance has been equivalent and it has also emulated that legendary HP 3000 reliability since we have had no downtime. The worst experience we have had with the emulator is a couple of instances when the system time got out of whack.
While we would prefer that something like that never happen (and recognize that it could be a disaster in some shops), having it occur roughly once a year isn't much more than an inconvenience to us. Stromasys let us know that this is corrected in the latest version; I'm assuming it was pretty difficult to track down since it was an intermittent problem.
It has been business as usual for us in the almost two years that we have been using the emulator, and our expectation is that it will be business as usual as long as the organization needs the systems that run on it.
I would recommend the product to anyone who wants to use their HP 3000 indefinitely.
Posted by Ron Seybold at 06:07 PM in Homesteading, User Reports | Permalink | Comments (0)
September 08, 2015
Emulation does not include HP's slowdown
One of the prime reasons for extending 3000 application life is investment protection. It is difficult to justify, however, if a company continues to grow while its hardware performance remains capped at 2003 levels That's the incredible hamstring that most MPE/iX applications labor under. Aside from refusing to put MPE/iX onto Itanium chips, there was a fresh generation of PA-RISC processors available to HP by the middle of the last decade. But those PA-8900s were never employed in 3000s, just 9000s. Then there's the matter of hardware down-clocking. It's a feature not included in 3000 emulation.
Owners of 3000s probably know their systems were hobbled by HP during the design of the ultimate generation of the servers. They should also know that protecting their application investments with an emulator eliminates that hurdle to modern-day performance. The recommended top end today is an Intel i7. Whatever comes next will be available to keep MPE application performance growing.
In the wake of the just-completed VMworld show, it's easy to see that virtualization -- the other name for emulation -- is mainstream technology by now. Five years ago this month, though, we interviewed the Stromasys CTO Robert Boers about the design goals for the Charon emulator for PA-RISC 3000s.
Is your emulation going to get rid of the slowdown code that has hamstrung PA-RISC processors on 3000s?

We're not using that. They've clocked them down to the equivalent of 55 MHz on the low-end models. HP actually had a back-door to allow their support people to turn up the performance if they were in a hurry. We're actually building an accelerator.
The reports of Charon use in the field do not include any notes on clipped performance. The company made good on its promises of acceleration -- an area that can be enhanced by more upgrading hosting hardware, too.
There can be other reasons to leave MPE/iX behind,
aside from lagging performance. An emulator won't do much for MPE brain-drain, or software suppliers who shutter up their business, or even the lack of a vendor-supplied support system. But it's been close to five years without HP in the picture. MPE expertise is still out there for hire. Software has been rescued or moves along as strong as ever in tool provider's cases.
But there's that hardware future that looks brighter. An N-Class server might not be as costly an investment burden as it once was, but emulation offers more growth. We asked Boers (who's retired now after a mainstream management team adopted the Stromasys solution) whether the clock would run out for a meaningful product release of Charon.
Some in the community say too much time has passed to make this a relevant product. What's your take?

To tell you the truth, HP's been pretty slow. I feel concerned, because we should have been ready much earlier. We've been waiting about a year until we got an agreement on the Processor Dependent Code information, because HP's overriding worry was the ability to run HP-UX. What concerns me is that there's only about a half year left to get additional HP licenses. We might have a working beta by then, but not much more by the end of the year.
The emulator started to generate references by 2012, about two years after HP halted its additional license sales. As it turns out, MPE/iX licenses are still out there for sale in the form of rock-bottom used HP 3000 hardware prices. HP recognizes this value of these licenses. That's why it's operating a license transfer business almost 12 years after it sold the last of those down-clocked 3000 servers.
Posted by Ron Seybold at 10:57 PM in Homesteading | Permalink | Comments (0)
September 03, 2015
TBT: In the Thick of Proceedings Season
Before you even left your house for a flight to an HP user conference in the Eighties, you had to leave room in your suitcase for the thick books of proceedings. So much room, by the middle of that decade when the 3000 grew fastest, that you might have leave behind the booth swag you snagged from conferences like Interex annual meetings.
30 years ago this week, I was packing for my first national HP user conference. The Interex meeting was scheduled for Washington DC, the first time a HP 3000 users conference would meet in a national capital. We learned things afterward by packing up these fat tomes in our bags for the return trip. It was an era where you advanced your skill set by reading papers, printed in monotype Courier off HP 3000s which were running HP Word, or WordStar off a PC. HP could provide WordStar on its HP-150 Touchscreen PCs. It hadn't earned good notice for the utility of its touchscreen functions, though.
The graphic design for proceedings was spartan at best. At least half of the papers were written by users, and every professional who attended a show went home and hoovered up that wisdom that was shared without regard for reader comfort. The 200 papers from the Interex '87 show required three volumes of more than 700 pages each. The papers were printed in alphabetical order of authors' names, and nary a page number is to be found.
In addition to meeting in DC for the first and only time, 3000 users in September, 1985 could hear a speech from an HP CEO. David Packard was a former CEO and current HP board member when he addressed the multitudes at the conference. While Packard's speech has been lost to the wilds, those proceedings papers remain in closets, online, or fixed in the skill sets of the 3000 managers who have moved on to other platforms. Most printed advice that did not yet have the benefits of HP's LaserJet marked milestones on those hundreds of sheets printed each year.
Presenting a paper helped your career,
whether you were a rock star of the community or just a hard worker moving up. Eugene Volokh, at age 17, published a 53-page paper in that 1985 proceedings set on
The Secrets of System Tables.. Revealed!
The paper started with parody of a Norse poem, revised to include 3000 terms.
During an era when the work in computing was called Data Processing, one paper from HP Major Accounts rep Bill Franklin cited a survey showing "in many organizations, less than 1 percent of all management decisions are being made using on-line interactive systems." Batch was big, apparently, but another paper provided methods to alleviate the 3000's "grave failings as a batch job machine." 
It was a time when the fastest growing segment for 3000s enabled a practice being called Office Automation. HP rolled out the Series 37 during the year that led to Washington, and the vendor dubbed it The Office Computer. You could use what the industry still called a minicomputer without special cooling or a raised floor for cabling. Setting up a 3000 on a carpet was still a fresh achievement.
"Our office workers had little if any, access to computing," Ellie East of Media General wrote in one paper. Her DP department "established the company-wide use of the HP 150 computer by approximately 150 executives, managers, accountants and secretaries." Those Touchscreen 150s were in the mix to reduce the computing load of the 17 HP 3000s across the company. Lotus 1-2-3 spreadsheets made that happen.
Spell-checking from word processing was not as important as vetting concepts and DP practices for the papers. You were more likely to get called out for formatting errors on your printed report. One paper delivered 10 pages of tips on "Writing Intellegent Software." It was an era when "compatability" could appear in a headline that I wrote the next year, a gaffe that didn't trigger even a handful of calls. At least that DP pro in DC could point to tech skills that I could not claim, not from the HP Chronicle editor's chair. Our very first booth, one we'd built ourselves, was a DIY number so heavy that it needed a fork lift to make it onto the expo floor, down in the basement hall of the Washington DC Hilton. The ceilings were not 10 feet high. We were upstarts in that hall, tilting at the Interex publications windmill with an editor who was more newspaper writer than proceedings aficionado. 
In that Washington DC September week, there was evidence of volunteering on every proceedings page. Interex '85, billed as The Information Crossroads of the 80s, was hosted by the Baltimore-Washington Regional Users Group. At the meeting's pinnacle where the volunteers took a bow, they all sported red blazers, the ones they'd been wearing all week. The RUG officers told us the coats were an invitation to "ask me" for help about finding which talk to attend, or where an event could be located.
The Interex 85 conference was among the last to be driven by a focused users group. 3000 managers and vendors from the Southeastern Michigan Regional Users Group hosted Interex 86 in Detroit. Users took home another two-volume set of proceedings. By Interex 87, held in Las Vegas in another September, the role of the RUG in national meetings was on the wane. An icon as flashy as a red jacket would not appear on the stage of another meeting. Those tomes of technical paper, gathering the advantage of desktop publishing to reduce their page counts, would survive for another 14 years of conferences.
A sampling of such classic proceedings from the 1970s through the end of the Interex era is online at the OpenMPE website. I've got no idea how those thousands of pages were driven into digital images, but the brute force that must have been required matched the rolled-up sleeve approach to 3000 DP of 1985. Captured in those online pages is advice on software which still runs on 3000s of today, such as IMAGE and its logging capabilities. The first TurboIMAGE Textbook was still four years away from that week in DC, and it also caught a 3000 wave that was powered by paper.
Posted by Ron Seybold at 08:06 PM in History, Homesteading | Permalink | Comments (0)
August 31, 2015
Posix file movements, using FTP and more
I'm attempting to move files in and out of Posix namespace on my HP 3000. The file I've copied becomes bytestream, and has a REC of 1. But I want to transfer that file from Posix down to my PC, I need to maintain it's structure — but what appears to be happening is it's one long record, with no separators. Is there a way (automated) that I can move files in and out of Posix, maybe FCOPY, and be able to keep the structure?
Donna Hofmeister replies
Simply copying/renaming a 'regular' MPE namespace file into HFS-namespace will not change its structural attributes.
If the MPE file was ';rec=-80,,f,ascii' to begin with, it will still be that afterwards.  And it will retain those attributes (cr/lf in particular) following an FTP transfer from your 3000 to [something else less enlightened].
To have a foreign/non-MPE filed take-on MPE fixed-record length attributes during an FTP transfer, simply add something like the following on your transfer line:
[put|get] non_mpe_file_name MPEFILE;rec=-NN,,f,ascii (making all the proper substitutions)
How do I get my HP 3000 to play well with Web-based FTP clients?
HP's James Hofmeister, who led the effort to keep FTP up to date on the 3000, replies
Lots of work went into an implementation of the FTPSRVR to support web access to the 3000. The "SITE POSIX ON" command can be sent by a FTP client and the 3000 FTPSRVR will emit Posix "standard" FTP output and will react like a Posix host (including file naming conventions).
It also is possible as documented to specify
"POSIX=ON" mode in the SETPARMS.arpa.sys file and achieve this functionality 
system-wide
 for all non-3000 client to 3000 FTPSRVR connections; again the FTPSRVR will emit Posix "standard" FTP output and will react like a Posix host (including file naming conventions).
Warning:  Before you specify "POSIX=ON" mode in the SETPARMS.arpa.sys file, make sure you read the FTPDOC file closely; as you are warned that MPE file syntax will "no longer" work; The 3000 FTPSRVR is acting in Posix mode.
Posted by Ron Seybold at 06:41 PM in Hidden Value, Homesteading | Permalink | Comments (0)
August 26, 2015
Taking a Closer Look at 3000 Emulation
Emulation solutions have pro's and cons. We caught up with Birket Foster this morning, after his company had suggested that emulation deserves a closer look. In our 8-minute podcast, I talked with him (over speakerphones on short notice, thank you) about how emulation really can be a solution to keep legacy applications vital. Companies, especially the small ones that still rely on MPE environments, want to protect their business investments. After all, investing in emulation solutions that can support your MPE legacy applications — well, it's critical to the future success of your organization. It can also be a key to greater efficiency, innovation and growth.
Posted by Ron Seybold at 07:33 PM in Homesteading, Newsmakers, Podcasts | Permalink | Comments (0)
August 24, 2015
N-Class 3000 now priced at $3,000
The ultimate class of HP 3000s, the N-Class, entered the 3000 marketplace with servers for sale that started in the mid-five figures. The lineup included a server rated at 440 MHz with a single processor, and that N4000-100-440 model has a unit on the market selling for a bit less than its original price of $210,000. Quite a bit less.
Cypress Technology posted a notice of the server with a price tag of $3,000. That's a markdown of 98 percent over the lifespan of the product.
A great deal of time has passed between those two price points. The N-Class prices were announced in February 2001, only nine months before HP revealed it was canceling its 3000 futures. The servers shipped to a limited number of sites in advance of the HP takedown notice. The N-Class servers were a great value compared to prior-generation Series 900 HP 3000s, but this 100-440 unit was in the middle of a lineup that ran in price from $70,000 to more than a half-million dollars.
Jesse Dougherty of Cypress said the server has a 300GB disk in addition to the traditional so-wee 9GB boot drive. There's 4GB of RAM and an MPE/iX software set, and the latter's got some transferability, according to Dougherty.
The ability to assume a valid MPE/iX license was once a benefit to a 3000 manager, since it conferred supportability from HP of the system. But HP's support carrot has long since withered away. There's residual value in a server that was built 12 years ago, though, and perhaps at least $3,000.
Given the right paperwork for the N-Class
so this license could be transferred for HP's $432 fee -- and the vendor will take that payment today, more than 13 years after its exit notice -- such a system could pass an auditor's screening and become a valid player in an enterprise environment. Plenty of third party companies are on the radar for support.
Without that paperwork -- HP wants to see a chain of ownership from an original purchaser, or a letter attesting to it -- some auditors might reject such a purchase.
At a cost of $3,000, though, this server is at least a source of spare parts. Parts are becoming more essential by the day for the homesteading HP 3000 user. Those who've moved to the virtualized hardware set sold by Stromasys for their MPE/iX applications are not seeking a server for the value of its parts. The N-Class comes with a 100 Mbit Base-T LAN adapter, too.
Posted by Ron Seybold at 10:32 PM in History, Homesteading | Permalink | Comments (0)
August 19, 2015
Stripping on the 3000, Carriage-Style
How can I strip out the Carriage Controls from a spool file?
Tony Summers replies:
Without dropping into Posix shell, the only other idea that comes to mind would be some third party tool. SPOOLPDF was a program we used from Open Seas to convert spoolfiles into raw PCL. A second program (OPENPDF) subsequently converted the PCL to a PDF document. OPENPDF was simply ported version (to MPE) of a Unix application (pcl2pdf). And we still use pcl2pdf on our HP-UX servers.
Lars Appel pulls a new approach out of his files:
Well, EDITOR.PUB.SYS also can change or replace columns.
/CHANGEQ 1/1 to "" in ALL
This changes column 1 through 1 to "nothing" in all lines (quietly).
If you don't want to strip CCTL but convert it to PCL escape codes, you might try using the network spooler (which typically does this when sending a file to the JetDirect printer). Example programs are in the HP3000-L archives, such as listening for TCP port 9100 to capture such data sent by the network spooler. Look for the FakeLP challenge with examples in Java, Perl, and C.
Tracy Johnson adds a note on a free utility:
I use Beechglen's SF2HTML utility. It's a convenient tool to convert CCTL codes to line and form feeds. Then I run it through an editor to get strip the HTML code. It only generates three codes, "<HTML>", "<BODY>", and "<LISTING>". Easy enough to convert to blanks or nothings. Then use the Sanface Software program txt2pdf to convert the edited file to the final result.
Beechglen's Doug Werth notes
With enhancements in later versions, SF2HTML can be controlled by several variables, including one to remove the HTML tags from the output. This eliminates the extra step of running the resulting file through an editor before feeding it to txt2pdf.
Dave Powell offers a command file alternative:
Many moons ago I wrote a command file, HP2RTF to convert a cctl file to word-processor-readable rich-text format, converting the carriage control codes to the appropriate number of line-feeds as part of the process. It's happier if you redirect your output to a CCTL disk file, but it can sort-of handle spool files too. It contains its own complete source code, so if it doesn't do exactly what you want you can tweak it.
Posted by Ron Seybold at 08:15 PM in Hidden Value, Homesteading | Permalink | Comments (0)
August 14, 2015
HP drives its stakes between support posts
As August unfolds and HP's final quarter as a combined company unfurls, the corporation that services some of the targets and platforms for 3000 migrators has already divvied up support access. HP Inc. and Hewlett-Packard Enterprise have become separate support systems. Users are being invited to look in more than one place for answers that were previously at a one-stop shop
In early August, Hewlett Packard Enterprise and HP Inc. will provide two different support portals. When you access HP Support Center, you will be able to select a portal for HP Inc. products or a portal for Hewlett Packard Enterprise products.
HP Enterprise business might have fared a little better in the division.
As of August 1st the HP Support Center Mobile application will only be available for Hewlett Packard Enterprise products such as servers, storage, and networking. A message within the application asks you to update to the latest version.
HP is calling the move a "Welcome to our Two-Car Garage." Assigned to the Enterprise arm of HP (to be known as HPE on the stock market), the MPE/iX operating system still has its small outpost in HPE support pages. For the customers who hold an HP Passport login, access to the existing 3000 patches is promised. However, the web-driven access to patches seems to be locked behind the October, 2013 policy that a current HP support contract is required for patch access.
HP-UX customers can purchase such a contract to use the new HPE support site for patching. Since MPE/iX users can't buy such a thing, access to patches is supposed to be free. Getting the patches requires some extra effort, according to independent support providers in the 3000 community. At least looking into the rest of the official 3000 documents — including 64 PDFs of system manuals — remains in a logical place. A special order is still the order of the day to access the patches, though.
We've tracked down 3000 documents at HP before now, but this link is working as of the split up of support sites. (You'll need that Passport to get inside, no matter where you're heading, for migrated platform help, or researching archival documentation.)
Posted by Ron Seybold at 01:26 PM in Homesteading, Migration, News Outta HP | Permalink | Comments (0)
August 12, 2015
How to Keep Watch on Backup Completions
We've had a backup hang up on a bad DAT, and we learned about it when the morning jobs couldn't start on the 3000. (We shut everything down we can, back up, then open everything up again.) To find a better way to respond to this, I'm making a procedure to compare the expected backup duration (from a table we've built) to the backup's actual duration so far. The idea is to get an early report if the duration has been exceeded by more than an hour.
I've parsed the JOBLIST output to get what I wanted. But it looks like I'll need help on converting a string variable to a numeric variable as part of this procedure. Does MPE have anything like that?
Francois Desrochers replies with this ![...] construct, an undocumented part of MPE/iX:
While
SETVAR TONY STR(TONYALL,3,2)
would create a string variable, you could do something like:
SETVAR TONY ![STR(TONYALL,3,2)]
to create a numeric variable.
We're trying to restore about half a terabyte of data from an old HP 3000 backup set to a non-3000 machine. Is there a sound way to do this, or any way at all?
Stan Sieler replies:
We've done this for a customer who was without an HP 3000. We decided to use MPE/iX on our system to
Restore their data onto our 3000
Package up the files (either with tar, or LZW)
Move them to an external disk drive on a Unix or Linux or Windows machine
Unpack them
Then send that external drive to the customer.
This morning I came in to find our backup job stalled. Abortjob was ineffective, as was abortio. I ended up rebooting the system. While coming up, I got a "defective sector" message with "FILE.GROUP.ACCOUNT has an extent with unreadable data." The file is now locked, and I need to use FSCHECK to unlock it. How can I determine which drive this extent is on?

Stan Sieler replies
FSCHECK's DISPLAYEXTENTS command may help. Note that, if I recall correctly, it displays logical unit numbers, not exactly LDEVs.
I'd like to make sure I get complete backups. Should I be using @.@.@ in my TurboSTORE command?
Gilles Schipper replies that backups don't need to be specified with an @.@.@ command to be complete:
People should really be using the forward slash, because it's easy to accidentally omit the Posix file structure if you're not careful constructing your fileset backup. The slash is so much better — a backup specified by HP's TurboStore will replace any @.@.@ operation with "./" Combining @.@.@ with exclusions can lead to omitting files which should have been in a backup.
Posted by Ron Seybold at 05:56 PM in Hidden Value, Homesteading | Permalink | Comments (0)
August 10, 2015
How to Make a 3000 Act Like It Uses DNS
I have a script that uses FTP to send files to a site which we open by IP address. We've been asked to change to SFTP (port 22) and use the Domain Name Service name instead of an IP address. Does the 3000 support using DNS names?
Allego's Donna Hofmeister replies:
To start, I'm not sure you want to do SFTP on port 22. That's the SSH port. SFTP is meant to use port 115. Have a look at one of Allegro's white papers on how to enable SFTP on MPE
If you are going to use DNS, you must have your 3000 configured for that.  It's easily done.
However, if you've never done anything on your 3000 make it act like a real computer (oh -- that's right, it is a real computer and fully capable of using DNS), this can turn into a can o' worms.
For 'DNS lite' it's probably simplest to:
1. Copy hostsamp. net to hosts.net
2. Edit hosts.net to make sure it has
127.0.0.1 loopback
1.2.3.4   name    <--- where 1.2.3.4 and name are corrected to the system you want to connect to
3. Copy the NSSWSAMP.net to nsswitch.net
4. Edit nsswitch.net to have this line:
hosts : files[SUCCESS=return NOTFOUND=continue]
With this done, the 3000 sorta kinda acts like it's using DNS — because it's looking the the hosts file for how to translate 'name' into '1.2.3.4'
Tony Summers provides a caveat:
One warning. The upgrade from FTP to sFTP (or SSH FTP etc) can involve more change to your scripts than you expect.  What we do for FTP (originally on the HP 3000, and now on the HP-UX server) is build a text file with the commands (the sample below, edited)
cat FTPT0070
open ftpserver.site.co.uk
user USERNAME PASSWORD
ascii
get /export/002_iccm_extract_1161.csv ICR21161
quit
The file is then presented to the FTP client. On the HP 3000 it was something like....
RUN FTP.ARPA.SYS < FTPT0070 > FTPS0070  
Then both the output file, FTPS0070, and any JCWs set by the FTP program were inspected to test the success of the FTP session.
cat FTPS0070
Connected to xxxxxx.co.uk
220 Welcome to FTP service - xxxx.
331 Please specify the password.
230 Login successful.
200 Switching to ASCII mode.
200 PORT command successful. Consider using PASV. 550 Failed to open file.
221 Goodbye.
In particular,  the 3-digit status codes were analysed,  looking for error codes like "550".If you do something similar in your FTP scripts,  then all I can say is welcome to a very different world.
Karsten Brøndum adds:
Here's a completely different approach. 
Depending on your skills in the Java area, there is a nice LPGL package called ftp4j (which requires Java 1.4 or later) that I have used a couple of times. It's a full-featured Java-based FTP client. (By the way, ftp4j will do both SFTP and FTPS). I've found it way easier than to fiddle with files with text files containing commands, especially when it comes to error handling.
Posted by Ron Seybold at 05:04 PM in Hidden Value, Homesteading | Permalink | Comments (0)
August 05, 2015
Steady steed of Invent3k saddled up again
After a couple of months offline, the shared development and archive 3000 server Invent3K is back once more, carrying its saddle bags of software and sandbox spaces. The system was put online at first by OpenMPE's volunteers after HP closed down the Invent3K hosted at the 3000 division.
Tracy Johnson, a member on the final board of directors, supplied an update last night.
The Invent3k machine is back online after almost two months of being down; it's now at invent3k.openmpe.com.  Also after a few years, it is back in Texas where it belongs with HPSUSAN 0.  (The DR machine that it has been running on is no longer accessible.)

It may be riding rough at first. There might be some bugs to iron out due to a big tape restore.  But most of it is there. It was a group effort. Thanks to
Rob Gordon at Black River Computer for donating the hardware and man-hours to fix it.  (It all centered on fixing LDEV 1.)
Terry and David Floyd with the Support Group for putting it back online and hosting the hardware
Keven Miller with 3kranger.com for fixing the Web pages.
Steve Cooper at Allegro for pointing the domain name to the new IP number.
The server's got HP MPE/iX subsystem software on it
, but FTP DSLINE, PCLINK2, and WS92LINK have always been locked down to keep that software in place for developer use of the subsystems, not transfers.
In keeping with the spirit of HP's original Invent3k, the new INVENT3K offering is for the use of member accounts to compile and test their own programs.
More than a decade ago, Hewlett-Packard believed that a 3000 for public use would help the 3000 community. The server was dubbed Invent3K, because its mission was to further the 3000's lifespan through the invention of software. HP stocked it with subsystems, offered accounts for free, and let development commence. Some useful products came out of Invent3K. The first that comes to mind is a version of perl ready for MPE/iX. That's a version of Perl that continues to work.
Posted by Ron Seybold at 05:32 PM in Homesteading, Web Resources | Permalink | Comments (0)
August 04, 2015
Large Disk MPE/iX patch is still notable
A report on a new patch from 2005 is still able to bring good news to HP 3000s that are trying to use HP hardware to stay online today, one decade later. The Large Disk patch for MPE/iX 7.5 continues to be available from Hewlett-Packard. It expands the usable area of a 3000 disk up to 1TB, and the patch is necessary to utilize and 146-GB and 300-GB devices with an HP badge on them.
When we shared the original news about this advance, the patch was in beta test status. Large Disk made it out of the beta wilderness, thanks to testing from customers of that era. We suspected as much when we said, "of all the patches HP is hoping you will test this year, Large Disk looks like it has its eyes fixed firmly on the 3000's post-2006 future." At the time, we all believed HP would be exiting the 3000 biz at the end of '06.
The news might not be fresh for anybody who applied this patch, but the absence of it will keep 3000s limited to much smaller disks, devices much older. It bears a re-broadcast to your community, if only because we've tracked down a current link to the fine technical paper written by Jim Hawkins of HP. The paper was once hosted on the 3000 group's Jazz server, whose links have all gone dark. Many of those Jazz papers are now on the Client Systems mirror of Jazz. Speedware (Fresche Legacy) also has these tech papers.
In our initial report, we said the patch's scope was limited to 7.5 and "the work is no small feat, literally and figuratively. Without it, HP 3000s can only boot up drives of 300 GB or smaller. The work of Hawkins and cohorts at the HP labs will let users attach drives up to 1TB under the MPE/iX operating system."
In the HP paper on the enhancement, Hawkins pointed out it'd been a long time since any boundaries got moved for disk on the HP 3000. The Large Disk team moved the limits a long way out, after that long hiatus.
The last major initiative to address disks size was done in MPE XL 4.0 for support of disks larger than 4 GB. These changes were done to address an approximately ten times (10x) increase in disk from 404-670 MB to 4.0 GB disks. In 2005 with MPE/iX 7.5, we were confronted with nearly a hundred times (100x) size change (4.0 GB to more than 300 GB) over what had been possible in MPE XL 4.0.
Hawkins' detailed article notes that 3000 sites
who want to use HP's 146 GB and 300 GB Disk modules ought to consider installing these patches. Customers who might have MPE Groups or Accounts which use more than 100,000,000 sectors — that's bigger than about 24 GB — also find the patches useful.
In 2005 we were concerned about whether a patch that ended its HP lifespan in beta test would ever see the light of day. In the language of that era, Jan. 1, 2007 was supposed to be the end of HP's 3000 business. 
The answer to the question "What's to become of HP's engineering in 2007?" seems to lie in the hands of the customers. HP won't backport this patch without enough interest to get Large Disk out of beta limbo. If these patches remain in beta through 2006, we have to wonder what will become of these well-crafted bytes on January 1, 2007.

It would be sad to think such exacting work would be locked away on some DVD disk in an archive, simply because the testing rules are locked in the box of MPE 4.0-era thinking: only HP-supported 3000 customers can apply to test.
Good will and common sense prevailed to keep patches like this in the toolbelt for 3000 managers. All patches were made available, without needing any support contract, after HP closed out its official support for MPE/iX. A diligent independent support company will be able to point a manager at the right HP process to get these patches.
Posted by Ron Seybold at 10:12 PM in History, Homesteading | Permalink | Comments (0)
July 30, 2015
TBT: HP Image goes dead. Long live IMAGE
It was 1988, and Adager co-creator Adager Alfredo Rego had already skied for Guatemala in the Winter Olympics. Months later, with the Summer Olympics at hand, Hewlett-Packard killed off development of a new database for the HP 3000. The project was supposed to give the server a spot on industry-wide benchmark charts, HP believed. But HP Image was only 98 percent compatible with TurboIMAGE, and that's 2 percent short of being usable. HP Image abdicated the throne that HP intended to a TurboIMAGE rewritten for the brand-new Spectrum-class 3000s.
The move matters today because it marks a turning point in the march toward industry standards for the 3000. The server has been legendary for preserving its customers' investments like app development. A from the ground up SQL database might have helped put the 3000 into a more homogenous tier during an Open Systems era. Of course, HP would've had to create a database that worked for existing customer apps. HP Image was not that database.
HP's step-back from HP Image in the summer of 1988 came after more than two years of development, lab work that hit the wall after test users tried to make their applications and data fit with the product. After dropping that baton, HP raced to put the HP SQL of Allbase/SQL into making 3000 and 9000 apps compatible.
In an HP Chronicle article I wrote back then, I quoted developer Gavin Scott while he was at American Data Industries. By that summer, HP had managed to move TurboIMAGE onto MPE XL 1.1. "Pulling the Turbo database into the Allbase concept appears to have reaped some benefit for users," I wrote. "In Scott's view, it's faster and still compatible, a rare combination."
It works flawlessly, and it is quite fast. Native Mode TurboIMAGE works exactly the way old TurboIMAGE did, even to the extent that it still aligns all of the data on half-word boundaries. You have to take that into account when you're writing Native Mode programs to access Native Mode TurboIMAGE; it will be slightly less efficient, because you have to tell your program to use the Classic 3000 packing method when you go to access the database.
That summer marked the point that HP had to give up on creating an IMAGE replacement for the brand-new MPE XL. HP eventually supplied a native SQL interface for IMAGE, thereby taking that product into its IMAGE/SQL days. But HP Image never would have been proposed if the vendor wasn't thinking about attracting SQL-hungry customers from other platforms with a new database scheme.
That era's TPC benchmarks,
built around tests using Oracle and other SQL databases, were being used by IBM and DEC to win new enterprise customers. HP could only counter with the HP 9000 and HP-UX, and it needed another entry in that benchmark derby. TurboIMAGE was too boutique to qualify for a TPC test, the suites that were created to pit hardware vendors against each other. What would be the point of making a TPC test that required a non-SQL IMAGE? Only HP's IMAGE-ready systems could be compared there.
Instead, HP eventually had to pay close attention to retaining IMAGE ISVs and users. Scott commented this week on how that turning point came to pass in the late '80s.
Just as MPE suffered because management (really mostly the technical influencers and decision makers, not upper management) decided that Open Systems (which meant Unix) were the way of the future, I think the HP database lab had some PhD types who were convinced that SQL and relational was the answer to everything, without understanding the issues MPE faced with compatibility.

They tried to build one relational core engine that had both an SQL and an Image API, but for a long list of reasons this could not be made 100 percent compatible with TurboIMAGE, so you just could not run an existing 3000 application on top of it without major changes -- which was of course a non-starter for customers wanting to move from MPE/V to MPE/XL.
HP had already received a better strategy from independent vendors, advice HP chose to ignore. Deep in the heart of IMAGE lie routines and modules written in SPL, the foundational language for MPE and the 3000. SPL was going to need a Native Mode version to move these bedrock elements like IMAGE to the new generation of 3000s powered by RISC chips. But HP's language labs said an SPL II was impossible, because SPL wasn't defined well enough. So trying to leverage the Allbase transaction processor, HP galloped into building HP Image, using Modcal, its modified version of Pascal that already drove many MPE XL routines and subsystems.
As it turned out, it was easier to create a Native Mode SPL than to make a new SQL database that was 100 percent compatible with TurboIMAGE. Steve Cooper of Allegro, the company that partnered with Denkart and SRN to create the second generation of SPL with SPLash!, said 98 percent compatibility never succeeds. 
"Just like something can never be very unique -- it's just unique -- software can't ever be very compatible. It's compatible, or it isn't." DBGET calls in TurboIMAGE worked faster than DBGET ever would in HP Image. The number of items is reported in TurboIMAGE's DBGET automatically. HP Image had to run through a DBGET chainhead from stem to stern once again to get that number, "and that's a lot more IOs," Cooper said. Scott noted that native TurboIMAGE was a direct result of that independent language work on SPL.
The ultimate solution was to basically give up on HP Image completely and simply port TurboIMAGE from MPE/V to MPE/XL, which actually turned out to be relatively easy (after they stole the ideas surrounding the architecture of the SPLash! compiler to make their own Native Mode SPL II compiler (what TurboImage was written in.) HP's language guys spent several years saying a Native Mode SPL compiler was not practica -- but of course SRN, Denkart and Allegro succeeded with SPLash! thus making them look stupid).
Scott said TurboIMAGE was too simple to need SQL's prospective advantages. It was just a fast networked database that had a common API which thousands of apps were using.
HP Image and Allbase/SQL were big and bulky and complex, and thus a lot slower than TurboImage once it got to Native Mode. Today the world runs primarily on SQL/relational databases, up until you get to Big Data distributed no-SQL databases used in huge clusters. But in those days TurboIMAGE had the big advantage of simplicity, and the biggest advantage of having an API that all existing HP 3000 applications were already written to.
I'm not sure about "turning point" for hte database labs. I think they just continued on doing their Allbase stuff, they just didn'thave to think about Image anymore. It was intrepid programmers at CSY that got TurboImage working (with help from the compiler guys) and TurboImage remained simply one other MPE subsystem, not really part of any "database lab" which wouldn't care about a crusty old proprietary non-relational database.
Posted by Ron Seybold at 08:11 PM in History, Homesteading | Permalink | Comments (0)
July 29, 2015
Carrying ODBC Links Into Windows Use
Software that helps HP 3000s remain relevant is still being sold and still working. MB Foster sent an email this morning that reminded the 3000 community they've got a leg up on important connectivity. It's called ODBCLink/SE, installed on every HP 3000 that has the 5.5 release of MPE/iX running. It could also use some updating.
MB Foster's Chris Whitehead annotated the distinctions between ODBCLink/SE and its fully-grown sibling, UDALink. "Numerous organizations continue to utilize ODBCLink/SE (Special Edition of MB Foster Technology. Developed and distributed by HP on HP 3000s and HP-UX servers)," he wrote. "ODBCLink/SE's ability to adapt to new technologies such as JDBC or Windows 7/8, or 64-bit architectures, is severely limited." UDALink is the means to bridge those limits.
We've been tracking the ODBC functionality of MPE/iX and IMAGE since the beginning — ours, as well as the customer demand. In 1994 MB Foster started selling ODBCLink for connecting to desktops. The start of widespread demand for better SQL access was in the fall of 1995, at the same time the NewsWire launched. HP labored to build access, and that labor progressed slowly. By December 1996 we pointed out in an editorial that deliberate work from MB Foster's engineers was going to bridge the HP gap.
The 32-bit world that Win95 created didn't have an HP-supplied path between HP 3000 databases and those slick, graphical interfaces on PC desktops. Third parties have stepped in to sell what HP is still working to bundle. Companies using ODBCLink praise the product and the connectivity it brings. So much praise has rained down that HP decided it should buy what it has been too slow to build. A deal was signed between HP and M.B. Foster. ODBCLink gets a trimmed-down cousin, ODBCLink/SE.
HP got out of the PC-based software business by turning to ODBCLink/SE. There's an extensive table in today's MB Foster email that shows why this free software in HP's MPE FOS has significant shortcomings. Updating this kind of essential tool can be a big step in keeping a homestead 3000 in the loop for corporate data. It's a story as true today as it was 20 years ago.
By 1996, Birket Foster said
if customers could consider ODBCLink/SE as entry-level software, "we feel there is room in the market for both an entry level and a full-featured commercial solution. I think the issue is 'free' software, not the ability to solve the ODBC problem. That solution has been here for awhile."
In 1997 HP first shipped ODBCLink/SE from Foster's labs, wired into the MPE/iX 5.5 Express 3 release. We called it "the long-awaited ODBC driver to support 32-bit clients."
While customers must still navigate the complexity of Allbase/SQL and its attach/detach challenges, the software will finally give IMAGE/SQL customers a way to use things like Crystal Reports and Access 97 to tap their databases with both read and write capability. That capability is becoming more commonplace -- and much simpler and faster, by some reports -- if you're willing to buy a third-party tool to do the job.
As soon as SE was out there, people began to decide if bundled software was valuable enough to succeed. In a 1998 review, Joe Geiser said of that software, "it requires the use of IMAGE/SQL and the obligatory attachment of databases. Larger projects, however, should be using a commercial driver. The reasons are simple — ODBCLink/SE is the slowest of all of the available drivers, and consumes more connections to the HP 3000 than its commercial counterparts, issues which contribute to problems with response time and performance."
Geiser didn't even get to consider that 32-bit computing was going to be a full generation behind the current standard. The 64-bit standards didn't arrive until Windows 7.
In a 1998 review, another of our writers, John Burke, asked, "Are you going to use ODBC for anything more than casual, occasional access to a handful of IMAGE databases? If the answer is "yes," then you need to consider the hidden costs of the free ODBCLink/SE."
In 1999, retiring GM Harry Sterling chronicled HP's reliance on the SQL lab at MB Foster. 
Customers buy the hardware from us, but there's no value in our software to them. For any added value in software above the base, we prefer our partners do that. It frees us up to do the operating system stuff, and it gives the partners a revenue stream. I could see we were going to have another year of investment, and no revenue for that. I re-channeled those engineers back into networking, which was more critical for us at the time.

I canceled our whole ODBC driver project. It was halfway implemented, and I said "We're not going to do this. It's clear the customers are not going to pay for it. They want it free." We started negotiating with Birket for ODBCLink/SE. We said hey, if you sell this and build stuff on top of it, and be willing to contribute the base driver in FOS, we'll put that out that base driver for nothing, and you can sell products on top of it.
Two decades later, Foster's still willing to sell products on top of that base driver. Homesteaders can stick to solid tools, so long as they're being advanced and updated.
Posted by Ron Seybold at 08:39 PM in Homesteading | Permalink | Comments (0)
July 27, 2015
N-Class 3000s offer subtle bathtub curves
A serious question on today's HP3000 newsgroup emerged about server reliability. The best answer came from an HP engineer whose career features more than 15 years of IO design and maintenance on hardware systems including that ultimate 3000 N-Class system. And along the way, Jim Hawkins introduced many of us to the bathtub-curve charting strategy.
It looks like a bathtub, this chart of how reliable hardware can be. High left-hand side, the part of a product lifecycle called infant mortality. Long-term youth to middle-age to early senior years, the flat, stable part of the bathtub. Finally the end of life, that sharp upswing on the right where moving parts wear out.
The question was posed to the newsgroup readers by Steven Ruffalo
I'm concerned about the reliability going forward of our N-Class servers. Are there any type of studies and metrics that could be used to determine how the failure rates of the parts on/in the N-Class will increase linear with the age of the equipment? I would imagine this would be true for any systems, but we have had an increase in processor failures over the last year. Is this coincidental, or should we start trying to stockpile additional spares?
According to Hawkins, there's been no tracking of N-Class hardware reliability by HP, which introduced the first N-Class models within a year of announcing it would be exiting the 3000 business. But he offered anecdotal, your mileage may vary, caveat emptor advice. He advised the 3000 owner that "You are in uncharted territory. Literally."
It was a well-placed pun, because it's all about a reliability curve, even if we can't ever know how the N-Class has fared statistically.
Typically reliability folks talk about the "bathtub curve" of failure rates: a high failure rate ("infant mortality), long low "stable failure rate," and an acceleration "wear-out" phase. I don't know anywhere where there is enough decent data to track long term reliability for N-Class populations at a statistical level with reasonable confidence bounds (even inside HP).

I will say anecdotally the N-Class itself was not subject to any large quality issues that I can recall. That is, I have some recollection of issues both in K/T and following rx/rp ZX1 and ZX2 systems but, while my attention may have wandered, things seem to have been pretty solid for N-Class.
(That's a reference to the K-Class and T-Class servers, known as the Series 9x9 and 9xx systems in 3000-speak.)
"I don't have any data to project when or if you'll see a rapid rise in parts replacement needs," Hawkins added, "the far side of the reliability bathtub curve."
Moving parts are the first to wear out in any computing device, but Hawkins noted that "movement includes thermal cycles through on/off switching, or even temperature swings if you don't have well-managed HVAC." There's a reasonable lifespan for everything, and those N-Class systems are at least 12 years old by now. A user might consider how long to trust a 12-year-old disc drive, and give some thought to the reliability goals for solid-state components. Burnouts were pretty rare in the stories we've heard about HP servers which run MPE/iX. For the time being, a lot of N-Class owners are enjoying HP engineering that's had a smooth bottom.
Posted by Ron Seybold at 10:35 PM in Homesteading | Permalink | Comments (0)
July 24, 2015
3000 world loses a point of technical light
Veteran engineer and developer Jack Connor passed out of worlds including the HP 3000's this month, dying at age 69 after a long career of support, volunteering, and generous aid to MPE users.
In a death notice posted on his local funeral chapel's website, Connor's story included Vietnam era military service, a drag racing record, and playing bass on Yummy, Yummy, Yummy, I Got Love In My Tummy, a single that went to  No. 4 on the US charts. He had been the proprietor of a bar in Columbia, Missouri, known as Nasties, and a tea house in Columbus, Ohio, The Venus Fly Trap. 
Connor played a role in the volunteer efforts for OpenMPE in the last decade. He was also the worldwide account manager for HP and DuPont in the 1970s and 80s, and the death notice reports he was involved in the first satellite uplink in history for commercial purposes. At the time of his death Connor was working at Abtech Systems and Support from Indiana, and at his own company, InfoWorks, Inc. In the months that followed HP's shutdown of its MPE lab, he created NoWait/iX, software that eliminated the wait for an HP technician to arrive, on a rush-charge time and materials call, to transfer an old HPSUSAN to a new 3000 CPU board.
NoWait/iX was intended for use "until HP can be scheduled on site at both HP and the customer's convenience -- and not paying the emergency uplift charge," Connor said. "However, if a customer has a third-party tool which is no longer supported, or licensing is no longer available for an upgrade, NoWait/iX can operate indefinitely, returning the old information to that single product."
In the waning months of OpenMPE's activity, he chaired the board of directors and promoted the creation of a new Invent3k shared server. "Making Invent3K a repository for the community is the primary focus," he reported to us in 2011.
Connor was a frequent contributor of free tech savvy to the 3000 community, using the 3000 newsgroup as a favored outlet. Just this spring we relayed his advice about linking a 3000 with existing networks.
What do I need to do on our MPE boxes to ensure that they will see new networking hardware? Does MPE cache the MAC address of neighbor gateways anywhere? I was thinking I needed to restart networking services, but I wasn't sure if anything more will be needed.
Jack replied
If you're taking it off the air for the network changes, I'd go ahead and close the network down until the work has completed and then reopen it. MPE will be looking for the IPs as it opens up. I know you can see the MAC addresses in NETTOOL, but I don't think they're of any import other than informational and for DTC traffic.
While serving on the OpenMPE board of directors, he also tracked down a data-at-rest security solution compatible with HP 3000s. 10ZiG's Security Group still sells the Q3 and Q3i appliances, one of which Connor put between a Digital Linear Tape device and a 3000. The results impressed him for a device that costs a few thousand dollars -- and will work with any host.
Connor found the hardware solution provided security to beat any SFTP transfer option.
I tested an encryption box that sits between the DLT and IO card a year or so ago and it worked like a champ. It maintained streaming mode and all. However, it was in the $2,000-$3,000 range — and to be useful for a DR world, it would require two, so I haven't pursued actually recommending it.
He often helped out with IO and storage device questions in the 3000 community. For the Series 927LX, he noted that a DLT tape drive could be installed in the server that was designed in the early 1990s.
"This is not a problem as long as you have a free slot, or an open 28696A fast-wide card," he said. "I believe you need to be on MPE/iX 6.0 or 6.5 to go with a DLT8000. I'm sure a DLT4000 and probably a DLT7000 are okay." (The 28696A is a double-high interface device that permits the 927 to use HVD SCSI DLTs of 4000, 7000 or 8000 models.)
A simple search of the Newswire with "Jack Connor" turns up dozens of tips. Several 3000 veterans offered tributes in the wake of the Gary Robillard's news about Connor's passing. "He was a master at his trade," said Tracy Johnson. 
"Jack was a great guy who would always help no matter the problem, time or distance," said Bill Long. "As I moved on to different companies Jack was always there to help. He did consulting work for us when I worked for a small semiconductor company in Newark DE. He wrote the exotic interfaces we needed. Just a few years ago he helped me when I was consulting for Dow Chemical and needed help with my in-home HP 3000."
"My dear friend and colleague, a frequent contributor to this list, passed away peacefully in his sleep after a long illness," Robillard wrote. "Words cannot express how  greatly he will be missed by all who knew him."
On the tenth anniversary of HP's pullout notice for the 3000, Connor summed up his philosophy about helping in the MPE community. "I'd say we've all been a pretty good human chain holding the 3000 Community together," he said. "There's indeed life after HP, and a pretty full one so far."
He was laid to rest this past Sunday, and the obituary webpage included a link to the Van Morrison song "Into the Mystic," whose lyrics include these lines.
And when that fog horn blows I will be coming home
And when that fog horn blows I want to hear it
I don't have to fear it
I want to rock your gypsy soul
Just like way back in the days of old
Then magnificently we will float into the mystic
Posted by Ron Seybold at 01:26 PM in Homesteading, Newsmakers | Permalink | Comments (0)
July 17, 2015
Do Secure File Transfers from the 3000
I'm trying to use ftp.arpa.sys to FTP a file to a SFTP server and it just hangs. Is there a way to do a secure FTP from the HP 3000?
Brian Edminster replies:
The reason that using MPE's FTP client (ftp.arpa.sys) fails is because as similar as they sound, FTP and SFTP are very different animals. Fortunately, there is a SFTP client available for the 3000 -- the byproduct of work by Ken Hirsh and others.

It used to be hosted on Ken's account on Invent3K, but when that server was taken out of service, so was Ken's account. As you've no doubt already noticed, it's available from a number of sources (such as Allegro). I'd like to highlight another source: www.MPE-OpenSource.org
Edminster goes on to explain he administers that site, as well as puts together the 'pre-packaged' install available there. It's in a single store-to-disc file in Reflection 'WRQ' format, making it easy for the majority of sites to retrieve and use.
I have a customer that's been using SFTP daily as part of their PCI compliance solution for several years. They push and pull data hourly from dozens of Point-of-Sale systems all over the country, and have moved lots of data this way.  

The biggest caveat from that customer's implementation is that if you're moving data over a WAN, SFTP seems to be more sensitive to jitter and latency issues than conventional FTP.  We ended up having to upgrade a couple of their more anemic 'last mile' circuits to accomodate that.  

In all other respects, it's quite a robust solution, and can be tightly integrated with existing legacy apps. I know; I've done it.

If you have any questions about how to use the pre-packaged install -- or how to get around any limitations you might run into,-- don't hesitate to contact me. I've used this on dozens of systems over the last decade, and have transferred many, many gigabytes of data with it.
Posted by Ron Seybold at 09:02 PM in Hidden Value, Homesteading | Permalink | Comments (0)
July 16, 2015
Bringing the 3000's Languages Fourth
Documenting the history and roots of IMAGE has squirted out a stream of debate on the 3000 newsgroup. Terry O'Brien's project to make a TurboIMAGE Wikipedia page includes a reference to Fourth Generation Languages. His sentence below that noted 4GLs -- taken as fact by most of the 3000 community -- came in for a lively debate.
Several Fourth Generation Language products (Powerhouse, Transact, Speedware, Protos) became available from third party vendors.
While that seems innocent enough, retired 3000 manager Tom Lang has told the newsgroup there's no such thing as a Fourth Generation of any computer language. "My problem with so-called Fourth Generation Languages is the use of the term 'Language' attached to a commercial product," he wrote. The discussion has become a 59-message thread already, threatening to be the longest discussion on the newsgroup this year.
Although the question doesn't seem to merit debate, it's been like catnip to some very veteran developers who know MPE and the 3000. The 4GL term was probably cooked up by vendors' product managers and marketing experts. But such languages' value did exceed third generations like COBOL. The term has everything to do with advancing developer productivity, and the use of generations was an easy way to explain that benefit.
In fact, Cognos -- the biggest vendor of 4GLs in the 3000 world -- renamed its Powerhouse group the Advanced Development Tools unit, using ADT instead of 4GL. This was largely because of the extra value of a dictionary associated with Powerhouse. The dictionary was offered up as a distinction of a 4GL by Birket Foster. Then Stan Sieler, who's written a few compilers including SPLash!, a refreshed version of the 3000's SPL, weighed in with some essentials.
One way to measure a language is to see
if it's got a BNF (Backus Normal Form), one of two main notation techniques for context-free grammars. According to Wikipedia -- that resource again -- a BNF "is often used to describe the syntax of languages used in computing, such as programming languages." Sieler said that the refreshed SPLash! had a BNF for awhile. Then it didn't. And really, languages don't need one, he added.
The list of the 3000's 4GLs is not a long one. HP dubbed Allbase as a 4GL at the same time that name signified a 3000 database alternative. It was a tool to develop more rapidly, HP said. Transact appears on some 4GL lists for MPE, but it's more often called a 3.5 GL, as is Protos. Not quite complete in their distinctions, although both have dictionaries. These languages all promised speed of development. They rose up in an era when object-oriented computing, with reusable elements, was mostly experimental.
Foster explained what made a 4GL an advanced tool.
The dictionary made the difference in these languages, allowing default formatting of fields, and enforcing rules on the data entry screens. I am a sure that a good Powerhouse or Speedware programmer can out-code a cut and paste COBOL programmer by about 10 to one. It also means that a junior team member is able to code business rules accurately, since the default edits/values come directly from the dictionary, ensuring consistency.
Sieler outlined what he believes makes up a language.
We all know what a 4GL is, to the extent that there's a 'cloud' / 'fuzzy shape' labelled "4GL" in our minds that we can say "yes or no" for a given product, program, language, 4GL, package, or tarball. And we know that Speedware, etc., fit into that cloud.

Does a language have to have a published grammar?  (Much less one published by an international standards organization?)  Hell no! It's better if it does, but that's not only not necessary, but the grammar is missing and/or incomplete and/or inaccurate for many (probably most) computer languages, as well as almost all human languages (possibly excluding some post-priori languages). I speak as a compiler author of many decades (since about 1973).

Our SPLash! language (similar to HP's SPL/V) had a BNF — at the start. (Indeed, we think we had the only accurate BNF for SPL/V.) But, as we added things to the language, they may or may not have been reflected in the BNF. We tried to update the manual, but may not have always been successful … if we got the change notice updated, I was happy.
Adding the word "product" behind 4GL seems to set things in perspective. O'Brien offered his summary of the 3000's rapid languages.
Speedware, Powerhouse, and Protos all had components (Powerhouse Quick, Speedware Reactor) that had a proprietary language syntax that offered Assignment, IO, and Conditional Logic.  As such, they meet the minimum requirements to be referenced as a computer language. TurboIMAGE has a syntax for specifying the database schema, but does not have any component that meet the IO, Assignment, Conditional Logic, so it does not meet the minimum requirements.
Speedware and Powerhouse have had similar histories, both offered as ADT products. But the companies that control them have diverged in their missions. PowerHouse is now owned by Unicom Systems. Speedware's focus is now on legacy modernization services and tools, although its own 4GL is still a supported product.
There's an even more audacious tier of languages, one that the HP 3000 never saw. Fifth-generation languages, according to Wikipedia, "make the computer solve a given problem without the programmer. This way, the programmer only needs to worry about what problems need to be solved and what conditions need to be met, without worrying about how to implement a routine or algorithm to solve them." Prolog is one example of this fifth generation. But even Wikipedia's editors are wary of bringing forth a fifth generation.
Posted by Ron Seybold at 08:46 PM in History, Homesteading, Newsmakers | Permalink | Comments (0)
July 15, 2015
How to Keep Cloud Storage Fast and Secure
Editor's Note: HP 3000 managers do many jobs, work that often extends outside the MPE realm. In our series of Essential Skills, we cover the non-3000 skillset for multi-talented MPE pros.
By Steve Hardwick, CISSP
One of the many cloud-based offerings is storage. It moves data from the end device to a remote server that hosts massive amounts of hard disk space. While this saves local storage, what are some of the challenges and risks associated with the type of account?
Cloud data storage applications have been compromised through different weaknesses. Firstly, there is the straight hack. The hacker gains administrative access into the server containing the data and then can access multiple user accounts. The second one is obtaining a set of usernames and passwords from another location. Many people use the same usernames and passwords for multiple accounts. So a hack into an email server can reveal passwords for a cloud storage service. What are the ways to defend against this level of attack? 
Encryption is always a good option to protect data from unauthorized users. Many service providers will argue that they already provide encryption services. However, in a lot of cases this is what is called bulk encryption. The data from various users is bundled together in a single data store. Then the whole data store is encrypted with the same password. This gives a certain level of protection, for example of the disk is stolen. But, if administrative access is gained, these systems can be compromised. A better solution is to choose a service that offers encryption at the account level. 
Another option is to encrypt the data
before it is stored.This is probably the safest method, as the encryption application is not part of the cloud server, and neither is the password. There is a penalty of performance and time in creating and restoring the file, as it has to be encrypted/decrypted. Today's computer systems normally make short work of this task. 
Finally, there is a common misconception that an encrypted file is bigger than the original. For good encryption they should be about the same size. The only challenge with any encryption is to make sure the password is safe.
Safe passwords
If you use the same username and password, the best solution is not to do it. But the difficulty is having 20 different usernames and passwords and remembering them all. One option is to let the browser do the remembering. Browsers have the option of remembering passwords for different websites. The browser creates its own local store of the passwords. However, if the computer's hard drive crashes, so does the password storage.
The next option is to use an on-line password account. The bad news is that they have the same weakness as other types of on-line storage. LastPass was recently hacked, so many users were worried that their password lists were compromised. I use a password vault that locally encrypts the vault file. That file can then be stored in online data storage safely. Plus, if you chose the right password application, the vault is shared across multiple devices. This way, different accounts and passwords can be used for each account and still be available from a secure, but available location.
Online storage, offline access
Most of the time many of us have access to the cloud. But there are times when I would like to have access to my data, but I don't have Internet access. The best example of this is on the plane. Although Internet service is available on many planes, not everyone has access. So it is good to choose a service that has a client application to synchronize the data. This will allow copies of the same file to be kept locally and in the cloud. This can be important when looking at mobile solutions.
In many cases, mobile storage is preserved by moving the data into an online storage location. Storing all the music files in the cloud, and then finding that they are not available offline, can be very infuriating on a plane ride.
Compression to be free
Free storage on-line services are limited to a set amount of storage. One way to get around this is to use data compression. Most raw data files can be compressed to some extent. But bear in mind that most media formats, such as mpeg, mp4, or jpeg, have already been created using compression. Many other files, though, can be compressed before they are stored. Some applications — for example back-up apps — will give the user a choice to compress the file before it is stored. Not only does this reduce the amount of space the data takes in the online storage, it is also faster to upload and download.
Posted by Ron Seybold at 08:43 PM in Homesteading, Migration, Newsmakers, Web Resources | Permalink | Comments (0)
July 14, 2015
A Fleet of Trucks That Couldn't Fell MPE
Out on the HP 3000 newsgroup, Tracy Johnson inquired about the state of the 3000's and MPE's durability. Johnson, who's worked with OpenMPE in the past while managing 3000s for Measurement Specialties, was addressing the Truck Factor for the 3000 and its OS. "In what year did MPE reach the Truck Factor?" he asked, referring to the number of developers who'd have to get hit by a truck before development would be incapacitated.
The Truck Factor is used to measure the durability of open source projects. Results of an industry study show that most open source systems have a small truck factor. Close to half have a Truck Factor of 1, and 28 percent have a Truck Factor of 2. It's measured by looking at software author signatures for code hosted on GitHub in six languages: JavaScript (22 systems), Python (22 systems), Ruby (33 systems), C/C++ (18 systems), Java (21 systems), and PHP (17 systems).
MPE long ago stopped counting the names of such authors. Development ended for the OS when HP retired or reassigned its lab staff during 2009. But the tribal operating and administrative knowledge of the OS has a high truck factor, if you account for global connectivity. Dozens of MPE experts who are known to the community would have to fall under the wheels of trucks for MPE's operational knowledge to expire.
"I honestly don't think it applies any longer to MPE," Art Bahrs commented on the list, "as MPE has now stabilized and has a support base in people like Stan Sieler, Birket Foster, Donna Hofmeister, Neil Armstrong, Alfredo Rego and such. I know I'm forgetting lots more."
"Now if there aren't people out there
who are willing to learn new "old" things," Bahrs added, "then MPE will fade out as this community fades away."
One advantage to moving out of the active development phase of life is that a technology becomes stable. It won't acquire new capabilities, and newer technologies will struggle to be relevant in an environment like MPE. But newer wonders like netty, a "client server framework which enables quick and easy development of network applications such as protocol servers and clients," have a TF of 1. If just one developer got taken out by a truck, more than half the GitHub code for netty would be orphaned.
Birket Foster has long used the examples of a rogue bus or a lottery victory to illustrate the delicate state of MPE knowledge at many customer sites. Winning a lottery and immediately retiring, or meeting your end under the wheels of a bus (or truck) could start a local demise of MPE practices. Finding seasoned help to take over in such a tough circumstance would not be impossible. But recovering the knowledge of custom apps will be a challenge for any company who doesn't document crucial applications and practices.
The senior status of MPE among technologies evoked another use of the truck metaphor for Scott Gates. Commenting on the newsgroup, he evoked the history of the 3000 at his school district.
For me, MPE and the HP 3000's "Truck Factor" has been it's like an old pickup truck — you put the key in, turn it over, and it's running. In my four years at Bellefonte, we had one unscheduled downtime when an original system drive failed after almost 10 years of constant use.
Posted by Ron Seybold at 08:41 PM in Homesteading | Permalink | Comments (0)
July 13, 2015
Celebrating a 3000 Celebrity's (im)migration
Eugene Volokh is among the best examples of HP 3000 celebrity. The co-creator of MPEX (along with his father Vladimir) entered America in the 1970s, a Jewish immigrant who left Russia to arrive with his family as a boy of 7, destined for a notable place on America's teeming shores. 
Those teeming shores are associated with another American Jew, Anna Lazurus, whose poem including that phrase adorns a wall of the Statue of Liberty. More than 125 years of immigrants have passed by that monument, people who have created some of the best of the US, a fact celebrated in the announcement of this year's Great Immigrants award from the Carnegie Corporation. Eugene is among the 38 Pride of America honorees appearing in a full-page New York Times ad (below, in the top-right corner) from over the Independence Day weekend.
Those named this year include Saturday Night Live's creator Lorne Michaels, Nobel laureate Thomas Sudhof, and Pulitzer Prize novelist Geraldine Brooks, along with Eugene -- who's listed as a professor, legal scholar, and blogger. All are naturalized citizens.
Eugene's first notable achievement came through his work in the fields of MPE, though, computer science that's escaped the notice of the Carnegie awards board. Given that the success of Vesoft (through MPEX and Security/3000) made all else that followed possible, a 3000 user might say that work in MPE brought the rest of the legal, scholarly, and blogging (The Volokh Conspiracy) achievements within his grasp.
An entry in the Great Immigrants website
sums up what's made him an honoree:
A law professor at the UCLA School of Law, Eugene Volokh is cofounder of the blog, The Volokh Conspiracy, which runs on the Washington Post's website (which is independent of the newspaper). Before joining UCLA, where he teaches a myriad of subjects, including free speech law and religious freedom law, Volokh clerked for Justice Sandra Day O'Connor on the U.S. Supreme Court. Volokh was born in Kiev, Ukraine, when it was still part of the Soviet Union, and immigrated to the United States at age seven.
It's not difficult to find Eugene in the firmament of the American culture, with articles in the Post, the New York Times op-ed page, and interviews on TV networks and National Public Radio. But each time a 3000 user starts up MPEX, they light up the roots of somebody who migrated long ago, in an era when the 3000 itself was a migration destination, a refuge from the wretched existence of mainframes. We pass on our congratulations. 
Posted by Ron Seybold at 08:11 PM in History, Homesteading, Newsmakers | Permalink | Comments (0)
July 10, 2015
User group manufactures new website
CAMUS is the Computer Applications for Manufacturing User Society that now has a fresh website to go with its quaint name. While Computer Aided Manufacturing pretty much describes everything outside of the tiny Chinese enterprises doing piecework for the world, CAMUS is unique. It's devoted to a significant interest of the remaining HP 3000 homesteaders. Manufacturing remains an HP 3000 heartland.
Keeping a website up to date is no small feat. In the face of declining use of HP 3000-related products, some websites have disappeared. The legendary Jazz server from the Hewlett-Packard labs went dark long ago. The full retreat of HP's 3000 knowledge seems more obvious all the time. The old www.hp.com/go/e3000 address, once HP's portal for things MPE-related, now returns the message above. 
Which is why the camus.org update is heartening. Terri Glendon Lanza reports that the site serves MANMAN, MK, MAXCIM, and migrated manufacturing companies.
Members will now be able to edit their profiles and search the membership for others with similarities such as geographics, software modules and platforms, or associate supplier services.

Our free membership still includes upcoming webinar meetings, connecting with 'birds of a feather', a listserv for questions to the community, and photo gallery of former events.
Society members receive access credentials to a members-only section. Just about anybody can become a member. Pivital Solutions and Stromasys are Associate members, which will tell you about the 3000 focus the group can count upon.
Posted by Ron Seybold at 01:06 PM in Homesteading, Web Resources | Permalink | Comments (2)
July 09, 2015
Throwback: When IMAGE Got Its SQL Skin
During the current Wikipedia project to document IMAGE, Terry O'Brien of DISC asked where he might find resources that point to IMAGE facts. Wikipedia is all about facts that can be documented by outside sources, especially articles. O'Brien was searching for InterACT articles, perhaps thinking of the grand series written by George Stachnik for that Interex user group magazine.
While the user group and its website are gone, many of those articles are available. 3K Associates has an archive of more than a dozen of them, including several on IMAGE. (That website has the most comprehensive collection of MPE and 3000 lore, from tech how-to's to an HP 3000 FAQ.) As part of his introductory article in the database subset of The HP 3000 For Novices, Stachnik notes how IMAGE got its SQL interface, as well as why it was needed.
Most new client-server applications that were developed in the 1980s made extensive use of the SQL language. In order to make it possible for these applications to work with the HP 3000, HP literally taught TurboIMAGE a new language--the ANSII standard SQL.

The resulting DBMS was named IMAGE/SQL -- which is the name that is used today. IMAGE/SQL databases can be accessed in two ways: either using the traditional proprietary interfaces (thus protecting customers' investments in proprietary software) or using the new industry standard SQL interface (thus enabling standard client-server database tools to access the data stored on HP 3000s).
The enhanced IMAGE came to be called TurboIMAGE/SQL, to fully identify its roots as well as its new prowess. Stachnik wrote the article in an era when he could cite "new technologies such as the World Wide Web."
HP removed many of the restrictions that had pushed developers away from the HP 3000, making it possible to access the HP 3000's features (including its database management system) through new industry standard interfaces, while continuing to support the older proprietary interfaces. In the final months of the 20th century, interest in the IMAGE database management system and sales of the HP 3000 platform are both on the rise.
That rise was a result of user campaigning that started in earnest 25 years ago this summer, at an Interex conference. Old hands in this market call that first salvo the Boston Tea Party because it happened in a Boston conference meeting room. More than nine years later, Stachnik wrote that "interest in the IMAGE database management system and sales of the HP 3000 platform are both on the rise."
There are many places to discover the history
and deep, elegant engineering of IMAGE. Adager's website contains
the greatest concentration of writing about IMAGE
. It's possible that references from adager.com articles will make their way in the new Wikipedia entry. They wouldn't be relevant without that rebellion of 25 years ago, because HP wanted to release IMAGE from its pairing with the 3000. The users wouldn't permit it, bad press from the meeting ensued, and an IMAGE-free HP 3000 became much harder to purchase.
SQL arrived about three years later. The story had a happy ending when Stachnik wrote his article.
Any HP 3000 application that used IMAGE/3000 (and virtually all HP 3000 applications did) was locked into the HP 3000 platform. It couldn't be ported to another platform without some fairly major rework. This was almost the kiss of death for the HP 3000 in the open-systems-obsessed 1990s. In fact, many platforms did "go under" in the UNIX shakeout that took place in the early part of the decade.

Many industry observers expected that Hewlett-Packard would choose to jettison its proprietary HP 3000 platform in favor of its faster growing younger brother, the UNIX-based HP 9000. Fortunately, these observers did not understand a very basic fact about the company.

HP was (and is) very focussed on protecting its customers' investments. Instead of jettisoning the HP 3000 platform, the company chose to invest in it.
Whatever HP intended for the fate of the computer, the investment in SQL remains a way to keep the heartbeat of the 3000 pumping data to the world of non-MPE machines.
Posted by Ron Seybold at 07:52 PM in History, Homesteading, Web Resources | Permalink | Comments (0)
July 08, 2015
Freeing HP's Diagnostics Inside the 3000
When HP officially closed its formal HP 3000 support, the vendor left its diagnostics software open for use by anybody who ran a 3000. Throughout the years when HP sold 3000 support, CSTM needed a password that only HP's engineers could supply. But the CSTM diagnostics tools started to run in 2011 without any HP support-supplied password. 
However, managers need a binary patch to free up the diagnostics. Support providers who've taken over for HP know how to enable CSTM. The community has a former Hewlett-Packard engineer to thank, Gary Robillard, for keeping the door to the diagnostics open. Robillard says he is the engineer who last worked on CSTM for MPE/iX when he was a contractor at HP.
A 3000 site must request a patch to get these expert tools working. HP arranged for 3000 sites to get such patches for free at the end of 2010. We tracked the procedure in a NewsWire story, since the HP link on how to get these patches, once on the old division's webpages, has gone dead.
One such patched version of CSTM needs a binary patch. Robillard created this binary patch fix.
Versions of CSTM [patched] with ODINX19A or ODINX25A allow the expert tools with no licensing, but you still have to issue the HLIC command. 

If you install ODINX25A/B/C (6.5, 7.0, 7.5) you won't need to do anything except issue the HLIC command with any password. The HLIC command might say it was not accepted, but the license is activated anyway
When HP halted all its support of the 3000, Robillard said his patch corrects the problem with ODINX19A -- and gives 3000 managers access to these system diagnostics -- for servers running the 6.5, 7.0, or 7.5 versions of CSTM.
If you have installed ODINX19A, you need to do the following:

Logon as MANAGER.SYS. It's safest to create an input file to sompatch.

1. Run editor.pub.sys

2. Add the following three lines EXACTLY. The sompatch will only work if the instruction at offset 268 matches 86a020c2. The message "Error: Old value does not match" is displayed and no changes are made)

Here are the contents of BINPCHIN file (You will want to copy and paste these): 

~~~~~The 3 lines are below~~~~~~~

; Fix problem in DIAGMOND after 12/19/2010
modify ms_init_manage_sys  + 268,1 86a020c2|08000240 
exit
~~~~The 3 lines are above~~~~~~~~
//
K binpchin,unn 

• Make sure DIAGMOND is not running (run STMSHUT.DIAG.SYS)
• copy /usr/sbin/stm/uut/bin/sys/diagmond,DIAGMOND 
• run sompatch.pub.sys;stdin=BINPCHIN;INFO='DIAGMOND' 
• copy DIAGMOND,/usr/sbin/stm/uut/bin/sys/diagmond;YES 
• Restart DIAGMOND (run STMSTART.DIAG.SYS) 

After a few minutes, a "SHOWPROC 1;TREE;SYSTEM" should show the DIAGMOND process, and either the mapping processes, or memlogd, diaglogd and maybe cclogd (on A/N Class 3000s only).
Posted by Ron Seybold at 10:13 PM in Hidden Value, Homesteading | Permalink | Comments (0)
July 06, 2015
Work launches on TurboIMAGE Wiki page
History is a major element in the HP 3000's everyday life. A computer that received its last vendor-released enhancement in 2009 is not in need of a lot of tracing of new aspects. But a serious chronicle of its features and powers is always welcome for homesteading customers. A new effort on Wikipedia will help one of its longer-standing database vendors, one who's moved onward to Windows.
Terry O'Brien still holds management reins at DISC, makers of the Omnidex indexing tool for TurboIMAGE. He's begun a distinct entry on Wikipedia for the database that's been the heartbeat of MPE almost since the server's beginning. O'Brien is enlisting the memory of the user community to take the page from stub status to full entry. "My original intent was to create an Omnidex page, since DISC is ramping up marketing efforts in the Windows and Linux space for Omnidex 6.0," he said.
During my ramp up within Wikipedia, I noticed the TurboImage article had little information and had no cited references. Although I have been a heavy utilizer of Wikipedia the past several years, I had never looked behind the covers. Wikipedia has a rich culture with a lot of information to digest for new authors. It is a bit daunting for new authors.

I originally was just going to add some general information and mention Fred White. Needing to cite references led me to an article Bob Green wrote on the history of the HP 3000 as well as numerous other articles from Robelle that I am citing. That let me to articles on 3000 NewsWire, so thanks Ron for your prolific prose on all things HP 3000.
Journalism, however, is not the best entry point for a Wikipedia entry. The most dispassionate prose conceivable is best-suited for Wikipedia. Think of software manual language and you're closest to what's accepted. A broad-interest topic like yoga gets a good deal more Wiki Editor scrutiny than a chronicle on a minicomputer's database. That doesn't mean there's not a wealth of accuracy that can be supplied for the current TurboIMAGE stub, however. O'Brien is asking for help
His posts to the 3000 newsgroup include such a request. "I also need to solicit other unbiased parties to collaborate. And what better place to get feedback on TurboIMAGE then from HP3000L!"

"So if there are any Wikipedia authors interested in added to the article or debating anything I stated, please do so in the TurboIMAGE talk page."
Wikipedia authors will know exactly how Talk works to get a page written and improved. And it's dead-simple to become a Wikipedia author. As O'Brien suggests, creating a page is much more complex than improving an existing one.
Posted by Ron Seybold at 10:07 AM in History, Homesteading, Web Resources | Permalink | Comments (0)
July 01, 2015
Reflection dives deeper into new brand
Last fall, Micro Focus announced it was acquiring Attachmate and several other companies. The merger of these IT firms marked another step for a popular HP server connection product, Reflection, toward a new life with a new name, even if its functionality remains the same.
The Chief Operating Officer of Micro Focus, Stephen Murdoch, has reported to customers about the strategy to meld the products from Borland, NetIQ, Attachmate, Novell and SUSE. The scope of what these companies have offered is significant. Development, networking, connectivity and evironments make up these acquisitions.
We will be simplifying the branding and packaging of our portfolios. As an example, we will combine our leading host connectivity solutions of Reflection and Rumba into one set of Micro Focus branded solutions offering the best of both technologies. A similar approach of simplification and alignment will be taken systematically, resulting in one company operating two product portfolios, namely Micro Focus and SUSE.
By all reports, Rumba didn't meet HP 3000 manager standards in its versions available before Attachmate acquired Reflection. That was in the days when the blended firm was called AttachmateWRQ. Few HP 3000 sites, if any, have learned to rely on Rumba for their connectivity. Now the tracking will commence on how the feature sets of Reflection and Rumba survive this combination.
The deepest level of 3000 integration
in Reflection lies in its scripting language. When the news first broke about the Micro Focus acquisition of Attachmate, we checked in with a long-time Reflection user to see how Rumba might fill in. Reflection's macros have to be converted to a Rumba format called ELHAPPI, Enhanced High Level Language Application Program Interface. As with any acronymn that has seven letters, it's a design choice that's got quite a, well, legacy air to it. According to Glenn Mitchell of BlueCross BlueShield of South Carolina 
It's an API that goes back to the early PC days, and allowed a program running on the PC to "scrape" data from a terminal emulator session running on the PC. So it represents a big move backwards in technology from Reflection VBA. 

Our guys figured out a way to run our VBA scripts in Excel and trap most of the Reflection API calls (e.g. getdisplaytext) and convert them to equivalent EHLAPPI calls for Rumba. The gotcha is that they've only done the most frequently used API functions, and Rumba doesn't support all of the functions Reflection makes available via API.
Scripting inside of a terminal emulator product represents a deep level of technology. Just the sort of tool a 3000 shop deploys when it can command petabytes of data and tens of thousands of users. When things change with vendor plans, whether it's a system maker or a provider of software, support staff shifts its support to migration tasks.
As an interesting footnote to the changes in the outlook for Reflection -- given that Rumba has been offered as a replacement -- we turn to the a recent comment by Doug Greenup of Minisoft. "Minisoft has NS/VT in its HP terminal emulator," he noted when we described the unique 3000 protocol in some versions of Reflection. "And unlike WRQ, we remain independent. We still have HP 3000 knowledgeable developers and support people." The company's terminal emulator for 3000s, Minisoft Secure 92, has a scripting language called TermTalk.
Posted by Ron Seybold at 11:13 AM in Homesteading, Migration | Permalink | Comments (1)
June 26, 2015
What Has Made MPE/iX 8.0 A No-Go
The life of homesteading 3000 managers is not as busy as those who are managing migrated or just-moved business environments. But one topic the homesteaders can busy themselves with is the If-Then structure of making an 8.0 version of their operating system more than a fond wish. Our reader and 3000 manager Tim O'Neill visited this what-if-then module, a proposition was sparked by an April Fool's story we wrote this year. "I actually believed that article, until I recognized the spoofed name of Jeanette Nutsford," he said. We were having some Onion-like sport with the concept of an MPE/iX.
I had the thought that maybe somebody somewhere will apply all the MPE patches written since 7.5, add a couple more enhancements to subsystems (like maybe MPE users could see and use a Windows-managed printer,) test it in-house, then test it on a few customer systems, then release it and announce MPE/iX 8.0. The database options could begin with TurboImage and Eloquence.
That's pretty much the start of a workflow for an 8.0. If you were to make a list of the things that have stood in the way of such a watershed moment for MPE, it might look like an if-then tree. A tree that might lead to a public MPE, as free as Linux or HP's Grommet, the company's user-experience development application. Grommet will become open source, licensed for open use in creating apps' user experience. Grommet was once just as HP-proprietary as MPE.
The tree's not impossible to climb. Some of the tallest branches would sway in the wind of software law. The rights regarding intellectual property have blocked this climb to open-sourced MPE/iX. That's law that was tested outside of the HP and 3000 community. It came close to swaying in favor of customers who believe they're buying software, instead of just renting it.
No software creator would call the act of licensing
its product a rental. But ownership rights of code like MPE or the CAD program Autodesk have always reverted to their creators. These programs were developed inside software labs controlled by HP and Autodesk. Such creators' ownership was not in doubt, until in 2007 the right to restrict any software's climb to freedom was tested.
Autodesk was sued that year by Timothy Vernor, who said he was entitled to sell used copies of AutoCAD he'd bought at an office liquidation sale from an Autodesk customer. The suit wasn't foolhardy. In 2008 a federal district judge in Washington state denied Autodesk's motion to dismiss. The next year, both sides filed motions for summary judgment, to settle whether a structure called First-Sale Doctrine could apply to previously licensed software. And then that district ruled in Vernor's favor. Transfer of software to the purchaser materially resembled a sale, not just a licensing. The software had a one-time price, and a right to perpetual possession. You could resell your software, and so it could have a value in the market beyond what its creator had received.
What's all this got to do with 8.0? The concept, and defending the ruling, represents a type of the most critical if-then branch in the tree of used-software logic. By now, every copy of MPE/iX is used software. To make an 8.0 with any value to the companies and consultants who'd labor through new patch integration, plus two levels of testing, and managing support, it'd need to be worth some revenue to those who'd do the work. You'd need a law to make reselling a revamped MPE/iX as the 8.0 version legal. 
Linux and the rest of the open source world enjoy this kind of ownership law. It helped that Linux never belonged to a company as a trade-secret product.
The Washington state court decided selling Autodesk could let a customer resell under the first-sale doctrine. So Autodesk could not pursue an action for copyright infringement against Vernor, who sought to resell used versions of its software on eBay. But like any software creator, that first-sale decision was appealed to the US Court of Appeals for the Ninth Circuit, where the lower court's ruling got reversed. Vernor was denied the right to resale Autodesk software on eBay. There were non-transferable licensing restrictions, and in 2011, the US Supreme Court let stand the Ninth Circuit ruling.
This is the quest for the holy grail of MPE futures that OpenMPE pursued for more than eight years. At some point, the group believed, control of MPE/iX could be released to the companies using the software. It should be, they argued, since HP was halting its business in the HP 3000 and MPE. Vernor didn't even offer to modify the CAD software, to improve it like O'Neill suggested. The appearance of such an MPE 8.0 would deliver new functionality, fix bugs — and most importantly, lavish some interest on the OS.
HP used to talk about an 8.0, in passing at user conferences in product futures talks. There was nothing as specific as "MPE users will be able to see and use a Windows-managed printer" during these talks. Applying existing patches and recent ones, then releasing it as an 8.0, is a stretch. The x.0 releases of MPE/iX each brought on a major set of advances, not just printer control and patch integration. 7.0 delivered support for a new hardware bus, PCI, for example.
All those patches written since 7.5 PowerPatch 5? That'd be just the beta-test patches that never went into customer-testing for General Release. HP holds the intellectual property rights to those patches. The company would have to cut that work loose into the customer base. (If HP cedes ownership rights, then integration begins.) If HP pemits this 8.0 MPE/iX to be tested in customer sites, then something stable enough to be adopted would emerge.
If no such ownership change occurred, then even an 8.0 would still belong to HP — a company with no more interest in selling or support it.
The rights to MPE/iX have been stretched recently. While a two-user version of the Charon HPA emulator was available for download, the Stromasys software was distributed with MPE/iX as part of that freeware version.
Since there's no open-sourced MPE for offer, the testing and integration, then pairing the revived software with its database as well as Eloquence (never built for MPE, but could be integrated) — it's all simply a fine ideal. Nobody was able to step forward and push this concept into a test of law. Wirt Atmar of AICS Research checked with lawyers about reclaiming MPE off of HP's discard pile. It was a card the community could not play. 8.0 is a dream, and while there's no reason yet to cast it away forever, plenty of 3000 owners have experienced their wake-up call.
Posted by Ron Seybold at 10:20 AM in History, Homesteading | Permalink | Comments (0)
June 24, 2015
OpenSSL: Still working, but falling behind
This month the OpenSSL project released a new version of the software, updated to protect sites from attacks like Heartbleed. The release coincides with some interest from the 3000 community about porting this 1.0.2 version to MPE/iX. These cryptographic protocols provide security for communications over networks.
Heartbleed never had an impact on the 3000, in part because it was OpenSSL was so rarely used. Developer Gavin Scott said that last year's Heartbleed hack "does point out the risks of using a system like MPE/iX, whose software is mostly frozen in time and not receiving security fixes, as a front-line Internet (or even internal) server. Much better to front-end your 3000 information with a more current tier of web servers. That's actually what most people do anyway I think."
But native 3000 support of such a common networking tool remains on some wish lists. 3000s can use SSL to encrypt segments of network connections at the Application Layer, to ensure secure end-to-end transit at the Transport Layer. It's an open source standard tool, but deploying it on an HP 3000 can be less than transparent.
Consider the following question from Adrian Hudson in the UK.
Does anyone know anything about putting OpenSSL on a HP 3000? I've seen various websites referring to people who have succesfully ported the software, but with the HP 3000s being used less and less, I'm finding lots of broken links and missing pages. My ultimate intention is to try and get Secure FTP (SFTP) running from Posix on the HP 3000.
HP placed the OpenSSL pieces in its WebWise MPE/iX software, and that software is part of the 7.5 Fundamental Operating System. Cathlene McRae, while still working at HP in 3000 support, confirmed that "WebWise is the product you are looking for. This has OpenSSL." She's shared a PowerPoint document of 85 slides written in 2002, one of the last years that WebWise (and its OpenSSL) was updated for the HP 3000. (You can download these slides as a PDF file.)
Keven Miller of 3K Ranger
 has detailed his notes from installing OpenSSL on a 3000.
"I'd be happy to talk with whomever has interest," he said. I'd like to do the "port" again with notes, so others can reproduce, and place it on my website."
I'm looking on my HP 918 (MPE/iX 6.0 PowerPatch 2)

Openssl 9.6a
OpenSSL> version
OpenSSL 0.9.6a 5 Apr 2001
OpenSSL>

I believe AFTP did build and run. That would be from OpenSSH. As I recall, the process is

1. install zlib
2. install openssl
3. install openssh

/OPENSSH/V00371P2/openssh-3.7.1p2#sftp
usage: sftp [-vC1] [-b batchfile] [-o ssh_option] [-s subsystem | sftp_server]
[-B buffer_size] [-F ssh_config] [-P sftp_server path]
[-R num_requests] [-S program]
[user@]host[:file [file]]
/OPENSSH/V00371P2/openssh-3.7.1p2#sftp hpux-1
Connecting to hpux-1...
Couldn't connect to PRNGD socket "/tmp/egd-pool": Can't assign requested address
Entropy collection failed
ssh-rand-helper child produced insufficient data
Connection closed

As I recall, I need to stream a job for this EGDPOOL. I hope to get back to this and other porting things. But work gets in the way.
Posted by Ron Seybold at 10:46 PM in Homesteading, Web Resources | Permalink | Comments (0)
June 22, 2015
Fixing Date Problems From The Future
HP 3000 managers have traveled long roads toward the future of their servers, but sometimes the server travels even farther. Into the future, it seems, to apply modification dates to files that couldn't possibly be modified months or years from now.
This can cause problems with system maintenance. Craig Lalley experienced some last week. After running the NMVALCK command, he discovered "I have thousands of files with future dates." He was pretty sure there's a way to adjust a date like FRI, SEP 10, 2027, 1:53 AM by using MPEX. (A good bet, since the Vesoft product manages the 3000's files better than MPE/iX itself). But what about other repair options?
There are two, one in the community's freeware resources, and one in its Posix namespace. The freeware comes from Allegro Consultants. FIXFDATE (just do a "find" on the web page to locate the utility's entry) "will sweep through your files and change any creation, modification, access, allocation, or statechange date that is a "future" date to be today."
Another resource comes from within the 3000's Fundamental Operating System. Touch, a common Posix utility, exists on the HP 3000's implementation. 
Touch is chronicled on
the
Open Group Base Modifications website
. While Posix is not as well-loved in the 3000 community as CI commands or freeware, its touch is bristling with options. The basics:
Touch shall change the last data modification timestamps, the last data access timestamps, or both.

The time used can be specified by the -t time option-argument, the corresponding time fields of the file referenced by the -r ref_file option-argument, or the -d date_time option-argument, as specified in the following sections. If none of these are specified, touch shall use the current time.
Changing the dates of a full system's worth of files might someday be the mission for any 3000 owner who's trying to carry MPE beyond January 1, 2028. The world of 3000 Future Time hasn't been explored much, mostly because the community seems confident some solution will be available in 2027. It's still 12 years away, after all.
Allegro's Steve Cooper knows date representation issues have been addressed by the 3000 development community before -- in an era when many companies were still engineering for the system. He can sound sanguine about the issue because his partner Stan Sieler engineered date repairs for the 3000 during Y2K work at the end of the 1990s.
Allegro sold a Y2K utility as part of its 3000 development toolset. "If anyone cares by then, one will need to do remediation similar to what was done for Y2K," Cooper has said. "Each program will need to be inspected for vulnerabilities, then fixed to use an alternate method of date storage and manipulation."
And, yes, as you suspect, this could arise before then. If, for instance, you are manipulating contract expiration dates in your COBOL program, and are using a 2027-sensitive format, then you will not be able to correctly handle any date past the 2027 cut-off.


If you don't mind, though, I'm not going to lose any sleep over this issue for another several years. Remind me again toward the end of the decade, and I'll ask Stan to look into it.  If I ask him now, I will lose a few months of productivity out of him, while he solves next decade's problems.
The issue is not limited to the HP 3000, even though the 2027 date is unique to MPE/iX. Unix has got the same kind of deadline approaching 11 years later. Cooper pointed to a Wikipedia article that explains the "Year 2038 problem" as an analogy to the 3000's.
Posted by Ron Seybold at 07:03 PM in Hidden Value, Homesteading | Permalink | Comments (0)
June 19, 2015
Changes Spark Healthy Adaptations
The constant grind of change in the 3000 community -- migrations, the shifting sands of homesteading resources -- may have a positive effect on managers who deal with it. "There is always a future," our ally and contributor Brian Edminster wrote. "It's just not always the future we think we'll have. And that's not always bad, in that it can force us to adapt, to improvise and stretch a bit. These are all signs of a healthy being."
Expanding the use of the HP 3000 in some companies seems outlandish, but it might not be. Not everywhere. In one case we're heard, new ownership of a division that uses a 3000 offered a chance to extend the use of their 3000, rather than just target the system as something to consolidate, maintain, or decommission. The company's mission includes the need to expand in the division's market that their 3000 system was designed for -- and seeing that their other markets' IT solutions won't work as well as the 3000.
Making that choice involves embracing used servers, and eventually emulated hardware. That's an adaptation of hardware sourcing. Independent support has been available a long time to make the former work, and the virtualized 3000s have been for sale for more than three years by now.
Older and common tools can also get adapted, because with this kind of field experience, practical application trumps strategic platform goals. It can happen at the simplest of levels. You might not expect that Notepad++ could become a 3000-related tool. Edminster tells a story about seeing this happen, though.
"Strangely enough," he reports,
"Notepad++ is a popular editor in several of the shops I've done work in —primarily because of its versatility and availability of extensions via plug-ins.  
Its biggest shortcoming is, you guessed it, it's a hassle to get at the files on the 3000 with it. It has no native connection facility, unlike ProgrammerStudio, or Qedit for Windows. At least not without using Samba. And for a site with security concerns and needs, sites who have to comply with PCI standards, Samba is considered a no-no.  
The Notepad++ integration with the 3000 would work with a high-cost item like NSF/iX from Quest/Dell. Of course, "the development servers should be the only ones that need to 'mount' the MPE/iX filesystem, so PC tools can access them," Edminster adds, "so perhaps Samba might work in some environments."
He added that the web_dav module of Apache on the 3000 could also provide a way to make Notepad++ a better player with the 3000. Edminster's expertise includes such open source software. Such web_dav use "could be an easy way to get at files on the 3000 from any Mac or PC application. Making that work would make integrating a 3000 into the world of PC workstation apps so much easier."
Posted by Ron Seybold at 09:17 PM in Homesteading | Permalink | Comments (0)
June 18, 2015
Throwback: A Zealous Emulator Wonder
Five years ago this week, Stromasys announced the launch of its project to emulate the HP 3000's hardware set. Emulation was a quest for many years before 2010, though. The OpenMPE advocacy group was founded on the pursuit of an emulator for 3000s that would not be built after 2003. By 2004, the community was hearing about the timeline for emulator development. It did not promise to be a short journey.
We revisit those days to remind our readers about a time when then-recent 3000 boxes were standing in the way of making a virtualized 3000. Our podcast for this week includes comments from one of the first emulator vendor candidates, as well as the ultimate developer of a product that marks five years on 3000 planning timelines.
Along the way, the tracks on the trail to making HP's 3000 systems virtually unneeded followed the hard road HP learned about migrations. More than half the systems that were turned off between 2003 and 2008 went to other vendors, according to one report from an emulator vendor. That period saw Hewlett-Packard lose many customers while they departed the 3000, according to the Chief Technology Officer Robert Boers.
What's remarkable about the emergence of Charon from Stromasys is the persistent dedication the vendor showed for the concept. It demands patience to be in the world of emulators. In 2004, nobody was even certain about the best release date for an emulator. HP-branded 3000s in that year were still commonplace, and all had falling price tags. By the time Charon made its debut, that hardware had become seven years older, and used systems were commonly more than a decade old. Time has not enhanced the vintage of these systems. An evergreen emulator, first announced five years ago this week, changed all of that.
Posted by Ron Seybold at 07:46 PM in History, Homesteading, Migration, Podcasts | Permalink | Comments (0)
June 12, 2015
Find hardware specs, move DTCs, and more
Is there a command or way to see the hardware specs of a HP 3000 via MPE or its installed utilities? This machine has no other utilities, like MPEX. I am looking to document the processors, memory, number of hard drives, and size of those drives. 
Jack Connor replies
Depending on MPE/iX version, you can use SYSDIAG for 6.0 and older or CSTM for 6.5 and later. In SYSDIAG, type SYSMAP, then IOMAP, and GENERAL for the IO components, then exit and go to CPUMAP for the CPU info.
In CSTM, type MAP, then SELECT ALL, then INFO, then IL (InfoLog) to get a listing of everything that MPE owns.
I don't work that much with COBOL these days, but I wanted to compile a  program and I got an error message,"size of data segment greater than 1 gig or 64 bytes" How do I get around this?
Steve Cooper replies
That means that the total space you asked for in your Working Storage Section is more than 1 GB.  Now, there are ways to work around that, but my guess is that you don't need to work around that.  My guess is there is a typo or some other unintended problem, where you are asking for way more storage than you intended. Check your OCCURS clauses and PICs to make sure you mean what they say.
We have to move a DTC into our network. Along the way there are Procurve switches and a Cisco router or two. I know that somehow the switches and routers must be configured so as to allow multicasting on addresses 09-00-09-xx-xx-xx to be forwarded and not filtered, but our Procurve administrators aren't quite sure they know how exactly how to do this. What is Procurve-ese for configuring what's necessary to allow remote DTC operation across our network?
Jeff Kell replied
You don't have to do anything at layer-2.  The layer-3 will have to bridge the traffic.  If the layer-3's are Cisco, you can specify the traffic to bridge, in which case you just want the [08|09]-00-09-x-x-x traffic.
The 09-00-09 is multicast used for discovery, but beyond that, you're going to get some directed layer-2 08-00-09 as well.  You will need to include your HP's DTSLINK NIC MAC prefix as well if it is a later model that does not have the old HP 08-00-09 prefix.
If you own the whole infrastructure path, what we used to do is run L2 trunks between sites, and propagate a common vlan for the DTC/HP traffic, while routing everything else.
Or if the Ciscos are real routers rather than Catalyst-style switches, you can run a L2TP tunnel end-to-end to propagate the HP vlan across the routed hops.
I need to rebuild an environment from one HP 3000 system to another. Trouble is, we want to have groups from the same account end up on different user volumes. Is there a way to do this using BULDACCT? 
Keven Miller replies
BULDACCT was made for processing complete accounts. Do BULDACCT  CHC%VSACCT=MEDADV_1. Then edit BULDJOB1 for the other group, changing MEDADV_1 to _2
Mark Ranft adds 
What I usually do is use BULDACCT to move the entire accounting structure. Then I surgically PURGEGROUP and NEWGROUP (with the appropriate HOMEVS= and ONVS= options, plus CAP= and ACCESS= etc) to duplicate the special groups.
I'm having trouble locating TurboIMAGE limits. What's the max number of items in a dataset?
Paul Edwards replies
From HP's website: 
The objective of this TurboIMAGE enhancement is to raise the limits on number of items, sets and master paths in a TurboIMAGE database to these values: 
Number of items: 1200
Number of sets per database: 240
Number of paths for master : 64
All new databases created will have the benefit of increased limits. The new limits will not be applicable for old databases created under previous versions of TurboIMAGE. However, these databases will continue to function with the old limits and applications will be compatible.
Posted by Ron Seybold at 06:17 PM in Hidden Value, Homesteading | Permalink | Comments (0)
June 08, 2015
In 20th year, NewsWire digital turns 10 today
A decade ago today, this blog received its first post. On June 8 of 2005, a death in the 3000's family was in the news. Bruce Toback, creator of several 3000 software products and a man whose intellect was as sharp as his wit, died as suddenly as HP's futures for the HP 3000 did. I wrote a brief tribute, because Toback's writing on the 3000-L made him a popular source of information. His posts signed off with Edna St. Vincent Millay's poem about a candle with both ends alight, which made it burn so bright.
I always thought of Bruce as having bright ends of technical prowess along with a smart cynicism that couldn't help but spark a chuckle. His programming lies at the heart of Formation, a ROC Software product which Bruce created for Tymlabs, an extraordinary HP software company here in Austin during 1980s and early 90s. Toback could demonstrate a sharp wit as well as trenchant insight. From one of his messages in 2004:
HP engineer [about a Webcast to encourage migration]: During the program, we will discuss the value and benefits of Transitioning from the HP e3000 platform to Microsoft's .NET.

Bruce: Oh... a very short program, then.
In the same way Toback's candle burned at both ends, I think of this blog as the second light we fired up, a decade after the fire of the NewsWire's launch. Up to this year we burned them both. Now the blog, with its more than 2,600 articles and almost 400,000 pageviews, holds up the light for those who remain, and lights the way for those who are going. This entry is a thank-you for a decade of the opportunity to blog about the present, the future, and the past.
We always knew we had to do more than give the community a place to connect and read what they believed. We're supposed to carry forward what they know. The NewsWire in all of its forms, printed and digital, is celebrating its 20th year here in 2015. A decade ago our June 2005 blogging included a revival of news that's 20 years old by now. It's news that's still can still have an impact on running a 3000 today.
In the blog's first month of 2005, I wrote
"HP 3000 enhancements can travel like distant starlight: They sometimes take years to show up on customer systems. A good example is jumbo datasets for the 3000's database. Jumbos, the 3000's best tool for supporting datasets bigger than 4GB, first surfaced out of HP's labs in 1995, just when the NewsWire was emerging. We put our news online in the months before we'd committed to print, and our report of September 1 had this to say."
HP will make the enhancement available as part of its patch system, bypassing the delay of waiting for another full release of MPE/iX. But there are already discussions from the HP 3000 community that a more thorough change will be needed before long — because 40-gigabyte datasets someday might not be large enough, either.
"Why care about 20- or 10-year-old news? Because the 3000 has such a long lifespan where it's permitted to keep serving. In the conservative timeline of 3000 management, jumbos were the distant starlight, only becoming commonplace on 3000s a decade later. Jumbos are finally going to get eclipsed by LargeFile datasets. HP's engineers say their alpha testing to fix a critical bug in LFDS is going well."
"Like the jumbos before them, LFDS are also going to get a slow embrace. How slowly did jumbos go into production systems? Five years after jumbos first emerged, John Burke wrote in our net.digest column "it is hard to tell about the penetration of jumbo datasets in the user community beyond users of the Amisys application." His column also offered some tips on using jumbos, even while database experts in the community continued to lobby for a way to build larger files."
That reporting in 2005 marked the first time in a decade that 3000 customers could build a dataset as big as they needed. Up until then, LFDS had not been recommended for 3000 customers except in experimental implementations.
The nature of the 3000 community's starlight made a 10-year-old enhancement like jumbos current and vital. Alfredo Rego of Adager once said that his database software was designed like a satellite, something that might be traveling for decades or more and need the reliability of spacecraft to go beyond the reach of support transmissions. HP's signal for 3000s has died by now. We hope to repeat signals, as well as report, for more than another decade, onto the cusp of MPE's calendar reset of 2027. Thanks for receiving these transmissions.
Posted by Ron Seybold at 08:19 PM in History, Homesteading, Migration, Newsmakers | Permalink | Comments (0)
June 05, 2015
Plan B: Stay on the HP 3000 to 2027?
Could you really stay on the HP 3000 through 2027? What follows is a classic strategy for 3000 owners. Wirt Atmar of AICS Research wrote the following column in the months after HP's 3000 exit announcement. The article is offline for the moment, so I thought we'd put it here as a reference document for any IT manager who's trying to defend the case for remaining on their HP hardware a few more years. When Atmar passed away in 2007 the community lost a dynamic advocate for MPE computing. His company eventually migrated its QueryCalc application for IMAGE reporting to Windows. But not before he organized advocacy like the World's Largest Poster Project, at left. Few 3000 experts did more for MPE owners than Atmar — including thinking outside of HP's box.
Plan B: Staying on the HP 3000 Indefinitely
By Wirt Atmar
Hewlett-Packard and a few others are stating that staying on the HP 3000 for the long term is your least desirable option, the one that puts you at the greatest risk. Let me argue here that remaining on the HP 3000 is not likely to be all that much of a risk, at least for the next 25 years. It will certainly be your least expensive option and the one that will provide you with the greatest protection for your current investment in software and business procedures.
AICS Research, Inc. wholly and enthusiastically supports the evolution of an HP 3000 MPE emulator, another path that has been described as "risky." But there's nothing risky at all about the option, should HP give its blessing to the project. It is technically feasible and completely doable. Indeed, the emulator actually offers the very real possibility of greatly expanding MPE's user base. However, staying on the HP3000 does not require HP's blessing. It's something you can decide to do by yourself. And should you decide later to move off of the HP 3000, you've really lost nothing in the interim. Indeed, you've gained time to think about what is best in your circumstances.
Risk Estimation
A part of calculating your "risk" is really nothing more than sitting back and determining what part of the computer market is rapidly evolving and which part is more or less stable.
The HP 3000 is well-known for its qualities: a very nice CI scripting language, a very robust job scheduler, an extremely stable and scalable database, and its simple, English-like commands. Beyond that, we have also been lucky that the HP e3000 has also recently had put into it several standards-based attributes: network-based IP addressable printing, telnet and FTP, and all of these qualities are now very stable.
But all of the other processes of modern computing, the material encompassed by POSIX (Java, Samba, Apache, bind, DNS, etc.) are the qualities that are rapidly evolving. And none of these need to be on the HP 3000. In fact, you're probably better off if they weren't on the platform.
The picture at left is of a $450, 128MB, 900MHz, 30GB Dell server running Red Hat Linux and a used, unlimited-number-of-users, 128MB, 8GB Series 927 we bought from a customer for $200. Because of HP's announcement, some fraction of users, undoubtedly greater than 50%, are going to move off of the HP 3000. What this migration is going to do is provide a glut of hardware on the market in the next several years that is simply going to be unbelievably inexpensive, and there's no reason that you shouldn't take advantage of the situation.
You can actually telnet to this 927 by logging onto 67.41.4.238 and typing:
:hello <yourname>,demo.qcterm
Once there, you can then telnet from the HP 3000 to the little Dell server by typing:
:telnet 192.168.1.3
And that's very much the point. The telnet and FTP standards are now very stable. Almost no change is going to occur in these standards in the next quarter-century. Fortunately both the HP 3000 and Linux have them deeply embedded in their structure now. Because of that, you can very readily append Linux and Windows processes onto your HP3000 as auxiliary cheap external boxes. Using the FTP site command, the HP3000 can easily operate as a master controller of any number of external Linux and Windows machines.
It is our intention to move our web pages up on the Linux box. It is undeniable that Linux makes a fine webserver. But on the other hand, it is equally undeniable that the HP 3000 is a very nice database platform. Using HP3000 scripts and jobs, it is very easy to transfer files to and from the Linux box, constantly updating web pages as need be from data held in your HP3000's databases.
Most of the applications on the HP3000 are quite old and very stable. If the more modern -- and therefore much less mature -- applications such as web and file serving are put onto the Linux box, such auxiliary Linux platforms can fail without impacting the HP3000 at all, other than perhaps holding open the one or two processes that might be waiting for a reply. But even if that should prove to be true, all that these processes should do is hang until the Linux boxes are resurrected. They certainly will not crash the HP3000.
Hardware Maintenance
There are fewer parts in a modern computer than most people imagine: a power supply, a few circuit boards, a few disc drives and a backup device, generally something like a DDS or DLT tape drive. But beyond that, they're hardly anything else but sheet metal.
One of our HP3000's, the 918 in the picture at left, originally came with two 4GB drives mounted internally. One of the drives failed, as that particular series of 4GB drives that HP supplied had a tendency to do. Access to the drives is merely a matter of unscrewing two screws at the base of the faceplate, lifting the faceplate away, and pulling the disc drive cage out a bit from the central case.
To replace the drive, all I did was unplug the power cables and the ribbon cable from the defective drive inside the cage. Otherwise, I left the drive mounted where it was. I then ordered an extremely inexpensive, external SCSI-connected LaCie drive from APS that was designed to work on PC's or Mac's and plugged it into the SCSI port at the back of the HP3000, giving it the same SCSI address as the dead drive [I prefer SCSI-connected external drives, even though they're a bit more expensive, simply because they're so much easier to replace if the time comes again to do so]. I wasn't able to order an exact replacement 4GB drive. The smallest, cheap external $250 drive that I was able to order was 18GB, and that was from the "legacy" series. Nonetheless, it booted instantly.
How stable is this sort of repair process likely to be over the next 25 years? SCSI is SCSI. We were an early and very enthusiastic adopter of Macintoshes when they first appeared in 1984, and this 18GB drive could have been just as easily connected to one of our 1985 Mac Pluses as it was to the 1999 HP 3000. Although there are other external bus structures in existence (USB, Firewire, optical, etc.), SCSI is likely to be approximately as common 25 years from now as it is currently. But even if it were supplanted by some other bus structure, you can reasonably be assured that bus convertor boxes will be available. While there is likely to be a great deal of evolution in peripheral devices over the next quarter century, SCSI frees you to be able to accept that evolution rather easily.
Can you really operate a business on 25-year-old hardware, 25 years from now? We do it here with our Macintoshes. Because we were an early adopter of the Macs, and because Apple has not attempted to maintain backwards compatibility in its lines, we were orphaned within just a few years of adopting the Macs. Our initial enthusiasm for the Mac caused us to put 5,000 pages of company documentation on the machines. Unfortunately, the very next series of Macintoshes, the PowerPC's, would not run our software and thus we were constrained to keeping our original Mac Pluses alive forever.
Although Apple has made the Mac line incompatible within itself several times since, none of these more recent incompatibilities bother us, because we were stuck on the very first generation of Macs. When the Mac Pluses and Mac Classics began to become obsolete, we bought 10 spare machines from the local high schools for almost no money at all. These spares are now stuffed in every nook, cranny and closet, but so far, they haven't proven to be necessary. Although the original Macintoshes were never made nor advertised to be rock-solid, reliable devices, so far they've held up to 17 years worth of daily use.
And that too is simply the nature of electronic devices nowadays. Mechanical devices (discs, tape drives, keyboards) may fail, but the electronic circuits could easily run for several hundred years without much maintenance.
Software Maintenance
Pictured at left is a third small HP 3000 that we run, another 918. However that's not the device of interest in this picture. Rather the machine of importance is the small $400 e-machine PC in the center of the image.
Adobe Acrobat Distiller is the program that converts PostScript files into the PDF format that's become very popular on the web. Beginning about five years ago, for a period of two years, I spoke to everyone I could at HP and Adobe about porting Distiller over onto the HP3000, but I was able to make absolutely no headway with anyone. No one was interested. Even more frustrating, because POSIX is not UNIX, the UNIX version of the Acrobat distiller would not run on the HP3000 as it was, even though it was certified for HP-UX.
One day, in an epiphany not unlike Saul's conversion on the road to Damascus, it simply dawned on me that I didn't need to keep beating my head on the wall. Rather, I could purchase the very inexpensive Windows-based version of Acrobat and FTP my files from the HP3000 down into a PC. The process worked so well that I have now become a very enthusiastic advocate of not porting material onto the HP3000 directly. Rather I now argue that it's best to run the programs on the platform for which they were designed and control them from the HP3000. Indeed, doing this insulates and protects the HP3000 in two ways: one is from random software bugs, the second is from obsolescence.
In the arrangement we now use, a standard, simple HP3000 job runs our QueryCalc reports and prints their PostScript output to MPE flat files. As a second step in the jobs, the ASCII flat files are FTP'ed down into the e-machine, into an Acrobat "watched" folder, adding the file extension ".ps" onto the file as an intrinsic part of the transfer. The PC is set up so that when a ".ps" file appears in the watch folder, Acrobat automatically converts it into PDF, moving it to a pre-specified output folder. Although the distillation process generally takes less than a second, we have our HP3000 jobs wait 10 seconds before they retrieve the newly-converted PDF files and move them back onto the HP3000. Once the new files are back on the HP3000, they're FTP'ed to a third server, our webserver in Minneapolis, MN, inside the same job. It's all surprisingly very simple, very straightforward and very efficiently done.
Because virtually any process on a Linux/UNIX or Windows machine can be controlled in this manner, there's essentially no reason to port anything to the HP3000 nowadays. But just as importantly, this simple observation makes the current version of MPE nearly obsolescence-proof. Even more than SCSI, FTP and telnet, because they are now nearly ubiquituous 30-year-old standards, are going to look the same in 25 years as they do now. They cannot be changed.
Hardware ages, but software doesn't. It is essentially immortal. But can you run 25-year-old software 25 years from now, especially if no one is "maintaining" it? What does maintenance mean? To a great degree, it means keeping up with the evolving standards, not fixing bugs. But what would you really want to change on your HP3000? Your code works now. It will work just as well a quarter-century from now.
The little Linux box in the topmost picture is set to dial back to Red Hat every evening, check for updates, and apply them automatically, if need be. Doing this is necessary at the moment because of the rapid evolution attendent to trying to make Linux a mission-critical operating system, and it will be that way for the next five years or so. But there's virtually nothing that really needs to be fixed on the HP 3000 that sits next to the Linux box. MPE code has proven itself to be extremely reliable at tens of thousands of sites over decades of use. And although the total sum of all of the equipment in the upper image came to less than $2000, there is sufficient computing power on the table to run a $50 million/year business easily.
All software contains bugs, and on the last day that HP corrects whatever bugs it finds in MPE, if no emulator and no Open MPE should come to pass, those defects that exist in the code on that day will remain there forever. But in many ways, operating under these conditions is more stable and more predictable than when code is still actively being modified. You rapidly learn where the remaining pitfalls are and you simply work around them.
The real trick to operating obsoleted hardware and an O/S is to buy multiple spare equipment. This equipment is going to become startlingly cheap in the next few years, so keep your eyes open for it. In your free time, configure these spare systems to be identical to your production boxes. In this manner, if your primary systems should fail, you can actually swap out a spare system faster than you can call for assistance and certainly be back on line before the repair people arrive, if you need them. Doing this also allows you to find out what's wrong with the failed system at a leisurely pace and get it back up and running on a schedule that's far more appropriate to the task than one dictated by panic.
As I mentioned at the beginning of this note, I do not believe that staying on the HP 3000 indefinitely to be a particularly risky strategy. If your code and business procedures work well today, they will work just as well tomorrow, a week from today, or twenty years from now. In great contrast, migration may be the riskiest thing you can do.
Over the years, we've had a great many customers move off of the HP 3000 and we've been very interested in hearing about their successes and their failures. The former users who have had their companies bought out by a larger organization have had the greatest success. The larger organization dictates what kind of computer system they're going to use, and in this situation, the HP3000 often loses. Nonetheless, our former customers generally have to do no more than have their terminals changed out and learn the new business rules as they connect to the central server at company headquarters.
In this company-purchase environment, everything has been relatively well smoothed out in advance by the purchasing organization, optimizing their procedures over a period of years, if not decades. But the same hasn't been true of our customers who have "migrated" off of the HP 3000 onto some other platform, based on their own volition. Their costs of migration have universally been far higher than anyone originally estimated, as have the times involved. Indeed, the migration efforts were so difficult that a few of our former customers have outrightly failed during the process and many others were put at high risk. There's no single day in the life of a company when the computer system, no matter how it's architected, that it can't operate and fulfill its business purpose, and it's this simple necessity that makes migration so extremely difficult.
If your choices boil down to choosing between a "migration" process, which may cost millions of dollars, and which may well put the company at risk, and doing nothing, other than purchasing a number of very inexpensive spares, staying put may well be the least risky thing you could ever do.
Posted by Ron Seybold at 01:16 PM in History, Homesteading | Permalink | Comments (0)
June 01, 2015
Older laptops find current use for 3000s
By Brian Edminster
Applied Technologies
Back in the MPE-III, MPE-IV, and MPE-V days, I often advocated using a printing terminal as a console (i.e. an HP 2635), in order to leave a permanent hardcopy audit trail.  A little loud, sometimes, but it made it hard to hide what was going on, and allowed you to flip back through prior 'pages' of history. And unlike PCs, the messages were persistent (that's to say they would survive a power-fail).
Since then, I've been an advocate for using PCs as a system console workstation -- often ones that would otherwise be ready for retirement.
Actually, I prefer to use laptop PCs, as they're typically smaller and lighter, have a battery in them that can act as a short-term UPS, and many can be configured to allow folding the screen closed while leaving them turned on and active. A laptop saves space, and if the system's been configured to shut off the display and spin down the drives when there's little to no activity, it can save power as well. 
Key documentation and/or other useful info can also be kept on the laptop as well -- so you don't have to look things up on paper. If the laptop is old enough, either it (or a docking station for it) will have a serial port, or you can also go the USB to Serial adapter route, if necessary. Something like this Compaq Armada is quite old, but it does include a serial port.
On the laptop, the freeware QCTerm terminal emulator
is a perfect choice for use as a system console, and has a 15000-line memory. That beats the heck out of any CRT I've ever seen! You can still get copies of this emulator from the Internet archives. I also plan to make QCTerm available, along with associated documentation, on my
website
.
I've provided a working URL that'll take you right to the old download page for the latest version of QCTerm (v3.1a). Just click here. From that page, you can also search 'backwards' through time, to find earlier versions of QCTerm as well.
Posted by Ron Seybold at 07:38 PM in Homesteading, Web Resources | Permalink | Comments (0)
May 29, 2015
Retrieve What's Lost With Wayback
Even when things go dark on the Web, their history doesn't. The Internet Wayback Machine is always watching and recording, taking snapshots of sites or their content that's been removed. So long as there's a Wayback, there's a way back, so to speak.
I discovered this yesterday when checking on freeware from AICS Research. The company still supports its HP 3000 users of QueryCalc, but at the moment the feature-rich website has nothing on its face but a static graphic. AICS did business long ago as a tax service, and all the website reports is a gaggle of details about that enterprise.
As 3000 users know, a lot more resided at aics-research.com. In years past, there was a 3000 Relative Performance Chart, an essay to guide users on remaining on the 3000 indefinitely (called Plan B at the time), as well as a rich history of early Hewlett-Packard computing products. But most of all, there was QCTerm, the free 3000 emulator that AICS created for the 3000 community. QCTerm has always been "freely distributed to all users for their personal and corporate use, without time limit or any form of obligation being incurred by any party."
QCTerm is a full-function HP700/92 terminal emulator, very similar to other terminal emulators, running in Windows. The only difference is that QCTerm carries no cost "and may be freely distributed to as many users as you wish."
QCTerm was not constructed as a precise mimic of an HP700/92 terminal, although it identifies itself as such. "Rather, we wanted to make QCTerm simpler, more browser-like, and more intuitive, while retaining the full functionality that would be expected of an HP terminal," the software's description reports.
You can still download Version 3.1 of QCTerm using the Wayback Machine address. It's also available from the software.informer website.
Posted by Ron Seybold at 03:58 PM in Homesteading, Web Resources | Permalink | Comments (0)
May 27, 2015
Make old PCs do a console's work
Got a wheezing PC someplace in your IT shop? Believe it or not, even the creakiest of desktops can still serve your HP 3000: as a console, a la the HP700/92 variety. This is the kind of PC where, as one veteran puts it,"the keyboards have turned to glue."
...Trying to type a coherent instruction (or even worse, trying to talk someone through that task remotely) where random keys require the application of a sledgehammer to make them respond, at which point they auto repeatttttttttttttttt.
It's enough to give a veteran manager a pain in the posterior, but hey -- some HP 3000s (of the 900 Series) demand a physical console as part of their configuration. Can't you just hook up such an antique PC straight to the 3000's special console port and let it work as a console? Yes, you can.
Overheard among chatter
 between 3000 vets:
You can connect a PC via its serial port to the console port on the HP3000, and then run a terminal emulator via the serial connection, leaving it logged on as the console. That way, using free remote control software (VNC Free) on the PC, you could even have control of the physical console (as opposed to just taking the virtual console) so that things like Control-A/B would work.
You'll need a little physical cabling help to make this work. Even though those desktop PCs are old, most of them have not had serial ports in many years. Think about it. It's all USB by now. So you buy a USB-to-serial converter. You'll need a copy of an HP 3000 terminal emulator on the PC configured to connect via the serial port.
Just make sure the PC stays up and the emulator's window is open and connected. You don't need the console buffer filling up.
Posted by Ron Seybold at 04:31 PM in Hidden Value, Homesteading | Permalink | Comments (0)
May 26, 2015
The Legacy of Trusted 3000 Access
In plenty of HP 3000 customer sites -- or the IT operations that include a 3000 among the servers -- MPE has been an outlier. An important one, however, and that's a good reason that access to the TurboIMAGE data has sparked a generation of tools. Linux, Unix, Windows systems all need to connect to the 3000's data. UDALink software has a track record of keeping 3000s in the computing Circle of Trust. Now there's a new generation.
Finance might need 3000 data to get a firm grip on the current operational profitability of the business. Customers will need to gauge supplier and vendor performance, based on data in 3000s. Accurate data, delivered in a timely way, improves customer relations and sales. And manufacturing processes must measure the time it takes to complete or commit to a product delivery date, for example. 3000 data might be on a legacy system, but it can be crucial to corporate objectives.
MB Foster is showing off the setup, configuration and enabling of secure ODBC/JDBC connections in UDALink to access a HP 3000 or another environment, starting at 2 PM Eastern on Wednesday. The webinar lasts about an hour, and you can register through MB Foster for the free briefing. This is software that connects 3000s to the rest of the world by way of direct access to data.
UDALink is the progeny of ODBCLink/SE
, the middleware created, maintained and supported by MB Foster for IMAGE/SQL for more than 20 years. This continuous and current support of 3000-ready middleware, as we once called it, is a community marvel. No server that's been off a vendor's price list for 12 years, as the 3000 has, ever had more care lavished upon its remaining users. UDALink is getting an enhancement to Java Database Connectivity 3.0 API. It's a type 4 interface, and so it's ready for the Windows Server migration that HP is counting upon, the journey of Windows Server 2003 users.
The vendor's CEO Birket Foster said that about 20 percent of the customers using Windows Server are still on the 2003 release. "It was a customer who requested we enhance the JDBC2 driver on UDALink," Foster said. "We were pleased to do so. It ensures that this customer and future customers can continue to leverage newer technologies with legacy business-critical applications."
ODBCLink/SE was first delivered inside of the MPE Fundamental Operating System in the 1990s. A full-featured version of ODBCLink was available for sale, and that full-edition software became UDALink. The latest version of the UDALink JDBC2 module has support for these changes from the JDBC 3.0 API, to name a few.
Reuse of prepared statement by connection pools
Connection pool configuration
Savepoint support
Retrieval of parameter metadata and auto-generated keys
BOOLEAN data types
Updating of columns containing BLOB, CLOB, ARRAY and REF
Transformation groups and type mapping
Database Metadata APIs
Posted by Ron Seybold at 10:53 PM in Homesteading, Migration | Permalink | Comments (0)
May 25, 2015
A Memorial to 3000 Advocacy
It's Memorial Day in the US, a holiday where we celebrate those fallen in combat. There's that ultimate sacrifice in uniform and on duty for this country, worthy of a parade. But here on a day when many of us take time away from the job, it's worth a moment to remember those who've left our MPE community after good work to benefit all.
Wirt Atmar was one of those fellows. He passed away more than six years ago of a heart attack, but he's got a living memorial up on the archives of the 3000-L newsgroup. The lifespan of HP's business with the 3000 got a benefit from his work as well. It's safe to say that MPE's 1990s would've been poorer without his advocacy for IMAGE.
1990 was a high-water mark in HP 3000 advocacy. From his company AICS Research, Wirt created the report tool QueryCalc as well as QCReports and a free QCTerm emulator. In the fall of 1990 he helped spark a change in HP's business practices about the 3000 — a change that remains important to those who are changing little about a stable HP 3000 environment.
In 1990 Atmar wrote an open letter to HP published in The HP Chronicle, the monthly news magazine I was editing at the time. In his letter Atmar chastized HP for the way it was relegating IMAGE to minor status among the 3000's futures and features, as well as the general treatment of a loyal customer base. Word was building in the community that HP had plans to separate the IMAGE database from the purchase of any 3000. The database had been included with the 3000 since 1976, a radical move at the time that sparked the creation of untold numbers of utilities and applications.
A programmer or development company could create an application or software for the 3000 community using IMAGE as the database, knowing that every 3000 out there would be able to make use of the creation. 3000=IMAGE was a formula close to being broken. The community reared up on its hind legs and castigated its supplier, using the Interex 1990 user group meeting as the forum for its dismay. SIG-IMAGE, a Special Interest Group of users gone dormant, re-formed to organize the complaints and demand remedies.
In community lore, the protests around the meeting are known as "The Boston Tea Party," in part because they changed HP's course of conduct about customers. I recall Adager's Fred White as the most scathing critic of HP's myopia of the time, but a row of customers lined up behind and in front of him at the public microphones in a Boston meeting hall. This was a time when the HP Roundtable was the highlight of the conference, a chance to quiz the top executives of the company, right out in the open, about shortcoming and problems. The national IT press of Datamation, Computerworld and Information Week, all with HQ just up the road, were on hand that year to report the rebellious talk.
HP looked chagrined and embarrassed fielding customer complaints — during a time when customer communities had a different impact on their vendors.
At the time of the Boston uprising, Atmar noted, HP was easy to take advantage of, because the vendor was afraid of negative publicity. He said that his open letter "basically caused the [1990] Boston riot."
In the fall of that year the users not only stalled the separation of IMAGE from the 3000, but sparked a "Customer First" strategy from HP that was used to retain 3000 customers. HP used Customer First as a model in its other enterprise computer operations. As part of that, customer focused R&D mandated that every employee had to become an expert in understanding customers' businesses so they could know the customers' "pain points." At its best, Customer First let HP anticipate 3000 customer needs in order to be able to deliver solutions that customers might not have even considered. Every engineer and manager was sent on customer visits, to spend a day or two with HP 3000 customers. HP gained insight at a new level, and refreshed its customer relationships. Customer First became a mantra in a new generation of HP 3000 division managers, the idea of customer delight: unexpected features, beyond commonplace requests.
It was a renovation for customers, even if it came at the end of a pointed stick of sharp criticism and some disgust. But as Atmar pointed out, "It was a glorious moment, yes, but as the Roman slaves told the Roman generals, 'All fame is fleeting.' "
Even 15 years later, as homesteading advocacy talks were taking place with HP, the outcome -- a better place for homesteading 3000s -- would've been impossible without the ideals of Customer First that were sparked by that 1990 uprising. On the occasion of the 3000's 25th birthday, Atmar talked about what that birthday of the product -- which was still living on the HP price lists in 1997 -- meant to the customers.
Maturity. If you were a business owner or manager, I can't think of a single word that you would want to seek out and celebrate more than a mature solution, one that can easily demonstrate that it can do what it says it does. Immature solutions, on the other hand, are going to cost you an awful lot of money — and a growing segment of the business community is beginning to understand that. You can only be lead down the garden path so many times before it begins to dawn on you what it's truly costing you.
Posted by Ron Seybold at 01:11 PM in History, Homesteading | Permalink | Comments (0)
May 22, 2015
The 3000's Growth: Built Upon Basics
IT managers with MPE applications still hold hope of better futures for the HP 3000. The future of the system is the same as it ever was in many places, companies and organizations that protect the value of the custom apps they've built. HP miscalculated the value of these in-house, hand-tooled apps. The vendor's warnings of a shrinking ecosystem placed little value in these home-grown systems.
Tim O'Neill rarely misses a chance to illustrate what HP missed in 2001. When our report on the fate of Carly Fiorina's presidential run emerged, O'Neill wrote about the vitriol aimed at all things HP including Carly.
Despite all the errors and vitriol and despair that HP inspired — continuing to this day and even in this space (where space refers to my space) — the world still could use an operating system dedicated to managing data for business and industry, and doing so effectively and affordably, and without the risks contained in other systems not designed for such real purposes.

With proper system engineering planning, oversight, and new development, and modern hardware (e.g. using the product from Stromasys,) MPE/iX could fill the requirement not being met by a few popular proprietary operating systems and dozens of competing alternatives. In the mode of the HP 260 business system, a New Age HP 3000 from Stromasys could be a dedicated multi-user business system with storage on a SAN of choice.
But what is this HP 260 in O'Neill's memory, and why was it successful in its era of the late '80s and into the '90s? Business Basic drove that system. Brian Edminster of Applied Technologies reminded us of what made an HP-designed integrated solution a good enterprise choice.
Stan Sieler of Allegro, owner of a 250, recalled that
"The Classic 3000s had BASIC/3000 and BusinessBASIC. The PA-RISC systems certainly could run programs written in those languages, but also had BusinessBASIC/iX." Edminster cast a light onto the attributes of the business of BASIC.
I first worked on 250/Basic at HP's Rockville office, back before the 250s were even shipping to the public.  I worked for a 3000 OEM at the time, and couldn't help but think that the language on that machine beat the pants off BASIC/3000 (from a sophistication standpoint, at least).

Later, I did some support work on the eastern shore of Maryland, where a canning company was using a HP 250 that had a accounting/distribution system written in 250/Basic.  A little more recently than that, I did some support work on a custom system written in 3000/BusinessBasic on a Series 917 that was used for property management.  It was really very interesting how they integrated credit-card processing via a shared Telamon Engine.  Of course, with PCI requirements being what they are, that application would need to have a number of upgrades in order to remain compliant.

I should check and see if they're still using their 3000.   It's unlikely, after all these years - but I've been surprised like that before. 
Edminster noted that the GrowthPower MRP II system from CSI was another application on the 3000 that was written in BusinessBasic. "It's been ages since I've seen that application either, but I did have a GrowthPower customer nearby that I was helping to keep a 3000 running in archival mode," he said. "It actually had been a GrowthPower site, but had converted to a PC-based MRP system. It took nearly a whole rack of PC equipment to replace what one lowly 917 had previously handled."
The funniest thing was that many of the users still preferred to use the 3000's app, and would, if they were allowed to. It actually took a hard drive failure that made it apparent that some were still using the old system for things that they apparently shouldn't have been. The management had me alter the application to allow read-only access to put a stop to that. (We altered the IMAGE database passwords to only allow read access.) That made the management happy, but didn't earn me any friends with the previous clandestine users of the system.
Posted by Ron Seybold at 12:05 PM in Homesteading | Permalink | Comments (0)
May 15, 2015
SSDs in use on 3000s: Virtualized by now
Earlier this week, a 3000 devotee and technician asked if anyone was using solid state disc (SSD) on HP 3000s in place of the aging SCSI drives in most servers. "It sounds like a great concept," said Jon Jonston, who's working on a preservation project for the HP Computer Museum.
We are just looking to restore images onto a disc for demo purposes. So, even powered down life is not important, but cost is. We have found that IDE->CF works great as a hard disc replacement in old DOS PCs. SCSI2SD is a great low-cost solution (for Apple), but doesn't work with HP. We are looking for a low-cost, single disc SSD for HP 3000 computers.
After one newsgroup user compared putting SSDs in 3000s to a McLaren racing engine in an SUV, a more plausible solution emerged: using SSDs to support a virtualized 3000 running on an Intel-based PC. "You could house your 3000 in a Stromasys emulator running on a Linux box with VMware," said Gilles Schipper, "employing as many SATA SSD disks as you want on your host."
But there was a time in another May when SSDs running native in HP's 3000 hardware was a possibility worth investigating.
It was almost six years ago, and the Charon emulator
was not yet announced. Extending the future of the HP hardware was more of a necessity for a homesteading user. Stan Sieler of Allegro said
he'd be looking into
what would be needed to bring solid state storage to MPE.
"I'm thinking about SSD and SATA/SCSI adapters to speed up the 'obsolete' -- but still world's-best -- business computer, the HP 3000," Sieler said in May of 2009. "I'm hoping to do some tests in the near future."
Sieler said that those SATA/SCSI adapters would be a crucial part of putting SSD on its MPE feet. "Few SSD drives have SCSI interfaces... hence the SATA/SCSI adapter component," he said. "An SSD with a SCSI interface would look completely like an SCSI disk drive."
This kind of design, to mimic the SCSI interface, would've helped to avoid using the SCSI Pass-Through code HP engineered during 2007. The community still hasn't heard reports of how the pass-through works, and HP said that employing it is "not for the faint of heart."
A computer museum would need to ensure that old hardware could be represented in its original form. An IT shop preserving MPE applications, instead of the platform -- not so much. A virtualized 3000 will do. Craig Lalley checked in to report that his Stromasys Charon installation runs from an SSD.
Posted by Ron Seybold at 12:58 PM in Homesteading | Permalink | Comments (0)
May 12, 2015
3000 sites of some size still checking in
Last week we were on the hunt for HP 3000 customers of some size. These are organizations that are big enough to be publicly traded. The distinction can be important to any customer who wants to retain their HP 3000 apps after a merger as part of an enterprise-wide portfolio.
A note here on portfolios: they're not just for publicly traded securities. Applications can be managed, portfolio-style. MB Foster's CEO Birket Foster has shared several lessons with the 3000 community on how Application Portfolio Management practices keep a company prepared for discussions about keeping apps, no matter what environment hosts them. The right time to migrate is a question that APM data can answer for any CIOs who are asking about MPE apps.
As for the 3000 sites of size, three more have checked in. The largest line of candy shops in the US, an online resource for IT products, and a worldwide nutrition company are all current 3000 sites. They all have corporate ownership which must bear the burden of shareholder scrutiny.
The largest candy shop company
in the US is See's Candies. Founded in 1921, See's operates more than 200 stores across this country, Hong Kong, Macau, and Japan, plus it counts on online sales. See's is owned by Berkshire Hathaway. Berkshire's iconic founder Warren Buffett called See's "the prototype of a dream business." Buffett certainly knows nothing of See's IT choices, but his managers surely do. He commented on See's dreamy business in
a book published in 2012
— more than a decade after HP's plans for the 3000 dried up.
(This is the second Berkshire Hathaway 3000-using company we've discovered. Cerro Wire has been a 3000 site for years and is also part of the Berkshire Hathaway group of companies.)
Tiger Direct is an operation of the Systemax Corporation, traded on the NYSE. The parent corporation had revenues overall exceeding $3 billion for the current fiscal year. Tiger was acquired and integrated into the corporate IT of Systemax in 1996, the same year the TigerDirect.com website was launched. Like See's, Tiger Direct sells via web outlets directly to customers.
Shaklee manufactures and distributes natural nutrition supplements, weight-management products, beauty products, and household products. Its $150 million in yearly revenues come from operations in the US, Canada, Malaysia, Mexico, Taiwan, China, Indonesia, and Japan; the company is traded on the Japan Stock Exchange.
All three of these companies sell to consumers using e-commerce packages. High volumes of transactions are keeping 3000s busy in these shops. The stability of legacy solutions, and the design to manage thousands of sales per hour, are making these companies' success a matter of public record. 
If you know of other publicly traded corporations still using HP 3000s, let us hear about it.
Posted by Ron Seybold at 01:22 PM in Homesteading, Migration | Permalink | Comments (1)
May 07, 2015
Whether the End of 2027 is MPE's End, Too
We've just reported on a company that's a member of the S&P 500 and is using HP 3000s. It also plans to keep one of them running up to 2023, only about four years away from the CALENDAR reset which the operating system will do at the end of 2027. But will that be the end of MPE's lifespan?
The CALENDAR intrinsic that may block HP 3000 use in 2028 has been described as a bug. On the first day of that year, dates will not be represented accurately. Some in your community consider that year's New Year's Day, less than 13 years from now, as the 3000's final barrier. But it depends on how you look at it -- as a veteran, or a voyager.
A voyager might see CALENDAR as a deadline for departure. This is one part of MPE that was designed in the 1970s, a period when HP had just scrapped a 32-bit release of the 3000's first OS. And just like the Y2K date design, HP engineers never figured their server's OS had any shot of working by the 21st Century -- let alone 2027. But VEsoft's Vladimir Volokh says, "It's difficult to predict anything, especially the future." An IT pro who's planning to depart the 3000 believes CALENDAR is a bug, but that's not how Vladimir sees it.
"This is not a bug, really," he said. "It's a limitation. The end of 2027 date was as far away as infinity when MPE was created." This is a man who defines the term veteran, the kind of professionals who had to work inside 4K memory spaces to build 3000 programs. Limited and expensive resources like memory and disc were supposed to be extended with newer computers. "Every analyst told us a computer would live five years, at most," Vladimir said.
But as a veteran, you've now come to see the day when MPE's lifespan is reaching eight times that prediction. The veteran who chooses to see CALENDAR as a limitation can refer to HP's own lab response. Engineers during the '90s built HPCALENDAR to start extending the 3000's date limits.
The HP 3000's date intrinsics will outlast those in Unix
, so long as a program uses HPCALENDAR. HP advised its 3000 customers in 2008 to begin using it on HP 3000s. HPCALENDAR harks back to version 5.5 of MPE/iX. Its power lies in the 3000 for use by programmers who want accurate dates beyond 2038 (the limit in Unix) for application files.
Lifting the limits in application date handling -- that's one level of engineering skill. Extending the operating system limits beyond the 16-bit CALENDAR is a task with a greater challenge. It doesn't mean that it cannot be done. What matters is how healthy the 3000's best experts will be in 10 years or so. Vladimir says he'll be younger than 90 by then. Almost everyone in today's community will be even younger. And isn't 70 the new 60? It will matter when the 3000 needs the last set of bits to move from 16 to 32.
There's a old joke about software shortcomings being called features, rather than a bugs. Veterans learn to call them limitations and look for ways to overcome these aging designs. Everything is aging, even something as omnipresent at Windows XP. It's a fact that XP is dying, and the 3000 is dying. Well yes, says Vladimir. He tells his hundreds of customers who he visits, "We are all dying. But slowly."
Looking at the CALENDAR intrinsic explains its hold on the 3000's far future. But consider that 2028 is not so far away that engineers aren't already conceiving technology for that year. Volkswagen has a concept video about a VW that runs in 2028.
Before that future, though, there's always history. When MPE was created in 1970, it started as a project called Omega. The miracle of this engineering was its use of 32-bit computing, still a novelty at the time. But when HP canceled Omega in favor of a 16-bit 3000 -- a management choice that prompted black armbands among HP staff -- it sealed the server into a 57-year period of service.
That's because, as Vladimir reminded us, 16-bit 3000s left only enough intrinsic room for 127 years of accurate dates. The intrinsic CALENDAR, written for the eldest MPE Segmented Library (SL), uses only 7 bits to describe which year is in effect. That delivers a maximum number of 127 years which you can express, and MPE was built with 1900 as its base for dates.
CALENDAR
date

16-bit unsigned integer
(assigned functional return)
Returns the calendar date in the following format:

Bits Value/Meaning

7:9
Day of year
0:7
Year since 1900
HP only allotted 7 bits to describe the year for MPE. Who'd expect that the OS would have a lifespan of more than 50 years? Someone who figured newer and better tools would take over completely by then. It's commonplace to believe in the equivalent of flying cars -- Volkswagen's 2028 model concepts are on the Web, and up in YouTube in a video. (Enjoy the Apple Watch-like commands at the 1:45 mark that show how to customize the VW Ego's exterior.)
Maybe cars will fly in some places, maybe not in others. Oh, but for that one extra bit. HP ordered 16 extra through HPCALENDAR in the 1990s, just too late to influence the heart of MPE.
While working in the realm of those original 16-bit MPE intrinsics, "You cannot make less than 9 bits for the date of the year," Vladimir said. "That would be less than 365 days. So that leaves us 7 bits to express the year."
The '90s HPCALENDAR, reaching into the new elbow room of 32 bits, can use as many as 23 bits for the year. That intrinsic will cover 8 million years, even more. HPCALENDAR is available in Native Mode MPE, and it remains the best choice for any new work done on a 3000's applications.
But MPE's existing intrinsics provide the barrier here: the oldest are in Segmented Library (SL) -- and the newer HPCALENDAR is in Native Library (NL). And the only companies with any chance of adjusting the 3000's dates into 2028 and beyond are those which have insight into MPE/iX source. Then there's knowing what to do with it. They must get into the MPE source and recompile it to use HPCALENDAR.
For complete reference, here's the manual page for HPCALENDAR:
NM callable only.

This intrinsic returns the date in the supported
date type code 4 listed in the table, 
"Supported Date Formats."
Syntax

I32

   date := HPCALENDAR;

Operation Notes

Where date is the 32-bit unsigned integer
(assigned functional return). This returns the
calendar date in the following format:

Bits Value/Meaning

23:9 Day of year

0:23 Year since 1900
Dates don't vex MPEX, Vladimir reminded us. It can do operations with DATE. "If you have MPEX, and who doesn't," he says, "DATETOCALENDAR is a function in MPEX."
Vladimir also talks, on his return from consulting trips to 3000 sites, about the level of 3000 knowledge he sees in even long-time users. Management relies on the HP guys to tell them what's up, and the HP guys don't know.
"There are all kinds of excuses not to know what you're doing," he says. He tells of his philosophy about learning. You draw a circle to represent what you know. "Inside the circle is what you know, outside is what you don't know. You go along the circumference. Only by going along there can you see what you don't know. So you learn, and you draw a bigger circle, a bigger circumference. The more you know, the more you know what you don't know."
In converse, consider the smallest circle of knowledge, just a point. Vladimir adds, "When you know nothing, you think you know everything."
No one knows who will be working in the years near 2028 on HP 3000s. But in an era where Amiga computer games can be played on iPhones -- and companies now earn money for such a creation -- it's easy to say we don't know who will break this 2028 barrier. And they might be driving a car called a Volkswagen, and maybe even using a computer called the 3000, and neither will resemble what we know today.
Posted by Ron Seybold at 08:08 PM in Homesteading | Permalink | Comments (0)