September 24, 2015
TBT: An End to 3000 Management Verve
Sixteen years ago this month, the HP 3000 community learned it was losing an essential component of the platform: A general manager who'd stuck his neck out for the server's customers. Harry Sterling announced his retirement from Hewlett-Packard and the world of the 3000.
Sterling came into the 3000's wheelhouse from a technical role, moving through product development and into the job of R&D manager for the server. On his watch in the labs, IMAGE gained B-trees for state of the art searches, MPE gained a Posix interface and namespace, and MPE/iX got its first Internet tools and utilities. MPE/iX 4.0, 5.0 and 5.5 were developed in the labs that Sterling managed. When Olivier Helleboid moved up from his GM post in 1996, Sterling was ready to make business distinction for the 3000. He was the first 3000 GM whose roots where wholly in tech. 
While Sterling led the division for four years he never lost touch with the customers and their perspective. Even though the overwhelming majority of them worked at small companies, he knew their needs were important to HP. No other leader of HP's management team believed this and acted upon it better than Sterling. Many GMs chose to work for HP, instead serving the vendor's customers. At its worst, that kind of allegiance sparks protests, lost accounts, and untold waste of budget and manpower. Business in computing is hard, but Sterling usually managed to make it look smooth while he kept it personal. He made mistakes, like all of us, but it rarely seemed like the decisions were being made at the customers' expense.
Sterling was one of the best things that ever happened to HP 3000 customers. I can be accused of a clouded assessment because he was a key ally while we established the NewsWire. We never got better access or more cooperation than when he ran the 3000 business. He also green-lit a 25th Birthday Party for the server in Germany in 1997 that made people believe the best was still yet to come. We all needed to hear that while HP made Unix the favored child.
But one proof of his positive impact is the recovery of the platform as a strategic choice for HP. One of the most interesting things that happened in the period he ran the division involved resetting beliefs about computers in the 3000's age group. HP had thought such products were the children that it needed to eat in order to keep growing and improving. After a few weeks talking with Sterling's division managers, technology marketing guru Geoffrey Moore decided his own beliefs about legacy products needed revising.
"There are a lot of technology companies in particular
that never take advantage of a mature market," Sterling said. "Their technology ages and they go back and start over, rather than really understanding how they can leverage that investment into new opportunities. [Moore] has since adjusted his model, and he's now writing a new book that will be focused on how to invest in mature companies. His theory is that the real opportunities for making money are in the mature markets, not in the emerging markets."
Sterling's strategy helped pave the way for his decision to support IA-64 on the HP 3000. He committed to lowering profit margins for the division while it ramped up for the new architecture. IA-64 looked important, and Sterling convinced HP it should pay for the transfer. It was the most significant investment plan for the 3000 customer since HP committed to RISC processors for the box in the middle 1980s. In the end, his intention to rework MPE for IA-64 — now known as Integrity, and vital to enterprise survival in HP's product line at the time — got scuttled after he took an early retirement.

Things didn't get more inventive, or even better, after he left the job for good at the end of 1999. The 3000 passed the technical muster of Y2K, and in time the delayed N-Class systems were finally released for sale. In less than two years after he retired, though, his replacement helped HP stop thinking of any future for the server. I think of Sterling in the same way as I do another Harry, US President Truman. That President's strength was his connection to the citizens, and Sterling's bedrock was his closeness to the customers.
Sterling assumed his GM job under the same cloud of doubt that surrounded Truman — some said he was not classic 3000 GM material, coming from the technical side of the division. A classic GM for the 3000  would have been looking for better post inside HP. Those before and after did just that. Sterling stuck to his job in spite of long odds against the system.
Sterling kept his management style authentic and realistic. Just before he left HP, he gave us an interview where he came out to his customers as a gay man, this during an era when business had far less opportunity for a gay executive. One small-minded subscriber canceled his subscription when he read the article. It was not the first notice HP had received about Sterling's life, though. Years earlier, he'd been part of a Reader's Theatre for top HP brass, and the result was Hewlett-Packard extended same-sex benefits to its workforce — the first Fortune 500 company to do so. He retired early to set up a Palm Springs real estate practice, where he continues to sell with a personal touch.
There were other challenges ahead for the 3000 community, places where Sterling's successor had a chance to leave a mark. The N-Class release and Y2K tech notwithstanding, what was left was a blemish rather than a beauty mark. If there was a zenith to the 3000's renaissance in the 1990s, it could be pegged at 1999's HP World conference. Sterling came out wearing a tuxedo to make his State of the Product Line speech, then unspooled a yo-yo. He had knack for knowing when different would be better for the crowd.
Posted by Ron Seybold at 04:09 PM in History | Permalink | Comments (0)
September 21, 2015
Throwback: FlashPaper strikes fresh match
---
Twenty years ago today your community was gaining one of its best database chiefs at HP, a development we illuminated in the first FlashPaper. In September of that year only a handful of 3000 vendors were operating websites, and we were not among those — so we drafted a last-minute news report sheet to deliver the latest developments into envelopes along with the first complete issue of the NewsWire. We were so full of confidence about a wave of news for the 3000 that we'd come to give the FlashPaper a slogan of "News so hot it might ignite."
We'd made a test-run at printing HP 3000 news, but that FlashPaper of September 21 was our genuine debut into breaking stories as fast as print would permit. The flame of change had been kindled in the 3000 division. We started work to change the forum for the computer from glossy magazines to something chasing newsmakers. We've always called October our birthdate because Issue No. 1 needed a date to match print-time waiting. Nine days was the fastest that print could be written and mailed in 1995.
The IMAGE/SQL lab had a hot seat at the time, its third project lead in three months. Tien-Yu Chen took over for Reynold Schweickhardt, who'd taken over for Jim Sartain at the start of the summer. R&D manager Harry Sterling promoted Chen from advanced development projects like the Critical Item Update team. He was a choice who made changes happen like increasing the scalability of IMAGE. We reported that Chen was the kind of leader who, while meeting with database tool vendors at HP, would grab a file system engineer on the spot to help along a discussion. (Just click on the paper above for a full read.)
Choices between Windows NT and Windows 95 were on customers' minds; the latter was still just a month old, while the former would take its DEC operating system roots and become Windows Server — but the Y2K challenge would be in IT's rear-view before NT grew into enterprise-grade Windows.
Headcount and job assignments were important
to that community of 1995, since leadership was in flux and the 3000 was embarking on a renaissance era in its database developments. Sartain had moved away from the labs to pursue a Master's degree and Schweickhardt was going to Washington DC to help with Congressional campaigns. The '96 elections were 14 months away, though. Chen turned out to be a database chief who'd work on the 3000's heart through the end of the computer's futures at HP.
We reported that a new DBQUIECE command was coming in the 5.5 release, too, a way to support "true online backups so customers can back up system while users are still logged into the database." There was also Etherprint, software that used an HP 9000 workstation to link a 135-page per minute Xerox color printer with a 3000. And what we called an Internet watcher was software to monitor FTP requests for MPE processes, then kill any process with an "unwanted activity of service." Netwatch/3000 never made a big splash in a market much more focused on data exchange over peer to peer networks.
Being able to watch for news at the last moment helped us sharpen our focus and the vision of the community, though. We'd only get so specific on the date of the FlashPaper once more over the 20 years of print: November 14, 2001, the dismal day HP called a halt to its futures for the server.
Posted by Ron Seybold at 07:25 PM in History | Permalink | Comments (0)
September 14, 2015
We keep meaning to shut it down, but...
There's always acquisitions and mergers afoot in business, and the events have triggered some HP 3000 migrations. An entity gets acquired by a larger company that doesn't want to integrate MPE. The next thing you know, Windows is getting its call-up into a batting order where the 3000 used to play. (Sorry, baseball season's heating up as it winds down to the playoffs.)
A transaction that was announced this summer continued the journey of the Open Skies application that began in 1998 in the 3000 division of HP. In that fall, CSY General Manager Harry Sterling purchased the application that had helped to drive the 3000 and MPE into the airline business. "Harry, did you have to buy the company?" HP's next-level execs reportedly asked him. He bought it to show how Software as a Service could work on 3000s. HP called it Apps on Tap at the time.
Roll forward to July and see that the Amadeus Group started the purchase of Navitaire from Accenture. Navitaire became the proud owners of a farm of HP 3000s when the company purchased Open Skies early in the previous decade. By 2008, work was underway to move off those 3000s, a farm of more than two dozen of the N-Class servers. The software tracks mileage revenues and reservations and has been used by airlines including Canada's WestJet.
We got a report last week that a final N-Class server still is in operation, but it's destined for a shutdown. If only the overseas airline customers would stop needing historical reports from MPE/iX.
A large-for-its-time array
is still connected to a 3000 that's escaped the reaper's scythe so far. Mark Ranft, who's chronicled the transition away from MPE at Navitaire, let us know what's keeping a computer built 12 years ago serving some Navitaire customers.
All the customers have been switched over from HP 3000s. We still run an N-Class connected to an XP128 disk array for historical legacy purposes. It could be shut down soon, but we occasionally have a customer ask for some information from it. I guess other countries have unusually long timeframes for keeping detailed records of airline flights.
Navitaire had plenty of airline data business before it purchased Open Skies, but the reservation revenue-tracking software covered a new niche aimed at small carriers. HP only owned OpenSkies for about two years, then sold it to a subsidiary of Accenture. Within 18 months, HP announced its takedown of its 3000 operations. Accenture began developing a replacement called NewSkies, and by 2005 it started to inject it into spots where OpenSkies had served. Before that time, OpenSkies got upgrades from Navitaire, until HP called its halt to MPE/iX futures.
Open Skies, and its progeny New Skies, was always aimed at the low-cost airlines like RyanAir and WestJet. The 3000 had its introduction to airline reservation systems at what was a low-cost airline at the time, Southwest. Of course, Southwest is now the largest US domestic airline in passengers carried, and is paired with overseas partners. At the end of 1993, it bought tiny Morris Air to acquire 14 new Western US destinations, and discovered it'd bought the Morris "online reservation system," back when paper tickets were the absolute standard for air travel. It was like finding change in sofa cushions, including a rare coin.
The New York Times account of the transaction that brought the 3000 into the airline business makes no mention of the server or the software developed in Utah. Legendary CEO Herb Kelleher of Southwest was sharp enough to know low-cost operations would grow the company he founded, however. Morris was shaped like the Southwest of the 1990s, a company that knew a good server when it found one.
Southwest is more focused than Morris on attracting business travelers and is likely to try to attract more by offering more frequent flights. No Southwest routes overlap those of Morris, which will give Southwest a new presence in the Northwest and West, adding 14 cities to its schedule.

Asked about the Morris acquisition, Delta executives appeared sanguine yesterday. "We really don't see that this is changing anything," said Bill Berry, a Delta spokesman. "If we've got to face a competitor, we would rather face a competitor with costs that are much closer to ours."

Delta's reaction prompted a burst of laughter from Mr. Kelleher during a telephone interview yesterday. The cost structures of Southwest and Morris "are virtually the same," he said.
Southwest's adoption of the reservation software made e-tickets so essential that much larger airlines were forced to take up the service. By now, ordering a paper ticket carries a surcharge. Today's Southwest fleet of 600-plus 737s -- built at 3000-user Boeing -- now average six flights per aircraft per day. Delta had to merge with Northwest Airlines to keep up. Southwest turned off its last 3000 in the previous decade, though.
The deeper you go into the Morris-Southwest story, the better it gets. June Morris built her airline out of a travel agency business she ran in the back room of her husband's photo finishing business. Eventually there was a small fleet of chartered planes. Morris was the only female airline leader in the US at the time of the acquisition. The president of Morris Air at the time of the sale was David Needleman, who after leaving Morris went on to found a little operation called JetBlue. And JetBlue used HP 3000s as well, relying on Open Skies software from the start — the App on Tap that HP booked from Day One of JetBlue's operations. JetBlue and Southwest signaled a victory of midrange servers running TurboIMAGE/SQL over mainframes. JetBlue started up with less than a $1 million yearly IT budget.
Open Skies made its money by charging a fee per ticket booked. At the time JetBlue took off, a Computerworld article reported that flight reservations could be made on the Web "and by Touch-Tone telephone."
More than 500 Navitaire employees will go to Amadeus, a company that did 3.4 billion Euros of business last year. Navitaire's sale price was reported at $380 million in a July announcement, a deal that may close as early as next month. In the meantime there's one N-Class 3000 waiting for its retirement date, flying a route with a terminal destination — if one without an ETA.
Posted by Ron Seybold at 07:22 PM in History, Migration, Newsmakers | Permalink | Comments (0)
September 10, 2015
TBT: The End of the HP 3000's Beginnings
HP moved toward its RISC future in small steps. The hardware was first released in 1987's fall. It took another 11 years, but in September 1998 MPE V, the OS that lifted the 3000 into the highest systems count, fell off of HP's support radar. The CISC hardware such as the Series 70 fell away from HP's care, too.
MPE V was the last of the 16-bit operating systems for Hewlett-Packard. DEC had gotten a leg up in the middle '80s by promising that Digital Has It Now, with the now being 32-bit computing. Removing MPE V from the support tree at HP didn't remove the systems from the field. Paul Edwards, the trainer, consultant, and user group director exemplar, used to note that a Series 70 MPE V system was still running in the Dallas area even after HP announced its end-game for the entire line in 2001.
Calling the products its "vintage" software and systems, HP's Customer Support organization announced end-of-support-life dates for all MPE V products running on CISC-based HP 3000s, as well support for what the community called "Classic" HP 3000 computers. 
Classic HP 3000s continued to operate in companies around the world after 1998, even though HP had stopped selling them 10 years earlier. A Classic-to-RISC trade-in program was still underway in 1992. HP estimated that it had shipped more than 20,000 Classic 3000s as of 1986. The Series 37, 37XE and Micro 3000 systems left support in 1997, and Series 39 through 70 systems went off support in January, 1998. By September of that year, HP turned out the lights on the last of the Classics -- the LX, RX, GX and XE models of the Micro 3000.
HP also pulled support for Compatibility Mode
 software products that had a Native Mode equivalent under MPE/iX systems. Stalwart products like Edit/V and NS/3000 V had equivalent NM counterparts, for example.
Two longtime HP 3000 developers, both now passed away, suggested that HP donate the use of the MPE/V versions of its compilers as teaching aids and freeware. In particular, Basic and SPL came in for praise from Wirt Atmar of AICS, who noted that "If HP has abandoned Basic, it would be an extraordinary gift to the MPE user community to make it as well as SPL legal freeware. Basic still remains the easiest language to build complex, easy string-manipulating software that must interact with IMAGE databases."
Atmar noted that HP originally expected that the vast majority of the application programs written for the HP 3000 would be written in Basic. Therefore, he said, HP invested heavily in 1973 to put together an extremely well designed language.
Bruce Toback, a developer of HP 3000 software, added that Basic/V "is an incredibly useful API scripting language. If it's no longer of any value to HP, either placing it in the public domain or releasing it with a GPL-type license would be a no-cost way of providing a substantial benefit to the user community."
Chris Bartram, whose company continues to host HP 3000 technical papers, software, and MPE resources, said in 1998 that donating the MPE V versions of Basic and SPL would mesh with HP's then-new policy of relying on shareware for its HP 3000 customers.
"It certainly doesn't hurt anything at this point to make it freeware," he said at the time, "and it fits in well with the wealth of other freeware programs that are becoming available on the platform — almost all without "official" support or significant investments from HP."
Bartram and the next generation of 3000 OS software have survived long after HP missed that chance for source code donation. The source of MPE/iX was put up for licensing for a brief period — but only the old hardware has even been offered as a donation. One HP 3000 Series 70 was for sale in 2011 on eBay, but lately the newer N-Class servers have been seen at nearly the same price.
Posted by Ron Seybold at 06:00 PM in History | Permalink | Comments (0)
September 03, 2015
TBT: In the Thick of Proceedings Season
Before you even left your house for a flight to an HP user conference in the Eighties, you had to leave room in your suitcase for the thick books of proceedings. So much room, by the middle of that decade when the 3000 grew fastest, that you might have leave behind the booth swag you snagged from conferences like Interex annual meetings.
30 years ago this week, I was packing for my first national HP user conference. The Interex meeting was scheduled for Washington DC, the first time a HP 3000 users conference would meet in a national capital. We learned things afterward by packing up these fat tomes in our bags for the return trip. It was an era where you advanced your skill set by reading papers, printed in monotype Courier off HP 3000s which were running HP Word, or WordStar off a PC. HP could provide WordStar on its HP-150 Touchscreen PCs. It hadn't earned good notice for the utility of its touchscreen functions, though.
The graphic design for proceedings was spartan at best. At least half of the papers were written by users, and every professional who attended a show went home and hoovered up that wisdom that was shared without regard for reader comfort. The 200 papers from the Interex '87 show required three volumes of more than 700 pages each. The papers were printed in alphabetical order of authors' names, and nary a page number is to be found.
In addition to meeting in DC for the first and only time, 3000 users in September, 1985 could hear a speech from an HP CEO. David Packard was a former CEO and current HP board member when he addressed the multitudes at the conference. While Packard's speech has been lost to the wilds, those proceedings papers remain in closets, online, or fixed in the skill sets of the 3000 managers who have moved on to other platforms. Most printed advice that did not yet have the benefits of HP's LaserJet marked milestones on those hundreds of sheets printed each year.
Presenting a paper helped your career,
whether you were a rock star of the community or just a hard worker moving up. Eugene Volokh, at age 17, published a 53-page paper in that 1985 proceedings set on
The Secrets of System Tables.. Revealed!
The paper started with parody of a Norse poem, revised to include 3000 terms.
During an era when the work in computing was called Data Processing, one paper from HP Major Accounts rep Bill Franklin cited a survey showing "in many organizations, less than 1 percent of all management decisions are being made using on-line interactive systems." Batch was big, apparently, but another paper provided methods to alleviate the 3000's "grave failings as a batch job machine." 
It was a time when the fastest growing segment for 3000s enabled a practice being called Office Automation. HP rolled out the Series 37 during the year that led to Washington, and the vendor dubbed it The Office Computer. You could use what the industry still called a minicomputer without special cooling or a raised floor for cabling. Setting up a 3000 on a carpet was still a fresh achievement.
"Our office workers had little if any, access to computing," Ellie East of Media General wrote in one paper. Her DP department "established the company-wide use of the HP 150 computer by approximately 150 executives, managers, accountants and secretaries." Those Touchscreen 150s were in the mix to reduce the computing load of the 17 HP 3000s across the company. Lotus 1-2-3 spreadsheets made that happen.
Spell-checking from word processing was not as important as vetting concepts and DP practices for the papers. You were more likely to get called out for formatting errors on your printed report. One paper delivered 10 pages of tips on "Writing Intellegent Software." It was an era when "compatability" could appear in a headline that I wrote the next year, a gaffe that didn't trigger even a handful of calls. At least that DP pro in DC could point to tech skills that I could not claim, not from the HP Chronicle editor's chair. Our very first booth, one we'd built ourselves, was a DIY number so heavy that it needed a fork lift to make it onto the expo floor, down in the basement hall of the Washington DC Hilton. The ceilings were not 10 feet high. We were upstarts in that hall, tilting at the Interex publications windmill with an editor who was more newspaper writer than proceedings aficionado. 
In that Washington DC September week, there was evidence of volunteering on every proceedings page. Interex '85, billed as The Information Crossroads of the 80s, was hosted by the Baltimore-Washington Regional Users Group. At the meeting's pinnacle where the volunteers took a bow, they all sported red blazers, the ones they'd been wearing all week. The RUG officers told us the coats were an invitation to "ask me" for help about finding which talk to attend, or where an event could be located.
The Interex 85 conference was among the last to be driven by a focused users group. 3000 managers and vendors from the Southeastern Michigan Regional Users Group hosted Interex 86 in Detroit. Users took home another two-volume set of proceedings. By Interex 87, held in Las Vegas in another September, the role of the RUG in national meetings was on the wane. An icon as flashy as a red jacket would not appear on the stage of another meeting. Those tomes of technical paper, gathering the advantage of desktop publishing to reduce their page counts, would survive for another 14 years of conferences.
A sampling of such classic proceedings from the 1970s through the end of the Interex era is online at the OpenMPE website. I've got no idea how those thousands of pages were driven into digital images, but the brute force that must have been required matched the rolled-up sleeve approach to 3000 DP of 1985. Captured in those online pages is advice on software which still runs on 3000s of today, such as IMAGE and its logging capabilities. The first TurboIMAGE Textbook was still four years away from that week in DC, and it also caught a 3000 wave that was powered by paper.
Posted by Ron Seybold at 08:06 PM in History, Homesteading | Permalink | Comments (0)
September 02, 2015
The Heritage of Enterprise Consumerism
The heritage of your computer marketplace is driven by many more failures than successes. HP attempted to build a multiple operating system technology (MOST) system in 1993, mostly by re-engineering MPE and Unix software for customers who needed both environments.
MOST failed in alpha tests and taught Hewlett-Packard a lesson: do not promise so much flexibility that you kill performance. MOST was too slow to do the work of a single-OS system of the early '90s. The technology for multiple-OS computing was still five more years away, in Superdome. By the time HP polished Superdome, it lost its taste for expanding its MPE business.
That story has been echoed in the market many times. Virtualization and cloud solves such challenges today. But in 1993, NeXT Computer was killing itself by shipping a version of its OS that actually ran slower than the prior release. NeXT was the brainchild of Steve Jobs, who'd been kicked off Apple's throne by a board that was steered by John Sculley. Recent news has Sculley unveiling a new Android smartphone that won't be sold in the US. Aimed at China and emerging markets, this new Obi is, and so it avoids some competition with Apple.
Sculley, the former CEO of Pepsi, had been brought in to Apple by Jobs. The insanely great wunderkind knew he needed help to reach consumers. The move cost Apple momentum that elevated Microsoft and Windows to the top tier of business computing. Jobs tried to rebound with NeXT. Like MOST, the NeXT was way ahead of its time. Consumer-grade Unix was still 12 years away, lurking in the dreams for Mac OS X.
HP 3000 owners care about this because of their computer's heritage. Another consumer whiz, Dick Hackborn, climbed onto another board, HP's, and turned the LaserJet consumer reseller model onto the rest of HP's business. Direct contact with small to midsize customers became a task HP delegated. A 3000 shop that once knew its OS supplier through an SE or a CE had to learn to use resellers. The 3000 division lost track of the majority of its customers, and when the large sites yearned for a Superdome, nobody was able to keep in touch with customers who didn't need such a beast.
Sculley might do well with the Obi, even after a pratfall at Apple. On the other hand, the results might be Obi-Wan. It takes a failure to learn something, most times. MOST taught HP about speed, benefits, and the need for enough brainpower to enable something better (MPE) to drive something popular (Unix). The 3000's heritage flowed even and steady for awhile after Hackborn bent HP to a consumer beat. The loss of focus sealed the 3000's fate at HP, though.
Enterprise and consumer computing were distinct
entities when Scully and his pratfall pushed Jobs past another failure, NeXT, and into Apple. Now Scully will be competing with the ghost of Jobs, trying to sell a smartphone against the iPhone. But heritage does not mean that fate is cemented. The 3000 was never going to prosper in what HP was on the vanguard of building: enterprise consumerism. As it turns out, HP was not going to succeed at that either. Hackborn's board because erratic and dysfunctional.
While 3000 users plan their futures, they should look at the heritage of replacement candidates. A Scully smartphone will be as popular as Pepsi in emerging companies. It might be just as empty of enterprise sustenance, unless Sculley has learned the lesson HP has embraced: enterprise and consumer computer businesses should be run differently. In 60 days, Hewlett-Packard and HP will mean different things when the company recognizes the differences and splits.
Posted by Ron Seybold at 05:14 PM in History, Newsmakers | Permalink | Comments (0)
August 27, 2015
TBT: Hurricane lashes Platt's Interex debut
The annual Interex user conference ended its run in 2005 before Hurricane Katrina chased off the show that tried to replace it in New Orleans that year. Katrina will be much in the news over this weekend as the world remembers the 10th anniversary of that disaster. Interex had often scheduled its conferences for the peak month of hurricane season. The group's luck ran aground when Hurricane Andrew made its landfall in the week that HP planned to celebrate the 3000's 20th anniversary. The storm came ashore near New Orleans, where that party was scheduled.
It was a week when the company's new CEO, Lew Platt, was supposed to make his debut at a keynote in front of 3,500 customers at Interex '92. Platt was only the second man ever to be elected to the top job at HP, and the retiring CEO John Young didn't have an engineer's roots like Platt did. This was an HP insider who was a technologist, proud of his roots, and humble enough to take up a habit of eating his meals in the HP cafeteria.
Young was scheduled to deliver a keynote to the conference, but Hurricane Andrew changed those plans. The storm had just ravaged the Florida coastline with Cat 4 winds the day before Young's keynote was supposed to appear. Young's appearance was transferred to a moment for Platt, just as the leadership of HP was going to pass to Platt by November. But the severity of the storm set even the CEO-designate into flight.
In the plaza in front of the Hilton Riverside Towers, Platt was trying to make his way to a running limo that would get him to the airport before flights were grounded. But one customer after another wanted just a moment of his time. After a handful of delays, his wife Joan insisted on his safety. "Lew, get in here," she shouted from the limo. One of the company's most grassroots leaders had to depart his storm-lashed debut week.
The Series 987 servers were also making their debut that week, the second generation of the PA-RISC chipset for 3000s. HP was pushing the message that MPE/iX was an easy porting destination for Unix applications, pointing out that General Mills had moved a third-party warehouse app from Unix to the 3000. "It had been generally accepted that it was much easier just to buy a new platform for the application," HP's Warren Weston wrote in the HP Chronicle. "However, after further investigation, the decision was made to port to MPE/iX." It might have been the last time the vendor promoted the 3000 over Unix in a public message.
The 3000's operating system was getting
its first version that could support Berkley Sockets, technology that I reported in the
Chronicle
"is aimed at the same target audience awaiting Posix functionality on HP 3000s: application developers who already have programs running on Unix-based systems."
MPE/iX 4.0 was "one of the highest-performing commercial operating systems in the industry," said then-GM Rich Sevcik, who'd go on to lead HP's launch of the Itanium chip program. He compared the 3000's value to that of IBM mainframes. "MPE is significantly easier to use and less costly than competitive operating systems such as IBM's MVS."
HP's 987 got the new PA-7100 chips, which made the 9x7s the next-to-fastest tier of 3000s in that summer week. The company was pumping its installed base to get sales numbers up for the 9x7s. The non-RISC Series 68s and Series 70s could be turned into 9x7s for as little as $3,000 on the low end of the 9x7 line. Even trading in the first-model RISC Series 950 for a 9x7 would earn a $50,000 credit.
HP was still hoping to make IBM's midrange customers take heed of the 3000. The company said that in comparing the 3000 to the AS/400, "a mid-level HP system would be 60 percent cheaper than the cost of hardware, software, and support for the comparable IBM system."
Posted by Ron Seybold at 08:27 PM in History | Permalink | Comments (0)
August 24, 2015
N-Class 3000 now priced at $3,000
The ultimate class of HP 3000s, the N-Class, entered the 3000 marketplace with servers for sale that started in the mid-five figures. The lineup included a server rated at 440 MHz with a single processor, and that N4000-100-440 model has a unit on the market selling for a bit less than its original price of $210,000. Quite a bit less.
Cypress Technology posted a notice of the server with a price tag of $3,000. That's a markdown of 98 percent over the lifespan of the product.
A great deal of time has passed between those two price points. The N-Class prices were announced in February 2001, only nine months before HP revealed it was canceling its 3000 futures. The servers shipped to a limited number of sites in advance of the HP takedown notice. The N-Class servers were a great value compared to prior-generation Series 900 HP 3000s, but this 100-440 unit was in the middle of a lineup that ran in price from $70,000 to more than a half-million dollars.
Jesse Dougherty of Cypress said the server has a 300GB disk in addition to the traditional so-wee 9GB boot drive. There's 4GB of RAM and an MPE/iX software set, and the latter's got some transferability, according to Dougherty.
The ability to assume a valid MPE/iX license was once a benefit to a 3000 manager, since it conferred supportability from HP of the system. But HP's support carrot has long since withered away. There's residual value in a server that was built 12 years ago, though, and perhaps at least $3,000.
Given the right paperwork for the N-Class
so this license could be transferred for HP's $432 fee -- and the vendor will take that payment today, more than 13 years after its exit notice -- such a system could pass an auditor's screening and become a valid player in an enterprise environment. Plenty of third party companies are on the radar for support.
Without that paperwork -- HP wants to see a chain of ownership from an original purchaser, or a letter attesting to it -- some auditors might reject such a purchase.
At a cost of $3,000, though, this server is at least a source of spare parts. Parts are becoming more essential by the day for the homesteading HP 3000 user. Those who've moved to the virtualized hardware set sold by Stromasys for their MPE/iX applications are not seeking a server for the value of its parts. The N-Class comes with a 100 Mbit Base-T LAN adapter, too.
Posted by Ron Seybold at 10:32 PM in History, Homesteading | Permalink | Comments (0)
August 20, 2015
TBT: 3000-TV debuts along with Newswire
Twenty years ago this week, the annual Interex conference included two fresh elements for HP 3000 customers. The ones who stayed in conference hotels could watch closed-circuit TV programs devoted to the HP 3000. The 3000 News/Wire made its entrance at Interex 95 in the Metro Toronto Conference Center's exhibit hall, too. We'd driven 500 copies of our pilot issue from Texas to Canada in a minivan to circulate on the show floow. HP drove its pro-3000 message onto the televisions in four Interex hotels.
Those TV shows have essentially vanished without a trace, and Interex 1995 marked the only show where the computer got its own airtime on TVs in public. Hewlett-Packard's 3000 PR crew extended me an invitation to appear on one of the broadcasts to introduce the News/Wire, a piece of great fortune for a publication that had only four pages of print to its credit by that August.
Some fellow named Lew Platt was on another TV segment, talking about his job as CEO. The management roundtable featured a gag where HP executives got asked why IBM usually came to customer meetings dressed casually. HP's execs stood up on cue and shed their coats and ties. VP Ann Livermore, the only woman on the panel, did not have to alter her dress.
At the conference, an HP of about $24 billion in annual sales was introducing the HP 3000 Coexistence Solution Strategy, "a selection of products and guidelines that ensure complete integration among HP 3000 Business Servers and other open systems, including Unix-based computers."
We interviewed general manager Olivier Helleboid for a Q&A to appear in the first full issue, and he already had a sound bite ready about the new strategy. "Wearing one size fits all computing garments doesn't suit our customers facing today's changing technology," he said, adding that the scheme would "make the HP 3000 fit neatly into environments where companies use more than one platform."
It was a time when the vendor referred
to the "Internet HTTP protocol" as freeware, "and this enables the HP 3000 to be used as a World Wide Web server without any additional hardware." The World part of those W's was still in transit. MPE was missing domain name services, and Netscape's web server would never arrive as a solution for the 3000. The one customer using their 3000 for web services was running an company-wide intranet. But an enterprising engineer from outside of HP got the bedrock of porting up and running that summer. C++ was a new tool.
Mark Klein, then working in the ORBiT Software lab, used his own time and resources to bootstrap the Gnu C++ suite for MPE/iX 5.0. This would make possible the porting of inetd and bootp capabilities, "software that is common to Unix-based environments," HP reminded us. Such 3000 advances seemed to be reflections of what HP's Unix already had on offer.
The "HP-UX multiuser systems" came in for special mention in the company's quarterly results press release, "with particular strength in the telecommunications market." Striving to paint the 3000 in as many industry-standard hues as possible, HP touted Oracle's Transparent Gateway for IMAGE/SQL, and connections to the Sybase database were promised for the first half of 1996.
The management roundtable, an event that featured customers asking unscreened questions of HP VPs, appeared as it often did, "a process that serves as a sounding board for some customers, as black comedy for others, and can sometimes provide information about unmet needs in the customer base."
The flashiest bit of dark humor came from a Japanese customer who reported he'd bought 200 HP-UX servers to date. "The problem is, their quality sucks," said his interpreter. HP's Sales and Marketing chief Manuel Diaz jumped in quickly as the ballroom rocked with laughs. "Somehow, it sounded better in Japanese," he said. 
That Interex show rose its curtain in the classic, sticky Lake Ontario summer air, while Microsoft unfurled the Windows 95 banner, 300 feet worth literally draped off a tower in Toronto. Win95 was about to ground NewWave, marking the end of HP's unique R&D into GUI.
I watched an aerial daredevil rappel down the CN tower that week, one of a half-dozen stunts Microsoft staged in contrast to the laid-back HP marketing. Printer sales continued to be a hit with HP's consumers while the company hoped to capture IT dollars with its Vectra PC line.
But not even agent-based object-oriented software like NewWave could spark sales like a Windows campaign that used the Rolling Stones' Start Me Up, trumpeting Win95's new Start button. Paying $3 million for the rights to use the song, Microsoft tattooed it into our brains -- enough that I played it in a loop while I batted out the first edition of our FlashPaper late-news insert as we rolled the presses on the full NewsWire — taking the slash out of our name because being wired was clearly essential to delivering news.
HP was encouraging its customers to watch another sort of TV in the month to come. An HP Technology Close-up Broadcast, MPE and Unix Interoperability and Management, was going to air in HP's offices in September. HP told its customers at the show that if they couldn't be in an HP office that day, they could get a recording on VHS afterward, ordering over an 800-number — in the days when toll-free was only available using the 800 area code.
Posted by Ron Seybold at 08:00 PM in History, News Outta HP | Permalink | Comments (0)
August 13, 2015
TBT: An August Switch of HP Bosses
In an August of 16 summers ago, the first woman to lead a Dow 30 corporation waded into her new job as HP CEO. Carly Fiorina took the job that the HP board handed her after it ushered lifelong HP employee Lew Platt out of the top seat at Hewlett-Packard. At the first press conference announcing the transfer of power, Platt got himself hugged by Fiorina. It was a disarming move that signalled new days for the HP hegemony, and two years later, changes for the future of the HP 3000.
Fiorina made her mission the overhaul of the collegial HP, a company whose directors believed had missed the opportunity of the Internet. Platt was at the helm while Sun Microsystems ran laps around larger vendors like HP, as well as IBM. The 3000 was gaining its first sets of Internet-ready subsystems that summer, but Sun was already dug in as the first choice for a way onto the Web.
Fiorina arrived at her HP job too late to make an appearance at that year's HP World conference in San Francisco. It was an unfortunate circumstance, since the conference represented the largest group of HP customers to gather in one spot for that year, as well as many others. HP was celebrating its 60th anniversary, but it was Year One for the changes that would lead to pursuing growth through acquisitions of ever-increasing size. Within two years, the purchase of Compaq would represent Fiorina's boldest stroke, an acquisition that forced the vendor to select which business lines could be eliminated to prevent overlap.
The Compaq community of VMS users made the cut that the 3000 missed, and some in the MPE community believe that Fiorina knew little to nothing about the division whose futures were considered finished. In time it's become evident that most of the relatively-small businesses in HP built on server and OS technology have little future left at the vendor. One well-known 3000 citizen, the final Interex chairman Denys Beauchemin, reported this summer that VMS is experiencing the same fate as MPE, just a decade and a half later. Its heritage isn't saving it, either.
In the midst of a discussion about what the Truck Factor
is for the 3000 and MPE, Beauchemin said he remembers MPE and its ecosystem fondly, but "dead is dead."
These days, I am watching the same death spiral with VMS, which HP also recently killed but in a somewhat cruel twist they are prolonging the agony a little bit.  Now I migrate VMS/Rdb environments to Linux and Oracle. The VMS ecosystem is larger than the MPE one, but it's also older than when HP killed MPE, if that makes any sense.  At the last VMS show, I don't think there was anyone under 55.
In the summer that saw Fiorina's ascent, Ann Livermore set aside her campaign for the CEO job and went to work for the HP Enterprise business afterward. HP was trying to catch up in Internet services including its oldest business platform, offering a solution it called e-services, I noted in an editorial.
Livermore's team wrote the e-services chorus in lightning speed compared to HP's classic pace. Now she's the lightning rod for the company's continuity, and its spark into the top ranks of Internet businesses. Keeping her at HP after a springtime campaign for HP's top job will be an interesting challenge for Fiorina — perhaps the place the new CEO can make her quickest contribution.

I don't mean to minimize Fiorina's ultimate impact on the 3000 community. Having a fresh perspective on the 3000's prospects could be a turning point. While outgoing CEO Lew Platt was eyeing HP's bottom line, he could have been looking up to high-profit businesses like the 3000. His HP Way did not nurture a risk-taking environment. But Platt is more than his oversights. He can take credit for creating an environment that opened the door for the changes of Livermore and Fiorina.

Platt has been keenly aware of a woman's presence earlier in his life, when his first wife died. In a recent BusinessWeek interview he talked about HP giving him the room to grieve, even afternoons off. "It taught me that things I thought were gender-related were not about gender at all, but about the role you are thrust into in life," he said.
Platt had made his promises about the future of the HP 3000, starting from the first HP user conference where the NewsWire was present. "HP has worked extremely hard with a product like the HP 3000 to make sure that people who have bought it have a good future," he said in another August, four years before his 1999 retirement. He did envision some kind of transition. "We've put an enormous amount of energy to make sure we can roll those people forward," he said, a message I read as extending the lifespan of MPE.
One year after Fiorina took full hold of the reins of HP's future, she was seen in an Interex user group meeting with a pledge of her own, delivered via video. She made special note of the stumbling start for the system during her remarks broadcast 15 years ago, at HP World 2000.
"HP World has grown out of a single customer commitment, one that has lasted 27 years," Fiorina said. "In 1972 HP introduced the HP 3000, our first multipurpose enterprise computer, a product that has been praised as one of the computer industry's more enduring success stories."
"But it didn't begin that way," she added. "In fact by many counts it got off to quite a rocky start. The first few systems were plagued by software glitches. And Dave Packard's personal commitment to his customers turned the HP 3000 story around dramatically. First he sent teams of engineers to work around the clock until the system worked flawlessly. Second, he made sure that any customer upgrades could be easily integrated into existing 3000s. And thanks to his promise to be flexible and grow with the customer, what we're now calling the e3000 has experienced almost three decades of success, and continues to thrive with a loyal following."
Platt died at a young 64 years of age in 2005, a wine lover spending his last years enjoying a director's role at a major vintner. Meanwhile, Fiorina promises to make the coming Republican primary season interesting, daring to unseat others with longer track records.
Posted by Ron Seybold at 01:44 PM in History, News Outta HP | Permalink | Comments (0)
August 11, 2015
Emulating the 3000's Strong Heartbeat
A full hardware emulation makes the Charon HPA virtualization package a viable choice for keeping MPE applications alive. But what about emulating the essential parts of the 3000's software stack elsewhere? The goal of getting MPE and its riches to operate inside another environment has been enticing, and sometimes elusive. The heart of the system lies in IMAGE, wired thoroughly into the 3000's file system.
HP wanted to be in this business itself, a few decades ago. Allbase was one of two attempts at doing a relational database on MPE. HP Image was the other. Allbase could not get traction in the 3000 base, and HP Image struggled to get out of HP's labs, although both of these products were compatible with the HP-UX environment. They were not faithful enough to the IMAGE structure and design — that 98 percent compatible curse vexed HP Image in particular.
Coming close to emulation's database potential -- where a relational database can behave like IMAGE -- is also in a couple of spots in the 3000's story. "It's fairly easy to use an RDBMS to emulate most of IMAGE," said Allegro's Stan Sieler, who created advances such as b-tree support inside IMAGE. "It's the last few percent of emulation that gets hard to do efficiently." The efficiency factor is what drove down the hopes of HP Image.
One of the few companies to make a good business out of IMAGE emulation is Marxmeier Software AG, which still sells its Eloquence database in HP-UX, Windows and Linux markets. The product has a TurboIMAGE Compatibility extension to accommodate applications that have been migrated from the 3000 to those commodity platforms. It's still the best database choice for any system that needs to move unaltered from MPE to an environment supported by many hardware vendors.
Long ago, Robelle summed up the compatibility — one way of looking at emulation — between Eloquence and IMAGE. "Eloquence supports the same data types as TurboIMAGE, the same record layouts, and the same indexing (plus new options). The transformation needed to convert IMAGE databases to Eloquence is simple and automatic. Either use Suprtool to copy the data, or use Eloquence's DBExport and DBImport utilities. However, the file formats and internal structures of Eloquence are dramatically different from IMAGE. Only the programming interface is the same."
Unlike the Eloquence offering, pitched to a distinct customer base but with benefits to 3000 migrators, HP had to stop thinking about attracting SQL-hungry customers from other platforms with its Allbase and HP Image designs. As it turns out, satisfying the needs of the IMAGE-using ISVs and users was more important. This might appear to be another case of backward compatibility, and investment protection, holding back the broader reach of the HP 3000. Sieler says the compatibility doesn't hold things back, though.
"I'd argue that "backward compatibility" doesn't hold back
growth," he said. "It enables growth by having a larger pool of software ready to run on your newer models! Remember, the HP 3000 had it easy. The hardware was developed by another HP group, so the hardware development cost was nearly zero.  Few other operating systems, outside of Linux, have that kind of advantage!"
For the most part, the PA-RISC based 3000 hardware was developed by the 9000 people. Indeed, it's 100 percent the same — except for some models where they decided to not deploy MPE. In some cases that was because a slightly different IO driver set might be needed.

In the 935 era, the only difference (other than the name plate and the price being higher for the 3000) was a single EPROM on a disk controller, with essentially one bit different, so MPE could refuse to boot on a 9000. That bit was eventually moved to Stable Storage, so the hardware was then identical other than the nameplate and model number plate.
Posted by Ron Seybold at 10:46 PM in History, Migration | Permalink | Comments (0)
August 07, 2015
Dress Down Fridays, or any other day at HP
Last week we reported on a culture shift at Hewlett-Packard, relaying a story that the company had a confidential memo in the wild about dress codes. Dress up, it encouraged its Enterprise Group workers. The developers and engineers were a little too comfortable in the presence of clients.
The story became an Internet meme so quickly that HP scrambled to sweep the news away. Alan May (above), the HR director of the complete entity now known as Hewlett-Packard Corporation, even made a dandy video of three minutes full of humor, telling the world that HP workers are grownups and professionals. They decide how to dress themselves.
Running with that latest news, a few veterans of the 3000 community decided the story was just made up by The Register, which uncorked the original report based on a confidential memo they'd acquired. El Reg, as the website likes to call itself, must have been lying or worse.
Not so much, even though that HP video is charming. The Register took note of May's comedy, saying "Fun HP video, but none of this changes anything... except one thing: a webpage in the "HP Technology at Work" section of HP.com, dated August 2013, titled "Being smart about casual" and listing do's and don'ts for workplace attire – such as no short skirts or sandals or ripped jeans, and so on. HP still has a link to the article." HP fixed up that link so it now goes to May's fun video.
These are interesting times for Hewlett-Packard, a company that this week shared its Oct. 31 split-up details with support customers. It's not clear if May will be in the Hewlett-Packard Enterprise, or with HP Inc. come November 1. For the sake of the Enterprise customers who were former 3000 sites, we hope he stays in the HP segment serving business computing. His hat calls attention to the picture of Bill and Dave on the cubicle behind him. The founders managed a company with an obvious dress code. White shirt, tie, or a nice top and skirt.
The founding 3000 engineers knew that you only get one chance to make a first impression -- the fits-and-starts launch of the 3000 notwithstanding. It took awhile, but eventually what ran on the HP 3000 inside HP became the focus of customer visits, the same kind of visits that sparked that dress code advice that HP seems to have put under its corporate carpet.
On a swell website called the HP Memory Project
, contributor Hank Taylor reported on how the array of systems that drove Hewlett-Packard — and had been migrated to the 3000 — impressed customers on visits. Heart, a system that controlled and monitored every sale and transaction across HP, was a showcase.
As the HP 3000 became a stronger and stronger processor, Cort Van Rensselaer had the vision to see that developing manufacturing systems on this platform would have several advantages to the company. It would give us a showplace for customers to see our computers in action. [The 3000 census at HP circa 1996 is below, in a slide made for customers.]

Allan Imamoto made the leap of faith and with his team worked out a way to process Heart on the HP 3000. All these conversions turned out to be a very good thing for the company. During my years with Heart and Corporate Networking Services HP was expanding from the manufacture and sale of engineering products into the business computer market. John Young, the CEO of HP said, "It was hard work; believe me, just getting customers." We were selling to people we had never sold to and at the highest levels in their corporations where we had seldom made contacts before. John said, "IBM owned every company outside of the lab or the factory floor."
The solution to breaking into new companies turned out to be bringing high level executives to Palo Alto to attend HP management seminars where they were introduced to our actual information systems processes. It seems like I was making a presentation, along with many of my fellow IT workers, weekly. These presentations had the credibility of hearing from someone who had actually done the things the customers wanted to do. Heart, Comsys, Manufacturing and Accounting systems were all very impressive to our visitors.
Posted by Ron Seybold at 05:19 PM in History, News Outta HP | Permalink | Comments (0)
August 06, 2015
Throwback: The Hottest 3000 Conference
Looking back, Central Florida in August would've been a hot choice no matter which conference was on tap. But in 1988's first week of August, the Interex annual North American show set up to welcome 3000 users who could not believe they'd landed in the jungle heat of a Southern summer. What was hottest was the prospect of the first hardware revolution in 3000 history, the initial Spectrum-class Series 950 servers.

Users, vendors, and HP's experts lined up to speak and find air-conditioned refuge in the first conference since the newest PA-RISC HP 3000s shipped. It was an era when a user group conference brimmed with user papers, written by customers sharing their experience. One paper looked toward migration trends, the kind that would shift a 3000 site to Digital or IBM systems because things were changing too much in the evolution of MPE and its hardware.
Some HP Precision Architecture machines will have been in use for several months. Also, we will have moved closer to the date when the Series 955 (or some other larger machine yet unannounced as of this writing) will be available. Are HP 3000 users moving to other manufacturers' systems? Did any HP users start to leave and change their mind or leave and come back?
Another kind of migration was underway already: the move from MPE V to MPE XL. The 1.0 version of the new OS was all that HP could sell by this Orlando show. Dave Elward of Taurus Software presented a paper about how to succeed in that kind of migration. Everything had changed at the new hardware's fastest level, even though HP had built a little miracle called Compatibility Mode to let existing applications run at a much slower pace.
The first step towards a successful migration is education. MPE XL contains many new things that at first can be overwhelming. What is comforting is that when you begin to use MPE XL, you don't even need to know you're using it. All of the commands you are likely to use perform just the same, and programs moved to MPE XL in compatibility mode just run. Only when you are ready to maximize the benefits of your new machine do you need to have a good understanding of the migration process.
The technical proceedings of that era
are focused on the Classic MPE V version of the OS, in largest part. The OpenMPE website is the archive for the period when a national user conference could be held in a city half the size of today's Omaha. The world of the 3000 seemed larger, though, as Unix was only starting to break through as an IT alternative. "UNIX is a vendor-independent operating system," went the paper "Comparing Unix to Other Systems." Vendor independence would be available with Windows and eventually Linux, but the Unix that would assail HP 3000s in the late '80s had as many variations and dependencies as vendors who sold it.
On the lineup for Interex '88 — a conference that soon sported buttons that bragged I Survived Orlando in August — papers covered "Pitfalls of Offloading Applications to PCs" and "How to Train a Terminal User to be an Effective PC User." One tech talk outlined the transfer of dial-up facilities for a raft of HP 150 Touchscreen PCs that were connected to HP 3000s, bragging that 9600-baud service was well worth the investment. 
"Each of these 150s call our HP 3000 twice each night: once to upload the day's transactions, then later to download a newly updated customer file," the IT manager reported. "We use HP AdvanceLink as our communication software." In another paper, the merits of that HP terminal emulator were debated versus WRQ's Reflection software.
The Interex user group selected a venue like Orlando because of an active Regional Users Group in the state. FLORUG provided volunteers, like the other conferences of the era, but there was nothing to be done about the weather. User conferences were scheduled to hit vacation months, but Orlando in August features 95 percent humidity, nighttime lows that don't fall out of the mid 70s, and enough rain to convince anyone it's prime hurricane season.
Once the sun went down, users found ways to keep cool while they enjoyed warm technical exchanges. The MPE legend Eugene Volokh presented two papers at the conference, and at the tender age of 20, held court for an evening with 22 of us at a local restaurant. Volokh's paper detailed programming for the nascent MPE XL, and he had a confidence that belied his years. It was time when FedEx was still Federal Express and papers were printed on fixed-width fonts using the then-novel LaserJet.
Thanks especially to Gavin Scott for letting me test out all the examples on the computer in the two hours between the time I finished writing it and the time I had to Federal Express it up to the Bay Area RUG. Finally, any errors in this paper are not the fault of the author, but were rather caused by cosmic rays hitting the disc drives and modifying the data.
Posted by Ron Seybold at 07:48 PM in History | Permalink | Comments (0)
August 04, 2015
Large Disk MPE/iX patch is still notable
A report on a new patch from 2005 is still able to bring good news to HP 3000s that are trying to use HP hardware to stay online today, one decade later. The Large Disk patch for MPE/iX 7.5 continues to be available from Hewlett-Packard. It expands the usable area of a 3000 disk up to 1TB, and the patch is necessary to utilize and 146-GB and 300-GB devices with an HP badge on them.
When we shared the original news about this advance, the patch was in beta test status. Large Disk made it out of the beta wilderness, thanks to testing from customers of that era. We suspected as much when we said, "of all the patches HP is hoping you will test this year, Large Disk looks like it has its eyes fixed firmly on the 3000's post-2006 future." At the time, we all believed HP would be exiting the 3000 biz at the end of '06.
The news might not be fresh for anybody who applied this patch, but the absence of it will keep 3000s limited to much smaller disks, devices much older. It bears a re-broadcast to your community, if only because we've tracked down a current link to the fine technical paper written by Jim Hawkins of HP. The paper was once hosted on the 3000 group's Jazz server, whose links have all gone dark. Many of those Jazz papers are now on the Client Systems mirror of Jazz. Speedware (Fresche Legacy) also has these tech papers.
In our initial report, we said the patch's scope was limited to 7.5 and "the work is no small feat, literally and figuratively. Without it, HP 3000s can only boot up drives of 300 GB or smaller. The work of Hawkins and cohorts at the HP labs will let users attach drives up to 1TB under the MPE/iX operating system."
In the HP paper on the enhancement, Hawkins pointed out it'd been a long time since any boundaries got moved for disk on the HP 3000. The Large Disk team moved the limits a long way out, after that long hiatus.
The last major initiative to address disks size was done in MPE XL 4.0 for support of disks larger than 4 GB. These changes were done to address an approximately ten times (10x) increase in disk from 404-670 MB to 4.0 GB disks. In 2005 with MPE/iX 7.5, we were confronted with nearly a hundred times (100x) size change (4.0 GB to more than 300 GB) over what had been possible in MPE XL 4.0.
Hawkins' detailed article notes that 3000 sites
who want to use HP's 146 GB and 300 GB Disk modules ought to consider installing these patches. Customers who might have MPE Groups or Accounts which use more than 100,000,000 sectors — that's bigger than about 24 GB — also find the patches useful.
In 2005 we were concerned about whether a patch that ended its HP lifespan in beta test would ever see the light of day. In the language of that era, Jan. 1, 2007 was supposed to be the end of HP's 3000 business. 
The answer to the question "What's to become of HP's engineering in 2007?" seems to lie in the hands of the customers. HP won't backport this patch without enough interest to get Large Disk out of beta limbo. If these patches remain in beta through 2006, we have to wonder what will become of these well-crafted bytes on January 1, 2007.

It would be sad to think such exacting work would be locked away on some DVD disk in an archive, simply because the testing rules are locked in the box of MPE 4.0-era thinking: only HP-supported 3000 customers can apply to test.
Good will and common sense prevailed to keep patches like this in the toolbelt for 3000 managers. All patches were made available, without needing any support contract, after HP closed out its official support for MPE/iX. A diligent independent support company will be able to point a manager at the right HP process to get these patches.
Posted by Ron Seybold at 10:12 PM in History, Homesteading | Permalink | Comments (0)
July 30, 2015
TBT: HP Image goes dead. Long live IMAGE
It was 1988, and Adager co-creator Adager Alfredo Rego had already skied for Guatemala in the Winter Olympics. Months later, with the Summer Olympics at hand, Hewlett-Packard killed off development of a new database for the HP 3000. The project was supposed to give the server a spot on industry-wide benchmark charts, HP believed. But HP Image was only 98 percent compatible with TurboIMAGE, and that's 2 percent short of being usable. HP Image abdicated the throne that HP intended to a TurboIMAGE rewritten for the brand-new Spectrum-class 3000s.
The move matters today because it marks a turning point in the march toward industry standards for the 3000. The server has been legendary for preserving its customers' investments like app development. A from the ground up SQL database might have helped put the 3000 into a more homogenous tier during an Open Systems era. Of course, HP would've had to create a database that worked for existing customer apps. HP Image was not that database.
HP's step-back from HP Image in the summer of 1988 came after more than two years of development, lab work that hit the wall after test users tried to make their applications and data fit with the product. After dropping that baton, HP raced to put the HP SQL of Allbase/SQL into making 3000 and 9000 apps compatible.
In an HP Chronicle article I wrote back then, I quoted developer Gavin Scott while he was at American Data Industries. By that summer, HP had managed to move TurboIMAGE onto MPE XL 1.1. "Pulling the Turbo database into the Allbase concept appears to have reaped some benefit for users," I wrote. "In Scott's view, it's faster and still compatible, a rare combination."
It works flawlessly, and it is quite fast. Native Mode TurboIMAGE works exactly the way old TurboIMAGE did, even to the extent that it still aligns all of the data on half-word boundaries. You have to take that into account when you're writing Native Mode programs to access Native Mode TurboIMAGE; it will be slightly less efficient, because you have to tell your program to use the Classic 3000 packing method when you go to access the database.
That summer marked the point that HP had to give up on creating an IMAGE replacement for the brand-new MPE XL. HP eventually supplied a native SQL interface for IMAGE, thereby taking that product into its IMAGE/SQL days. But HP Image never would have been proposed if the vendor wasn't thinking about attracting SQL-hungry customers from other platforms with a new database scheme.
That era's TPC benchmarks,
built around tests using Oracle and other SQL databases, were being used by IBM and DEC to win new enterprise customers. HP could only counter with the HP 9000 and HP-UX, and it needed another entry in that benchmark derby. TurboIMAGE was too boutique to qualify for a TPC test, the suites that were created to pit hardware vendors against each other. What would be the point of making a TPC test that required a non-SQL IMAGE? Only HP's IMAGE-ready systems could be compared there.
Instead, HP eventually had to pay close attention to retaining IMAGE ISVs and users. Scott commented this week on how that turning point came to pass in the late '80s.
Just as MPE suffered because management (really mostly the technical influencers and decision makers, not upper management) decided that Open Systems (which meant Unix) were the way of the future, I think the HP database lab had some PhD types who were convinced that SQL and relational was the answer to everything, without understanding the issues MPE faced with compatibility.

They tried to build one relational core engine that had both an SQL and an Image API, but for a long list of reasons this could not be made 100 percent compatible with TurboIMAGE, so you just could not run an existing 3000 application on top of it without major changes -- which was of course a non-starter for customers wanting to move from MPE/V to MPE/XL.
HP had already received a better strategy from independent vendors, advice HP chose to ignore. Deep in the heart of IMAGE lie routines and modules written in SPL, the foundational language for MPE and the 3000. SPL was going to need a Native Mode version to move these bedrock elements like IMAGE to the new generation of 3000s powered by RISC chips. But HP's language labs said an SPL II was impossible, because SPL wasn't defined well enough. So trying to leverage the Allbase transaction processor, HP galloped into building HP Image, using Modcal, its modified version of Pascal that already drove many MPE XL routines and subsystems.
As it turned out, it was easier to create a Native Mode SPL than to make a new SQL database that was 100 percent compatible with TurboIMAGE. Steve Cooper of Allegro, the company that partnered with Denkart and SRN to create the second generation of SPL with SPLash!, said 98 percent compatibility never succeeds. 
"Just like something can never be very unique -- it's just unique -- software can't ever be very compatible. It's compatible, or it isn't." DBGET calls in TurboIMAGE worked faster than DBGET ever would in HP Image. The number of items is reported in TurboIMAGE's DBGET automatically. HP Image had to run through a DBGET chainhead from stem to stern once again to get that number, "and that's a lot more IOs," Cooper said. Scott noted that native TurboIMAGE was a direct result of that independent language work on SPL.
The ultimate solution was to basically give up on HP Image completely and simply port TurboIMAGE from MPE/V to MPE/XL, which actually turned out to be relatively easy (after they stole the ideas surrounding the architecture of the SPLash! compiler to make their own Native Mode SPL II compiler (what TurboImage was written in.) HP's language guys spent several years saying a Native Mode SPL compiler was not practica -- but of course SRN, Denkart and Allegro succeeded with SPLash! thus making them look stupid).
Scott said TurboIMAGE was too simple to need SQL's prospective advantages. It was just a fast networked database that had a common API which thousands of apps were using.
HP Image and Allbase/SQL were big and bulky and complex, and thus a lot slower than TurboImage once it got to Native Mode. Today the world runs primarily on SQL/relational databases, up until you get to Big Data distributed no-SQL databases used in huge clusters. But in those days TurboIMAGE had the big advantage of simplicity, and the biggest advantage of having an API that all existing HP 3000 applications were already written to.
I'm not sure about "turning point" for hte database labs. I think they just continued on doing their Allbase stuff, they just didn'thave to think about Image anymore. It was intrepid programmers at CSY that got TurboImage working (with help from the compiler guys) and TurboImage remained simply one other MPE subsystem, not really part of any "database lab" which wouldn't care about a crusty old proprietary non-relational database.
Posted by Ron Seybold at 08:11 PM in History, Homesteading | Permalink | Comments (0)
July 23, 2015
Throwback: When IA-64's Arrival Got a Pass
During a summer of 15 years ago, the reach of HP's final processor foundation became obvious. Rather than take over the computing world, the project that started as Tahoe and eventually became IA-64 was labeled as an incremental improvement. Hewlett-Packard said this was so while it started talking about IA-64's lifespan and impact. It would be a gradual change.
This story is instructive both to today's migration planning as well as sustaining homesteading of the HP 3000. Processor power doesn't matter as much as a vendor claims. The pass that HP gave IA-64 in 2000, labeling the technology as years away from the datacenter, proved that chips wouldn't make a difference much more. When it comes to chip futures, the only ones that make a difference come from the timelines of Intel. HP partnered with the vendor, but it wouldn't get a marketable advantage out of the alliance.
In July of 2000, not a single IA-64 system had shipped, even though Hewlett-Packard annointed IA-64 as the successor to the PA-RISC chips that powered servers like the HP 3000. PA-RISC performance remains the leading edge of Hewlett-Packard's MPE hardware. But 15 years ago, making the leap to IA-64 processing looked essential to keeping MPE/iX competitive.
In 2000, though, the technology based on Explicitly Parallel Instruction Computing was just being dubbed Itanium. HP's Integrity brand of servers hadn't been introduced, and HP was supposed to be farming out Itanium to niche markets. The vendor's Unix servers, being sold by the same resellers who offered 3000s, ran on the same PA-RISC chips. And those chips were in no danger of being lapped by IA-64.
Up at the CNET website, an interview with HP's Duane Zitzner included a comment from HP's marketing for IA-64. In 2000, IA-64 computers were "a development environment," said Dirk Down. "You're not going to put this stuff near your datacenter for several years."
In the Newswire, we did the translation for a customer base that seemed certain that leaving IA-64 off the MPE roadmap was a bad fork in the road. Zitzner said PA-RISC would still outsell IA-64 for another five years.
His comments explain why few people in the HP 3000 division seem to think of IA-64 as nothing more than a future. In one interview after another, lab experts and general managers praise the new architecture, but point out that it has little to do with meeting customer demands for performance. Now we seem to know why: the stuff won't be ready for datacenter-level performance for years.
While one analyst thought these delays might be a problem, we think they're a blessing in disguise. There's nothing so broken in today's PA-RISC that it must be replaced. And if PA-RISC's successor is still on the drawing board, that lets the 3000 lab focus. Considering how tough it is to staff development labs, nobody's engineering effort needs the distraction of having to build more than one version of an operating system at a time.

IA-64 looks like it's going to have about a 10-year history of being a future at HP, considering that it was first announced in 1994. (Of course, back then, HP was calling it Tahoe, and then Merced, and so on.) Since HP has four more generations of processors in the wings for the PA-RISC line after the PA-8500 rolls out next spring, it looks like IA-64 might have more impact on PowerPoint slides than in any HP 3000 for the next five years. 
Like HP, we were just guessing on when IA-64 computing would be ready to assert itself in the datacenters. We couldn't see a future where HP would lose faith in the 3000 customer and the MPE ecosystem — not any more than HP could see that IA-64 would become more of a boutique for computing instead of the superstore the vendor imagined five years earlier.
Only two generations of PA-RISC were ever produced that pulled ahead of the top 3000 processors. The 8800 and 8900 would both work in what HP was still calling the HP 9000. The 8800 arrived in 2004's 9000s, mostly being the driver for Superdome. The 8900 showed up in 2005's HP servers.
IA-64, when it was called the Merced project, was supposed to arrive by the end of the 20th century and become the replacement for x86 computing. Instead, HP's partner Intel doubled down on the x86 to make Xeon, an extension to IA-32 created when IA-64 took longer than expected. Intel didn't give IA-64 a pass. It passed it by.
Posted by Ron Seybold at 06:04 PM in History | Permalink | Comments (0)
July 20, 2015
The Weekend a User Group Went Lights-out
Ten years ago this week, the Interex user group went dark in both a digital and literal way. The organization that was launched 30 years earlier to serve HP 3000 customers took down its website, shuttered its servers, and shut out the lights to lock up its Sunnyvale, Calif. offices. A bankruptcy went into its opening days, one that would take more than two years to make its way into Federal Court. But the immediate impact was the loss of the tent-pole gathering for the 3000 community, that year's annual HP World conference.
Millions of dollars in hotel guarantees, prepaid advertising, and booth exhibitor rents went unpaid or unreturned. It was more than the loss of an event that had a 28-year history of joining experts with customers. The Interex blackout turned off a notable light that might've led to a brighter future for a 3000 community still looking for answers and contact with vendors and expertise.
Looking back from a decade later, signs were already evident for the sudden demise of a multi-million dollar organization with 100,000 members of some pedigree. Tens of thousands of those members were names in a database and not much more, places where the Interex tabloid HP World could be mailed to generate advertising revenues. A core group of users, devoted to volunteering and rich with tribal, contributed knowledge about HP's servers, was far smaller.
Interex was all-in on support and cooperation with the Hewlett-Packard of 2005, but only up to a point on a crucial user group mission. The group was glad to re-label its annual conference after the vendor, as well as that monthly tabloid. HP held the rights to both of those names once the group made that transition. There was an HP liaison to the group's board for decades. The key managers in the 3000 division made their first-person 2002 articles explaining HP's 3000 exit available to the Interex publications. Winston Prather wrote "it was my decision" on pages published by Interex.
But in 2004, HP sowed the seeds of change that Interex watered with a no-collaboration decision. User groups from the Digital VMS community agreed to cooperation with HP on a new user conference, one to be funded by HP. Interex's directors polled the member base and chose to follow an independent route. The Interex board would stick to its plans to exclusively produce the next HP World. Advocacy was at stake, they said, and Interex's leaders believed the group would need its own annual meeting to keep asking HP to do better.
HP began to sell exhibitor space for an HP Technology Forum against the Interex HP World booths. Just before the HP World San Francisco Moscone Center wanted its final payment — and a couple of weeks after exhibitors' payments were in hand — the tune the 3000 world heard was Boom-boom, out go the lights.
The user group struggled to maintain
a financial balance in the years following the Y2K ramp-up, according to one of its directors, an era when attendance at the group's annual shows fell steadily. Membership figures for the group, inflated to six figures in press releases during 2004, included a very broad definition of members. Hotels were reserved for two years in advance, with payments made by the group and still outstanding for millions of dollars.
One conference sponsor, Acucorp, was told by an Interex ad rep that the staff was led to the door. A user community labored mightily to recover contributed white papers, articles, and software from a company that was selling conference memberships right up to July 17.
Ten years ago on this very date, HP was already at work gathering up the orphaned attendees who held prepaid tickets and registrations as well as exhibitors with no show to attend. HP offered a complimentary, comparable registration to the Technology Forum for paid, registered attendees of HP World 2005. HP also offered discounted exhibition space at its Forum to "non-HP competitors" exhibiting at or sponsoring HP World 2005. If you were IBM, or EMC, and bought a booth at the Interex show, you had no recourse but to write off the loss.
The shutdown was not orchestrated with the cleanest of messages. Interex.org, a website archived hundreds of times by the Internet Wayback Machine since 1996, posted a report that was the equivalent of a busy signal.
Dear members:

It is with great sadness, that after 31 years, we have found it financially necessary to close the doors at Interex. Unfortunately our publications, newsletters, services and conference (HPWorld 2005) will be terminated immediately. We are grateful to the 100,000 members and volunteers of Interex for their contributions, advocacy and support. We dearly wish that we could have continued supporting your needs but it was unavoidable.

Interex
Within a week, planning from the 3000 user community was underway to gather together any customers who were going to the HP World venue of San Francisco anyway -- since they were holding those nonrefundable tickets, or had already paid for hotel rooms.
Companies go broke every day, victims of poor management, bad luck, or unavoidable catastrophe. Few organizations can avoid closing, given enough time. But for a founding constituency that based its careers on a server that rarely died, the sudden death of the group that'd been alive as long as the 3000 was striking, sad — and a mark of upcoming struggles for any group built to serve a single vendor's customer base. Even a decade earlier, according to former Interex chair Jane Copeland, a proposal to wrap up the group's mission was offered in an ever-growing heterogenous computing world.
"When I left, I said they ought to have a dissolution plan," said Copeland, owner of API International. "The former Executive Director of Interex Chuck Piercey and I tried to get the board to do it — because we didn't see the purpose of a vendor-specific group in an open systems market."
A change in HP's CEO post sealed the user group's fate, she added. The arrival of Carly Fiorina shifted the vendor's focus away from midrange computer users such as HP 3000 and HP 9000 customers.
"I think HP is probably the cause of this more than anything," Copeland said. "As soon as [CEO] Lew Platt left HP, that was the end of Interex. Carly Fiorina wasn't interested in a user group. She just wasn't user-oriented. Before Fiorina, HP had one of the most loyal customer bases in the industry. She did more to kill the HP brand than anyone. She killed it in such a way that the user group's demise was guaranteed as soon as her reorganization was in place. She didn't want midrange systems. All she was interested in was PCs."
Another HP 3000 community member saw HP's declining interest in the server as a signal the user group was living on borrowed time. Olav Kappert, whose IOMIT International firm has served 3000 customers for nearly 30 years, said HP looked eager to stop spending on 3000-related user group events.
"HP would rather not spend another dime on something that has no future with them," he said. "It will first be SIG-IMAGE, then other HP 3000 SIGs will follow. Somewhere in-between, maybe even Interex will disappear." 
Posted by Ron Seybold at 08:04 PM in History, News Outta HP, Newsmakers | Permalink | Comments (0)
July 16, 2015
Bringing the 3000's Languages Fourth
Documenting the history and roots of IMAGE has squirted out a stream of debate on the 3000 newsgroup. Terry O'Brien's project to make a TurboIMAGE Wikipedia page includes a reference to Fourth Generation Languages. His sentence below that noted 4GLs -- taken as fact by most of the 3000 community -- came in for a lively debate.
Several Fourth Generation Language products (Powerhouse, Transact, Speedware, Protos) became available from third party vendors.
While that seems innocent enough, retired 3000 manager Tom Lang has told the newsgroup there's no such thing as a Fourth Generation of any computer language. "My problem with so-called Fourth Generation Languages is the use of the term 'Language' attached to a commercial product," he wrote. The discussion has become a 59-message thread already, threatening to be the longest discussion on the newsgroup this year.
Although the question doesn't seem to merit debate, it's been like catnip to some very veteran developers who know MPE and the 3000. The 4GL term was probably cooked up by vendors' product managers and marketing experts. But such languages' value did exceed third generations like COBOL. The term has everything to do with advancing developer productivity, and the use of generations was an easy way to explain that benefit.
In fact, Cognos -- the biggest vendor of 4GLs in the 3000 world -- renamed its Powerhouse group the Advanced Development Tools unit, using ADT instead of 4GL. This was largely because of the extra value of a dictionary associated with Powerhouse. The dictionary was offered up as a distinction of a 4GL by Birket Foster. Then Stan Sieler, who's written a few compilers including SPLash!, a refreshed version of the 3000's SPL, weighed in with some essentials.
One way to measure a language is to see
if it's got a BNF (Backus Normal Form), one of two main notation techniques for context-free grammars. According to Wikipedia -- that resource again -- a BNF "is often used to describe the syntax of languages used in computing, such as programming languages." Sieler said that the refreshed SPLash! had a BNF for awhile. Then it didn't. And really, languages don't need one, he added.
The list of the 3000's 4GLs is not a long one. HP dubbed Allbase as a 4GL at the same time that name signified a 3000 database alternative. It was a tool to develop more rapidly, HP said. Transact appears on some 4GL lists for MPE, but it's more often called a 3.5 GL, as is Protos. Not quite complete in their distinctions, although both have dictionaries. These languages all promised speed of development. They rose up in an era when object-oriented computing, with reusable elements, was mostly experimental.
Foster explained what made a 4GL an advanced tool.
The dictionary made the difference in these languages, allowing default formatting of fields, and enforcing rules on the data entry screens. I am a sure that a good Powerhouse or Speedware programmer can out-code a cut and paste COBOL programmer by about 10 to one. It also means that a junior team member is able to code business rules accurately, since the default edits/values come directly from the dictionary, ensuring consistency.
Sieler outlined what he believes makes up a language.
We all know what a 4GL is, to the extent that there's a 'cloud' / 'fuzzy shape' labelled "4GL" in our minds that we can say "yes or no" for a given product, program, language, 4GL, package, or tarball. And we know that Speedware, etc., fit into that cloud.

Does a language have to have a published grammar?  (Much less one published by an international standards organization?)  Hell no! It's better if it does, but that's not only not necessary, but the grammar is missing and/or incomplete and/or inaccurate for many (probably most) computer languages, as well as almost all human languages (possibly excluding some post-priori languages). I speak as a compiler author of many decades (since about 1973).

Our SPLash! language (similar to HP's SPL/V) had a BNF — at the start. (Indeed, we think we had the only accurate BNF for SPL/V.) But, as we added things to the language, they may or may not have been reflected in the BNF. We tried to update the manual, but may not have always been successful … if we got the change notice updated, I was happy.
Adding the word "product" behind 4GL seems to set things in perspective. O'Brien offered his summary of the 3000's rapid languages.
Speedware, Powerhouse, and Protos all had components (Powerhouse Quick, Speedware Reactor) that had a proprietary language syntax that offered Assignment, IO, and Conditional Logic.  As such, they meet the minimum requirements to be referenced as a computer language. TurboIMAGE has a syntax for specifying the database schema, but does not have any component that meet the IO, Assignment, Conditional Logic, so it does not meet the minimum requirements.
Speedware and Powerhouse have had similar histories, both offered as ADT products. But the companies that control them have diverged in their missions. PowerHouse is now owned by Unicom Systems. Speedware's focus is now on legacy modernization services and tools, although its own 4GL is still a supported product.
There's an even more audacious tier of languages, one that the HP 3000 never saw. Fifth-generation languages, according to Wikipedia, "make the computer solve a given problem without the programmer. This way, the programmer only needs to worry about what problems need to be solved and what conditions need to be met, without worrying about how to implement a routine or algorithm to solve them." Prolog is one example of this fifth generation. But even Wikipedia's editors are wary of bringing forth a fifth generation.
Posted by Ron Seybold at 08:46 PM in History, Homesteading, Newsmakers | Permalink | Comments (0)
July 13, 2015
Celebrating a 3000 Celebrity's (im)migration
Eugene Volokh is among the best examples of HP 3000 celebrity. The co-creator of MPEX (along with his father Vladimir) entered America in the 1970s, a Jewish immigrant who left Russia to arrive with his family as a boy of 7, destined for a notable place on America's teeming shores. 
Those teeming shores are associated with another American Jew, Anna Lazurus, whose poem including that phrase adorns a wall of the Statue of Liberty. More than 125 years of immigrants have passed by that monument, people who have created some of the best of the US, a fact celebrated in the announcement of this year's Great Immigrants award from the Carnegie Corporation. Eugene is among the 38 Pride of America honorees appearing in a full-page New York Times ad (below, in the top-right corner) from over the Independence Day weekend.
Those named this year include Saturday Night Live's creator Lorne Michaels, Nobel laureate Thomas Sudhof, and Pulitzer Prize novelist Geraldine Brooks, along with Eugene -- who's listed as a professor, legal scholar, and blogger. All are naturalized citizens.
Eugene's first notable achievement came through his work in the fields of MPE, though, computer science that's escaped the notice of the Carnegie awards board. Given that the success of Vesoft (through MPEX and Security/3000) made all else that followed possible, a 3000 user might say that work in MPE brought the rest of the legal, scholarly, and blogging (The Volokh Conspiracy) achievements within his grasp.
An entry in the Great Immigrants website
sums up what's made him an honoree:
A law professor at the UCLA School of Law, Eugene Volokh is cofounder of the blog, The Volokh Conspiracy, which runs on the Washington Post's website (which is independent of the newspaper). Before joining UCLA, where he teaches a myriad of subjects, including free speech law and religious freedom law, Volokh clerked for Justice Sandra Day O'Connor on the U.S. Supreme Court. Volokh was born in Kiev, Ukraine, when it was still part of the Soviet Union, and immigrated to the United States at age seven.
It's not difficult to find Eugene in the firmament of the American culture, with articles in the Post, the New York Times op-ed page, and interviews on TV networks and National Public Radio. But each time a 3000 user starts up MPEX, they light up the roots of somebody who migrated long ago, in an era when the 3000 itself was a migration destination, a refuge from the wretched existence of mainframes. We pass on our congratulations. 
Posted by Ron Seybold at 08:11 PM in History, Homesteading, Newsmakers | Permalink | Comments (0)
July 09, 2015
Throwback: When IMAGE Got Its SQL Skin
During the current Wikipedia project to document IMAGE, Terry O'Brien of DISC asked where he might find resources that point to IMAGE facts. Wikipedia is all about facts that can be documented by outside sources, especially articles. O'Brien was searching for InterACT articles, perhaps thinking of the grand series written by George Stachnik for that Interex user group magazine.
While the user group and its website are gone, many of those articles are available. 3K Associates has an archive of more than a dozen of them, including several on IMAGE. (That website has the most comprehensive collection of MPE and 3000 lore, from tech how-to's to an HP 3000 FAQ.) As part of his introductory article in the database subset of The HP 3000 For Novices, Stachnik notes how IMAGE got its SQL interface, as well as why it was needed.
Most new client-server applications that were developed in the 1980s made extensive use of the SQL language. In order to make it possible for these applications to work with the HP 3000, HP literally taught TurboIMAGE a new language--the ANSII standard SQL.

The resulting DBMS was named IMAGE/SQL -- which is the name that is used today. IMAGE/SQL databases can be accessed in two ways: either using the traditional proprietary interfaces (thus protecting customers' investments in proprietary software) or using the new industry standard SQL interface (thus enabling standard client-server database tools to access the data stored on HP 3000s).
The enhanced IMAGE came to be called TurboIMAGE/SQL, to fully identify its roots as well as its new prowess. Stachnik wrote the article in an era when he could cite "new technologies such as the World Wide Web."
HP removed many of the restrictions that had pushed developers away from the HP 3000, making it possible to access the HP 3000's features (including its database management system) through new industry standard interfaces, while continuing to support the older proprietary interfaces. In the final months of the 20th century, interest in the IMAGE database management system and sales of the HP 3000 platform are both on the rise.
That rise was a result of user campaigning that started in earnest 25 years ago this summer, at an Interex conference. Old hands in this market call that first salvo the Boston Tea Party because it happened in a Boston conference meeting room. More than nine years later, Stachnik wrote that "interest in the IMAGE database management system and sales of the HP 3000 platform are both on the rise."
There are many places to discover the history
and deep, elegant engineering of IMAGE. Adager's website contains
the greatest concentration of writing about IMAGE
. It's possible that references from adager.com articles will make their way in the new Wikipedia entry. They wouldn't be relevant without that rebellion of 25 years ago, because HP wanted to release IMAGE from its pairing with the 3000. The users wouldn't permit it, bad press from the meeting ensued, and an IMAGE-free HP 3000 became much harder to purchase.
SQL arrived about three years later. The story had a happy ending when Stachnik wrote his article.
Any HP 3000 application that used IMAGE/3000 (and virtually all HP 3000 applications did) was locked into the HP 3000 platform. It couldn't be ported to another platform without some fairly major rework. This was almost the kiss of death for the HP 3000 in the open-systems-obsessed 1990s. In fact, many platforms did "go under" in the UNIX shakeout that took place in the early part of the decade.

Many industry observers expected that Hewlett-Packard would choose to jettison its proprietary HP 3000 platform in favor of its faster growing younger brother, the UNIX-based HP 9000. Fortunately, these observers did not understand a very basic fact about the company.

HP was (and is) very focussed on protecting its customers' investments. Instead of jettisoning the HP 3000 platform, the company chose to invest in it.
Whatever HP intended for the fate of the computer, the investment in SQL remains a way to keep the heartbeat of the 3000 pumping data to the world of non-MPE machines.
Posted by Ron Seybold at 07:52 PM in History, Homesteading, Web Resources | Permalink | Comments (0)
July 06, 2015
Work launches on TurboIMAGE Wiki page
History is a major element in the HP 3000's everyday life. A computer that received its last vendor-released enhancement in 2009 is not in need of a lot of tracing of new aspects. But a serious chronicle of its features and powers is always welcome for homesteading customers. A new effort on Wikipedia will help one of its longer-standing database vendors, one who's moved onward to Windows.
Terry O'Brien still holds management reins at DISC, makers of the Omnidex indexing tool for TurboIMAGE. He's begun a distinct entry on Wikipedia for the database that's been the heartbeat of MPE almost since the server's beginning. O'Brien is enlisting the memory of the user community to take the page from stub status to full entry. "My original intent was to create an Omnidex page, since DISC is ramping up marketing efforts in the Windows and Linux space for Omnidex 6.0," he said.
During my ramp up within Wikipedia, I noticed the TurboImage article had little information and had no cited references. Although I have been a heavy utilizer of Wikipedia the past several years, I had never looked behind the covers. Wikipedia has a rich culture with a lot of information to digest for new authors. It is a bit daunting for new authors.

I originally was just going to add some general information and mention Fred White. Needing to cite references led me to an article Bob Green wrote on the history of the HP 3000 as well as numerous other articles from Robelle that I am citing. That let me to articles on 3000 NewsWire, so thanks Ron for your prolific prose on all things HP 3000.
Journalism, however, is not the best entry point for a Wikipedia entry. The most dispassionate prose conceivable is best-suited for Wikipedia. Think of software manual language and you're closest to what's accepted. A broad-interest topic like yoga gets a good deal more Wiki Editor scrutiny than a chronicle on a minicomputer's database. That doesn't mean there's not a wealth of accuracy that can be supplied for the current TurboIMAGE stub, however. O'Brien is asking for help
His posts to the 3000 newsgroup include such a request. "I also need to solicit other unbiased parties to collaborate. And what better place to get feedback on TurboIMAGE then from HP3000L!"

"So if there are any Wikipedia authors interested in added to the article or debating anything I stated, please do so in the TurboIMAGE talk page."
Wikipedia authors will know exactly how Talk works to get a page written and improved. And it's dead-simple to become a Wikipedia author. As O'Brien suggests, creating a page is much more complex than improving an existing one.
Posted by Ron Seybold at 10:07 AM in History, Homesteading, Web Resources | Permalink | Comments (0)
July 02, 2015
Throwback: When HP touted Java/iX
Editor's Note: We're taking Friday off this week to make time to celebrate the US Independence Day.
Fifteen years ago this month, the prospects for HP 3000 growth were touted at an all-Java conference. HP engineers took the 3000 and the new version of Java/iX to Java One, which at the time in 2000 was billed as the world's largest show devoted to the "write once, run everywhere" programming tool.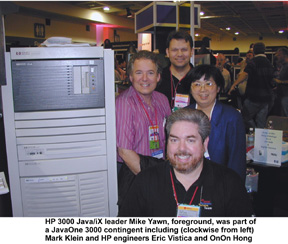 The 3000 division exhibited an entry-level HP 3000 on the show floor at the conference. HP's Java expert for the e3000 Mike Yawn was at the show, along with division engineers Eric Vistica and OnOn Hong. Marketing representative Peggy Ruse was also in attendance from the division.
"In previous years, we've had literature available and 3000 ISVs in attendance at other booths," Yawn said at the time. "This year you could actually go to an HP booth and find Java applications running on e3000 servers."
Yawn reported Java's Reflection Technology (not related to the WRQ product of the same name) "is a way to discover information about an object at runtime. It's very analogous to using DBINFO calls to get structural info about a database. Reflection was introduced in JDK 1.1 to support JavaBeans. The APIs were improved in 1.2, with minor refinements coming in the 1.3 release."
After the conference, Yawn said Java
Reflection could be used to dynamically determine everything you might need to know about objects. On an evolving product front, HP gave demo space in its booth to third-party solutions that rely on Java for e3000 users. A precursor to Javelin, Minisoft's Web Dimension, was also demonstrated.
HP also showed off LegacyJ software in its booth. The software converted VPlus screens to Java. It automatically generated menus and maps function keys to menu items.
For all of the forward progress on bringing a new development platform inside of MPE/iX, Java/iX was having its biggest heyday in that July of 15 years ago. JavaOne is still the central event in the Java calendar. The conference will be held in October.
Posted by Ron Seybold at 11:41 AM in History | Permalink | Comments (0)
June 26, 2015
What Has Made MPE/iX 8.0 A No-Go
The life of homesteading 3000 managers is not as busy as those who are managing migrated or just-moved business environments. But one topic the homesteaders can busy themselves with is the If-Then structure of making an 8.0 version of their operating system more than a fond wish. Our reader and 3000 manager Tim O'Neill visited this what-if-then module, a proposition was sparked by an April Fool's story we wrote this year. "I actually believed that article, until I recognized the spoofed name of Jeanette Nutsford," he said. We were having some Onion-like sport with the concept of an MPE/iX.
I had the thought that maybe somebody somewhere will apply all the MPE patches written since 7.5, add a couple more enhancements to subsystems (like maybe MPE users could see and use a Windows-managed printer,) test it in-house, then test it on a few customer systems, then release it and announce MPE/iX 8.0. The database options could begin with TurboImage and Eloquence.
That's pretty much the start of a workflow for an 8.0. If you were to make a list of the things that have stood in the way of such a watershed moment for MPE, it might look like an if-then tree. A tree that might lead to a public MPE, as free as Linux or HP's Grommet, the company's user-experience development application. Grommet will become open source, licensed for open use in creating apps' user experience. Grommet was once just as HP-proprietary as MPE.
The tree's not impossible to climb. Some of the tallest branches would sway in the wind of software law. The rights regarding intellectual property have blocked this climb to open-sourced MPE/iX. That's law that was tested outside of the HP and 3000 community. It came close to swaying in favor of customers who believe they're buying software, instead of just renting it.
No software creator would call the act of licensing
its product a rental. But ownership rights of code like MPE or the CAD program Autodesk have always reverted to their creators. These programs were developed inside software labs controlled by HP and Autodesk. Such creators' ownership was not in doubt, until in 2007 the right to restrict any software's climb to freedom was tested.
Autodesk was sued that year by Timothy Vernor, who said he was entitled to sell used copies of AutoCAD he'd bought at an office liquidation sale from an Autodesk customer. The suit wasn't foolhardy. In 2008 a federal district judge in Washington state denied Autodesk's motion to dismiss. The next year, both sides filed motions for summary judgment, to settle whether a structure called First-Sale Doctrine could apply to previously licensed software. And then that district ruled in Vernor's favor. Transfer of software to the purchaser materially resembled a sale, not just a licensing. The software had a one-time price, and a right to perpetual possession. You could resell your software, and so it could have a value in the market beyond what its creator had received.
What's all this got to do with 8.0? The concept, and defending the ruling, represents a type of the most critical if-then branch in the tree of used-software logic. By now, every copy of MPE/iX is used software. To make an 8.0 with any value to the companies and consultants who'd labor through new patch integration, plus two levels of testing, and managing support, it'd need to be worth some revenue to those who'd do the work. You'd need a law to make reselling a revamped MPE/iX as the 8.0 version legal. 
Linux and the rest of the open source world enjoy this kind of ownership law. It helped that Linux never belonged to a company as a trade-secret product.
The Washington state court decided selling Autodesk could let a customer resell under the first-sale doctrine. So Autodesk could not pursue an action for copyright infringement against Vernor, who sought to resell used versions of its software on eBay. But like any software creator, that first-sale decision was appealed to the US Court of Appeals for the Ninth Circuit, where the lower court's ruling got reversed. Vernor was denied the right to resale Autodesk software on eBay. There were non-transferable licensing restrictions, and in 2011, the US Supreme Court let stand the Ninth Circuit ruling.
This is the quest for the holy grail of MPE futures that OpenMPE pursued for more than eight years. At some point, the group believed, control of MPE/iX could be released to the companies using the software. It should be, they argued, since HP was halting its business in the HP 3000 and MPE. Vernor didn't even offer to modify the CAD software, to improve it like O'Neill suggested. The appearance of such an MPE 8.0 would deliver new functionality, fix bugs — and most importantly, lavish some interest on the OS.
HP used to talk about an 8.0, in passing at user conferences in product futures talks. There was nothing as specific as "MPE users will be able to see and use a Windows-managed printer" during these talks. Applying existing patches and recent ones, then releasing it as an 8.0, is a stretch. The x.0 releases of MPE/iX each brought on a major set of advances, not just printer control and patch integration. 7.0 delivered support for a new hardware bus, PCI, for example.
All those patches written since 7.5 PowerPatch 5? That'd be just the beta-test patches that never went into customer-testing for General Release. HP holds the intellectual property rights to those patches. The company would have to cut that work loose into the customer base. (If HP cedes ownership rights, then integration begins.) If HP pemits this 8.0 MPE/iX to be tested in customer sites, then something stable enough to be adopted would emerge.
If no such ownership change occurred, then even an 8.0 would still belong to HP — a company with no more interest in selling or support it.
The rights to MPE/iX have been stretched recently. While a two-user version of the Charon HPA emulator was available for download, the Stromasys software was distributed with MPE/iX as part of that freeware version.
Since there's no open-sourced MPE for offer, the testing and integration, then pairing the revived software with its database as well as Eloquence (never built for MPE, but could be integrated) — it's all simply a fine ideal. Nobody was able to step forward and push this concept into a test of law. Wirt Atmar of AICS Research checked with lawyers about reclaiming MPE off of HP's discard pile. It was a card the community could not play. 8.0 is a dream, and while there's no reason yet to cast it away forever, plenty of 3000 owners have experienced their wake-up call.
Posted by Ron Seybold at 10:20 AM in History, Homesteading | Permalink | Comments (0)
June 25, 2015
Throwback: The Days of the $5,000 Terminal
By Dave Wiseman
Most of you will know me as the idiot who was dragging about the alligator at the Orlando 1988 Interex conference, or maybe as the guy behind Millware. But actually I am a long-time HP 3000 user – one of the first three in the south of England.
I was just 27 when I started with an HP 3000. I had been in IT since 1967. One day I was approached by Commercial Union Assurance (a Big Blue shop) to set up an internal Time Sharing system. My brief was to set up "a better service than our users have today," a Geisco MK III and and a IBM Call 360. In those days, the opportunity to set up a "green fields site" from scratch was irresistible to a young, ambitious IT professional.
I investigated 30 different computers on around 80 criteria and the HP 3000 scored best. In fact, IBM offered the System 38 or the Series 1, neither of which met our needs well. IBM scored better in one category only – they had better manuals. I called the HP salesman and asked him in. What HP never knew is that if the project went well, there was a possibility that they would get on the shortlist for our branch scheme – a machine in every UK branch office. That would be 45 machines, when the entire UK installed base of HP 3000s was around 10 at the time. 
IBM tried everything, including the new E Series which had not been publicly announced at the time. It was to be announced as the 4331 and you only — yes only — needed 3 or 4 systems programmers. I asked about delivery time compared to HP's 12-14 weeks for the 3000. I was told that IBM would put me in a lottery, and if our name came up, then we would get a machine.
So HP's salesman came in. I said I wanted to buy an HP 3000, to which he replied, "Well I'm not sure about that, as we've never done your application before. Why don't you buy a terminal and an acoustic coupler first, and make sure that your application works"
"Okay" I said, "where do I buy a coupler from?"
"No idea," he replied, "but the 2645A terminal is $5,000."
So I bought that 2645A (from our monthly hardware budget of around $1.5 million) and started dialing into a 3000 at the Winnersh office. On occasion, when I needed answers, I would drive over there and work on their machines. One durability test was to unscrew the feet on the disc drive and push it until the disc drive bounced onto its HP-IB cable. On more than one occasion the cable came out and you could just plug it back in and carry in working. If you tried that with an IBM you could expect two days of work to get it restarted.
I went to the first European Users Group meeting at the London School of Economics in 1978 and listened intently to all of the presentations, especially when HP management took the stage. They got a hammering because the performance of KSAM was not as good as several people had expected. After having dealt with IBM, I came back with the view that if that is the worst thing that they had to complain about, I was having a piece of this action. At the back of the hall there were two piles of duplicated paper – one yellow and one white. These were advertising Martin Gorfinkel's products LARC and Scribe, which amounted to the first vendor show.
After those tests and the investigation, we bought a Series III with 2MB of memory, two 120Mb 7925 drives, an 7970E tape drive, and a 2635A console. We purchased the 3000 during a unique three-month window when SPL, IMAGE and KSAM were included. Additional software included BASIC, a Basic compiler and APL. The machine arrived on time and was located in the network control area of the suburban London datacentre — the HP 3000 was not important enough to despoil the gleaming rows of Big Blue hardware.
We had users in six different buildings around the country. We had an eclectic mix of 2645A, 2641A, 2647A and later 2640 terminals. As we grew, we added 2621, 2622, 2623, 2624 and 2626 terminals. We also connected Radio Shack TRS 80 machines and IBM XT PCs. What we wouldn't have given for PC2622 emulation then. (That's WRQ Reflection, for you newbies.) We needed a number of printers to print out Life Assurance Quotations, and HP only sold a 30 character per second daisy wheel, which was three times the price of a third-party printer. HP's view was very simple – they would not provide hardware support for the CPU if we bought third-party printers. I called their bluff and bought the printers elsewhere.
At first, I connected all of the terminals at 2400 baud as the original systems (IBM Call/360 and Geisco) only had 1200 baud dial-up, so 2400 was very fast for our users. As usage grew, I could turn the speed up to 9600 to give the users an apparent performance boost at no cost.
Performance was always an issue. The IBM guys couldn't understand how we could run so many users on such a small box, but we were always looking for improved performance, as we had the largest HP 3000 around already. There were no tools available in those days, so we used tricks like putting a saucer of milk on each disc to see which one curdled first from the heat. (Not really, but we did spend a long time just standing there touching the drives lightly to see.) We did a full system unload and reload every three months, and unloaded and reloaded most databases at the same time.
I was laid off in a downsizing exercise in 1983 and went into software and system sales. The company intended that the HP 3000 would be replaced by the IBM. But at least five years later, they were still using the MPE machine.
Posted by Ron Seybold at 04:23 PM in History, User Reports | Permalink | Comments (0)
June 18, 2015
Throwback: A Zealous Emulator Wonder
Five years ago this week, Stromasys announced the launch of its project to emulate the HP 3000's hardware set. Emulation was a quest for many years before 2010, though. The OpenMPE advocacy group was founded on the pursuit of an emulator for 3000s that would not be built after 2003. By 2004, the community was hearing about the timeline for emulator development. It did not promise to be a short journey.
We revisit those days to remind our readers about a time when then-recent 3000 boxes were standing in the way of making a virtualized 3000. Our podcast for this week includes comments from one of the first emulator vendor candidates, as well as the ultimate developer of a product that marks five years on 3000 planning timelines.
Along the way, the tracks on the trail to making HP's 3000 systems virtually unneeded followed the hard road HP learned about migrations. More than half the systems that were turned off between 2003 and 2008 went to other vendors, according to one report from an emulator vendor. That period saw Hewlett-Packard lose many customers while they departed the 3000, according to the Chief Technology Officer Robert Boers.
What's remarkable about the emergence of Charon from Stromasys is the persistent dedication the vendor showed for the concept. It demands patience to be in the world of emulators. In 2004, nobody was even certain about the best release date for an emulator. HP-branded 3000s in that year were still commonplace, and all had falling price tags. By the time Charon made its debut, that hardware had become seven years older, and used systems were commonly more than a decade old. Time has not enhanced the vintage of these systems. An evergreen emulator, first announced five years ago this week, changed all of that.
Posted by Ron Seybold at 07:46 PM in History, Homesteading, Migration, Podcasts | Permalink | Comments (0)
June 12, 2015
NewWave was once Poe-tic to some
Our NewWave article yesterday seemed to limit the impact of NewWave's design to a new GUI and some object oriented computing, but HP intended much more for it. Alexander Volokh of the Volokh enterprise — also known as Sasha — even penned a poem in 1988 to celebrate the networked environment that would only last until Windows 95 was release. [Tip of the hat to his dad Vladimir, as well as Adager for hosting the poetry on its website.]
NewWave — A Ballad
By Sasha Volokh
Sasha Volokh is the Vice-President of Poetry of VESOFT. He tells us this poem is in the style  of "Ulalume -- A Ballad" by Edgar Allen Poe, and offers his apologies to Mr. Poe.
The skies they were shining and lacquered,
And the programmers looked very brave,
Looked confident, happy and brave --
'Twas the day that the firm Hewlett-Packard
Unveiled its great product, New Wave,
Its magnificent product, New Wave.
New Wave worked in conjunction with Windows
(The version two point zero three);
It would function with Microsoft's Windows,
But only two point zero three.
 
Too long had it stood in the back rows,
For no one had witnessed its might --
For example, its system-wide macros
That could make heavy tasks very light
(It deserved to be brought to the light!)
There were "hot links" between applications
To do many things at a time --
Icons could represent applications
And could save you a whole lot of time.
 
Here, performance and swiftness were wedded,
Which made integration just right
(And again, HP leads us aright);
In New Wave, ease of use was embedded
To the users' content and delight
For New Wave brought an end to their plight!
Yes, it lit up the sky through the night!
It was written to work on the Vectra
In the language that people call C.
You can even transfer, on the Vectra,
Many programs not written in C.
But alas! the directors of Apple
With evil, not blood, in their veins,
With hate in nefarious veins,
Decided with HP to grapple
And to cause it no end to its pains.
They decided on filing a lawsuit:
They accused it of trying to steal
Their Mac interface -- but Apple's lawsuit
Was just based on "the look and the feel."

"Who cares that the few things we can match,
On the Mac, are the pictures we show,
Are the similar icons we show?
And who cares that our programming language,"
Apple said, "is unbearably slow
('Cause they say that our Hypertalk's slow)?
And we don't care about a third party --
It's just HP's success that we mind!"
Then they laughed, and their laughs sounded hearty,
For they chuckled with evil in mind.

David Packard was in Cupertino
When he figured out what he should do --
For this suit for New Wave wouldn't do.
So he said, "sending us a subpoena
Was an action that Apple will rue.
Yes, its heart should be laden with rue!
Those directors must surely be punished
For defaming the name of HP,
And I'll see to it that they get punished
So beware fearless Dave of HP!"

David Packard consulted his lawyer
And then he got up from his desk,
His expensive, mahogany desk,
And he marched in the courthouse's foyer
Where he said, "This is so Kafkaesque!
I know well that I'm here for a trial,
Yet I don't even know what's the deal!"
Apple said, with no air of denial,
"Look and feel! Look and feel! Look and feel!
'Cause New Wave has the Mac's look and feel!
Now your losses will temper your zeal."

David said that the suit had no merit,
And then he called Apple a louse.
But his rage grew 'till he couldn't bear it,
And he aimed and then clicked with his mouse;
In one swoop, double-clicked with his mouse!
So thus justice prevailed over evil,
And Dave uttered many "So there"'s.
HP workers are still fighting evil
And success and good fortune are theirs.
Posted by Ron Seybold at 02:36 PM in History | Permalink | Comments (0)
June 11, 2015
TBT: When NewWave beached on Mail shore
NewWave Mail makes its debut in an effort to give HP 3000 users a reason to use the GUI that was ahead of its time. Apple took the interface seriously enough to sue Hewlett-Packard over similarities. The GUI lasted more than five years in the wild before Microsoft's Win95 emerged.
Twenty-five years ago this summer, the HP 3000 got its first taste of a graphical user interface. NewWave, the avant garde GUI rolled out a year from the Windows 3 release, got a link to HP DeskManager when the vendor pushed out NewWave Mail. Not even the business-focused user base of the HP 3000 — in that year HP's largest business server community — could help a GUI released before its time. Or at least before the time that Microsoft finally made Windows a business default.
NewWave introduced a look and feel that one-upped Apple's GUI of 1990. It seemed a natural product to pair with DeskManager, the mail system so efficient and connectable that HP used it and massive farms of 3000s to link its worldwide employee community. NewWave was developed in the HP's Grenoble software labs, not far from the Bristol labs that birthed DeskManager.
During that era, the vendor was looking forward to products more accessible to its customers than a memristor. A concept video called 1995, aired for summertime conference attendees two years earlier, included simulated workstation screen shots of advanced desktop interfaces. NewWave got its first customers in 1989, but uptake from the developer community was slow. PC software makers like Lotus were the target of HP development campaigns. But a NewWave GUI for software as omnipresent as Dbase or 1-2-3 wasn't created by Lotus. Its Ami Pro word processor got a NewWave version, pairing a little-known PC product with HP technology ahead of its time.
HP scored a breakthrough with Object Oriented Computing with NewWave, though, the only vendor of serious size to do so. NeXT was rolling out object-based software a few years later, tech that Apple acquired when Steve Jobs returned to the company he helped to found. Agent-based computing, intended to use work habits of each user, was another aim for NewWave.
For all of those far-reaching concepts, though, NewWave Mail was "totally dependent on HP DeskManager," according to HP's manuals. It was as if a GUI skin were put on the minicomputer-bound HP Desk. Microsoft needed little more than PCs to spark its first useful version of Windows, 3.0. 
It wasn't the first summer that Hewlett-Packard got upstaged by Microsoft. Twenty years ago this summer, that year's Interex show rose its curtain while Redmond unfurled the Win95 banner, 300 feet worth literally draped off a tower in Toronto in the week of the show. Win95 grounded NewWave, marking the end of HP's unique R&D into GUI.
I watched an aerial daredevil rappel down
the CN tower that week, one of a half-dozen stunts Microsoft staged in contrast to the laid-back HP marketing. Printer sales made a hit with HP's consumers while the company hoped to capture IT dollars with its Vectra PC line. But not even agent-based OOC software could spark sales
like a Windows campaign
using the Rolling Stones'
Start Me Up
 lauding Win95's new Start button. Paying $3 million for the rights to use the song,
Microsoft tattooed it into our brains
-- enough that I played it in a loop while I batted out the first edition of our FlashPaper late-news insert as we launched the
NewsWire
.
Two decades later, Microsoft has announced it will no longer release versions of Windows. It will simply update the current version of Win10 automatically, having long ago dropped the version names that were linked to to a release year. After NewWave, HP made no other efforts to push an in-house R&D project that could offer object oriented computing to developers and business IT users. In the back end of the 1990s the company focused on catching up to Windows business use — after it had been charging into the Unix and NT technologies, hoping to make a splash with businesses.
Posted by Ron Seybold at 06:55 PM in History | Permalink | Comments (0)
June 08, 2015
In 20th year, NewsWire digital turns 10 today
A decade ago today, this blog received its first post. On June 8 of 2005, a death in the 3000's family was in the news. Bruce Toback, creator of several 3000 software products and a man whose intellect was as sharp as his wit, died as suddenly as HP's futures for the HP 3000 did. I wrote a brief tribute, because Toback's writing on the 3000-L made him a popular source of information. His posts signed off with Edna St. Vincent Millay's poem about a candle with both ends alight, which made it burn so bright.
I always thought of Bruce as having bright ends of technical prowess along with a smart cynicism that couldn't help but spark a chuckle. His programming lies at the heart of Formation, a ROC Software product which Bruce created for Tymlabs, an extraordinary HP software company here in Austin during 1980s and early 90s. Toback could demonstrate a sharp wit as well as trenchant insight. From one of his messages in 2004:
HP engineer [about a Webcast to encourage migration]: During the program, we will discuss the value and benefits of Transitioning from the HP e3000 platform to Microsoft's .NET.

Bruce: Oh... a very short program, then.
In the same way Toback's candle burned at both ends, I think of this blog as the second light we fired up, a decade after the fire of the NewsWire's launch. Up to this year we burned them both. Now the blog, with its more than 2,600 articles and almost 400,000 pageviews, holds up the light for those who remain, and lights the way for those who are going. This entry is a thank-you for a decade of the opportunity to blog about the present, the future, and the past.
We always knew we had to do more than give the community a place to connect and read what they believed. We're supposed to carry forward what they know. The NewsWire in all of its forms, printed and digital, is celebrating its 20th year here in 2015. A decade ago our June 2005 blogging included a revival of news that's 20 years old by now. It's news that's still can still have an impact on running a 3000 today.
In the blog's first month of 2005, I wrote
"HP 3000 enhancements can travel like distant starlight: They sometimes take years to show up on customer systems. A good example is jumbo datasets for the 3000's database. Jumbos, the 3000's best tool for supporting datasets bigger than 4GB, first surfaced out of HP's labs in 1995, just when the NewsWire was emerging. We put our news online in the months before we'd committed to print, and our report of September 1 had this to say."
HP will make the enhancement available as part of its patch system, bypassing the delay of waiting for another full release of MPE/iX. But there are already discussions from the HP 3000 community that a more thorough change will be needed before long — because 40-gigabyte datasets someday might not be large enough, either.
"Why care about 20- or 10-year-old news? Because the 3000 has such a long lifespan where it's permitted to keep serving. In the conservative timeline of 3000 management, jumbos were the distant starlight, only becoming commonplace on 3000s a decade later. Jumbos are finally going to get eclipsed by LargeFile datasets. HP's engineers say their alpha testing to fix a critical bug in LFDS is going well."
"Like the jumbos before them, LFDS are also going to get a slow embrace. How slowly did jumbos go into production systems? Five years after jumbos first emerged, John Burke wrote in our net.digest column "it is hard to tell about the penetration of jumbo datasets in the user community beyond users of the Amisys application." His column also offered some tips on using jumbos, even while database experts in the community continued to lobby for a way to build larger files."
That reporting in 2005 marked the first time in a decade that 3000 customers could build a dataset as big as they needed. Up until then, LFDS had not been recommended for 3000 customers except in experimental implementations.
The nature of the 3000 community's starlight made a 10-year-old enhancement like jumbos current and vital. Alfredo Rego of Adager once said that his database software was designed like a satellite, something that might be traveling for decades or more and need the reliability of spacecraft to go beyond the reach of support transmissions. HP's signal for 3000s has died by now. We hope to repeat signals, as well as report, for more than another decade, onto the cusp of MPE's calendar reset of 2027. Thanks for receiving these transmissions.
Posted by Ron Seybold at 08:19 PM in History, Homesteading, Migration, Newsmakers | Permalink | Comments (0)
June 05, 2015
Plan B: Stay on the HP 3000 to 2027?
Could you really stay on the HP 3000 through 2027? What follows is a classic strategy for 3000 owners. Wirt Atmar of AICS Research wrote the following column in the months after HP's 3000 exit announcement. The article is offline for the moment, so I thought we'd put it here as a reference document for any IT manager who's trying to defend the case for remaining on their HP hardware a few more years. When Atmar passed away in 2007 the community lost a dynamic advocate for MPE computing. His company eventually migrated its QueryCalc application for IMAGE reporting to Windows. But not before he organized advocacy like the World's Largest Poster Project, at left. Few 3000 experts did more for MPE owners than Atmar — including thinking outside of HP's box.
Plan B: Staying on the HP 3000 Indefinitely
By Wirt Atmar
Hewlett-Packard and a few others are stating that staying on the HP 3000 for the long term is your least desirable option, the one that puts you at the greatest risk. Let me argue here that remaining on the HP 3000 is not likely to be all that much of a risk, at least for the next 25 years. It will certainly be your least expensive option and the one that will provide you with the greatest protection for your current investment in software and business procedures.
AICS Research, Inc. wholly and enthusiastically supports the evolution of an HP 3000 MPE emulator, another path that has been described as "risky." But there's nothing risky at all about the option, should HP give its blessing to the project. It is technically feasible and completely doable. Indeed, the emulator actually offers the very real possibility of greatly expanding MPE's user base. However, staying on the HP3000 does not require HP's blessing. It's something you can decide to do by yourself. And should you decide later to move off of the HP 3000, you've really lost nothing in the interim. Indeed, you've gained time to think about what is best in your circumstances.
Risk Estimation
A part of calculating your "risk" is really nothing more than sitting back and determining what part of the computer market is rapidly evolving and which part is more or less stable.
The HP 3000 is well-known for its qualities: a very nice CI scripting language, a very robust job scheduler, an extremely stable and scalable database, and its simple, English-like commands. Beyond that, we have also been lucky that the HP e3000 has also recently had put into it several standards-based attributes: network-based IP addressable printing, telnet and FTP, and all of these qualities are now very stable.
But all of the other processes of modern computing, the material encompassed by POSIX (Java, Samba, Apache, bind, DNS, etc.) are the qualities that are rapidly evolving. And none of these need to be on the HP 3000. In fact, you're probably better off if they weren't on the platform.
The picture at left is of a $450, 128MB, 900MHz, 30GB Dell server running Red Hat Linux and a used, unlimited-number-of-users, 128MB, 8GB Series 927 we bought from a customer for $200. Because of HP's announcement, some fraction of users, undoubtedly greater than 50%, are going to move off of the HP 3000. What this migration is going to do is provide a glut of hardware on the market in the next several years that is simply going to be unbelievably inexpensive, and there's no reason that you shouldn't take advantage of the situation.
You can actually telnet to this 927 by logging onto 67.41.4.238 and typing:
:hello <yourname>,demo.qcterm
Once there, you can then telnet from the HP 3000 to the little Dell server by typing:
:telnet 192.168.1.3
And that's very much the point. The telnet and FTP standards are now very stable. Almost no change is going to occur in these standards in the next quarter-century. Fortunately both the HP 3000 and Linux have them deeply embedded in their structure now. Because of that, you can very readily append Linux and Windows processes onto your HP3000 as auxiliary cheap external boxes. Using the FTP site command, the HP3000 can easily operate as a master controller of any number of external Linux and Windows machines.
It is our intention to move our web pages up on the Linux box. It is undeniable that Linux makes a fine webserver. But on the other hand, it is equally undeniable that the HP 3000 is a very nice database platform. Using HP3000 scripts and jobs, it is very easy to transfer files to and from the Linux box, constantly updating web pages as need be from data held in your HP3000's databases.
Most of the applications on the HP3000 are quite old and very stable. If the more modern -- and therefore much less mature -- applications such as web and file serving are put onto the Linux box, such auxiliary Linux platforms can fail without impacting the HP3000 at all, other than perhaps holding open the one or two processes that might be waiting for a reply. But even if that should prove to be true, all that these processes should do is hang until the Linux boxes are resurrected. They certainly will not crash the HP3000.
Hardware Maintenance
There are fewer parts in a modern computer than most people imagine: a power supply, a few circuit boards, a few disc drives and a backup device, generally something like a DDS or DLT tape drive. But beyond that, they're hardly anything else but sheet metal.
One of our HP3000's, the 918 in the picture at left, originally came with two 4GB drives mounted internally. One of the drives failed, as that particular series of 4GB drives that HP supplied had a tendency to do. Access to the drives is merely a matter of unscrewing two screws at the base of the faceplate, lifting the faceplate away, and pulling the disc drive cage out a bit from the central case.
To replace the drive, all I did was unplug the power cables and the ribbon cable from the defective drive inside the cage. Otherwise, I left the drive mounted where it was. I then ordered an extremely inexpensive, external SCSI-connected LaCie drive from APS that was designed to work on PC's or Mac's and plugged it into the SCSI port at the back of the HP3000, giving it the same SCSI address as the dead drive [I prefer SCSI-connected external drives, even though they're a bit more expensive, simply because they're so much easier to replace if the time comes again to do so]. I wasn't able to order an exact replacement 4GB drive. The smallest, cheap external $250 drive that I was able to order was 18GB, and that was from the "legacy" series. Nonetheless, it booted instantly.
How stable is this sort of repair process likely to be over the next 25 years? SCSI is SCSI. We were an early and very enthusiastic adopter of Macintoshes when they first appeared in 1984, and this 18GB drive could have been just as easily connected to one of our 1985 Mac Pluses as it was to the 1999 HP 3000. Although there are other external bus structures in existence (USB, Firewire, optical, etc.), SCSI is likely to be approximately as common 25 years from now as it is currently. But even if it were supplanted by some other bus structure, you can reasonably be assured that bus convertor boxes will be available. While there is likely to be a great deal of evolution in peripheral devices over the next quarter century, SCSI frees you to be able to accept that evolution rather easily.
Can you really operate a business on 25-year-old hardware, 25 years from now? We do it here with our Macintoshes. Because we were an early adopter of the Macs, and because Apple has not attempted to maintain backwards compatibility in its lines, we were orphaned within just a few years of adopting the Macs. Our initial enthusiasm for the Mac caused us to put 5,000 pages of company documentation on the machines. Unfortunately, the very next series of Macintoshes, the PowerPC's, would not run our software and thus we were constrained to keeping our original Mac Pluses alive forever.
Although Apple has made the Mac line incompatible within itself several times since, none of these more recent incompatibilities bother us, because we were stuck on the very first generation of Macs. When the Mac Pluses and Mac Classics began to become obsolete, we bought 10 spare machines from the local high schools for almost no money at all. These spares are now stuffed in every nook, cranny and closet, but so far, they haven't proven to be necessary. Although the original Macintoshes were never made nor advertised to be rock-solid, reliable devices, so far they've held up to 17 years worth of daily use.
And that too is simply the nature of electronic devices nowadays. Mechanical devices (discs, tape drives, keyboards) may fail, but the electronic circuits could easily run for several hundred years without much maintenance.
Software Maintenance
Pictured at left is a third small HP 3000 that we run, another 918. However that's not the device of interest in this picture. Rather the machine of importance is the small $400 e-machine PC in the center of the image.
Adobe Acrobat Distiller is the program that converts PostScript files into the PDF format that's become very popular on the web. Beginning about five years ago, for a period of two years, I spoke to everyone I could at HP and Adobe about porting Distiller over onto the HP3000, but I was able to make absolutely no headway with anyone. No one was interested. Even more frustrating, because POSIX is not UNIX, the UNIX version of the Acrobat distiller would not run on the HP3000 as it was, even though it was certified for HP-UX.
One day, in an epiphany not unlike Saul's conversion on the road to Damascus, it simply dawned on me that I didn't need to keep beating my head on the wall. Rather, I could purchase the very inexpensive Windows-based version of Acrobat and FTP my files from the HP3000 down into a PC. The process worked so well that I have now become a very enthusiastic advocate of not porting material onto the HP3000 directly. Rather I now argue that it's best to run the programs on the platform for which they were designed and control them from the HP3000. Indeed, doing this insulates and protects the HP3000 in two ways: one is from random software bugs, the second is from obsolescence.
In the arrangement we now use, a standard, simple HP3000 job runs our QueryCalc reports and prints their PostScript output to MPE flat files. As a second step in the jobs, the ASCII flat files are FTP'ed down into the e-machine, into an Acrobat "watched" folder, adding the file extension ".ps" onto the file as an intrinsic part of the transfer. The PC is set up so that when a ".ps" file appears in the watch folder, Acrobat automatically converts it into PDF, moving it to a pre-specified output folder. Although the distillation process generally takes less than a second, we have our HP3000 jobs wait 10 seconds before they retrieve the newly-converted PDF files and move them back onto the HP3000. Once the new files are back on the HP3000, they're FTP'ed to a third server, our webserver in Minneapolis, MN, inside the same job. It's all surprisingly very simple, very straightforward and very efficiently done.
Because virtually any process on a Linux/UNIX or Windows machine can be controlled in this manner, there's essentially no reason to port anything to the HP3000 nowadays. But just as importantly, this simple observation makes the current version of MPE nearly obsolescence-proof. Even more than SCSI, FTP and telnet, because they are now nearly ubiquituous 30-year-old standards, are going to look the same in 25 years as they do now. They cannot be changed.
Hardware ages, but software doesn't. It is essentially immortal. But can you run 25-year-old software 25 years from now, especially if no one is "maintaining" it? What does maintenance mean? To a great degree, it means keeping up with the evolving standards, not fixing bugs. But what would you really want to change on your HP3000? Your code works now. It will work just as well a quarter-century from now.
The little Linux box in the topmost picture is set to dial back to Red Hat every evening, check for updates, and apply them automatically, if need be. Doing this is necessary at the moment because of the rapid evolution attendent to trying to make Linux a mission-critical operating system, and it will be that way for the next five years or so. But there's virtually nothing that really needs to be fixed on the HP 3000 that sits next to the Linux box. MPE code has proven itself to be extremely reliable at tens of thousands of sites over decades of use. And although the total sum of all of the equipment in the upper image came to less than $2000, there is sufficient computing power on the table to run a $50 million/year business easily.
All software contains bugs, and on the last day that HP corrects whatever bugs it finds in MPE, if no emulator and no Open MPE should come to pass, those defects that exist in the code on that day will remain there forever. But in many ways, operating under these conditions is more stable and more predictable than when code is still actively being modified. You rapidly learn where the remaining pitfalls are and you simply work around them.
The real trick to operating obsoleted hardware and an O/S is to buy multiple spare equipment. This equipment is going to become startlingly cheap in the next few years, so keep your eyes open for it. In your free time, configure these spare systems to be identical to your production boxes. In this manner, if your primary systems should fail, you can actually swap out a spare system faster than you can call for assistance and certainly be back on line before the repair people arrive, if you need them. Doing this also allows you to find out what's wrong with the failed system at a leisurely pace and get it back up and running on a schedule that's far more appropriate to the task than one dictated by panic.
As I mentioned at the beginning of this note, I do not believe that staying on the HP 3000 indefinitely to be a particularly risky strategy. If your code and business procedures work well today, they will work just as well tomorrow, a week from today, or twenty years from now. In great contrast, migration may be the riskiest thing you can do.
Over the years, we've had a great many customers move off of the HP 3000 and we've been very interested in hearing about their successes and their failures. The former users who have had their companies bought out by a larger organization have had the greatest success. The larger organization dictates what kind of computer system they're going to use, and in this situation, the HP3000 often loses. Nonetheless, our former customers generally have to do no more than have their terminals changed out and learn the new business rules as they connect to the central server at company headquarters.
In this company-purchase environment, everything has been relatively well smoothed out in advance by the purchasing organization, optimizing their procedures over a period of years, if not decades. But the same hasn't been true of our customers who have "migrated" off of the HP 3000 onto some other platform, based on their own volition. Their costs of migration have universally been far higher than anyone originally estimated, as have the times involved. Indeed, the migration efforts were so difficult that a few of our former customers have outrightly failed during the process and many others were put at high risk. There's no single day in the life of a company when the computer system, no matter how it's architected, that it can't operate and fulfill its business purpose, and it's this simple necessity that makes migration so extremely difficult.
If your choices boil down to choosing between a "migration" process, which may cost millions of dollars, and which may well put the company at risk, and doing nothing, other than purchasing a number of very inexpensive spares, staying put may well be the least risky thing you could ever do.
Posted by Ron Seybold at 01:16 PM in History, Homesteading | Permalink | Comments (0)
June 04, 2015
More open HP shares its source experience
It's not fair to Hewlett-Packard to portray its Discover meeting this week as just another exercise in putting dreams of industry-rocking memristor computing to rest. The company also shared the source code for one of its products with the world, a tool the vendor has used itself in a profitable software product.
HP's Chief Technology Officer Martin Fink, who also heads up HP Labs, announced the release of Grommet, HP's own internal-use advanced open source app. The platform will be completely open source, licensed for open use in creating apps' user experience, or UX as it's known in developer circles. Fink said Grommet was HP's contribution to the IT industry and the open source community.
HP says "Grommet easily and efficiently scales your project with one code base, from phones to desktops, and everything in between." The vendor has been using it to develop its system management software HP OneView for more than three years. The code on GitHub and a style guide help create apps with consumer interfaces, so there's a uniform user experience for internal apps. Application icons like the one on the left are available from an interface template at an HP website.
The gift of HP's software R&D to a community of users is a wide improvement over the strategy in the year that followed an exit announcement from MPE/iX futures. A campaign to win an MPE/iX open source license, like the Creative Commons 4.0 license for Grommet, came to naught within three years of that HP notification. There were some differences, such as the fact that HP still was selling MPE/iX through October of 2003, and it was collecting support money for the environment as well.
The 3000 community wanted to take MPE/iX into open source status, and that's why its advocacy group was named OpenMPE. It took eight more years, but HP did help in a modest way to preserve the maintainability of MPE/iX. The vendor sold source code licenses for $10,000 each to support companies. These were limited licenses, and they remain a vestige of what HP might have done -- a move not only echoed by Grommet, but reflected in HP's plan to move OpenVMS to a third party.
"I guess there is a difference between licensing the MPE code and then distributing it," our prolific commenter Tim O'Neill said last week.
I have heard that HP hangs onto the distribution rights because they are afraid of liability. Surely they do not, at this point, still seek to make money off it, do they? Is there some secret desire within HP to once again market it?
It feels safe to say not a bit of desire exists in HP today, even though Grommet shows the vendor can be generous with more mainstream tech. In at least one case, HP's offer of help with MPE's future was proactive, if not that generous.
Steve Suraci of Pivital Solutions
tells a story about that MPE/iX source license. He was called by Alvina Nishimoto of HP in 2009 and asked, "You want to purchase one of these, don't you?" The answer was yes. Nobody knew what good a source code license might do in the after-market. But HP was not likely to make the licensing offer twice, and the companies who got one took on that $10,000 expense as an investment in support operations.
Pining over Grommet or the sweeter disposition of OpenVMS won't change much in the strategy of owning or migrating from MPE/iX. Open source has become a mainstream enterprise IT scheme by 2015, pumped up by the Linux success story. O'Neill said he still believes an open source MPE/iX would be a Linux alternative. He reported he recently discovered the Posix interface in MPE/iX. Posix was supposed to be a way to give MPE the ability to run Unix applications, using 1990 thinking.
The aim for Posix was widely misunderstood. It was essential to an MPE/iX user experience that didn't materialize as HP hoped. But John Burke, our net.digest and Hidden Value editor for many years, noted in the weeks after that exit announcement that HP's training on Posix expressed that desire of bringing the Unix apps to the 3000.
The following is an example from HP training:

"Before we proceed, let's stop to ask a question, just to ensure you've got the fundamental idea. Which of the following statements best summarizes the reason why HP has brought POSIX compliant interfaces to the MPE/iX operating system and the HP3000?

POSIX is the first step in HP's plan to move all HP3000 users to UNIX
POSIX is a tool that HP is using to bring new applications to MPE from the UNIX environment.
POSIX is a piece of software that HP is using to eventually combine the HP3000 and the HP9000 into a single system.

Choose the best answer, and press the corresponding key: '1', '2' or '3'." 
Posted by Ron Seybold at 07:49 PM in History, Migration, News Outta HP | Permalink | Comments (0)
May 25, 2015
A Memorial to 3000 Advocacy
It's Memorial Day in the US, a holiday where we celebrate those fallen in combat. There's that ultimate sacrifice in uniform and on duty for this country, worthy of a parade. But here on a day when many of us take time away from the job, it's worth a moment to remember those who've left our MPE community after good work to benefit all.
Wirt Atmar was one of those fellows. He passed away more than six years ago of a heart attack, but he's got a living memorial up on the archives of the 3000-L newsgroup. The lifespan of HP's business with the 3000 got a benefit from his work as well. It's safe to say that MPE's 1990s would've been poorer without his advocacy for IMAGE.
1990 was a high-water mark in HP 3000 advocacy. From his company AICS Research, Wirt created the report tool QueryCalc as well as QCReports and a free QCTerm emulator. In the fall of 1990 he helped spark a change in HP's business practices about the 3000 — a change that remains important to those who are changing little about a stable HP 3000 environment.
In 1990 Atmar wrote an open letter to HP published in The HP Chronicle, the monthly news magazine I was editing at the time. In his letter Atmar chastized HP for the way it was relegating IMAGE to minor status among the 3000's futures and features, as well as the general treatment of a loyal customer base. Word was building in the community that HP had plans to separate the IMAGE database from the purchase of any 3000. The database had been included with the 3000 since 1976, a radical move at the time that sparked the creation of untold numbers of utilities and applications.
A programmer or development company could create an application or software for the 3000 community using IMAGE as the database, knowing that every 3000 out there would be able to make use of the creation. 3000=IMAGE was a formula close to being broken. The community reared up on its hind legs and castigated its supplier, using the Interex 1990 user group meeting as the forum for its dismay. SIG-IMAGE, a Special Interest Group of users gone dormant, re-formed to organize the complaints and demand remedies.
In community lore, the protests around the meeting are known as "The Boston Tea Party," in part because they changed HP's course of conduct about customers. I recall Adager's Fred White as the most scathing critic of HP's myopia of the time, but a row of customers lined up behind and in front of him at the public microphones in a Boston meeting hall. This was a time when the HP Roundtable was the highlight of the conference, a chance to quiz the top executives of the company, right out in the open, about shortcoming and problems. The national IT press of Datamation, Computerworld and Information Week, all with HQ just up the road, were on hand that year to report the rebellious talk.
HP looked chagrined and embarrassed fielding customer complaints — during a time when customer communities had a different impact on their vendors.
At the time of the Boston uprising, Atmar noted, HP was easy to take advantage of, because the vendor was afraid of negative publicity. He said that his open letter "basically caused the [1990] Boston riot."
In the fall of that year the users not only stalled the separation of IMAGE from the 3000, but sparked a "Customer First" strategy from HP that was used to retain 3000 customers. HP used Customer First as a model in its other enterprise computer operations. As part of that, customer focused R&D mandated that every employee had to become an expert in understanding customers' businesses so they could know the customers' "pain points." At its best, Customer First let HP anticipate 3000 customer needs in order to be able to deliver solutions that customers might not have even considered. Every engineer and manager was sent on customer visits, to spend a day or two with HP 3000 customers. HP gained insight at a new level, and refreshed its customer relationships. Customer First became a mantra in a new generation of HP 3000 division managers, the idea of customer delight: unexpected features, beyond commonplace requests.
It was a renovation for customers, even if it came at the end of a pointed stick of sharp criticism and some disgust. But as Atmar pointed out, "It was a glorious moment, yes, but as the Roman slaves told the Roman generals, 'All fame is fleeting.' "
Even 15 years later, as homesteading advocacy talks were taking place with HP, the outcome -- a better place for homesteading 3000s -- would've been impossible without the ideals of Customer First that were sparked by that 1990 uprising. On the occasion of the 3000's 25th birthday, Atmar talked about what that birthday of the product -- which was still living on the HP price lists in 1997 -- meant to the customers.
Maturity. If you were a business owner or manager, I can't think of a single word that you would want to seek out and celebrate more than a mature solution, one that can easily demonstrate that it can do what it says it does. Immature solutions, on the other hand, are going to cost you an awful lot of money — and a growing segment of the business community is beginning to understand that. You can only be lead down the garden path so many times before it begins to dawn on you what it's truly costing you.
Posted by Ron Seybold at 01:11 PM in History, Homesteading | Permalink | Comments (0)
May 14, 2015
TBT: The Day that HP's 3000 Division Died
On a day in May 13 years ago, Hewlett-Packard took the designation of "division" out of its HP 3000 business. And so that summer started the first era in 36 years when the 3000 and MPE had no dedicated company unit or general manager to call its own. Its final GM believed selling 3000s was not his exclusive focus.
Only six months before the 3000 left the org chart, the vendor announced the term of its swan song for the system. But through the early months of 2002, there was still a Commercial Systems Division -- CSY in the HP naming conventions -- to issue software, business decisions, and pronouncements about the future. General Manager Winston Prather ended that era as he stepped away from the GM post. (The photo at left comes from the Chicago HP World, where HP told customers nothing about a 3000 pullout announced 90 days later.) 
As 2002 began, we asked Prather what he saw in the future for CSY as an HP unit and MPE as a computing environment. Asked if he'd be the last 3000 division manager, Prather said, "Gosh, I don't know. Part of me wants to say 'I hope so.' But there's a negative sound to that, too." He sounded positive that MPE users would outlast the vendor's lifespan, unless HP planned to be around longer than forever.
Here's the bottom line: MPE will be around forever. And we want to help that. This is in no way HP trying to kill MPE. We will explore and look at all the different options to enable what I'd call the afterlife — or at least the after-HP life, beyond 2006.
Prather was stepping away from a 3000 whose futures he claimed to have curtailed with a personal decision. "It was my decision," he told a user group publication, adding that the server had stopped being strategic to its owners and users. He told us that as GM it wasn't his job to sell 3000s -- just to deliver the right server to the customer from HP's many choices. Later that year he ended HP's 3000 life. He'd been doubling as a GM for another HP division for more than a year by the time HP took CSY off its org chart. And so the community began an eight-year period of referring to a Virtual CSY, and the vCSY nickname earned a place in user group communications.
Prather's vision of 2006 was something that would change, too.
2006 was the first of five more years with a virtual CSY that was impacting real customers. The division folded up without a dedicated marketing manager, after Christine Martino left for a "carrier-grade Linux division" being called TSY. In the clearer focus we have 13 years later, a few things are certain.
1. Prather was a GM of that TSY while HP was deciding the fate of his HP 3000.
2. Martino left to be GM of that TSY after she announced the plans to cut HP's 3000 operations off.
3. HP's High Performance Computing unit then became Prather's next GM post. He vacated a job that Martino took over, while HP ended the need for a 3000 general manager. The term general manager didn't sit well with Prather when asking him about job titles in 2002.
"Just think of us as heads of our organizations, for now," he said, reflecting a bit of work still to be done on HP's internal reorganization. He said Dave Wilde is "the go-to guy" for the 3000 community from here on, making the decisions on things like HP's licensing policies beyond 2003 and when HP will start working with OpenMPE to make a hardware emulator MPE license possible. Wilde had been leading the lengthy HP investigations on OpenMPE development, including meetings with the OpenMPE board members at the recent Solutions Symposium.

As for the employees in CSY, Prather said that "not one employee is doing anything different" as of mid-May, with 3000 offices still in place in California and Bangalore, India and no head count reductions underway. Prather couldn't promise that 3000 staff in HP wouldn't become part of the expected 15,000 layoffs resulting from the Compaq merger. He didn't think that CSY has ceased to exist, except in the sense that it's no longer an HP division.

"As far as a group of people dedicated to the 3000, it has not ceased to exist," Prather said. The reorganization "is a focus on employees, and trying to do the right thing by them to ensure their long-term career path. It sets us up to meet customers' needs in the long run. We needed our marketing teams and R&D teams to stick around for many years. Having them in a silo-ed organization, where they continued to be concerned about not being needed, caused retention problems."
Despite some bonuses to stay, tech staff with 15-25 years of experience departed CSY during the first year there was no more so-named division. Those layoffs had some impact on a small, veteran unit. Recently there's been some reexamination of what date these executives in HP were certain there would be no more releases of 3000s and software. The review is tied to the perception left in customers' minds and hearts after that Chicago show of 2001. Things were going to be okay -- and then they were not.
But the expiration date of the 3000's division is not in doubt. Prather and Wilde have now both retired from HP. Martino now works at Intuit. Her LinkedIn profile has a work history that only begins after she left the 3000 division. The date of ending that effort is less certain.
Posted by Ron Seybold at 08:49 PM in History | Permalink | Comments (0)
May 11, 2015
Who'd ever know where everyone would go?
Business practices have changed enough over the last decade that even history can't teach us much. When HP dropped its 3000 practices, we all cared about environments and platforms, which OS supported the apps we wanted, and which system maker we could count upon. Then HP embraced Windows to puff itself up, and no platform the vendor created would be as strategic again.
One old story was that customers didn't want to invest in an HP product that was called strategic during an HP presentation. It could easily be the kiss of death. The genuinely strategic parts of the 3000, like IMAGE, never needed that blessing. And sure enough, only about a year after Carly Fiorina anointed the 3000 as a strategic product, HP was pushing it aside.
Fiorina is on my mind today because of a figure related to the destination for 3000 migrations. I told a Computerworld reporter who called about Fiorina last week that I believed that 80 percent of the installed base that left after 2001 didn't land on an HP platform. Long-term, maybe not a good choice.
Not so fast, I heard from a retiring HP employee. My 80 percent was way overstated, because HP tracked where people were going. Nowhere near that percent were leaving HP altogether. 
Sure, to the extent anybody could track moves in a base where HP didn't know more than two-thirds of the customers by the late '90s. "Hey, lots of them are headed to HP-UX. We're working with so many." I'm reminded of the cheery lab reports delivered about MPE XL stability during 1985 or so. Then a one-year delay, while lab management dealt with the less-attractive realities. Whenever the real answer is not popular, effort spent to confirm it will only make you correct. What would anyone in HP do with knowledge that the migration push was separating 3000 sites from HP altogether? HP wouldn't have changed its course.
On to that percentage figure. It didn't come from speculation, just a third-party report of an HP executive's explanation.
In the fall of 2011, Dr. Robert Boers,
CTO of Stromasys, told a room of 3000 fans and developers that he wished HP been able support or fund an emulator product earlier than 2009."
In fact, HP eventually wished this at some more executive level than the R&D lab. Boers told the 2011 crowd that HP approached him to wish he'd revive the PA-RISC emulator project that HP's IP unit had roadblocked. ("Give you lab access to trade-secret boot up routines? What for?")
Here's why. By 2009, Boers said, "HP told us that more than much more than half of the systems had been replaced with a non-HP platform." Running Windows on HP ProLiant servers doesn't count for much; not when Dell or Lenovo can sweep in and replace those ProLiants.
Perhaps Boers' story was just a tale HP was telling to get a developer to restart a project that had already cost a pile of money. Or maybe Boers was making it up. But since HP has been and always will be full of people who "can't say more," it's nigh-impossible to fact-check. With everybody having an incomplete picture, then a tale like 80 percent either is "speculative fiction" or "sounds good to me."
"I just never heard many people saying anything other than 'we're leaving for Windows, or Linux,' " Vladimir Volokh told me this afternoon. VEsoft's founder covered a lot of ground, literally, visiting 3000 customers for more than 15 years.
I can retreat back to 66 percent lost customers, but that doesn't change the bigger point. Eliminating HP's futures for the 3000 didn't deliver much to most of the community, except migrations to manage.
Here's another question nobody can answer for certain. If HP in 1999 chose Ann Livermore, the runner-up for Carly's CEO job and someone who knew the 3000 personally, would the system get the ax from HP's futures? Maybe puffing HP up with a merger into low-profit revenues would not have been Livermore's strategy. I can speculate, but the outcome that changed 3000 lives is anything but fiction.
Posted by Ron Seybold at 06:47 PM in History | Permalink | Comments (0)
May 05, 2015
When Migrations Are Easy Replacements
One day ago Computerworld asked me whether I thought Hewlett-Packard had done the right thing about HP 3000 futures. The deed that changed most of the lives in the 3000 community happened long ago, but those 13-plus years have been put in current focus by the candidacy of the CEO at the time of the 3000 exit plan. Carly Fiorina wants to be America's next president. Computerworld's Patrick Thibodeau, having covered 3000 events for close to two decades, knew there would be some permanent marks here from that dark decision of 2001.
But there are people who have come to accept and even embrace the change forced upon customers and suppliers. These are sharp and savvy people who've made changes themselves in the wake of the end of HP's 3000 business. Most of them have extended their skills or product line or service offerings. All of that came at a cost, the risk that entrepreneurs take in business. 
Migrations made business in this market too, just like the Y2K deadline lifted a lot of COBOL experts' revenue reports for 1996-2000. There's one insidious angle to that "new business from HP changes" strategy, though. It's the idea that the HP 3000 was easier to replace than other enterprise systems because it was general purpose and transaction-based.
That's a label that also fits the Digital VMS line as well as IBM's Series i (AS/400). IBM had the good sense not to walk away from its midrange servers, and HP decided to protect a larger customer base in the VMS systems (larger than the MPE base by a factor of 10). But the 3000 was not targeted because of any ease of replacement. "VMS and MPE were general purpose, transaction systems that were much more easily replaceable," the assertion goes, more easy than replacing something like the NonStop fault-tolerant environment.
Using that line of thinking, HP's Unix is up for the next cut, now that VMS has been ushered out of HP's long-term enterprise futures. Nobody who's invested in VMS, MPE, or HP-UX wants to hear that their general purpose computer would lead to a costly long-term choice. It was never about a customer's choice. This was always all about business and HP's hard choices — and so that's why Computerworld wanted to know how your community was adding up the cost, now that Carly's will begin taxing political credibility.
Relative ease of migration is something
like being a little pregnant. The change was never going to be easy or without pain. At the end of the migration process a customer has something new, something that looks a little bit like its predecessor. But the ideas of "easily replaceable" and MPE exits won't ever fit together. At least not in the shops of customers. I'm sure these 3000s were easily replaced in PowerPoint slides and white papers, though.
As proof of that complexity, consider all of those migrations still being assisted by 3000 experts. Because nothing of the nature of MPE is easily replaceable. Thibodeau wrote as much.
Another place for clues to Fiorina's leadership could be the decisions around the HP e3000, a mid-range system that was widely regarded for its durability and reliability. To the shock of users, HP in 2001 announced that the HP e3000 was being discontinued.

It was not the right decision, said Ron Seybold, who heads The 3000 Newswire. "'If it isn't growing, then it's going' were her marching orders after buying Compaq," said Seybold. He argued that the system was small, but profitable. In his mind, that decision proved "she wasn't looking any farther ahead than tomorrow's earnings reports."
No, it's not a direct line between the departure of 3000 futures and the lingering malaise of HP's fortunes. But the 3000 represented a trend away from R&D and HP inventions, even while Fiorina ironically installed the word "invent" under a new HP logo. Fiorina made her HP mission about the short-term, not long-term strengths.
The demise of invention resulted in a massive percentage of the 3000 base leaving for non-HP products. That kind of migration eliminated HP's messy problem of taking care of so many enterprise businesses. About a decade or so after 3000s stopped rolling off the HP assembly lines, HP is splitting off the mess that Carly cobbled together and focusing on -- wait for it -- enterprise computing. 
It's important to note that Fiorina didn't sign the 3000 death notice. There's a good chance that until her political operatives read that Computerworld story, she didn't even know the 3000 made an HP exit. The last time she was seen acknowledging the 3000, she'd taped a promise to preserve it in HP's plans. The video got its only airing at an Interex meeting in the year 2000. The Compaq deal was already in play by then.
For those who didn't follow, the genuine ax-swinger of the 3000's demise was Winston Prather -- who moved to HP NonStop division in fairly short order after he opened the scuttle-hatches at CSY. Having executed HP's exit, he seemed to have atoned by preserving NonStop. It's probably because there's nothing else out there that does what that Tandem-created product does so well.
And so the irony is that the best hope for a surviving HP-built environment will come from a product HP did not create. Migrations from NonStop are thought to be nearly impossible. That thought is one protection from believing their replacement is easy.
Posted by Ron Seybold at 10:47 PM in History, Migration | Permalink | Comments (1)
April 30, 2015
TBT: The Legacy of 3000 Creators
IMAGE/3000 creator Fred White (left) and Ed Sharpe pose in 2004 with one of the earliest models of HP 3000 memory boards, at Sharpe's computer museum in Glendale, Ariz.
The creators of some of the 3000's earliest pieces are still with us, most of them. A notable exception is the legendary Fred White, pictured above in a photo taken from the years before his death in 2014. He's holding up his end of a memory board for an early-model 3000. The HP 2000 Access system behind him introduced many people to HP business systems, and they went on to become the computer's first wave of users.
Holding the other side of the board is Ed Sharpe, who created and curated the first networking resource online devoted to the 3000, a bulletin board system he called The Forum. Throughout the first decade of the 3000's life, BBS communication was the only way to exchange information about MPE technical details other than attending user group meetings. HP did not launch its teleconference sessions, broadcast to customers through HP sales offices, until late in the 1980s.
The Forum earned the support of system managers reaching out to connect with each other. The character-based BBS interface was not much less sophisticated than the mailing-list-based HP3000-L of about a decade later. Downloads of contributed software were a big feature of the Forum. It connected users in an era when long-distance was still a serious business expense.
The biggest drawback to the Forum was the long distance charges for the users when downloading Forum CSL files! I am sure I caused some corporate phone bills to increase. Over in Europe, they had greater accessibility to X.25  at that time.
There was sport and fun on the Forum,
too, much like the current-era's Friday Funnies from the 3000-L. "We had a total-weirdness chain story that everyone would add upon about Jo-EL, this man from another planet who presided over HP Labs (a tease at HP's Joel Birnbaum and riffing on Jor El from Superman). The thing went on forever, and we were all killing off each others' characters. and they would  come back to life  miraculously."
Sharpe created the Forum BBS using the only version of BASIC ever developed for MPE, BASIC/3000.
The marvels of early technology like that core memory are a part of Sharpe's passions. "We are basically holding 8K," he reports about that photo with White. "Core memory was wonderful though -- no battery back-up needed. You could go back a year later, turn it on, and there it was -- just as it was when you shut it down. This  board design was a single board compilation of the board set: Core, SSA and XYD that went into the HP 2100 computer. It was used in the HP 2000 F and HP 2000 Access system we had."
Sharpe kept track of the resources in one of the community's Contributed Software Libraries by way of a column in the HP Chronicle for five years. After retiring from The Computer Exchange, a computer retail and timesharing business in Phoenix, he opened up the Southwest Museum of Engineering, Computing and Communication. He's got a collection of vintage gear at the museum including that HP 2000 and gems like an HP 9845 workstation, the latter complete with built-in thermal printer and cassette tape-based storage.
Thanks to a donation from Keven Miller of 3K Ranger, the museum now has a Micro HP 3000. "We will continue to look for more parts to keep it supported into the future," Sharpe says. "We are still looking for a Series II, a Series III and a Series 30 -- and a CX or pre-CX 3000. (Yeah, I may be dreaming there...)"
He's still learning about the HP 3000, too. "I need to know, will the old BASIC 3000 interpreter and compiler from MPE IV run on MPE V?"
Posted by Ron Seybold at 06:57 PM in History | Permalink | Comments (0)
April 28, 2015
Locating Help for 4GL 3000 Projects
A phone call -- how old-school -- to the NewsWire offices today posed an interesting question: Who'd be able to help a site that's got Speedware applications which appear to be layered with Visual Speedware? The list of independent Speedware experts who know MPE isn't a long one. A few months ago we compiled the a collection of 3000 experts into a single webpage here on our website. Only three companies named Speedware skills specifically in their company profiles.
"The Speedware here feels like it's hidden behind high walls," the caller said. "There's an aspect of Windows running in there, and the site doesn't really know where their development server is." Visual Speedware is still a product of Fresche Legacy -- the new name of Speedware since 2012 -- and the software that was created for "Enterprise Client/Server Development" has a presence on the Fresche website. The product's data sheet from 2002 is on the hpmigrations.com wing of the Fresche Web addresses.
Readers here will know there's an opportunity to help with a Speedware installation. It's a skill set in declining supply, this kind of 4GL expertise. PowerHouse users have a mailing-list newsgroup, but there's nothing like that for the Speedware user.
The two brands of 4GL have widely differing early days; Speedware was sometimes white-labeled to create apps sold by other software companies. SoftVoyage is a memorable example. PowerHouse always had its name out front where it was deployed. Later installs of these two 4GLs, through the late 1980s onward, were more similar.
In the ways of the IT world in 2015, both of the vendors of these products consider their 3000 customers to be ready candidates for migrations. The transition arrives in various flavors, but all of it is designed to leave the Hewlett-Packard-branded 3000 hardware behind.
Fresche Legacy has been in what it calls
the application transformation and migration business a long time. In more recent years the company has focused on the IBM marketplace transitions. Fresche Legacy is exhibiting at this week's COMMON conference for IBM users, one of the biggest in the AS/400-Series i world. But when HP 3000 migrations were a nascent concept, HP pointed to a 3000-to-9000 Speedware transition as an early migration success story.
PowerHouse is supported in the 3000 world by MB Foster; the company founder Birket Foster can call on experience with PowerHouse back into the 1970s when the company was called Quasar, rather than Cognos. Foster's right up to date with this platform's options and structures. This year MB Foster inked an alliance with Unicom Global, the latest PowerHouse owners, to assist companies including HP 3000 owners.
If you go back far enough in the history of these two 4GLs, you'll find a moment where PowerHouse and Cognos were in a services deal together. It was all about migrations of PowerHouse, not the preservation of one 4GL or another. It yielded a then-groundbreaking photo of Cognos and Speedware crews arm in arm in one booth, supporting one another.
Posted by Ron Seybold at 07:33 PM in History, Migration | Permalink | Comments (0)
April 23, 2015
TBT: The Rise of Superdome to Blades
Earlier today, a 3000 manager asked if the Moonshot line of HP servers was part of the plans to establish the Charon HPA PA-RISC emulator in the community. "I think it would be great if someone would demonstrate MPE/iX running on HP Moonshot server," said Tim O'Neill. "[Stromasys might be using] Charon to do something like this, but are they doing it on a Moonshot?"
Moonshot is not the best fit for the Stromasys product, because the HP bladed server is aimed at far larger processing needs. The targets for Moonshot are providers of networking services, cloud hosting co-location providers, customers as large as PayPal, and 20th Century Fox. The studio now distributes its movies around the world digitally, movies that are hundreds of gigabytes per file, and it reduced its datacenter footprint by more than 80 percent and sends those files 40 percent faster.
It's not that the movie business didn't ever use MPE; Warner Brothers had a European distribution center for movies that used a 3000, but that was back in the day when canisters of 35mm film were shipped to theaters. Evoking the name Moonshot, however, recalls the hope that the 3000 community held for HP's first massive enterprise server, Superdome,15 years ago.
The first Superdome computers were PA-RISC systems that ran with the same PA-8600 and PA-8700 servers that powered HP 3000s. When HP started to talk about Superdome in the months after Y2K, 3000 customers wondered "Why not us?" as part of the product's target audience.
An IT manager with beta-test experience on Superdome said at HP World that he believes there's no reason Superdome can't work with MPE/iX. "It's PA-RISC hardware," he said. "I asked our technical contact from HP why it wouldn't run with MPE. He replied to me, 'Yes, why wouldn't it run MPE?' " In a future version, the computer will use its advanced partitioning to run more than one operating environment at once, according to HP's presentations.
Five years ago this week, HP announced at the HP Technology@Work 2010 conference the first server technology that bridged the multiple-processor designs of Superdome into the blade server concept that would become Moonshot. Even more so than the original Superdome, the Superdome 2 had zero chance of becoming an MPE/iX hardware host, because by the Spring of that year HP was counting down the months until it stopped MPE support completely. (Officially, anyway. Right up to this month, rumors are floating that HP is supporting customer 3000s somewhere.)
Multiple operating systems, supported on a single HP system
, were the innovation HP added to its enterprise lineup with the first Superdome. HP said it was designed to support multiple OS's simultaneously, including HP-UX, Windows NT and something Hewlett-Packard called "the freely distributed Linux operating system."
Supporting two different OS's on a single HP server was a project that went back to 1994 at HP. The Multiple Operating System Technology (MOST) was designed to let MPE/iX control instances of HP-UX on one PA-RISC server. Reaching for performance even on the biggest CPUs of 21 years ago was a problem — but one other MOST challenge was the competition between HP 9000 Unix salespeople and the HP 3000 sales force.
When Superdome was first announced, HP already understood there was going to be no single operating environment to rule all enteprise computing. "Technology is changing so fast, that to bet a business on a proprietary technology, or on a single technology, commits an IT environment to becoming a legacy environment," said CEO Carly Fiorina.
Should there ever be any interest in demonstrating the top power of Moonshot, HP operates a lab system that sounds a lot like the old Invent3K servers hosted to 3000 developers. The HP Discovery Lab allows customers and partners unfettered access to an HP Moonshot System to experiment, test and benchmark applications in a secure and confidential environment. Labs are located in Purdue University in Indiana, Houston, Texas, Grenoble, France and Singapore. Developers can also gain access to a Discovery Lab through VPN from anywhere in the world. 
Posted by Ron Seybold at 07:16 PM in History | Permalink | Comments (0)
April 16, 2015
TBT: When 3000 Training Went Digital
Twenty-five years ago, HP was making history by integrating CBT for MPE XL on a CD-ROM, running from an IBM PC-AT. Or a Vectra. Ah, what we learned in those years by using acronyms.
At a user conference in Boston better known for a 3000 database showdown, the mashup of acronyms promised Computer Based Training for the 3000's operating system from a Compact Disc Read Only Memory drive. Here on Throwback Thursday, we're celebrating an industry first that leveraged the HP 3000, something of an anomaly for Hewlett-Packard. CD-based information delivery was still in its first steps in the computer industry, and just ramping up in the music business as well. It would be another 10 years before Apple shipped desktops with built-in CD-ROMs.
An HP official who would later come to lead half the company as executive VP, Ann Livermore, was a humble Product Manager for this combination of HP CD classes and an HP CD-ROM player. "It's the equivalent of having a system expert looking over your shoulder while you work," Livermore said. "The audio on these training product adds significant value to the learning experience." The interactive courses show users a typical HP 3000 console on the PC, accompanied by verbal instructions and explanatory text and graphics.
In an era where Bulletin Board Systems were cutting-edge information channels and web browsers didn't exist, having CD-ROM as a tool for support broke new ground for HP's enterprise business. HP sold about six hours of training on CDs for $950. The breakthrough was being able to use the training repeatedly, instead of putting each new operator or end-user in an HP classroom for a week.
"The CBT product trains end-users and systems operators
in HP 3000 Series 900 operations, including account management, system backup, shutdown, and recovery," my article from the
HP Chronicle
reported. I noted that MPE XL was a proprietary system, something that the vendor was trying to change with another announcement. Posix, an open system interface for Unix, was headed for MPE XL.
Hopes were high. Hewlett-Packard believed a version of MPE that supported Posix would permits Unix software to run on 3000s. We didn't make it up.
"You will be able to run Unix applications on the HP 3000s," said Wim Roelandts, vice president of HP's Computer Systems Group. "For us, open systems are not just Unix." HP also announced X Window user interface support for MPE XL, along with telnet and FTP.
Posix arrived in 1992, triggering a re-naming of the 3000's OS to MPE/iX. The interface has outlasted the utility of the CD-ROM CBT, giving Unix-savvy administrators a way to comprehend and drive what MPE does. But the holy grail of Unix on the 3000 never arrived ready to serve. It would take another 20 years to deliver MPE hosted on top of Linux, when the Stromasys Charon HPA emulator arrived in the market.
Posted by Ron Seybold at 08:41 PM in History | Permalink | Comments (0)
April 07, 2015
Operating Systems Of Our Lifetimes
Click the cartoon for details and the joke
Managers and owners of HP 3000s are the kind of customers who understand what an operating system does. Most of us in the community remember when there were countless OS's out there to run our businesses, if not necessarily our lives.
The HP 3000 stands out in a healthy legacy comparison because its birthdate in the initial generation of minicomputers. Unlike nearly all, its OS remains in business use today. Other OS's which are not in use: MCP from Burroughs (a source of MPE inspiration); Univac's VS/9; NCR's VRX; Control Data's Kronos; and Honeywell's CP-6. 3000 veterans will recognize those as BUNCH companies, whose mini and mainframe products were swept away by IBM's, HP's, and Digital's.
MPE has not yet outlasted the VS minicomputer operating system from Wang Labs, since that mini still has support from its latest third party owner, TransVirtual Systems. There's more than blind loyalty there when an OS can move into the four-decade lifespan. There's commercial value, too. VS still has about a decade to go to get to MPE's 41 years.
For the 3000-savvy, the cartoon above would have a few extra boxes in it. The longest one is likely to be MPE, in its II-V, XL, and iX generations. There are a few others that pre-date DOS, of course. HP tried to sell PCs running CP/M, for example. You could insert the following boxes underneath the fine cartoon from XKCD, the work of brilliant cartoonist Randall Munroe.
That useful lifespan for MPE will run to 53 years, unless a rolled-over calendar is not a problem for your applications.
Hop over to Munroe's website to enjoy the irony and heart of someone who understands that Gnu (yup, the root of the 3000's iX generation) could be there at the very end, turning out the lights. And who can say for sure that MPE will truly end its days on Dec. 31, 2027 after all? Wang's OS has passed through several third party hands. HP's own VMS will become the property of a third party next year.
In-tribute plug: If you can't find something on the XKCD store to buy, or a cartoon to link to, then all of the above is probably nonsense. For the rest of you, let me know if Gnu could really rule the planet after civilization ends. We're already hearing that embedding a Linux microkernel would make the OS more useful for Digital server users. Something less complex is surely on its way. It might arrive before that fire.
Posted by Ron Seybold at 07:38 PM in History, Homesteading | Permalink | Comments (0)
April 02, 2015
TBT: The Ultimate MPE/iX links big disk, FC
HP unveiled the final, ultimate generation of its 3000 operating system 13 years ago this month. On this Throwback Thursday we mark the month that MPE/iX 7.5 made its datasheet debut. It was less than six months after Hewlett-Packard announced an "end-of-life" for the 3000, but the OS was destined to be officially supported for more than eight years.
Independently, 7.5 is still supported by the community's third-party experts, such as Pivital Solutions. The data sheets and lab reports illustrate why the release has had such longevity, a run that rivals the lifespan of Windows XP.
When 7.5's data sheets moved into the customer base, the colorful paper was still commonplace as an information delivery device. What was uncommon about the release was its forward-looking view of fast storage support. HP had built in A-Class and N-Class hardware support for Fibre Channel IO connections, the fastest of their day. But it took the arrival of 7.5 to streamline and stabilize FC connections.
Previously, the 3000  could only be connected to FC devices through HP SCSI Fibre Channel router. In selling the benefits of 7.5 -- and with it, the upgrade sales of A- and N-Class servers -- HP admitted this router arrangement "not only added complexity and slowed FC transfer rates, but it also created multiple potential points of failure."
Access to the wide range of Fibre Channel devices was among the benefits, letting customers make the jump from the AutoRAID arrays to the more powerful and flexible VA 7100 series. Just this week, a customer made news in the community while troubleshooting a VA 7100. That storage platform remains in obvious use at 3000 sites.
The ultimate generation of 3000 processors, the PA-8700, got their complete support in 7.5, too. Fibre Channel proved to be a tangible benefit of the new PCI bus on the newest servers. One feature would have a reach even further than that CPU line: the ability to access a boot disk greater than 4GB. 7.5 opened up untold millions of gigabytes across the entire 3000 line.
"
After years of requests, HP has finally lifted the 4GB limit
on the LDEV1 peripherals which boot HP 3000s," we reported in April 2002. "The limitation harkened back to a day when no drive held more than half a gigabyte. Modern disks are as large as 160GB, and the more recent boot drives shipped with HP 3000s wasted scores of gigabytes on every system, simply because MPE/iX couldn't see the storage space."
Tapping the full range of storage was a game-changer for homesteaders, according to one well-known storage and MPE expert.
MPE veterans praised the enhancement as vital to the 3000's continued success. "In my mind, this enhancement was critical to the viability of homesteading and the success of OpenMPE," said Denys Beauchemin of backup utility provider Hi-Comp. "A few years from now, when your LDEV1 disk drive breaks, you will no longer be faced with the problem of buying a 160Gb disk drive (the smallest available) and only being able to use 4Gb." 
Far less crucial was the included support for a free, secure Apache Web Server, which HP had rebranded as HP WebWise. Developed from the starting point of open source Apache — in a user-driven project led by then-customer Mark Bixby — a native 3000 Web server seemed essential in the late 1990s while the dot-com boom was mounting. HP tried to charge for its supported implementation, but slow uptake shifted the product to free-in-7.5 status. The future of the 3000 would not lie in support for Web services, though, not when Windows-based servers were ubiquitous and cheap.
An OpenSSL crypto library was one of the byproducts of that full WebWise support in MPE/iX 7.5. Security concerns were increasing in that era, and some developers of e-commerce software wanted tools to integrate into their applications. WebWise was intended for the 3000 administrator and developer to be able to create RSA, DH and DSA key parameters and X.509 certificates; do encryption and decryption with ciphers; perform SSL/TLS Client and Server Tests and handle S/MIME signed or encrypted mail. 7.5 made support of sendmail possible.
It's all possible today, but the advance of these security tools slowed considerably after the crypto library made it into every copy of 7.5. There was a silver lining in this slow uptake of the frozen toolset. When OpenSSL was used to hack millions of servers in the HeartBleed malware crisis, few 3000s were exposed. That incomplete implementation of OpenSSL, frozen in an earlier edition of the software, put it back in the same category as un-patched OpenSSL web servers: not quite ready for prime time.
Posted by Ron Seybold at 07:39 PM in History, Homesteading | Permalink | Comments (0)
March 23, 2015
The Distinction MPE Source Has Delivered
The long-sought MPE source code arrived in your community five years ago this month. Hewlett-Packard released CDs filled with millions of lines of Modcal and SPL, shipping them off to eight companies who'd paid $10,000 each for the resource. Companies including 3000 specialist Pivital Solutions, as well as corner-case outliers such as Ordat (makers of a TurboIMAGE middleware tool), as well as the ubiquitous Adager and Allegro earned the right to explore and adapt the 3000's heart and soul.
Hopes were sky-high when the source code quest began in 2002. Just a matter of weeks after Hewlett-Packard pulled its own plug on 3000 futures, a new organizaton called OpenMPE took up the pursuit of those lines. The ideal was to find a way to extend the life of MPE/iX beyond HP's plans. The maker of the 3000 had other ideas. Its goal was to cut off further development of 3000 resources.
Better fortune took eight more years to arrive, and even then the 3000's source rolled into vendor shops with a major restriction. To use the code legally, a licensee had to promise they wouldn't try to move MPE/iX beyond its ultimate 7.5 release. No new generation of the 3000 OS. By 2010, 7.5 had seen no significant advance for three years. The initial 7.5 release, sans PowerPatches, was eight years old.
But the vendors who earned the right to apply their skills and experience to that code, continue to distinguish themselves in the support and development sectors. Neil Aemstrong of Robelle summed up the advantage. "Seeing the source and reading it is certainly a large part of being able to develop patches and potentially avoid any issues," he said. "It may not be perfect, but it helps."
In addition to the above-named Pivital, Adager and Allegro, Beechglen, Neil Harvey & Associates, and Terix entered the elite source-ready roster. All but Terix remain in your community today. HP has standards for its licensees, and some (like Pivital) were even invited to join this cadre. One more license was assigned, but Open MPE couldn't complete its arrangements.
Source made no difference in constructing an emulator
for 3000 hardware (it was unlikely to do so) but support companies have used to generate workarounds for homesteaders. These are among the highest-flying companies who started offering source-inspired patches in 2011.
HP blocked the release of any work in 2010 for another eight months. "Customers will have multiple options for MPE/iX assistance after HP exits the Worldwide Support business on December 31, 2010," said HP 3000 Business Manager Hou stated in a comment on license terms. "The licensees... will not be able to use the MPE/iX source code in the delivery of system-level technical support until January 1, 2011."
Releasing work derived from the source has been more than a matter of a license.  Any such holder needed advanced technical skills to make something out of the millions of lines of source HP shipped.
"The source code by itself is a dead entity," Adager's Alfredo Rego said. "You have to know how to bring it alive." 
As for OpenMPE, its volunteers and board of directors always believed that HP would need to grant permission to know more about MPE/iX. HP consulted with vendors outside of the OpenMPE orbit, but that group more than any other put the vendor on record during source negotiations.
Posted by Ron Seybold at 02:14 PM in History, Homesteading | Permalink | Comments (0)
March 19, 2015
TBT: First 3000 priced at one million dollars
The highest price for any HP 3000 rolled into your community 25 years ago this month. HP announced its biggest system ever, a computer with designs of competing with IBM mainframes. Not many technical details were available in the New York City rollout, but one had everybody looking skyward. Here on a Throwback Thursday, we chronicle the Series 980 with two processors that would cost $1,090,000.
HP could have priced the system at $100,000 less, but why bother? A million dollars was part of the point. Its target was not really the 3000 customer who'd built their IT operations on servers that cost less than half of the 980/200. Hewlett-Packard hoped the fastest PA-RISC system that it'd ever designed could displace some of the multi-million-dollar systems IBM had been selling for more than a decade, probably even 20 years.
Oh, there was mention of upgrading to the big box from the Series 950 systems, the first computers from HP's MPE/XL RISC era that were actually fast enough to power through a very green operating system's overhead. No upgrade pricing was available at the 980's announcement, though. The specifications of the biggest server seem quaint compared the computing of today. You could put a full gigabtye — yes, 1 GB — into a million-dollar HP 3000. And storage? Wow, a full 85 GB, using the newest Fiber Optic linked drives. 
The drives would be extra, and so that full-bore storage would top out at about the capacity of three thumb drives of today. Yes, a whole $67.40 worth at Walmart. HP had another deal, VPlus Windows for PC-based application screen services, and NewWave System Services, at no extra charge. Programmers had to translate their existing application forms file into a PC forms file for use on the PC. A PC running the mostly-stable Windows 3.0.
There was genuine and durable innovation coming out of HP in that month of March. The world's first DAT tape drives were being shipped. Backup would never be the same. "The tapes, the size of a credit card, are intended to adopt the middle ground between quarter-inch tape and nine-track tape drives."
Far below the stratosphere
of that million-dollar 3000, HP was actually shipping -- instead of just announcing -- the Series 922 for $35,000 for a 24-user box. The 922 could be configured to support almost three times as many users, without a significant increase in performance, at double the pricing.
Twenty-five years ago this month, the era of user-based pricing cleanups began for the 3000, as its creators pressed the pedal to the metal trying to scrape all available dollars off the table. Unix systems were being sold without user license controls, at least at the operating system level. Database makers like Oracle were cleaning up on user licenses, but at least the suppliers of the systems were not reaching that deep.
In due time -- well, perhaps 7 more years -- Windows-based servers became alternatives with business-caliber reliability, sold without user license limits. The 3000 labored under such pricing schemes while its competition did not. It was old-school strategy to make an operating environment more costly whenever it was used by more employees at a customer site. The user-based strategy permitted HP to publish its entry-level prices for a 3000 at a new low, while the top end cost 31 times more.
With the more than nine months delay of a delivery date for its million-dollar 3000, HP was introducing your community to the legendary lag that DEC and IBM customers already knew well. "Indeed," I wrote in my editorial that month, "there's a joke which tells that an IBM salesman can be easily identified on his wedding night; he's the one who sits at the edge of the bed and tells his bride how memorable the evening will be, rather than making those memories with her."
Posted by Ron Seybold at 08:06 PM in History | Permalink | Comments (0)
March 13, 2015
Fiorina campaigning again, against Clinton
Our spring 2002 story reported the fate of slow-growth product lines. Commodity solutions became HP's go-to strategy. This year's HP split aims to return focus to enterprise computing solutions.
Former HP CEO Carly Fiorina pushed herself to the front of news again, as a story in the New York Times chronicled her campaign against former Secretary of State Hillary Clinton. Fiorina has spent the last several years aiming criticism at Clinton, including a recent swipe that attempts to smear Clinton's travels around the world.
"Like Hillary Clinton, I too, have traveled hundreds of thousands of miles around the globe," Fiorina said, "but unlike her, I have actually accomplished something." The claim recalled memories of Fiorina's most lasting accomplishment from her HP days: hawking a merger that pushed out the values and influence of the Hewlett family.
Thirteen years ago this week, a raucous stockholder showdown in Delaware ended with Fiorina's forces victorious, approving the Compaq merger. Walter Hewlett, son of HP founder Bill Hewlett, contested the vote in a lawsuit. HP directors on Fiorina's team responded by refusing to nominate Hewlett to keep his seat on the HP board.
Many actions of that period were designed to make HP bigger. Low-growth product lines were cut or de-emphasized, most particularly in the HP 3000 world. Despite the efforts to puff up HP, though -- and continue revenue growth to satisfy shareholders -- the plan had no effect on stock value. By the time Fiorina was fired in a board move -- 10 years ago this month -- HP shares sold in the low $20s, just as they did on the day of that Delaware merger victory.
Those inflated accomplishments of her go-go strategy were not misunderstood by the Times writer. "Her business career ended... in one of the more notorious flameouts in modern corporate history," Amy Chozick wrote today. "After orchestrating a merger with Compaq that was then widely seen as a failure, she was ousted in 2005."
The failed merger with Compaq did give HP a product with some foothold in 3000 migration projects, though. The ProLiant servers from Compaq are competitive with Dell and Lenovo systems for installations of Windows Server, the most-chosen alternative to HP 3000s.
Fiorina's tone has been strident, much as it was during her tenure when the 3000 was cut loose by HP. She's most recently tried to assert Clinton has stolen concepts and intellectual property from her.
Pushing onward without regard for reality
was among the things that got Fiorina fired 10 years ago. HP's board had trouble getting her to relinquish controls that might've tempered her mission to acquire corporations. In her Clinton attacks, Fiorina claims the title of the autobiography she wrote,
Tough Choices
, was appropriated by Clinton when the former First Lady wrote
Hard Choices
.
A Twitter image on a Fiorina feed posted the covers of the books side by side. There's also the former CEO's claim that a Clinton speech to female tech professionals, saying that women can "unlock our full potential," is a theft of Fiorina's Unlocking Potential Project.
The Times article, as critical of Fiorina as the former executive has been of Clinton, prodded that claim, too. "Fiorina came in for some derision on The Huffington Post, which recounted the tussle under the headline "Overused Management Bromide Now The Exclusive Property of Carly Fiorina, Apparently." "
The CEO who led the HP which cut off its 3000 plans has many critics in the community to this day. The impact of a rush to expansion kept HP off its legendary game of R&D, according to HP's former VP of Software Engineering Chuck House. OS marvels of their day like MPE don't flow out of HP labs any longer.
A recent $2.7 billion acquisition of Aruba Networks is the latest HP purchase, buying technology that promises a cutting-edge firewall to enable mobile enterprise computing with the Aruba Mobility-Defined Network. HP says the deal "positions Hewlett-Packard to accelerate enterprise transition to a converged campus network." It's also about 90 percent smaller than the Compaq merger — more in line with the reduced HP of today.
Posted by Ron Seybold at 03:04 PM in History, Migration, Newsmakers | Permalink | Comments (0)
March 06, 2015
IMAGE was always the future of the 3000
We're all-digital now here, so we are working harder at providing resources that can only be served up online. In our archives we've got articles that exist only on paper, and so the transfer of these into digital becomes a way to preserve what we've learned. Even articles of more than two decades ago contain good logic about preservation of IT resources.
One look at news of a springtime more than 20 years ago yielded a couple of articles worth preserving. We've already shared the outlook of HP's Glenn Osaka on the 3000's future, circa 1993. A little deeper in that same issue of the HP Chronicle lay a greater treasure: A forecast for the system from Wirt Atmar, the late founder of AICS Research. Atmar was a tireless advocate for MPE, the 3000, and maybe most importantly, the IMAGE database. "The HP 3000 does only one thing, but it does it very well," Atmar wrote in The Future of the HP 3000.
A search for a Web page with the article didn't turn up any hits, so we're putting it into the NewsWire's resources. The article is a PDF available here. 
In a wide-ranging two-part article from January and February of 1993, Atmar taught us all how an integrated IMAGE database provides the essential value for MPE systems. The good news about all of this is that it's software integration, so even the Stromasys Charon emulation of 3000s retains this benefit. IMAGE made the 3000 a success, and it continues to do so for the companies who still rely on the server.
The success of the HP 3000 is, and always has been, tied to the success of IMAGE. The machine and database have prospered as an indivisible unit. Although MPE is an absolutely superior operating system for business development, it is not strong enough to support the continued existence of the HP 3000 by itself. If IMAGE should disappear, the death of the HP 3000 will soon follow.
Although HP announced its impending death of its 3000 plans about nine years after that article, the 3000 itself has not died. In fact, after Atmar's articles, HP changed its plans to separate IMAGE from the 3000. The bundling of the database and its hardware was preserved. But IMAGE has always been — and always will be — bundled with MPE.
That's the important pairing which Atmar's article chronicles. It explains that the combination "has never been anything than an electronic substitute for steel filing cabinets." Those are the essential kind of furnishings you'll find in offices to this very day.
Posted by Ron Seybold at 05:13 PM in History, Homesteading | Permalink | Comments (0)
March 05, 2015
TBT: NewsWire's genesis flows off 9x9s
20 years ago this month, HP took its first steps into an affordable midrange for its Series 9x9 HP 3000s. During the same March, we decided to take our initial steps toward creating a specialized newsletter to serve what showed a glimmer of becoming a revived community.
The 9x9s, known as the Kittyhawk boxes, made their debut in 1994, but the initial models were no long-term bargain for the typical midrange customer. Inside our house, we had worked for two years to serve the information needs of the vendors in a marketplace that the entrenched publications were ignoring. The 3000 was dead, or dying quickly, the editors told us. And so, despite rousing writing and media outreach for software and hardware companies, telling the stories of 3000 success, nobody wanted to devote an editor's attention or the printed space to report that news.
Our independent marketing communications work was hitting a wall of disregard in the industry about MPE and the 3000. In a meeting over coffee in March, my wife and partner Abby Lentz said, "This market might be getting smaller, sure. But some businesses thrived in the Depression, didn't they? Let's do a newsletter."
Ever the sunbeam of my life, she proposed something that seemed outlandish. A dozen issues a year? Specialized publications like the HP Chronicle and Interact knew about focusing on HP, sure, but they were reducing space for 3000 stories. What good could come of selling a monthly pub that would have to try to find more than a dozen news items each month about the legacy system in HP's lineup? Who'd pay for something like that?
But those vendors who knew us had thousands upon thousands of 3000 customers out there, though. And thousands of messages a month on the 3000-L mailing list rolled through my AOL account. The spring of 1995 uncovered a rocky field to try to put down any seeds of hope, though.
Our research that began in March was not promising.
One of my earliest
HP Chronicle
correspondents in the market, a seasoned system manager who'd moved into marketing, doubted any subscriptions could be sold. "$100 a year? I don't know you could get $10." HP had been scuffling to keep the 3000 relevant to its own sales force, too. The releases of the midrange servers provided a little hope. IMAGE had just had an overhaul, too, coming into the SQL world.
Out on the curb in front of our house, the massive oversized mailbox was full of slick tabloids that didn't charge a penny for weekly updates. In a similar way, there were low-cost alternatives to massive 3000s still on the rise. What's more, even the HP Unix systems were looking over their shoulders at a "Windows Invasion" into business computing.
But all the 3000 market really needed, as it often did, was more horsepower at a better price. "The big story technology-wise is that this doubles the performance of the 9x7 family," said HP's Andy Jolls. Selling a K-Class system was one of the easiest ways to get customers off of the 9x7s, introduced in the early 1990s. 
The midrange 9x9s had a new wrinkle to power this renaissance of the marketplace. HP said these K-Class servers would accept the next-gen HP PA-RISC chips, for upgrades without replacing systems. These board upgrades were popular, but they helped the servers dig in at customer sites. Buying a 9x9 was a long-value investment. The swell of sales helped the 3000 take off again. But there was no churn in the market toward new boxes, the kind of investment protection that levied a cost in HP's plans for 3000 growth.
By the time we lifted the NewsWire into its first orbit in that summer of 1995, demand for the Kittyhawks was running well ahead of supply. A new 8-user system emerged for $55,000. We tended the first sprouts from those wan springtime seeds of our NewsWire, a few sponsors who said they'd take a chance on a newsletter aimed at a market that media companies didn't believe could grow again.
Posted by Ron Seybold at 09:39 PM in History | Permalink | Comments (0)
February 12, 2015
TBT: Sure, there's 20 more years of the 3000
New general manager Glenn Osaka felt confident about the 3000's useful life out to 2013 in this 1993 article from the HP Chronicle. (Click for pop-up details.)
Just 22 years ago this month, the leader of the HP 3000 division figured HP would still be selling and supporting HP 3000s working in businesses today. Glenn Osaka was in his first few months running what HP called CSY, a group that was coming up hard against HP's own Unix sales force.
"I think there's another 20 years in it," he said in 1993, "but I can tell you that 20 years from now, we'll probably look back and the 3000 won't be looking at all like it looks today."
Nobody could see a virtualized server looking like HP's proprietary hardware. PA-RISC computing was just becoming dominant. In 1993 there was no serious emulation in enterprise servers, let alone virtualization. The magic of Charon had not even dawned for the Digital servers where the Stromasys product notched its first success.
But HP was thinking big in that February. Osaka said the 3000 was about to take on "applications that traditionally  would have been thought of as IBM mainframe-class applications. That program is going gangbusters for us. To get that new business on the high end of the product line is very effective for us, because it's the most profitable business we can do. More and more of our new business is going to come from people who are coming from mainframes."
The division was posting annual growth of 5-10 percent, which might have been impressive until HP compared it to 40 percent annual growth in its Unix line.
In a year when HP was just introducing a Unix-like Posix interface to MPE, Osaka said HP's "work that we're doing on Unix is very easily leveraged to the 3000, and we're simply using our sales force to help us find the opportunities to bring it to market first." 
He identified the newest generation of the 3000's database as "SQL for IMAGE," something that would help with relationships with partners like Cognos, Gupta Technologies, PowerSoft and more. What HP would call IMAGE/SQL "will give our customers access to these partners' tools without having to change their database management system." A new client-server solutions program was afoot at HP, and the 3000 was being included on a later schedule than the HP 9000 Unix servers.
The server would "carve itself a nice, comfortable niche in some of the spaces we don't even really conceive of today, particularly in transaction-based processing." Osaka would hold the job until 1995, when he'd become the head of the Computer Systems Business Unit at HP. By that time, he'd guessed, HP would still be able to show its customers that "the level of capability that we provide on the 3000 is higher" than HP Unix servers.
By the time we interviewed Osaka three years later
, in a new post in 1996, he'd dialed back his forecast to say "we have at least 10 more years of very strong presence in large companies and medium sized companies with the 3000 in the marketplace. What I don't know is what people are going to buy. For a long time I have had as a core belief that the life of any computer is tied to the lifespan of the application."
But by 1996, with his unit containing both Unix and MPE divisions, Osaka was giving us at the NewsWire the first notes of warning that things had changed for the server inside HP. In our September 1996 Q&A, he said new applications ought to be launched on other platforms.
The whole dynamics around the application software industry have changed. Because of Microsoft, it's turning into a volume marketplace, and there's not enough volume in the 3000 business to fuel the early growth of such companies. If I were a developer, depending on what kind of application, I'd say put it on Oracle, or Informix, or NT BackOffice. Then I'd feel more comfortable I'd get a return.

You're making us glad we didn't ask you about the NewsWire's chances when we started.

The NewsWire is an interesting thing. Information that is critical to this user community has high value, because HP has become less effective at delivering that information to the broad user base. That's a viable business plan, but there are others [in this market] that people talk to me about that don't quite make so much sense.
We left that interview feeling lucky to have pushed out our first year of a publication that was doing what HP couldn't do so well anymore. We'd also be facing the hard reality, within five years, that HP couldn't manage a belief in any future role for the server beyond 2006.
Osaka left HP within two years of our second interview, moving on eventually to Juniper Networks and other high-tech firms. Today he's a private consultant and advisor. Of his work in the 3000 division, MB Foster's Birket Foster says on Linked In
Glenn provided leadership and "out-of-the-box" thinking when running the CSY division. Glenn saw value in the software vendor community, completing solutions for mutual customers. Glenn assisted the formalization of the SIG SoftVend meetings, to exchange directions with software vendors and facilitated non-disclosure meetings for access to MPE source, and working with tool/utility software vendors.
Posted by Ron Seybold at 09:37 PM in History, News Outta HP | Permalink | Comments (0)
February 05, 2015
Getting Chromed, and Bad Calls
The HP 3000 made its bones against IBM's business computers, and the wires are alive this week with the fortunes of Big Blue circa 2015. Starting with meetings yesterday, the company is conducting a Resource Action, its euphemism for layoffs. IBM employees call these RAs, but this year's edition is so special -- and perhaps so deep -- it's got a project name. The cutting is dubbed Project Chrome, and so the IBM'ers call getting laid off Getting Chromed.
Hewlett-Packard has never wanted to call its layoffs by their real name either. The first major HP layoff action during the 3000's watch came in the fall of 1989, when more than 800 of these separations were called "being excessed." Employees had four months to find a new place inside HP, but had to search on their own time. Engineers and support staff were given the option to remain at the company, but jobs at plant guard shacks were among their new career options. Another virulent strain of HP pink slips came in the middle of the last decade, one of the purges in pursuit of better Earnings Per Share that pared away much of the remaining MPE/iX expertise from the vendor.
Aside from bad quarterly reports, these unemployment actions sometimes come in the aftermath of ill-fated corporate acquisitions. This week on CNBC's Squawk Box, analysts identified HP's Compaq merger as one of the worst calls of all time. The subject surfaced after the questionable call that led to a Seattle defeat in Sunday's SuperBowl. A big company's failures in new markets can also be to blame for getting Chromed. IBM has seen its revenues and profits fall over the last year, while mobile and cloud competitors have out-maneuvered Big Blue.
IBM has already shucked off the Cognos development tool PowerHouse as of early last year, but now comes word that other non-IBM software is getting its support pared back in the RA. In the IEEE's digital edition of Spectrum, one commenter made a case for how IBM is sorting out what's getting Chromed. 
I am the last US resource supporting a non-IBM software package, which is in high demand globally -- yet the powers that be seem oblivious to it. Rather than create a dedicated group to go after that business, they cut anyone with that skill, since it is not an IBM product and therefore, "not strategic." Unfortunately the company continues to gamble on their Tivoli products, which clients seem to embrace about as much as Lotus Notes, rabies and bird flu.
The digital article on the IEEE website
also includes some reports that employees over 40 have been targeted. They then saw the company threaten to withhold severance packages if age-discrimination lawsuits were filed.
HP and IBM have a lot in common in their workforce makeup. Both employ more than 300,000 workers as of last year, and while those numbers lead the industry, neither is among the top 15 employers worldwide in headcount. However, HP and IBM manufacture goods, so they look up at the largest manufacturing worker employer, Volkwagen. There are 555,000 VW employees.
HP's employee count rose into six digits, and then doubled again, as a result of two acquisitions. Compaq drove the headcount to above 140,000, a 65 percent increase. Then in 2008, EDS became an HP operation, and the headcount soared to 349,000. Since 2011, the workforce at the vendor that's still working to sell some HP 3000 replacements has dropped by 15 percent. The current HP layoff plan — a layoff strategy has been in place for more than five year — calls for a total of 55,000 job eliminations by the end of this fiscal year.
These employee cuts are the result of relentless pursuit of EPS growth, so that the numbers reported to shareholders can show an increase in spite of flat to falling revenues. Stock prices at HP have recovered to 2005 levels amid the HP layoff march. But IBM's share price took a 12 percent dive on a single day this fall, is now below its mark when current CEO Ginni Rommety took over, and hovers today around $160 a share.
Rommety was rewarded for her performance in 2014 with a $1.6 million bonus. The tepid stock of IBM made it "the worst performer in the Dow Jones Industrial Average for a second straight year," according to Bloomberg News. The company that once proudly wore the reputation "nobody ever got fired for buying IBM" is doing a lot of firing this week.
Posted by Ron Seybold at 08:53 PM in History, News Outta HP, Newsmakers | Permalink | Comments (0)
January 29, 2015
TBT: 3K Stands, and a UK Bridge to late '90s
Each time we produce a printed edition of the Newswire here — there's a very special one on its way in the mail today — I usually reach into our archives for some research. While writing about the progress of hardware in the 3000 line I revisited 1998. This was a year with conference expo stands and an Ironbridge in the UK for HP Computer Users Association members. The occasion was the annual HPCUA show, offered in a time of 3000 and MPE growth. 
HP 3000 sales were on the rise, thanks to the Internet. The strong catalog-sales customer base was deploying web sites for e-commerce, and the servers of the day were finally getting Web hosting software. HP considered it important to offer just as much for MPE/iX as was available on Unix and Windows NT. Yes, NT, that long ago. Java was supposed to enable cross-platform development of applications. HP's labs had ported the language once touted as "write once, deploy everywhere" for use on MPE/iX.
As we arrived to man our first overseas stand for the Newswire, one man had stepped away from his HP futures. Dick Watts, an executive VP whose departure was "a great blow to the interests of user groups worldwide," had resigned in a surprise. He was in charge of the salesforce that directed the business futures of the 3000, HP 9000s and more. The departure was so sudden that the HPCUA's magazine was left with a feature interview of an executive who was no longer employed by HP. He'd made promises to user groups about HP's help for their initiatives. The magazine called him suave.
The conference was held at Telford in the UK's Shropshire, notable as the site of the first arched iron bridge erected in the world, more than 200 years earlier. Most HP 3000 shows were being offered in larger cities like Birmingham, or on the seashore in Brighton. Telford and the conference wanted to remind us about foundational technology, the kind like the 3000 had established in the age of business computing.
The exhibition offered 22 HP 3000-allied stands in addition to ours (touted at left by General Manager Harry Sterling), including one from a company called Affirm that would eventually become the ScreenJet of today. As unique as shows of that day were also personal, HP Systems User 98 gave commemorative plates of the Iron Bridge to all attendees.
They also heard talks about a Grand Prix team, a Microsoft marketing pitch on a scheme called the Digital Nervous System, and "How IT Helps HP's Success." That last included a peek into how much HP 3000 systems still drove the Hewlett-Packard of 16 years ago. As with much of the era, it purported to be an accomplishment served off the plate of Unix.
Some clouds on the vendor's horizon
were already growing clear in that September. CEO Lew Platt would be holding his job for less than a year more -- he agreed to help select a successor early in '99 -- and he blasted the company's sales force for a disappointing quarter. HP closed its offices over the Fourth of July and would do a shutdown over Christmas, too. The cuts were in response to a quarter Platt called dismal. HP was being outflanked over dot-com opportunities by Sun and IBM.
In industry-wide concerns, the Confederation of British Industry was warning that "there is little time left for firms to make sure their computer and electronic systems -- which control the air conditioners, lifts and safes -- can cope with the Year 2000 date change."
MPE V had finally come off HP's support -- only 11 years after HP introduced its successor MPE/XL. Plotters were still a valid output device in some engineering companies, the first generation Series 925 and 935s were being replaced by 9x9 systems, and one UK 3000 vendors said "from here on in, Client/Server technology is accepted as a standard component within the HP 3000 Enterprise Environment." Meanwhile, Oracle was saying "We think the platform switch now is to the Internet as a computing platform." Oracle was to swallow up Sun a dozen years later, acquiring the company that was saying in the late '90s, "we put the dot in dot-com."
Meanwhile, HP was telling 3000 users that the technologies being "developed or investigated" for the server included Itanium processor chips (then called IA-64); multi-CPU systems from 16- to 64-way, 1 Gbit LANs, and the faster PCI IO bus. That last would not be delivered for another three years, a better record than the first two technologies, which never left investigation. A 16-way N-Class was recently discovered in the wilds of the homesteading world, but that configuration was never on HP's 3000 model lineup.
Posted by Ron Seybold at 07:37 PM in History | Permalink | Comments (0)
January 28, 2015
Stealing After an Emulator's Magic
In these new days after the end of the Stromasys freeware emulator offers, it's instructive to recall how much magic the product's concept proposed more than 11 years ago. People in 2003 began by wondering who would ever need something like an emulator, with so much pretty-fresh hardware around. Now companies want an emulator so badly they're trying to make a two-user freeware version do the work of HP-branded iron.
Charon for the 3000 was doubted from the beginning. It began to emerge after five full years of HP delays -- the company didn't want to work with any emulator builder, once it became apparent that the MPE/iX internal boot technology would have to be shared.
Eventually Software Resources International, the company that became Stromasys, was approached. After a half-decade of losing 3000 sites to Sun, Microsoft and IBM, HP wanted to encourage a restart of a project. But back in 2003, an emulator looked like a theory at best. Two additional companies were considering or planning products to give 3000 hardware a real future. Hewlett-Packard had told the community no more new 3000s would be built after fall of '03.
By the time that end-of-manufacture was imminent, Computerworld got interested in the emulation outlook for HP 3000s. The newsweekly ran a front page article called Users Unite to Keep MPE Alive. The subheading was "Get HP to agree to plan for emulator to ease e3000 migration," which meant Computerworld's editors misunderstood what homesteaders desired. Not an easier OS migration, but a way to keep using their systems on fresh hardware.
Third parties such as HP's channel partners and consulting firms don't know if there's enough commercial demand to justify the investment [in buying an emulator]. Potential users who are preparing migration plans say they need to know soon whether an emulator is actually coming.
They needed to know soon because staying with MPE and skipping a migration sounded like a good alternative. Just one company could manage to keep the concept alive in the lost years between 2004-2009. SRI had HP heritage (well, Digital brainpower) and a record of helping HP's VMS customers stay with that OS. Looking at how emulation helped, HP had proof that it could help the 3000 community.
One customer interviewed by Computerworld
called anyone's 3000 emulator vaporware. While people couldn't plan for it, General Chemical's manager of tech operations Jim Haeseker also said "if an emulator were available now, that might be a different story."
At the time people were considering the emulator as a migration plan, but not away from MPE. This was a way to get off of HP's iron and on to something with a real future, even in the forecasts of 2003. The only thing that HP had done to help was talk to OpenMPE and then "agree to permit an emulator that would enable MPE to used on other HP hardware."
But the OpenMPE of 2003 had no firm plan on how to make an emulator a reality. No budgeted project, just companies that could make an emulator part of their plans once it existed. HP said it was in discussions with emulator developers "to understand what resources would be helpful." Only SRI, to become Stromasys, pursued what the community wanted.
We told our readers of our Online Extra at the time
Several sites quoted in the story were skeptical about how much OpenMPE's most recent focus, an emulator to mimic 3000 hardware, might be able to help them soon. Timing appears to be a major issue in the story's comments that focused on the prospect of a software-based PA-RISC emulator. Gavin Scott, VP of Allegro Consultants and a potential creator of an emulator to replace HP 3000 hardware, was described as "non-committal" about the project, though Scott's actual quote just detailed the prospective cost, and commented on the uncertainty about how many customers would buy such a product. 

A customer site in Quebec offered a quote that they wouldn't consider an emulator as a migration plan — unless they were convinced one could be built. And a technical manager of operations at General Chemical called the emulator "vaporware," but added that if it were available, he might make allowances for it.
We added that we'd thought a more lasting project for OpenMPE would be the access rights to MPE/iX source code, to be used by the members of the organization's virtual lab, with results to be shared among OpenMPE's members. "That's more important than an emulator which competes with used hardware for sales. The heart and soul of the 3000's unique value lies in IMAGE and MPE, not in PA-RISC hardware." We were right, but we wouldn't be today. The newest of HP's iron is now more than 11 years old.
MPE's source code rights would not be released, but an emulator license for MPE arrived in 2004. Here in the light of 2015, it appears that the aging hardware is being kicked to the curb by a few companies in favor of unlicensed use of freeware that was built for enthusiasts or testing.
After the Computerworld piece, we interviewed the chief of a emulator firm, Strobe Data, one that had to mothball its HP 3000 project. Strobe couldn't out-wait HP. "The thing about emulators is that they just get more valuable with time," said Willard West. Now that there's the magic of Charon as a real product, it's become valuable enough to run at any cost. "We just overlooked the license payment" might be offered as an excuse. That argument proves emulation's value to the community. Maybe there's a way back to freeware with limits to protect everybody.
Posted by Ron Seybold at 10:25 PM in History, Homesteading | Permalink | Comments (0)
January 14, 2015
(Still) ways to turn back time to save apps
Editor's Note: Nine years ago this week we ran these suggestions on how to get abandoned software to keep running on HP 3000s. It's still good advice while a manager and company is homesteading, or keeping a 3000 alive until a migration is complete.
Some HP 3000s are reduced to a single application these days. But the one program that will never move off the platform, however vital it might be, could see its support disappear on a particular date — with no help available from the creators of the software.
A few utilities can help rescue such applications. These products were popular during the Y2K era, when systems needed their dates moved back and forth to test Year 2000 compatibility. Now that some HP 3000 programs are being orphaned, clock rollback utilities are getting a new mission.
A customer of SpeedEdit, the HP 3000 programmer's tool, had lost the ability to run the program at the start of 2006. Both Allegro Consultants' Stan Sieler and former NewsWire Inside COBOL columnist Shawn Gordon offer products to roll back the 3000's clock. These companies don't sanction using their software to dodge legitimate licensing limits. But if a software vendor has left your building, so to speak, then HourGlass/3000 or TimeWarp/3000 (both reviewed) are worth a try to get things running again.
3000 customer Paul Frohlich of DMX Music in the UK asked how to get his SpeedEdit running once again now that the calendar had rolled over to 2006:
When editing a file SpeedEdit creates a work file to hold the changes: it uses a structured name for the work file. According to the manual " ... the first character of the [work] file name represents the year the [work] file was created, the letter A indicating 1980, B 1981 etc." Therefore Z was 2005 and so there is no letter for 2006! SpeedEdit may be trying to use the next character in the ASCII table, which is probably non-numeric, resulting in an invalid MPE file name. A very neat way of making software expire. I suppose the authors didn't think anyone would be using SpeedEdit in 2006!
Gordon replied with a suggestion to try his product, software that he's taking orders for direct these days:
While we don't sanction this for bypassing a programs legitimate timing out, it sounds like you've gotten in a bind with a product you paid for and the vendor is gone. Our TimeWarp product which was originally created to do Y2K virtual dates would likely allow you to keep working; you can get some information from www.smga3000.com/timewarp_detail.html about the product.
Sieler posted notice of an alternative solution from his company:
A date/time simulator may help, if you don't mind the rest of SpeedEdit getting the wrong time. (E.g., run SpeedEdit with a date of, say, 1980... giving you another 25 years of bliss :)

HourGlass/3000 is still the most complete and most efficient date/time simulator tool. You could use it with a rule like:

@,@.@,@ speededt.pub.bbs @ delta -20 years

(Means: any job/session name, any user, any account, any logon group, program is speededt.pub.bbs, from any ldev, gets the current date/time minus 20 years)
Sieler went on to add a more obvious option if a programming editor stops running on the 3000: Use Robelle's Qedit. He also outlined another workaround for a program that wants a date which its creators didn't expect to need to serve:
Write a CALENDAR intercept intrinsic (trivial in SPLash!, Pascal, C) that returns a modified year, put it in XL (e.g., SPDEDTXL), and modify (via LINKEDIT) SpeedEdit to load with that XL. If SpeedEdit is a CM program, change the above to: (trivial in SPL), put in an SL that SpeedEdit will use (SL.pub.BBS or whatever), and mark SpeedEdit as LIB=P or LIB=G.
Posted by Ron Seybold at 06:39 PM in History, Homesteading, Migration | Permalink | Comments (0)