July 02, 2015
Throwback: When HP touted Java/iX
Editor's Note: We're taking Friday off this week to make time to celebrate the US Independence Day.
Fifteen years ago this month, the prospects for HP 3000 growth were touted at an all-Java conference. HP engineers took the 3000 and the new version of Java/iX to Java One, which at the time in 2000 was billed as the world's largest show devoted to the "write once, run everywhere" programming tool.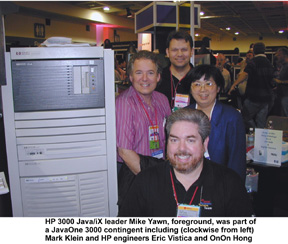 The 3000 division exhibited an entry-level HP 3000 on the show floor at the conference. HP's Java expert for the e3000 Mike Yawn was at the show, along with division engineers Eric Vistica and OnOn Hong. Marketing representative Peggy Ruse was also in attendance from the division.
"In previous years, we've had literature available and 3000 ISVs in attendance at other booths," Yawn said at the time. "This year you could actually go to an HP booth and find Java applications running on e3000 servers."
Yawn reported Java's Reflection Technology (not related to the WRQ product of the same name) "is a way to discover information about an object at runtime. It's very analogous to using DBINFO calls to get structural info about a database. Reflection was introduced in JDK 1.1 to support JavaBeans. The APIs were improved in 1.2, with minor refinements coming in the 1.3 release."
Read "Throwback: When HP touted Java/iX" in full
Posted by Ron Seybold at 11:41 AM in History | Permalink | Comments (0)
July 01, 2015
Reflection dives deeper into new brand
Last fall, Micro Focus announced it was acquiring Attachmate and several other companies. The merger of these IT firms marked another step for a popular HP server connection product, Reflection, toward a new life with a new name, even if its functionality remains the same.
The Chief Operating Officer of Micro Focus, Stephen Murdoch, has reported to customers about the strategy to meld the products from Borland, NetIQ, Attachmate, Novell and SUSE. The scope of what these companies have offered is significant. Development, networking, connectivity and evironments make up these acquisitions.
We will be simplifying the branding and packaging of our portfolios. As an example, we will combine our leading host connectivity solutions of Reflection and Rumba into one set of Micro Focus branded solutions offering the best of both technologies. A similar approach of simplification and alignment will be taken systematically, resulting in one company operating two product portfolios, namely Micro Focus and SUSE.
By all reports, Rumba didn't meet HP 3000 manager standards in its versions available before Attachmate acquired Reflection. That was in the days when the blended firm was called AttachmateWRQ. Few HP 3000 sites, if any, have learned to rely on Rumba for their connectivity. Now the tracking will commence on how the feature sets of Reflection and Rumba survive this combination.
Read "Reflection dives deeper into new brand" in full
Posted by Ron Seybold at 11:13 AM in Homesteading, Migration | Permalink | Comments (0)
June 30, 2015
Run-up to HP split-up sees enterprise splits
Later this week, Hewlett-Packard will announce the financial roadmap for the business that will become HP Enterprise, holder of the futures of the HP 3000 replacements from the vendor. More than the accounting is in flux, though. Today the vendor announced the executive VP of its Enterprise Group will be gone before the split-up takes place.
Bill Veghte will split the HP scene, leaving "later this summer to pursue a new opportunity." Big vendors like HP rarely track where an exec like Veghte is heading next. It's not in the same direction as the business that makes Integrity servers, the HP-UX operating environment, or the competitive mass storage product lines that some migrators have invested in.
He's been leading the efforts to separate the consumer printer PC side of HP from its Enterprise sibling, a sort of cleaving of what's become a Siamese twin of business at the vendor. It's been a project underway since last fall, employing Veghte after COO work. This is not the kind of announcement you want to release before a massive split is completed. HP's original estimate for revenues of HP Enterprise was $58.4 billion, larger than the PC-printer side.
There have been exits from a seat this high before at HP. Dave Donatelli left the company, and now has landed at arch-rival Oracle. From a tactical perspective, or at least not quite as customer-facing, HP's got to clone 2,600 internal IT systems, extracting and separating the data inside. It's the opposite effort of a merger, with no safety net. The Wall Street Journal says the IT enterprise split could stall the split-up of the company, if the project doesn't go well.
Read "Run-up to HP split-up sees enterprise splits" in full
Posted by Ron Seybold at 05:54 PM in Migration, News Outta HP | Permalink | Comments (0)
June 29, 2015
Retiring ERP Systems, or Not-Free Parking
About a month ago, a migration company offered a webinar on leaving behind one use of an HP 3000. But the focus at Merino Services was not on MPE, or HP's 3000. The company wanted to help with an exit off MANMAN. In specific, a march from "MANMAN/ERP LN to Infor 10X."
While many manufacturing companies will recognize MANMAN ERP, it's the LN tag that's a little confusing. Terry Floyd, whose Support Group business has been assisting MANMAN users for more than 20 years, tried to pin it down. "ERP LN is Baan, I think – it's very difficult to tell anymore. It's not MANMAN, anyway." The target is Infor's 10X, more of a framework for the migration destinies of Infor's parked software. Such parking keeps up support, but nothing else changes.
Merino, which hasn't been on the 3000 community's radar up to now, might not be blamed for conflating a couple of ERP names, or just running them together in a subject line. The state of ERP applications is changing so fast, and declining, that an ERP Graveyard graphic lists the notables and the little-known, next to their current undertakers. Infor, which is the curator of both Baan and MANMAN, has made a business of this in-active retirement for more than a decade. Younger, more adept alternatives have been offered for MANMAN for several decades.
About Infor, Floyd added, "they have bought a lot of near-bankrupt companies. As you know, a lot of people have been trying to migrate companies off of MANMAN for over 20 years." It's a testament to the sticky integration of ERP and the customization capability of MANMAN that this application leads the graveyard in the number of times it's been acquired.
Read "Retiring ERP Systems, or Not-Free Parking" in full
Posted by Ron Seybold at 07:25 PM in Migration | Permalink | Comments (0)
June 26, 2015
What Has Made MPE/iX 8.0 A No-Go
The life of homesteading 3000 managers is not as busy as those who are managing migrated or just-moved business environments. But one topic the homesteaders can busy themselves with is the If-Then structure of making an 8.0 version of their operating system more than a fond wish. Our reader and 3000 manager Tim O'Neill visited this what-if-then module, a proposition was sparked by an April Fool's story we wrote this year. "I actually believed that article, until I recognized the spoofed name of Jeanette Nutsford," he said. We were having some Onion-like sport with the concept of an MPE/iX.
I had the thought that maybe somebody somewhere will apply all the MPE patches written since 7.5, add a couple more enhancements to subsystems (like maybe MPE users could see and use a Windows-managed printer,) test it in-house, then test it on a few customer systems, then release it and announce MPE/iX 8.0. The database options could begin with TurboImage and Eloquence.
That's pretty much the start of a workflow for an 8.0. If you were to make a list of the things that have stood in the way of such a watershed moment for MPE, it might look like an if-then tree. A tree that might lead to a public MPE, as free as Linux or HP's Grommet, the company's user-experience development application. Grommet will become open source, licensed for open use in creating apps' user experience. Grommet was once just as HP-proprietary as MPE.
The tree's not impossible to climb. Some of the tallest branches would sway in the wind of software law. The rights regarding intellectual property have blocked this climb to open-sourced MPE/iX. That's law that was tested outside of the HP and 3000 community. It came close to swaying in favor of customers who believe they're buying software, instead of just renting it.
Read "What Has Made MPE/iX 8.0 A No-Go" in full
Posted by Ron Seybold at 10:20 AM in History, Homesteading | Permalink | Comments (0)
June 25, 2015
Throwback: The Days of the $5,000 Terminal
By Dave Wiseman
Most of you will know me as the idiot who was dragging about the alligator at the Orlando 1988 Interex conference, or maybe as the guy behind Millware. But actually I am a long-time HP 3000 user – one of the first three in the south of England.
I was just 27 when I started with an HP 3000. I had been in IT since 1967. One day I was approached by Commercial Union Assurance (a Big Blue shop) to set up an internal Time Sharing system. My brief was to set up "a better service than our users have today," a Geisco MK III and and a IBM Call 360. In those days, the opportunity to set up a "green fields site" from scratch was irresistible to a young, ambitious IT professional.
I investigated 30 different computers on around 80 criteria and the HP 3000 scored best. In fact, IBM offered the System 38 or the Series 1, neither of which met our needs well. IBM scored better in one category only – they had better manuals. I called the HP salesman and asked him in. What HP never knew is that if the project went well, there was a possibility that they would get on the shortlist for our branch scheme – a machine in every UK branch office. That would be 45 machines, when the entire UK installed base of HP 3000s was around 10 at the time. 
IBM tried everything, including the new E Series which had not been publicly announced at the time. It was to be announced as the 4331 and you only — yes only — needed 3 or 4 systems programmers. I asked about delivery time compared to HP's 12-14 weeks for the 3000. I was told that IBM would put me in a lottery, and if our name came up, then we would get a machine.
So HP's salesman came in. I said I wanted to buy an HP 3000, to which he replied, "Well I'm not sure about that, as we've never done your application before. Why don't you buy a terminal and an acoustic coupler first, and make sure that your application works"
"Okay" I said, "where do I buy a coupler from?"
"No idea," he replied, "but the 2645A terminal is $5,000."
Read "Throwback: The Days of the $5,000 Terminal" in full
Posted by Ron Seybold at 04:23 PM in History, User Reports | Permalink | Comments (0)
June 24, 2015
OpenSSL: Still working, but falling behind
This month the OpenSSL project released a new version of the software, updated to protect sites from attacks like Heartbleed. The release coincides with some interest from the 3000 community about porting this 1.0.2 version to MPE/iX. These cryptographic protocols provide security for communications over networks.
Heartbleed never had an impact on the 3000, in part because it was OpenSSL was so rarely used. Developer Gavin Scott said that last year's Heartbleed hack "does point out the risks of using a system like MPE/iX, whose software is mostly frozen in time and not receiving security fixes, as a front-line Internet (or even internal) server. Much better to front-end your 3000 information with a more current tier of web servers. That's actually what most people do anyway I think."
But native 3000 support of such a common networking tool remains on some wish lists. 3000s can use SSL to encrypt segments of network connections at the Application Layer, to ensure secure end-to-end transit at the Transport Layer. It's an open source standard tool, but deploying it on an HP 3000 can be less than transparent.
Consider the following question from Adrian Hudson in the UK.
Does anyone know anything about putting OpenSSL on a HP 3000? I've seen various websites referring to people who have succesfully ported the software, but with the HP 3000s being used less and less, I'm finding lots of broken links and missing pages. My ultimate intention is to try and get Secure FTP (SFTP) running from Posix on the HP 3000.
HP placed the OpenSSL pieces in its WebWise MPE/iX software, and that software is part of the 7.5 Fundamental Operating System. Cathlene McRae, while still working at HP in 3000 support, confirmed that "WebWise is the product you are looking for. This has OpenSSL." She's shared a PowerPoint document of 85 slides written in 2002, one of the last years that WebWise (and its OpenSSL) was updated for the HP 3000. (You can download these slides as a PDF file.)
Read "OpenSSL: Still working, but falling behind" in full
Posted by Ron Seybold at 10:46 PM in Homesteading, Web Resources | Permalink | Comments (0)
June 23, 2015
Migration platform gets Microsoft's retooling
Moving HP 3000 systems to Windows Server can include the use of the .NET framework, and Microsoft is retooling the framework to remain coupled with Visual Studio, rolling out a 2015 VS. The just-previewed development environment, a popular choice for migrating HP 3000 sites headed to Windows, means a new .NET release, as version 4.6 of the .NET Framework comes as part of the new Visual Studio 2015.
Microsoft is making its chief enterprise environment more feature-rich, but the retooling comes at a price. They all do, these revisions. The newest Visual Studio is powered by the new Roslyn compiler, and there are new APIs. Existing .NET apps aren't going to know much about new API capabilities, and so like everything in IT, the .NET frameworks from 4.5.2 backward will begin to age. But ASP.NET gets an upgrade and the Entity Framework data model increases its support for Azure data services and for non-relational databases. Alas, no IMAGE/SQL support in there, but that's what middleware from providers like MB Foster will continue to provide.
Users like the San Bernadino County Schools have been moving apps to .NET from MPE/iX, a project that was first scheduled to be complete at the schools by 2015. Four years ago, when the school system first started talking about using .NET, 2015 might've been outside of Microsoft's plans to keep .NET a strategic IT choice. VS 2015 as well as the newest framework put that worry to rest.
For the HP 3000 customer, hearing a toolset is strategic would be familiar territory. In the 1980s and 1990s, HP dev environments that were dubbed strategic, such as Allbase 4GL and Transact, fell from grace at Hewlett-Packard. The same fate came to the 3000 and MPE as well. By the end of the '90s, HP statements that a product was "strategic" were processed like a kiss of death; a product would get that label a few years before dropping off the price list.
Read "Migration platform gets Microsoft's retooling" in full
Posted by Ron Seybold at 09:22 PM in Migration | Permalink | Comments (0)
June 22, 2015
Fixing Date Problems From The Future
HP 3000 managers have traveled long roads toward the future of their servers, but sometimes the server travels even farther. Into the future, it seems, to apply modification dates to files that couldn't possibly be modified months or years from now.
This can cause problems with system maintenance. Craig Lalley experienced some last week. After running the NMVALCK command, he discovered "I have thousands of files with future dates." He was pretty sure there's a way to adjust a date like FRI, SEP 10, 2027, 1:53 AM by using MPEX. (A good bet, since the Vesoft product manages the 3000's files better than MPE/iX itself). But what about other repair options?
There are two, one in the community's freeware resources, and one in its Posix namespace. The freeware comes from Allegro Consultants. FIXFDATE (just do a "find" on the web page to locate the utility's entry) "will sweep through your files and change any creation, modification, access, allocation, or statechange date that is a "future" date to be today."
Another resource comes from within the 3000's Fundamental Operating System. Touch, a common Posix utility, exists on the HP 3000's implementation. 
Read "Fixing Date Problems From The Future" in full
Posted by Ron Seybold at 07:03 PM in Hidden Value, Homesteading | Permalink | Comments (0)
June 19, 2015
Changes Spark Healthy Adaptations
The constant grind of change in the 3000 community -- migrations, the shifting sands of homesteading resources -- may have a positive effect on managers who deal with it. "There is always a future," our ally and contributor Brian Edminster wrote. "It's just not always the future we think we'll have. And that's not always bad, in that it can force us to adapt, to improvise and stretch a bit. These are all signs of a healthy being."
Expanding the use of the HP 3000 in some companies seems outlandish, but it might not be. Not everywhere. In one case we're heard, new ownership of a division that uses a 3000 offered a chance to extend the use of their 3000, rather than just target the system as something to consolidate, maintain, or decommission. The company's mission includes the need to expand in the division's market that their 3000 system was designed for -- and seeing that their other markets' IT solutions won't work as well as the 3000.
Making that choice involves embracing used servers, and eventually emulated hardware. That's an adaptation of hardware sourcing. Independent support has been available a long time to make the former work, and the virtualized 3000s have been for sale for more than three years by now.
Older and common tools can also get adapted, because with this kind of field experience, practical application trumps strategic platform goals. It can happen at the simplest of levels. You might not expect that Notepad++ could become a 3000-related tool. Edminster tells a story about seeing this happen, though.
Read "Changes Spark Healthy Adaptations" in full
Posted by Ron Seybold at 09:17 PM in Homesteading | Permalink | Comments (0)
June 18, 2015
Throwback: A Zealous Emulator Wonder
Five years ago this week, Stromasys announced the launch of its project to emulate the HP 3000's hardware set. Emulation was a quest for many years before 2010, though. The OpenMPE advocacy group was founded on the pursuit of an emulator for 3000s that would not be built after 2003. By 2004, the community was hearing about the timeline for emulator development. It did not promise to be a short journey.
We revisit those days to remind our readers about a time when then-recent 3000 boxes were standing in the way of making a virtualized 3000. Our podcast for this week includes comments from one of the first emulator vendor candidates, as well as the ultimate developer of a product that marks five years on 3000 planning timelines.
Along the way, the tracks on the trail to making HP's 3000 systems virtually unneeded followed the hard road HP learned about migrations. More than half the systems that were turned off between 2003 and 2008 went to other vendors, according to one report from an emulator vendor. That period saw Hewlett-Packard lose many customers while they departed the 3000, according to the Chief Technology Officer Robert Boers.
What's remarkable about the emergence of Charon from Stromasys is the persistent dedication the vendor showed for the concept. It demands patience to be in the world of emulators. In 2004, nobody was even certain about the best release date for an emulator. HP-branded 3000s in that year were still commonplace, and all had falling price tags. By the time Charon made its debut, that hardware had become seven years older, and used systems were commonly more than a decade old. Time has not enhanced the vintage of these systems. An evergreen emulator, first announced five years ago this week, changed all of that.
Posted by Ron Seybold at 07:46 PM in History, Homesteading, Migration, Podcasts | Permalink | Comments (0)
Search
Search across this blog, or The 3000 NewsWire's print issues